Geeks OUT Panel @ Anime NYC
November 20, 2021 @ 5:15 pm

-

6:00 pm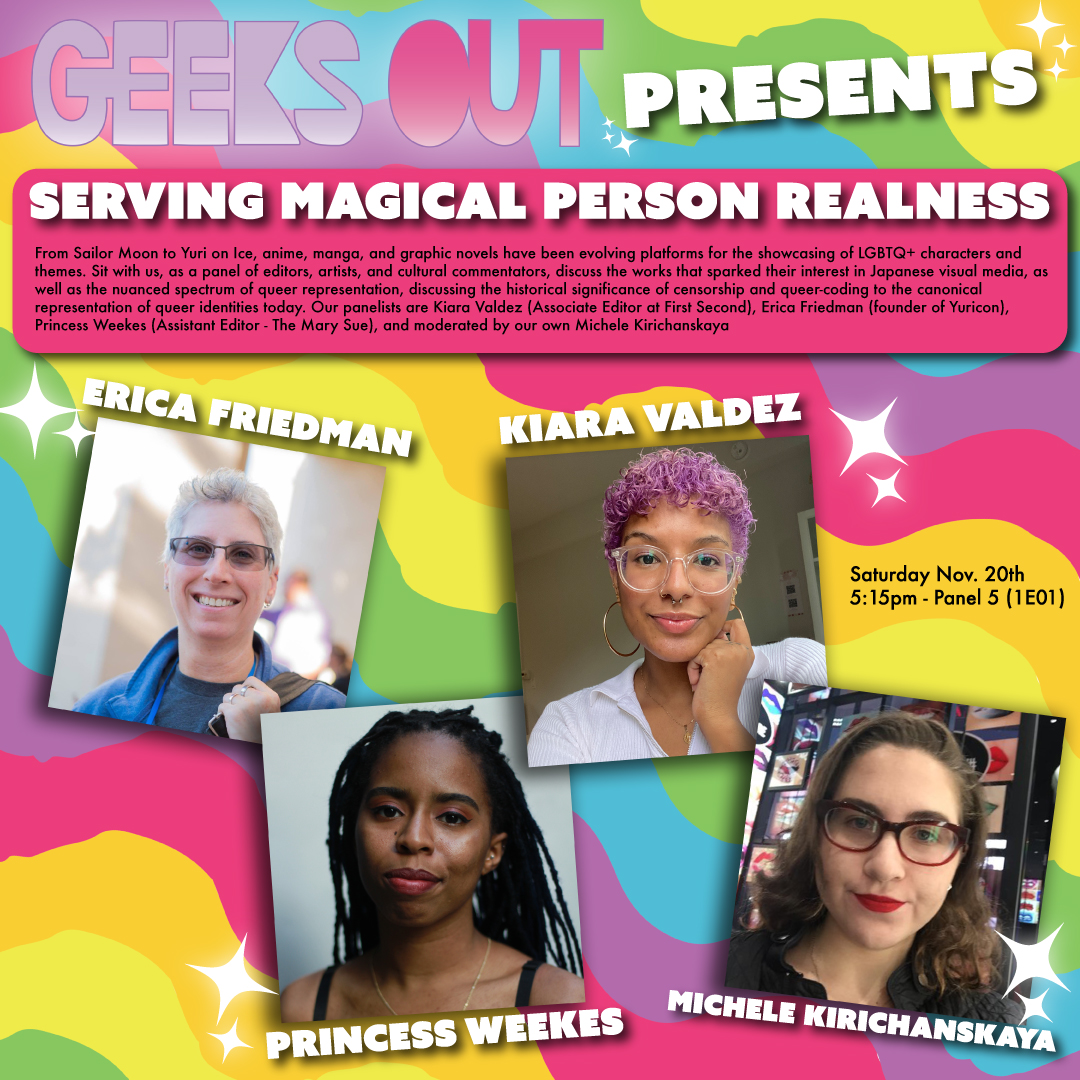 GeeksOUT presents: Serving Magical Person Realness
From Sailor Moon to Yuri on Ice, anime, manga, and graphic novels have been evolving platforms for the showcasing of LGBTQ+ characters and themes. Sit with us, as a panel of editors, artists, and cultural commentators, discuss the works that sparked their interest in Japanese visual media, as well as the nuanced spectrum of queer representation, discussing the historical significance of censorship and queer-coding to the canonical representation of queer identities today. Our panelists are Kiara Valdez (Associate Editor at First Second), Erica Friedman (founder of Yuricon), Princess Weekes (Assistant Editor – The Mary Sue), and moderated by our own Michele Kirichanskaya
Kiara Valdez is an Afro-Dominican writer and Associate Editor at First Second. She was born and raised in New York City (shout out to Washington Heights) and has been an avid comics reader all her life. She graduated from Williams College with a double major in English Literature and Japanese, and spends her free time reading, writing, and enjoying a long list of other hobbies she can't keep up with.
Erica Friedman
is the founder of Yuricon and has written about Yuri for Japanese literary journal
Eureka
,  
Animerica 
magazine, the Comic Book Legal Defense Fund,  Dark Horse, and contributed to 
Forbes
, 
Slate, Huffington Post, Hooded Utilitarian,
 and
 The Mary Sue 
online. She has written news and event reports, interviews Yuri creators and reviews Yuri anime, manga and related media on her blog 
Okazu
 since 2002 and is the author of 
By Your Side: The First 100 Year of Yuri Anime and Manga
, coming out in June 2022 from 
Journey Press
.
Princess Weekes is an award winning YouTuber, co-host of PBS's It's Lit, a video essayist, writer, and lover of everything Sailor Moon. Her work can be seen daily on The Mary Sue where she is an Assistant Editor.
Michele Kirichanskaya
is a freelance journalist and writer from Brooklyn, New York. A student of the New School MFA Program and Hunter College, when she is not writing, she is reading, watching an absurd amount of cartoons, and creating content for platforms like GeeksOUT, Bitch Media, Salon, The Mary Sue, ComicsVerse, and more. Her work can be found
here
and on Twitter @MicheleKiricha1