JULIA LYNN RUBIN received her MFA in Writing for Children & Young Adults from The New School in 2017. A lover of film, psychology, and literature, Julia has been writing creatively since first grade, and her short stories have appeared in publications such as the North American Review. She currently lives in Brooklyn, where she is currently freelancing while working on her next book. Julia is the author of Burro Hills and Trouble Girls. I had the pleasure of interviewing Julia, which you can read below.
First of all, congrats on the release of Trouble Girls! In your own words can you tell us what it's about?
Thank you so much! Trouble Girls is a queer, Sapphic reimagining of Thelma & Louise, following the story of two best friends sick of their Rust Belt town who set out to go on a weekend camping trip together, but that gets derailed by a night of violence at a local bar. The girls make a run for it and become the face of a #MeToo movement they never asked to lead as their journey across the country grows darker and more dangerous. It's a love story, but also one of teen girl rage, resilience, and hope.
What drew you to writing, particularly queer young adult fiction?
I've always loved writing and anything creative! I was a voracious reader as a kid and always wanted to write my own "books" (in spiral notebooks, mostly, and some even had mocked up copyright pages!). I wrote all of the time: poems, short stories, half-finished novels. I got into writing young adult in particular through reading authors like Laurie Halse Anderson and being inspired by the voice-driven narratives. I also write general short stories and "adult" fiction, but they tend to be about younger people and often teens, so it was a natural fit. When I applied to my MFA program for Fiction, I was actually asked to be in the Writing for Children program because they thought my voice and style suited it, so I agreed!
Trouble Girls is said to be inspired by the film, Thelma and Louise, set in modern day #MeToo era. What draws you about this film, and what inspired you to make an adaption of it?
I've always been a huge movie fan, and when I was in high school, I'd rent at least one to watch at Blockbuster every week or every other week. Thelma & Louise was one movie I adored. It was dark and harrowing but also full of adventure and light. It championed female friendship, and was groundbreaking for its time in being one of the first "girl buddy" road movies and also one of the first to directly address the issues of sexual assault and rape.
The movie has Sapphic undertones and subtext that many people have read into it. I also love Bonnie & Clyde, and the idea of two people in love on the run. I thought it would be a really concept to piece together and adapt to YA, telling the story from the perspective of a queer teen girl while giving it my own spin, of course.
In addition to queerness, you also explore themes relating to class and mental health and how it affects the characters' lives. Could you expand on this?
My first book, Burro Hills, is about working class kids in California. I wanted to write another story about working class teens, as I think there needs to be more of those stories in YA fiction. Trixie and Lux, my main girls, have enormous privilege due to being white, but they come from broken families, and Trixie's mother has early Alzheimer's dementia and she is her primary caregiver, so they don't necessarily think of themselves that way. I wanted to show the nuances of life for queer working-class girls, and how in some ways, they are blind to their privilege as it keeps them alive on the run for quite some time. I also wanted to depict a segment of American teenage life that isn't wealthy or middle-class. Mental health ties into everything. It affects Trixie greatly, and Lux to a degree as well. The trauma they experience from the incident at the dive bar stays with them, and leads them into a brief fantasy period in which they indulge in things they know they can't afford, a way to escape from the horrors of what they did and what happened to them.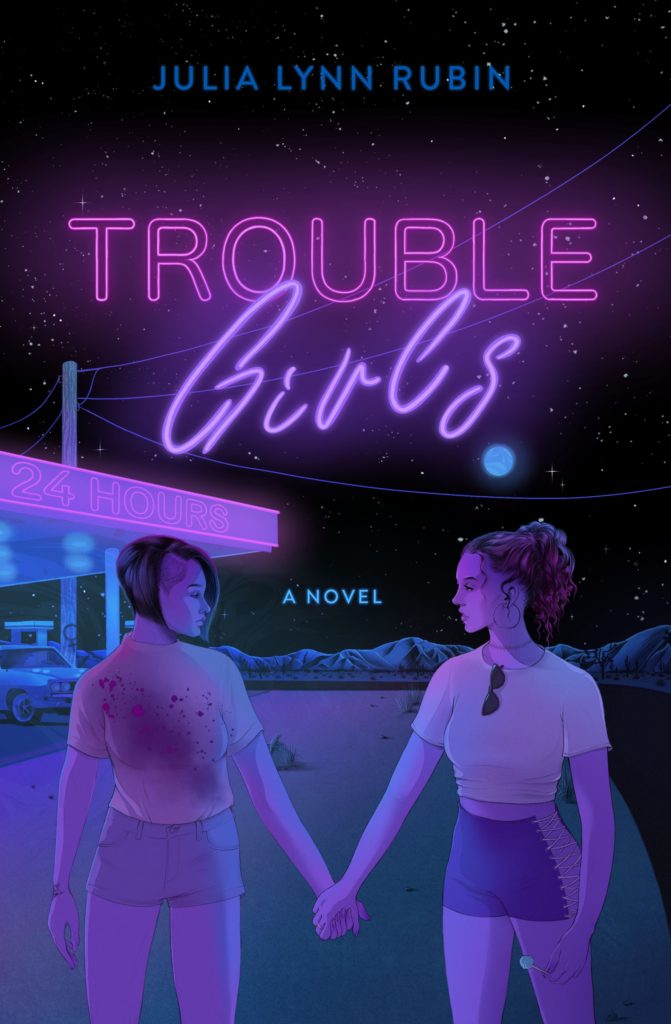 As a fellow student of the New School MFA Program, I'm curious about your experiences in the program. Could you describe it and some of your favorite parts of the program? Would you say it helped you grow as a writer?
I absolutely loved the program! I met some of my best friends in it who I'm still very close with to this day; many of them came to my book release party and launch. I especially enjoyed workshops and reading each other's work and cheering everyone on; it was so fun to watch us all evolve as writers and see where each other's stories went next (and possibly have some say in that). I also loved David Levithan and Coe Booth's class on YA fiction, which was amazing and immersive. I won the MFA Chapbook award in my concentration in my graduating year, and that was so special. I felt so supported by everyone and it was great to be among fellow writers.
What advice would you to other queer writers, especially those trying to finish their projects?
Never give up. Your stories matter, and they need to be told and heard. They need to be shared, and they deserve to. If you can, find a writer's group that can hold you accountable, whether it's friends online, a workshop class, it doesn't matter. Read widely, and read outside of the genre you want to write in. Read classic queer literature and new queer literature. Promote other writers and authors, and get involved in the community. That's a great way to make friends and find writing buddies. Above all, know that this is a long game. Keep at it, no matter how many rejections you receive. Treat each one like a badge of honor. Persevering through rejections will often lead you to great success.
What LGBTQIA+ book/authors would you recommend to the readers of Geeks OUT?
Oh wow, this is the hardest question I've had to answer, as I love so many!! Here's a shortlist:
Last Night at the Telegraph Club by Malinda Lo
Perfect on Paper by Sophie Gonzales
If This Gets Out by Sophie Gonzales and Cale Dietrich (coming in December)
Two Boys Kissing by David Levithan
I'll Give You the Sun by Jandy Nelson
The Miseducation of Cameron Post by Emily M. Danforth
We Are the Ants by Shaun David Hutchinson
Ask the Passengers by A.S. King
We Are Okay by Nina LaCour
Pet by Akwaeke Emezi
Felix Ever After by Kacen Callender
Giovanni's Room by James Baldwin
Mysterious Skin by Scott Heim
In Her Skin by Kim Savage
When Brooklyn Was Queer: A History by Hugh Ryan
---
Cover photo by Max Mauro