Jarad Greene is a cartoonist originally from Lutz, Florida, who now lives in the curious village of White River Junction, Vermont. In addition to his own comics, Jarad works on staff at the Center for Cartoon Studies and has helped color many graphic novels for younger readers. He is the author and illustrator of the graphic novels Scullion: A Dishwasher's Guide to Mistaken Identity and A-Okay.
I had the opportunity to interview Jarad, which you can read below.
First of all, welcome to Geeks OUT!. Could you tell us a little about yourself?
Sure – thank you for having me! I'm Jarad Greene, a cartoonist living up in the mountains of Vermont. I've been working as a cartoonist since I was a teenager, originally doing gag cartoons and comic strips for the newspaper, but currently my focus is on longer form work. I like to make fantasy, adventure, and contemporary autobiographical works for kids and young adults. Moving to New England unlocked a latent athletic affinity, so I'm still getting used to the fact that I now do CrossFit and feel compelled to go running. During the summer I try to spend as much time outside as possible, swimming, hiking, and looking for new ice cream spots. As for winter… that's a work in progress.
How did you find yourself getting into comics? What drew you to the medium?
I was an avid comics reader as a kid, reading comics in the newspaper and picking up monthly titles whenever I could. I was also an on-again, off-again journal-er and I took a sketchbook with me everywhere, so making comics came pretty intuitively. I created illustrated book reports for Jeremy Thatcher, Dragon Hatcher, and The High King while in middle school and I think those were my first foray into putting words and pictures together with panels and dialogue balloons. I started working on a deadline when I joined my high school newspaper staff as a cartoonist and I haven't really stopped since.
Your forthcoming book, A-OKAY, is described as a semi-autobiographical middle grade graphic novel centered around an asexual boy. Could you talk about where the impetus for this story came from?
It began as a reaction to my first book, Scullion, a fantasy adventure, and wanting to do something very different from that while I waited on responses to my queries to editors and agents. I ended up writing a comics essay called Memories of a Former Porcelain Doll, which was a memoir comic about my two times going through Accutane treatment, ages 18-25. I had so much built-up energy and feelings about the years I spent trying to clear up my skin, that I felt compelled to write about it to organize my thoughts and get it out of my head. My draft of the comic received a publishing grant from the Massachusetts Independent Comics Expo (MICE) in Boston, where I debuted it as a 32-page mini comic a few months later. People's response to it was unlike anything I had experienced with my other work. Readers kept circling back to my table to tell me how much it meant to them or how much it helped them understand what someone in their life who had acne went through. I planned to follow the essay up with a part two, but I had subsequently sold Scullion and it was almost 2 years later when I sat down to write again. The full-length memoir version I conceived felt pretty dark and miserable and in talking with my agent, she asked me who the book was for, and who I was hoping to reach. It reminded me of the reaction at MICE and that almost every person who spoke to me related the acne experience to their younger self or a young person in their life. I immediately knew how I could reconceive the story and age it down to a time when most kids experience acne troubles, while also making a less miserable, much happier story, which aligns better with who I am as a person. The asexuality aspect was in the new version from the start, a bit to my own surprise, since it wasn't something I had ever planned to write about. Middle school is a time when questions of sexuality begin to arise, but back then I didn't have the words I needed or any representations that could've been helpful. I hope A-OKAY can be that rep for a kid who doesn't even know that they need it.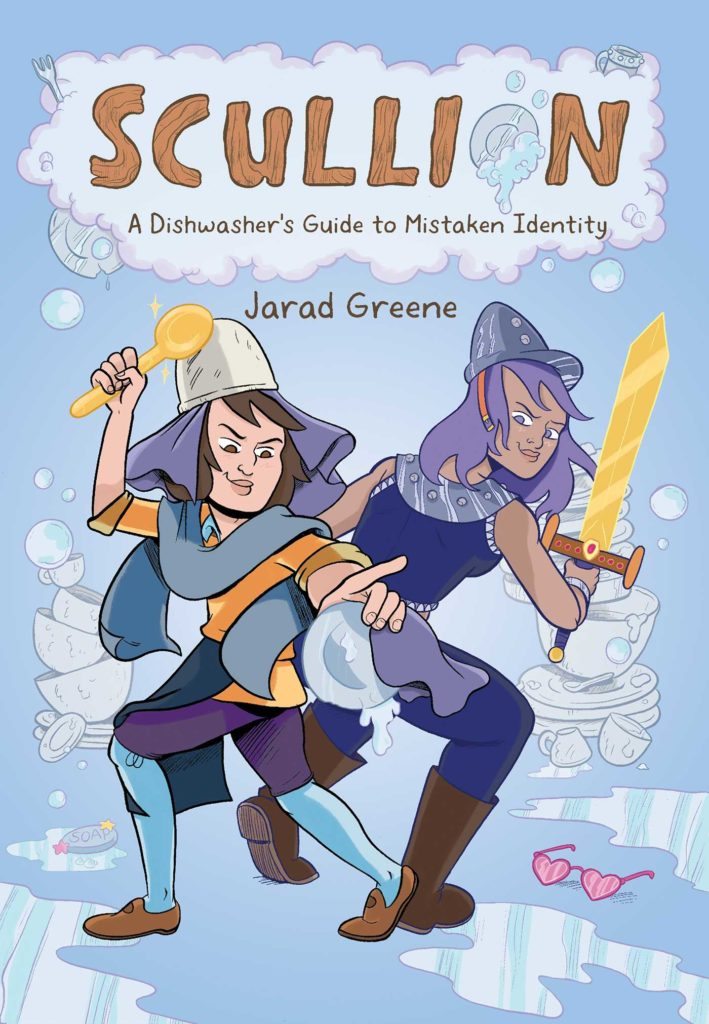 In addition to exploring asexual and aromantic identities, the book also explores something else that's often rare in narratives with a male lead, specifically body insecurities. Would you mind talking about this a little in detail?
When I experienced my acne troubles, I didn't know how to talk about it with other people, even my friends and family. I only wanted my skin to clear up to the way it was previously, but looking back on that time, I can see that a big part of talking about it meant accepting a level of vanity that I didn't want to be revealed to other people, so I mostly kept my feelings to myself.
I couldn't have asked my clear-skinned friends about their skincare regime, that would've been WAY too embarrassing! As time goes on, I've found that most of my friends are dealing with all kinds of insecurities. Maybe it's getting older, maybe it's that I went through my acne troubles and came out the other side, but I feel much more comfortable sharing my struggles and feelings with friends and knowing that I'm not alone. That's one thing I wanted to put into A-Okay, that once Jay opens up, he realizes that his real friends aren't making fun of him for going on acne medication or wanting to take care of his skin, they just want to know that he's okay.
As a person who identifies on the Aromantic-Asexual spectrum, would you say you've seen any media that you felt you related to or represented by in this way? If not, was A-OKAY a response to that?
Certainly not when I was growing up; I can't recall a single book I read or was assigned to read with any queer characters. TV was a little better or maybe just more accessible? I first heard a character refer to themselves as 'asexual' in the TV show "The Killing," but that wasn't until I was 24 years old. It was absolutely a factor in having it represented in A-OKAY. It was the only request I had of my agent when pitching it, that I didn't want to work with an editor who would ask me to remove it or turn it into a love triangle. She found it an amazing home at HarperAlley. It has been extremely validating to be supported by so many in making this book.
As an artist, who or what would you say are some of your greatest creative influences and/or sources of inspiration?
Oh boy, where do I begin! Obviously with this book I've taken a lot of inspiration from my own life. But more broadly, I'm a huge fan of the author-artists: Atelier Sento, Faith Erin Hicks, Hope Larson, Raina Telgemeier, Vera Brosgol, Liniers, Gene Yang, Alexis Deacon, Tove Jansson, and Becky Cloonan to name a handful. There are also SO MANY amazing cartoonists and illustrators on Instagram whose work gives me little jolts of inspiration when they pop up on my feed… but I could be here all day listing them.
Another big source of inspiration for me comes from my free time: hanging out with friends, cooking, baking, going on adventures, visiting my family, wandering around a new store or city, etc. It all fills my well of experiences. If I want to write about the lives of characters, I have to have a life myself.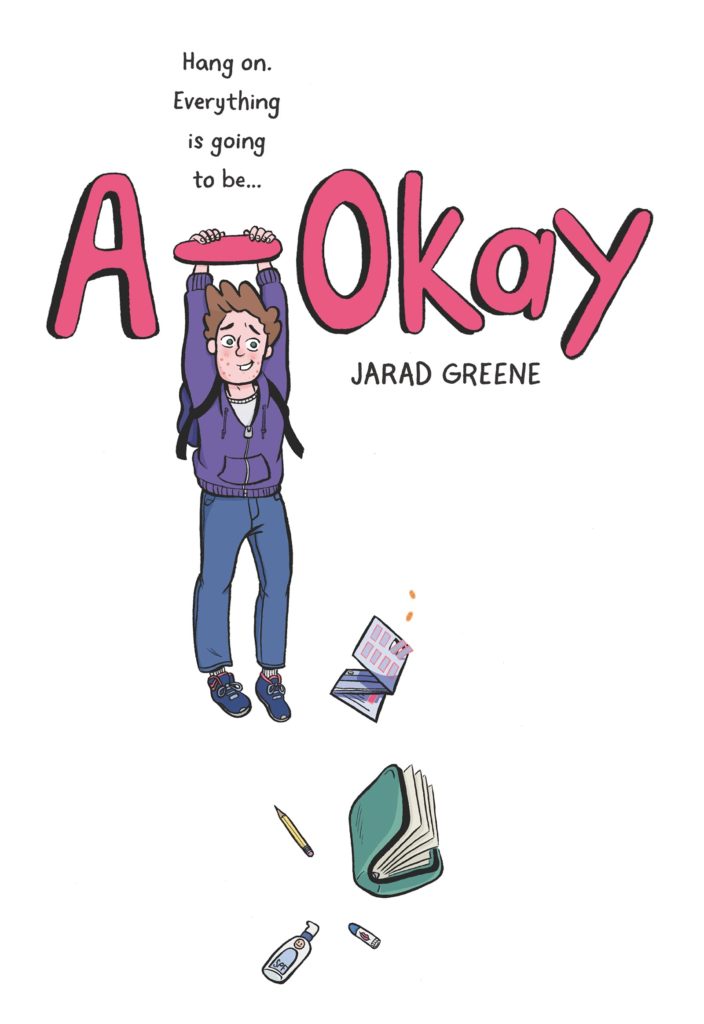 What's something you hope readers take away from A-OKAY?
I hope readers can get a better sense of what it's like to privately struggle with something, and that they may have people in their life going through an issue they don't know about. And even if it's something like acne, which isn't life-threatening and may not seem like a huge deal, they'll understand that it may feel big to the person experiencing it.
Besides A-OKAY, are you currently working on any projects that you are at liberty to speak about?
I am contracted for a second book with HarperAlley, but as for the title and plot, I am not at liberty to say. I'm very excited about it and can't wait to shout about it from the rooftops! I post random things from my desk, like paintings and sketchbook doodles on my Instagram, so that may tie people over until then.
What advice would you give to other aspiring creatives?
Sincerity is the secret ingredient to any good story. Focus on the work that really matters to you, no matter how strange, goofy, personal, or specific the stories you want to tell are. As long as you love it and are excited to tell it, it will reach the people it's meant to find.
Finally, what LGBTQ books/comics would you recommend to the readers of GeeksOUT?
Oh, there are so many great queer books and comics out there now! I recently devoured three volumes of Heartstopper by Alice Oseman, The Montague Twins by Drew Shannon and Nathan Page, The Contradictions by Sophie Yanow, Alone in Space by Tillie Walden, Flamer by Mike Curato, The Magic Fish by Trung le Nguyen, and Among the Beasts and Briars by Ashley Poston.