As a playwright, David Valdes' work has been seen across the US and abroad, is published by Samuel French, and earned multiple awards, fellowships, and commissions. He is the author of five books, including the forthcoming Spin Me Right Round. As a gay Cuban-American in a multiethnic family, intersectionality is his jam. He resides outside Boston with his daughter.
I had the opportunity to interview David, which you can read below.
First of all, welcome to Geeks OUT! Could you tell us a little about yourself?
I write books and plays, teach writing and theater, and am a single dad to a teenager. I'm a gay Cuban-American, so a lot of my work foregrounds queer and intersectional stories. My geek side is fed by any hooky sci-fi and all things speculative—I love seeing elements of our world but spun into time- or space-travel, magical or impossible events, and futuristic what-if scenarios.
Congratulations on your upcoming book, Spin Me Right Round! Could you tell us what it's about and where the idea for the book came from?
Spin Me Right Round is kind of the love child of Back to the Future and Love Simon. My daughter and I were watching season three of Stranger Things together and she found the 80's stuff really cool and funky, and it was fun for me to re-see my own past through new eyes. I had the idea of Spin Me Right Round almost immediately—Back to the Future was my favorite movie in the mid-80's. The first draft of the book came so fast, it was done in eight weeks. (I had no idea how many drafts lay ahead!)
What sparked your interest in Young Adult fiction?
I'm around teenagers all the time, not only my daughter and her friends, but 18-year-olds—I teach freshmen at Tufts and Boston Conservatory. Their voices and their ideas fill the air I'm in.
What were some of the first queer books you read and connected to, as well as those that paved your own interest in storytelling?
I found the The Boys on the Rock by John Fox in Mr. Paperback in Maine and was shocked that it said it was a gay novel right on the back cover—and the front has a shirtless gay kid sunbathing on a rock. I bought it and then hid it inside the lining of my coat so that I could sneak it into my house unseen. I only read it at night after my mom was asleep. It was illuminating—gay sex did not work how I imagined—and a little sad, because a rom com it is not. But it was the first time I read a queer story with queer hero, one whose life and loves were treated seriously.
For many queer authors, fiction is a medium in which they can explore their own truths vicariously, reimagining queer youths that they themselves didn't get to have. Was there anything like this in the motivation for writing Spin Me Right Round?
I set Spin Me Right Round on a campus very much like the religious boarding school I went to. Whereas I was completely closeted in high school (apologies to my girlfriends Cindi, Jill, and Colleen), my protagonist Luis is out out out. It was fun mashing up worlds, with the guy I couldn't be sharing space with the guy I was.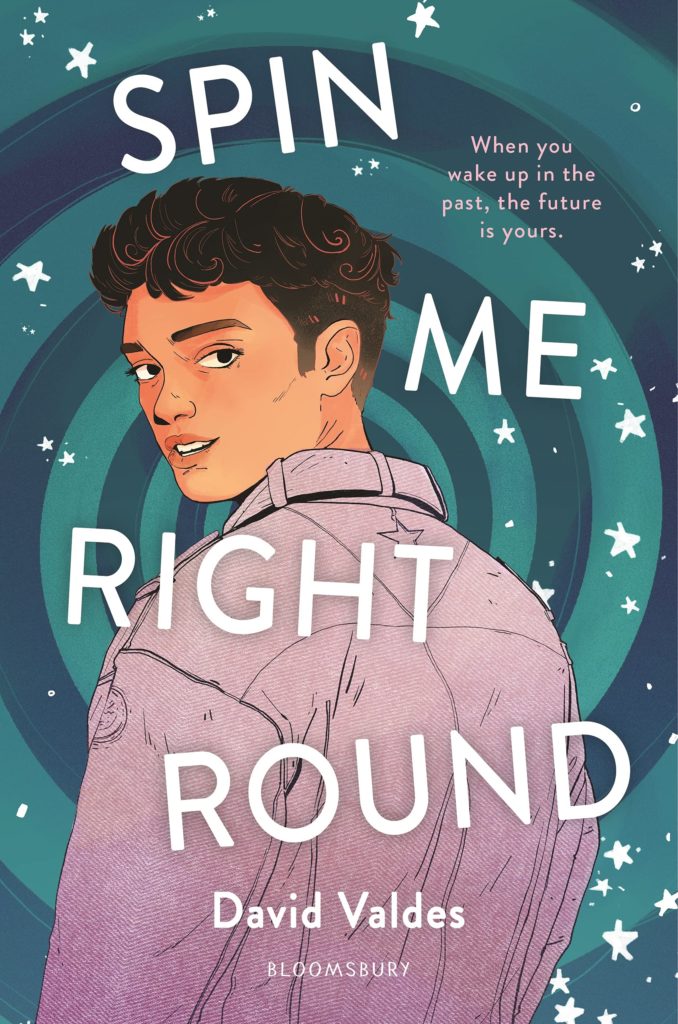 Spin Me Right Round centers a queer Latinx (Cuban-American) protagonist. Could you tell us about some elements of this character you're excited for others to see in the book?
Luis is a lot – he can be too full of himself but he also can be hilarious. I liked the idea of seeing what happens when somebody so sure of his place in the world ends up in another world.
The book allowed me to create a community as diverse and inclusive as the ones I've found in real life but are so absent from popular media. Chaz's life is populated with kids of color, his best friend is nonbinary, and the important adults in his life are Black and Latina. I'm excited to have a book that defies the pattern of four white boys on bikes with one Black friend and a girl; in this book, the kids of color are the leads; girls and women are core to his life.
On your website it mentions you have quite a background in theater. Could you talk about that a little here and what pulled you towards that direction?
The first play I ever saw was when I was 9. I was really poor and my family never went to the theater. Someone invited me to a local community theater production of the Fantasticks – and I was hooked by the magic they made with simple props and lighting. I started writing skits in high school and plays in college. Now I've written 25 plays and one musical—and I still love the magic of it.
As an author, what advice would you give to other aspiring writers?
Rejection is not personal. You have to write, submit, keep writing, and keep submitting. You can't ever know what a reader's day or week or year were like before they got your manuscript. You don't know what pressures their business is under. So many factors beyond you are controlling the outcome. So let it go.
In both playwriting and fiction, I've had rejections that actually led to opportunities months or years later—people who saw my work and didn't publish or produce it, but who filed away in mind that they wanted to work with me someday when the time was right. I never knew they were thinking of this until they finally reappeared. It's a good reminder that no one can champion work you haven't written and submitted.
What's something you haven't done as a writer that you'd like to do?
I'd love to be in a writer's room for TV, helping make stories queerer and more focused on people of color; I'd especially like to work on genre projects in comedy or thrillers, not just topical and issue-focused fare.
As a writer, who or what would you say are some of your greatest sources of inspiration and creativity?
In my life, my daughter, naturally; Spin Me Right Round wouldn't exist if it wasn't for time shared with her. In writing or the arts, James Baldwin has always been a touchstone, with his queer and non-homogeneous worldview. Cristina Garcia's Dreaming in Cuban is one of the most impactful books in terms of my sense of what and how to write. In general, I get inspiration from exposure to all modes of storytelling: hearing people talk about their lives, reading an unusual news story, or watching a great TV show or a movie – any good story can inspire me to make my own.
Are there any projects you are currently working on and at liberty to speak about?
I just turned in a second book for Bloomsbury about the romantic lives of three kids whose actual identities don't match their online personas very well—and what happens when real and virtual worlds come together. I'm hoping to be in submission soon with an adult novel about the aftermath of a queer kid's disappearance in a small town. And I've just started writing a fun project I can't say much about but would be the most me a YA novel could possibly be.
Finally, what LGBTQ books/authors would you recommend to the readers of Geeks OUT?
Back when I was coming out, I read a lot of Adrienne Rich poetry and was really into Oranges Are Not the Only Fruit by Jeanette Winterson, as well as all the Baldwin stuff. More recently, On Earth We're Briefly Gorgeous by Ocean Vuong really floored me. In Young Adult, I'd say check out Kacen Callender and Adam Silvera.