Kate Pentecost is from the forest on the Texas/Louisiana border. She holds an MFA in Writing for Children &Young Adults from Vermont College of Fine Arts. She is the author of Elysium Girls (2020,) and the forthcoming YA dark fantasy romance That Dark Infinity.
She loves tea and flowers and ghosts, and she is obsessed with the Romantic Poets. She lives in Houston with her dog, Stevie Nyx. 
I had the opportunity to interview Kate, which you can read below.
First of all, welcome to Geeks OUT! Could you tell us a little about yourself and your upcoming book, That Dark Infinity?
Hi! Thank you for having me! I'm a writer and former teacher. I live in Houston, I have a dog named Stevie Nyx, and I love history, creepy stuff, coffee, and flowers. I identify as bisexual and genderqueer and use she/they pronouns. 
That Dark Infinity is a dark fantasy/slowburn romance that focuses on healing from both physical and emotional wounds. It follows the Ankou, a mercenary cursed with a cycle of death and resurrection, and Flora, a handmaiden from a destroyed nation who is her nation's only known survivor. They both are looking for something that seems almost impossible to find. Flora is looking for the princess she loved and nearly died trying to protect, and the Ankou is searching for a way to finally die permanently. Together they travel to the fabled City of Fates where only one of them can receive their deepest, most impossible wish.
Where did the inspiration for The Dark Infinity come from? Did you draw on any outside sources for inspiration or influence?
I actually wrote the first version of this book when I was twelve. At the time it was very light-hearted, set in Ireland, and had a Terry Pratchett sort of vibe. Then the book grew with me. When I experienced the deaths of my grandparents and, shortly after that, a sexual assault, the book grew darker. The Ankou got his curse, Flora shared my experience, and I learned to heal with the characters as I wrote it.
What inspired you to get into writing, especially YA fantasy? Were there any writers or books that made you think "I want to do this, too someday"?
I grew up in a family of teachers and was constantly surrounded by children's books, and when my teachers encouraged me to write, it fell into place naturally. I preferred YA because I tend to write longer works with older protagonists, but I'd love to write middle grade too. My main inspiration when I was younger was Bruce Coville, who actually wrote to me and gave me advice when I was a young fan trying to be an author too. We've reconnected, and it's really awesome that I can call him a peer now.
What are some of your favorite elements of writing?
When I think of writing I really enjoy it. I love writing that is very atmospheric and really gives you not only a sense of place and time, but a feeling of being immersed in the world. Atmosphere was incredibly important to me as I wrote That Dark Infinity. I wanted it to feel lush and dark and slightly sad. I always say I wanted it to feel like you were reading a Hozier song. I hope I accomplished it at least partially.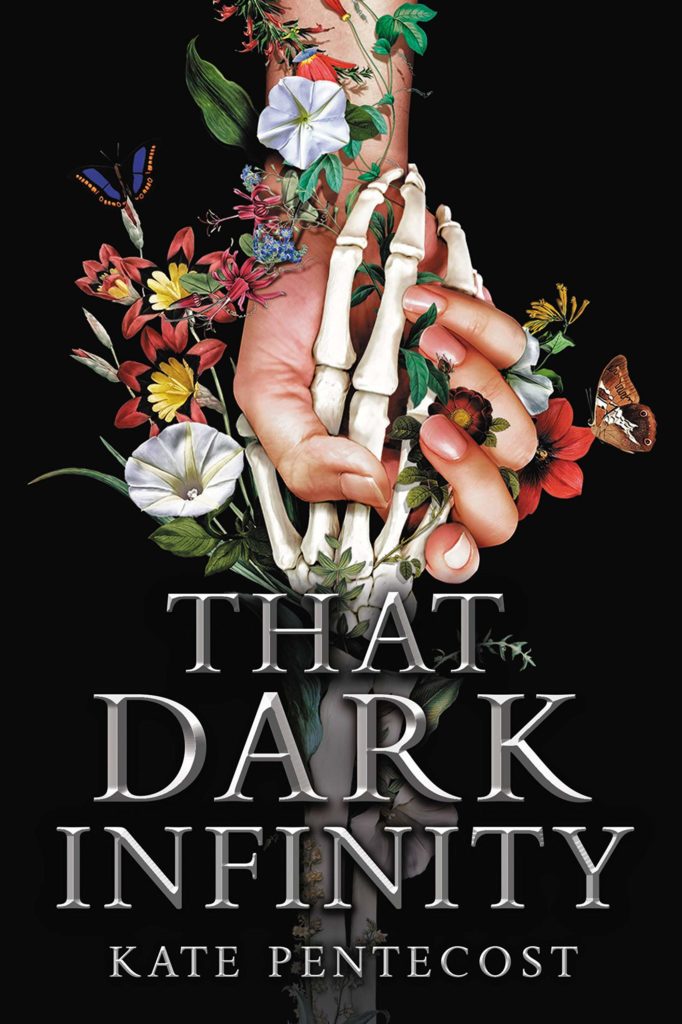 Since Geeks OUT is a queer website, could you talk a bit about the queer representation/themes we can see in the book?
Flora, like myself, is bisexual. Flora's country, Kaer-Ise is a place where religion and virginity are important to their culture, but I wanted to create a place that had those elements but didn't include homophobia. So a range of sexualities are very normal in Kaer-Ise. In the book, she loves the princess, her best (straight) friend. This also mirrors my own life, as I grew up understanding that my feelings for my childhood best friend were not straight feelings. Flora gradually falls in love with the Ankou, who is understanding of her bisexuality, as my cis-male partner is understanding of mine.
What advice would you have for aspiring writers?
Do as much research as you can about the industry because most creative writing programs focus on craft and don't include much about the business of publishing. Also, prepare to have a lucrative day job that you enjoy in addition to writing because the way advances are paid (even large ones) necessitate a side hustle at the very least. You're not less of a writer if you can't write full time. Most of us don't!
What's a question you haven't been asked yet, but wish you were asked (as well as the answer to that question)?
Q) Why do most of your books feature inter-dimensional travel, an illness, someone mentally or physically decaying, and a mysterious female god who is present but never communicates?
A) I don't know, but I'm going to talk to my therapist about it because that's weird.
OR
Q) What details or Easter Eggs did you include in That Dark Infinity?
A) References to Beowulf, the Gardens of Babylon, the Hoia Baciu forest, mellification of corpses, Breton folklore including the Ankou, the City of Ys, and the Bugul Noz, Nikola Tesla, particular poems by Edgar Allan Poe, the quests of Heracles, Mesopotamian gods, and, of course, the Bible.
In addition to being a writer, what are some things you would want readers to know about you?
Soon I'm going to begin my Master's in Thanatology, the study of death and grieving. I've always been drawn to death as a subject. This book and the things I processed during its writing have equipped me, I think, to be an effective grief counselor, and I want to explore that in the future.
Are there any other projects you are currently working on and at liberty to talk about?
Yes, but not that I can talk about yet!
Finally, what LGBTQ+ books/ authors would you recommend to the readers of Geeks OUT?
Anything by A.R. Capetta and/or Cory McCarthy, Rubyfruit Jungle by Rita Mae Brown, Fried Green Tomatoes at the Whistlestop Cafe by Fannie Flagg