Gabe Montesanti is a queer Midwestern roller derby player. She earned her MFA in creative nonfiction from Washington University in St. Louis. Her piece "The Worldwide Roller Derby Convention" was recognized as a notable essay in The Best American Essays. She lives in St. Louis with her wife.
I had the opportunity to interview Gabe, which you can read below.
First of all, welcome to Geeks OUT. Could you tell us a little about yourself?
Thank you so much for having me! My name is Gabe Montesanti, (she/her) and my debut memoir Brace for Impact was released on May 24th, 2022 from The Dial Press, an imprint of Random House. I grew up mostly in Michigan and was a competitive swimmer for over twelve years. My BA is from Kalamazoo College, and I attended Washington University in St. Louis for my MFA in creative nonfiction. I am a roller derby player and live in St. Louis with my wife.  
What can you tell us about your book, Brace For Impact? Where did the inspiration for this book come from?
Brace for Impact uses roller derby as a lens through which to look at other big topics like body image, queerness, and healing from trauma. The book's timeline is one year—my first year joining Arch Rival Roller Derby in St. Louis—and is punctuated by flashbacks from childhood and adolescence that give context to what's happening in the present.
Most of the inspiration for the book came from my team, Arch Rival. I've been in awe of them ever since I showed up at the St. Louis Skatium for roller derby recruit night. There was something so seductive and tantalizing about the world they were introducing me to: a space where queer people and misfits take center stage rather than our typical place in the margins. I'm also very inspired by Catholicism—I was raised in the Church—and by places that we make holy for ourselves. The roller derby track is very much that for me.
How would you describe your general writing process?
I wrote most of Brace for Impact longhand on several green legal pads. (There's just something about the color green.) Transcribing my work to the computer is the first of many rounds of editing. I'm very lucky in that I started my book in an MFA program, so I always had eyes on the material. After graduating, I developed a very loyal writing group with four other women. We would exchange work often and meet at each other's houses for workshops.
I've always heard that there are overwriters and there are underwriters. I definitely am an underwriter—which might be surprising, given that my book is on the long side. It takes me a lot of time and layers to really craft a quality piece of work. I wish I was the kind of writer who could just spew onto the page and then chisel away at it—that's just not who I am.
What drew you to writing? Were there any books or authors who you believe inspired you and/or influenced your own personal style?
Being a writer has been a part of my identity long before I started sports or knew I was gay. I have most everything I've ever written and look back on it often, sometimes to pillage it for details and other times to simply reminisce. I wasn't allowed to buy books very often, since we practically lived at the public library, but one of the first books I called my own was Because of Winn-Dixie by Kate DiCamillo. The protagonist was my age, ten, and although the story was fiction, it spurred me to start drafting little vignettes about my own life. I guess I've been writing creative nonfiction longer than I've had a name for it.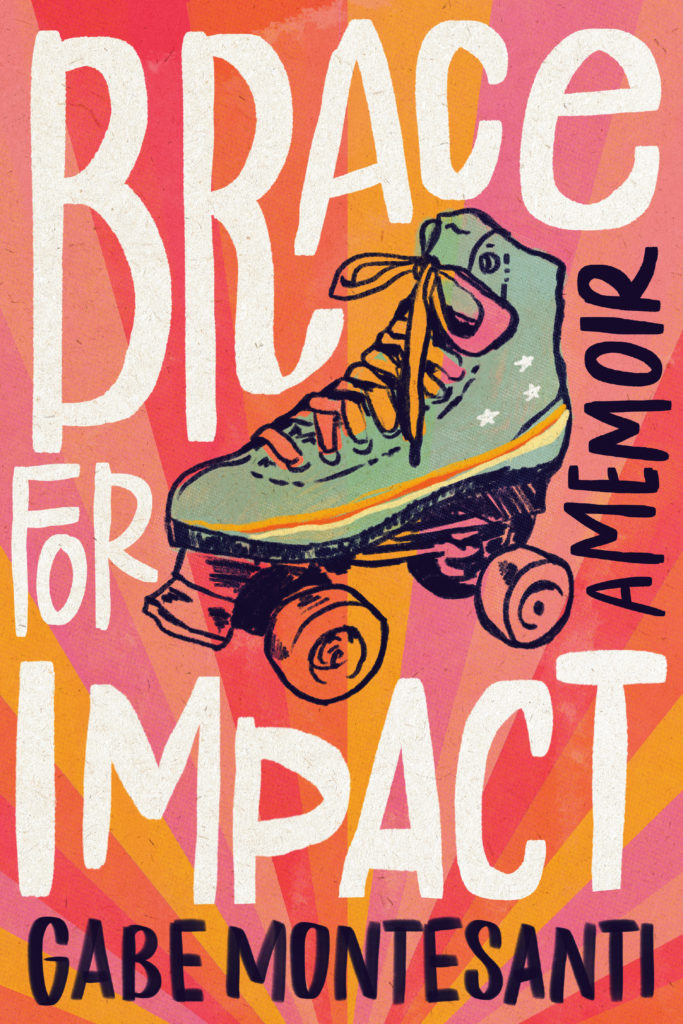 What do you hope readers will take away from reading Brace For Impact?
My goal with Brace for Impact has always been to reach people who don't fit the mold and be at least one voice who's telling them they're not alone, and that there's joy and beauty in our differences. More than anything, I hope the book inspires in readers a reawakening of the resiliency that already lives within them. I've always found power in bringing together seemingly opposite forces, in particular sadness and grief paired with humor and levity, and I hope readers will find that they, too, don't need to try and outrun the difficult and painful parts of life, because there's so much strength and freedom in turning around to face, and even embrace, that darkness.
What advice would you have to give to aspiring writers?
One thing I tell my students when they start sending work out is that rejection is inevitable and comes with the territory. At one point in time, I played a game with myself to see how many rejections I could rack up in a year. It was a fun way to twist the idea of "failure" and really reframe it. I had some huge successes that year, as a result of this practice. Just—persist.
What's a question you haven't been asked yet but that you wish you were asked (as well as the answer to that question)?
One of my biggest insecurities when I started graduate school was my youth. Right before my MFA, I read Mary Karr's The Art of Memoir and Karr takes a firm stance that writers should wait until they're 35 before publishing a memoir. I was twenty-two when I started graduate school with the goal of publishing a book, and twenty-five when I sold my memoir. So, one question I haven't been asked yet is, "What is it like to publish a book at a relatively young age, and soon after finishing graduate school?" My answer to that is that it's been wild. I realize I'm so lucky to have found a path to publication relatively early, and that this book is just a snapshot of a time in my life, which is ever evolving. I love looking back at authors who have a body of work and tracking their progress over the years. I hope that Brace for Impact is the first of many books in my collection.
Are there any other projects you are currently working on (professional or personal) that you feel free to speak about?
I still have a lot of work and development to do for my next project, but I intend to really turn my focus to that in the coming months. All I will say is that it looks more outward rather than inward, and involves more research, interviews, and observation. It's also very gay.
I also have a variety of in-progress essays that are in various states of completion. One that I finished recently is about my job at a correctional center and akathisia, a movement disorder that made it impossible for me to be still. I think there's something really interesting about the way in which working in a prison asked me to think about freedom of movement—or the lack thereof—and how my akathisia gave me a unique perspective in that regard.
What books/authors (LGBTQIA+ or otherwise) would you recommend to the readers of Geeks OUT?
One author I cannot live without is Lidia Yuknavitch—in particular, her book The Chronology of Water. People keep describing Brace for Impact as raw, but Chronology is the rawest piece of art I've ever encountered. That is not to say it's not shaped beautifully by Yuknavitch, just that it's so vulnerable and honest and real. It tackles themes of sports and abuse and grief so directly. Other must reads: Know My Name by Chanel Miller, Just Kids by Patti Smith, and anything by Melissa Febos.
---
Author Photo Credit, Dena Patterson