Kevin Christopher Snipes is a New York-based writer who was born and raised in Florida. He spent his early career in the theater writing such plays as A Bitter Taste, The Chimes and Ashes, Ashes. Later, for Gimlet Media, he created the queer fantasy podcast The Two Princes. He can generally be found watching reruns of Doctor Who and The Golden Girls in his spare time. Milo and Marcos at the End of the World is his first novel.
I had the opportunity to interview Kevin, which you can read below.
First of all, welcome to Geeks OUT! Could you tell us a little about yourself?
Hello! I'm a New York-based playwright and novelist, though most people probably know me as the creator of the queer fantasy podcast The Two Princes, which ran for three seasons on Spotify.
How did you get into writing, and what drew you to young adult fiction and speculative fiction specifically?
My mother told me recently that when I was a child, I used to walk around the house carrying a dictionary that I would study, so I guess I've always been curious about language and words. I certainly grew up in a storytelling household. My mother read to me before bed, and my father would make up fantastical stories during long car rides to keep me entertained. Eventually, as I got older, I just started telling my own stories.
For the first twenty years or so of my life, I was primarily focused on playwriting. Theater was my first love. Then one day, about ten years ago, a friend gave me a copy of Andrew Smith's YA novel Grasshopper Jungle, and it blew my mind. If you don't know the book, it's a story about a bisexual teenager who's having trouble deciding if he's in love with his girlfriend and his male best friend. On top of that, the world gets invaded by giant killer praying mantises and then all hell breaks loose. I loved it. And it made me realize that I wanted to write stories like that—stories that blended romance, action, sci-fi, and a queer sensibility into one seamless adventure.
What can you tell us about your debut book, Milo & Marcos At The End Of The World? What inspired the story?
Milo and Marcos at the End of the World is about two boys who fall in love and who then have to keep that love a secret from their very religious parents and conservative community. Things get even more complicated when a series of unprecedented natural disasters strike their city whenever the boys touch. This leads the boys to consider the seemingly impossible possibility that maybe God is punishing them for being gay and that if they don't stop seeing each other, their love might just bring about the end of the world.
The book is primarily inspired by my experiences as a closeted queer teenager growing up in a small town in Central Florida. High school (as I'm sure most people will agree) can be an incredibly fraught period in our lives. We're still figuring out who we are and what we want, and we're terrified of getting it wrong. It's a time when every emotion is heightened. Every choice feels like it's life or death. You think you'll die if the person that you like doesn't like you back. You think the world will end if anyone finds out about your secret. It's a lot. So I wanted to write a book that captures how exciting/terrifying/earth-shattering that time of life can be for a young person—especially a young person in love who is coming to terms with his sexuality.
How would you describe your creative process?
As a mild form of insanity. Basically, I hear voices. Most of the time I ignore these voices, but every once in a while, they'll happen to say something interesting, and I'll write it down. That's how most of my plays were born. From conversations or questions that popped into my brain while I was walking down the street, minding my own business. Of course, after that initial gift of inspiration, it then becomes up to me to sit down and build a proper story around it. That's when the real work begins. Even so, I've never written anything that didn't start as a little voice in my head saying, "What if…?"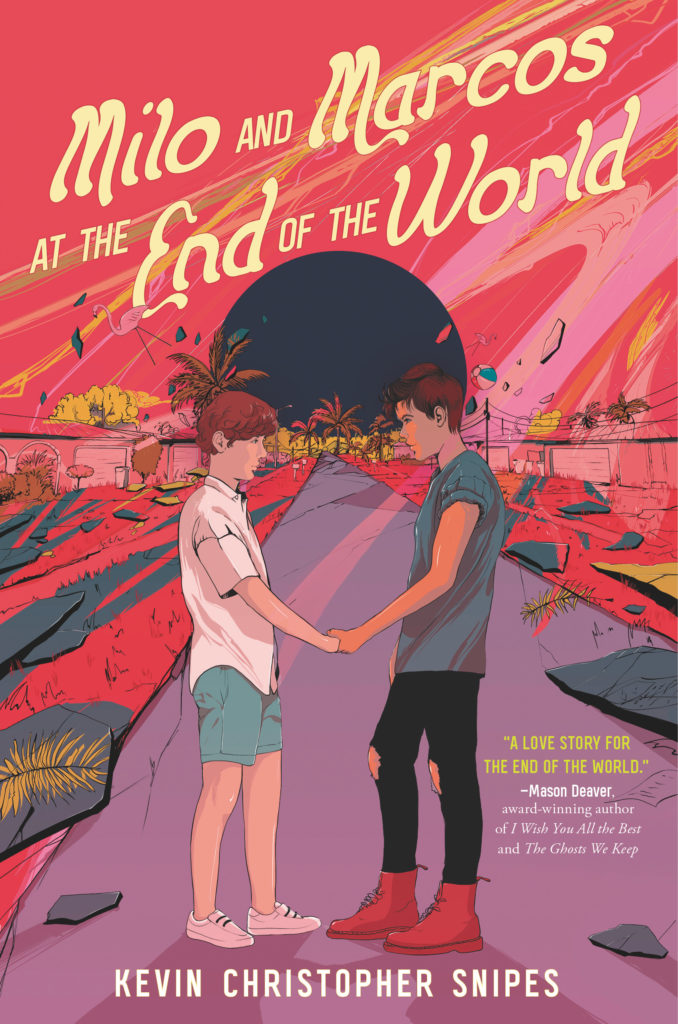 As a writer, who or what would you say are some of your greatest creative influences and/or sources of inspiration?
The first YA novels that I ever read were by Andrew Smith and Adam Silvera, who are both masters of queer speculative fiction, so I can only imagine how much my own writing has been shaped and influenced by their work. I'm also a huge fan of the Russell T. Davies era of Doctor Who. I love his approach to writing science fiction, which is to use fantastical or futuristic stories as metaphors to comment on our world today and address issues of race, class, sexuality, and oppression. It's science fiction that matters. Science fiction with a purpose. And that's something I try to emulate in my own work.
What are some of your favorite parts of writing? What do you feel are some of the most challenging?
Perhaps it's because of my background in playwriting, but I love writing dialogue. Especially quick, witty banter. For me there's nothing more enjoyable to write or sexier to watch than two intelligent, charismatic characters engaged in a flirtatious war of words. It's a great way to show attraction, chemistry, and desire without having to make anyone take their clothes off.
On the other hand, I find actual sex scenes incredibly awkward to write. I don't think of myself as a prude, but my characters are my babies, so when they start to get amorous with each other, I want nothing more than to give them their privacy. Instead, I'm forced to become David Attenborough narrating some erotic nature documentary. It's very embarrassing, but it's part of the job.
Aside from your work, what are some things you would want people to know about you?
It's an irony not lost on me that despite being an atheist, I am obsessed with Christmas. If it were up to me, I'd keep a tree up in my apartment from November to March. I love the decorations, the lights, the music. I love the cheesy but oh-so-satisfying Hallmark movies. I love the Rankin/Bass Rudolph the Red-Nosed Reindeer claymation special, especially the character of Hermey the Elf, who's an OG gay icon if ever there was one. I love it all.
What's something you hope readers will take away from Milo & Marcos At The End Of The World?
I hope they'll feel seen. When I was a teenager, there weren't many books or films or TV shows with queer characters. I almost never saw people like me represented in pop culture (unless it was as the butt of a joke). So my hope is that young people who might be struggling with their identity or questioning their place in the world, will see themselves in my book and not feel quite so alone or out of place in their own skin.
What's a question you haven't been asked yet, but wish you were asked (as well as the answer to that question)?
Milo, the protagonist of my book, has an obsession with The Golden Girls that very much mirrors my own, though we disagree about who our favorite character is. If you asked Milo, he'd say Rose Nylund. But if you asked me, I'd say Blanche Devereaux. Obviously only one of us can be right. And since I'm real and Milo's not, I think I win.
What advice would you give to other aspiring creatives?
I wouldn't presume to give anyone advice. I barely know what I'm doing myself.
Finally, what LGBTQ+ books/authors would you recommend to the readers of Geeks OUT?
I've already mentioned Grasshopper Jungle, which is a great place to start if you're looking to get into YA. You also can't go wrong with Adib Khorram's Darius the Great is Not Okay, Adam Silvera's They Both Die at the End, and Zack Smedley's Deposing Nathan.
---
Header Photo Credit Maggie Marguerite Photography