Cher Martinetti is an author, writer, and founder of SYFY's FANGRRLS, the female-centric genre vertical syfy.com that ran from 2016-2020. She co-hosted & executive produced its flagship podcast Strong Female Characters. Cher has also frequently written, developed & appeared in various videos for SYFY, including the 20 Women to Watch in 2020 special during Women's History Month. She's the creator, executive producer, and former cohost of the popular podcast The Churn—the official post-show wrap-up podcast of the critically acclaimed space opera The Expanse. Cher's hosted panels at ATX festival, New York Comic Con and San Diego Comic Con, & has interviewed celebrities on the live stage for ECCC, C2E2, & NYCC. Her work has also been seen on Cracked, Playboy, Death & Taxes, Uproxx, and IFC.com.
I had the opportunity to have a conversation with Cher, which you can read below.
First of all, welcome to Geeks OUT! Could you tell us a little about yourself?
Thanks! And I can try. I was the founder and EIC of SYFY Fangrrls, which ran from 2016-2020. We were a multi-platform vertical under SYFY's digital site and focused on celebrating female, non-binary & LGBTQ+ creators and fans within the geek space. Right now, I'm working on what I hope to be my next book and mostly hanging out with my three rescue dogs, Grover, Rizzo and Fozzie.
How did Pop Culture Pioneers come to be? Did someone reach out to you about the project or did you generate the idea on your own?
We (Fangrrls) had a flagship podcast called Strong Female Characters, which I hosted with two of my editors, Preeti Chhibber – who is now a full-time author and has probably written like 20 more books since I started this sentence – and Courtney Enlow. I had come up with the idea for us to do a special project for Women's History Month called Forgotten Women of Genre where we would tell the story of a different woman within the geek space whose work was vastly under celebrated or just ignored. Britny Pirelli, my now editor at Running Press, reached out because she had heard the podcast and thought it would be a great concept for a book.
How did you get your start in pop culture journalism? What drew you to this field?
I always wanted to be a writer and was given an opportunity to write for IFC's now defunct "blog". From there, some of it was luck and some of it was me deciding "I'm going to do this thing" and then being relentless in figuring out how to do said thing. I quit my job at the time and decided I was going all-in on freelancing, which pretty much everyone told me I was crazy to do. I think I was drawn to pop-culture just because, for me, it was something I naturally kept up with. I can't say I specifically dreamt of being a pop-culture journalist, because I didn't really know that was a thing. I just knew I wanted to write and could write about this stuff. But in the beginning, I would've written almost anything anyone paid me to write. Writing is all I've ever wanted to do.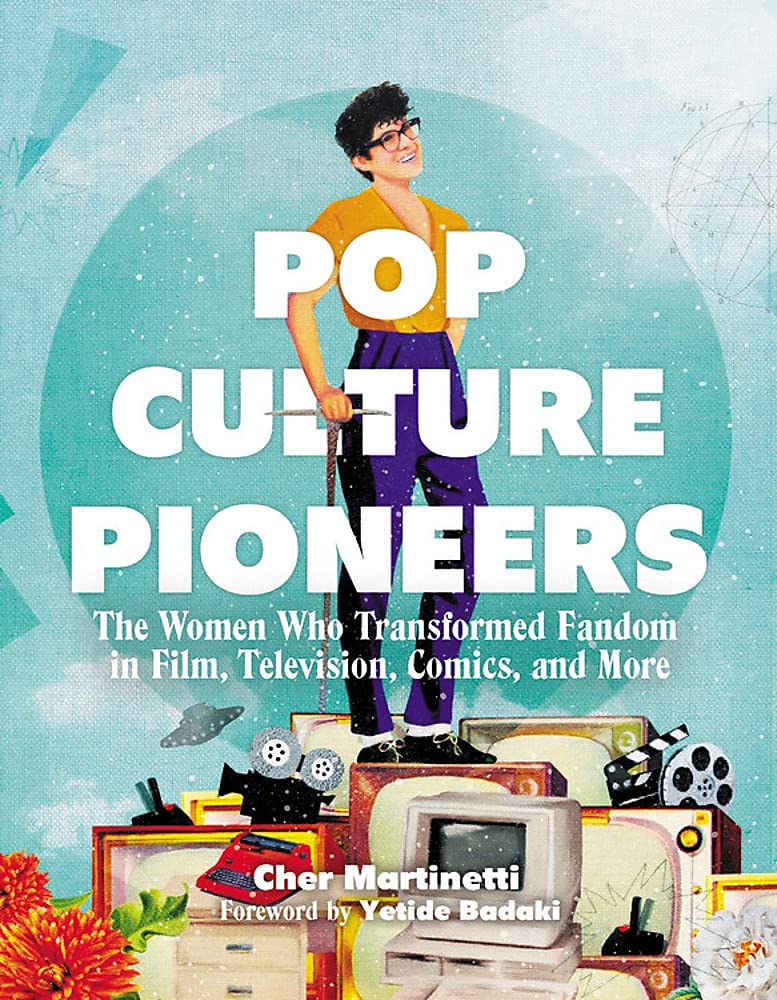 What have been your favorite fandoms to cover, and who are some female characters/ content creators you currently admire?
Oof, this is a tricky question because some fandoms can get a bit…intense, and not always in the best way. I think any time you find fans that genuinely love something and have these personal and meaningful connections to a story or character, that's the best. It may not even be a property or franchise that I'm very knowledgeable or active in, but that fan's pure joy and appreciation is such a special thing to witness. The Expanse has a group of fans that are lovely, called the Screaming Firehawks. Wynonna Earp probably has one of the most fun fandoms I've ever witnessed. I'm sure there are more, but those two just pop into my head because I was obviously more exposed to or aware of them because they were both SYFY shows.
As for female characters, I will always and forever love Leia Organa more than anyone. She is definitely my main girl. Miss Piggy is also an icon. And I love me some Kara Thrace, flaws and all. For female creators, there are just so many! A good start is every woman mentioned in my book.
I had recently started reading your book and it reminded me of another pop culture centered book called The Lady from the Black Lagoon: Hollywood Monsters and the Lost Legacy of Milicent Patrick, which discussed the almost forgotten legacy of Milicent Patrick, the creator of the creature from the movie Creature from the Black Lagoon, as well as the legacy of female erasure from genre fiction. Why do you think so many people find it so hard to believe that women are interested in genre fiction, even when so many of us have innovated the damn field?
Mallory O'Meara did a great job with that book, and we actually referred to it in an episode we did on Milicent for our Forgotten Women of Genre podcast.
I mean, to be totally honest, it's not just that women are interested in genre fiction, they oftentimes were the ones at the forefront. I think in the last decade or so, it's become a lot harder to hide information from people, for better or for worse. It was a lot easier to rewrite or whitewash history when people didn't have the ease of access that the internet affords them. There's that saying about the history of events being written by the winners, and just that expression encapsulates why people believe all sorts of stuff. When one group of people have "conquered" or named themselves the leaders of a thing, they basically just tell everyone their version of how it came to be.
Many would argue that pop culture isn't that important a subject to discuss, serving merely as shallow entertainment. What would you say is the significance or function of pop culture in our culture?
I would say that is bullshit, because everything is part of pop-culture. And pop-culture reflects and often parallels the bigger issues happening in society, which I try to show examples of in my book.
What advice would you give to someone looking to break into your field, or hoping to write a book of their own one day?
Everyone's journey is totally different. I'm a high-school drop-out, I didn't go to journalism school, and I didn't become a professional writer until my late 30s. Being a writer was always my dream, but it took me a minute to really go for it. I honestly think I wouldn't have been ready if I tried to accomplish any of this earlier. But that's me. The best advice I can give is know yourself, know your limits, have a good support system, and nothing happens nearly as quickly as people may make it seem. Also, prepare to fall often and get back up even more. And have a day job. Don't judge yourself or your trajectory based on other peoples, or even what you see them posting on social media. Do work you're proud of, do work you enjoy, and try to work with people that make you laugh and whose work you admire. It makes you a better writer and editor.
Since Geeks OUT is a queer pop culture site, could you tell us about some of the queer figures featured in your book?
There's several of them. Joanna Russ, Alice Bradley-Sheldon, Alison Bechdel, Rachel Pollack, to name a few. Some people may already recognize or know those names, but more people should know them and their work.
Are there any other projects you are working on and at liberty to speak about?
Not that I can divulge at the moment.
What LGBTQ+ books/media would you recommend to the readers of Geeks OUT?
Truthfully, I would want to know what the readers recommend to me! I'm always on the lookout for new, cool stuff. I feel like I've lost my mojo a bit since Fangrrls closed down, so bring it on!