Balazs Lorinczi is a comic book creator and illustrator born in Hungary, now living in wonderfully gloomy Scotland.
While he previously worked as an animator, illustrator and did smaller comic book projects, this is his first time creating a full-length graphic novel (but not the last).
When not cursed with a day job he spends all his free time drawing, watching cartoons, and trying to unsuccessfully restrain himself from buying more books.
I had the opportunity to interview Balazs, which you can read below.
First of all, welcome to Geeks OUT! Could you tell us a little about yourself?
Hi, Thanks for having me!
I'm Balazs. I'm mainly a comic book artist, but I love to draw a lot of different things. I'm originally from Hungary, but I'm living in Scotland now. I used to work in animation for a little bit. I still have a ton of love for the medium but comics is my passion when it comes to working on things.
How did you find yourself getting into comics? What drew you to the medium?
When I was little, (late 80s, 90s) comics were the only truly limitless medium where I felt like anything could happen. Books are great, but comics have a visual element that wowed me! Unlike movies and tv, comics could be with you anywhere. Bored on a train ride? Read a comic! No good show on tv at the moment? Pull out one of your comics! (yes, you can tell I grew up before the internet and streaming services, haha)
It just felt natural to me to try creating my own as well. The beauty of it is that you only need a pencil and some paper to start.
What drew you to storytelling, particularly fantasy?
I guess I just have a tendency to try and do the things I admire. Since I love reading comics, I always wanted to make my own. Ever since I was little, when I got interested in a story, I tried to come up with my own take on it. For some reason, my brain just thinks it's very important to have my own stories and characters created. It's an unexplainable urge I've had ever since I can remember.
Fantasy just feels cozy to me and I think it has almost limitless potential for storytelling. You can mix it with any genre. You can world-build as much or as little as you like. Even the well-worn tropes still work today (just look at all the DnD-inspired stories out there today, thriving).
Urban fantasy is my personal favorite. It's grounded and more instantly relatable but spices up the everyday mundanity with magic.
How would you describe the newest book, Doughnuts and Doom? What inspired the story?
I usually describe it as a magical rom-com. It's a fun and simple story about finding the strength and courage to achieve your goals, and learning to rely on someone.
I had the basic idea of a cursed doughnut as a funny, little, short comic for a while. Basically the opening confrontation between the two leads, but the characters looked nothing like them. I was struggling to create a full story and narrative out of it, until I decided to make it a rom-com.
The characters are loosely inspired by my everyday experiences: working in fast food, trying to do a band, and also just my love of witches.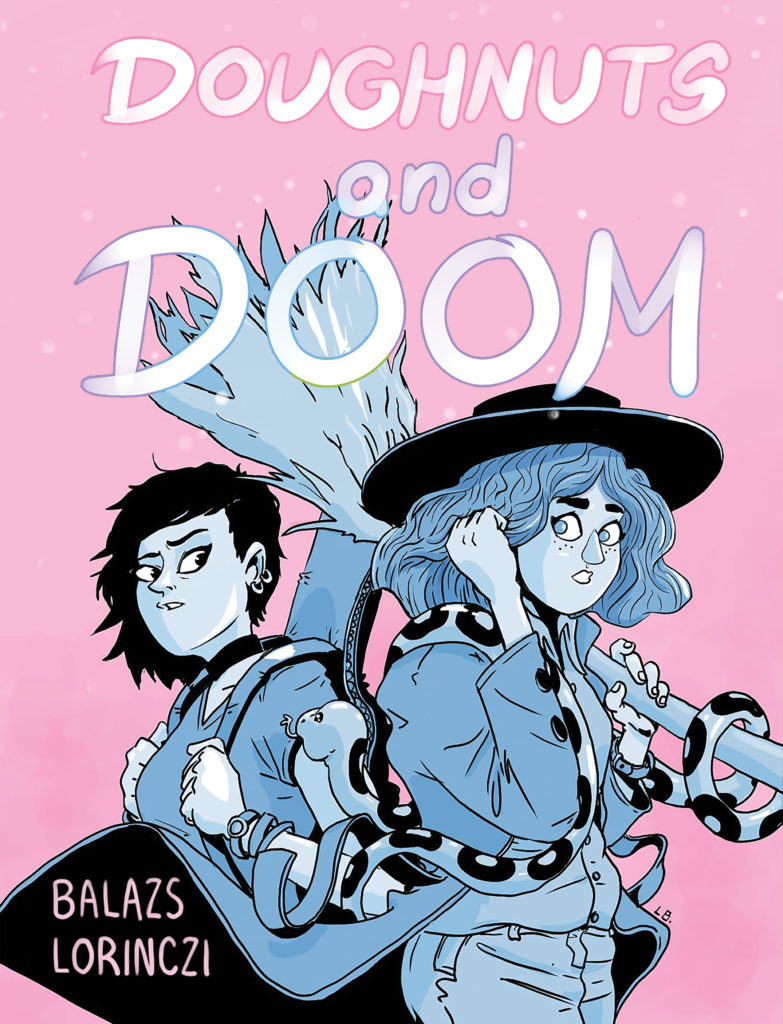 Are you a fan of donuts yourself? What other yummy treats do you find yourself drawn towards?
Oh yes, very much so! I also love apple turnovers and cookies too. My sweet tooth will be the downfall of me one day, haha!
As an artist, who or what would you say are some of your greatest creative influences and/or sources of inspiration?
I have so many artists that inspire me! When I first decided to be serious about drawing, it used to be Mike Mignola, Francis Manapul (people who I still admire). In recent years I'm more drawn to styles like Fran Meneses, ND Stevenson, Rosemary Valero-O'Connell, Kat Leyh, and my absolute favorite, Max Sarin.
Also, I have to mention Stjepan Sejic's creator-owned work. If you look at my stuff, we have nothing in common but it was a huge inspiration.
But other than specific artists, I'm constantly inspired by the endless slew of genre fiction I consume. Be it books, comics, movies, or cartoons (a LOT of cartoons in the last couple of years).
What are some of your favorite elements of the comic book/graphic novel medium? What craft elements/techniques stand out to you the most?
I like how it's a medium usually both relying on text and visuals, but it can still be a very subjective experience in the way you absorb the story. It has the visual storytelling and spectacle of a movie but also allows you to meditate over it and use your imagination to a certain extent, like a book.
I really enjoy it when I get absorbed into a comic and just experience reading it like I'm watching a movie. All styles of comics are great and valid, but that's just my favorite.
What's a question you haven't been asked yet but wish you were (and the answer to that question)?
I only know the questions I'm afraid people will ask me, haha!
I think the question nobody asked me yet but I wish they did is a surprise even to me. But when someone finally brings it up (whatever it may be) I will say, "You know, I never even thought about this before, but now that you mention it…"
Can you tell us about any new projects or ideas you are nurturing and at liberty to discuss?
I just finished another graphic novel! I'm putting on the final touches, but it's basically ready to go! It's a 180-page story and has girls in a band (recurring theme I guess). One is a werewolf and the other is a ghost. It's a lot of fun and I hope someone decides to publish it!
I also just started working on my third book. It's gonna be centered around vampires and skateboarding. I already have a new idea I'm trying to develop and it seems like I'm sticking to the urban fantasy, YA, rom-com genre for now.
What advice would you give to other aspiring creatives, especially those interested in writing their own graphic novel one day?
Don't write it "one day". Do it and do it now! Nothing is stopping you! It might take a long time and if that scares you, just start with a short story or start with chapter one and see if it makes you want to go further. You don't even have to show it to anyone if you don't want to, but you are more ready than you think you are! And even if you are not, you will be by the time you are on page thirty.
I wrote and drew Doughnuts and Doom while working full time and it was very exhausting. I wouldn't necessarily recommend that to everyone, but I think pouring energy into something you love is ultimately a rewarding thing (just make sure to take care of yourself, stretch and hydrate).
Finally, what LGBTQ books/comics would you recommend to the readers of Geeks OUT?
The Magic Fish by Trung Le Nguyen. Laura Dean Keeps Breaking Up With Me by Rosemary Valero-O'Connell. Anything from Kath Leyh and Tillie Walden. Giant Days by John Allison and Max Sarin. Flung Out Of Space and Cosmoknights by Hannah Templer. Kiss Number 8 by Colleen AF Venable and Ellen T. Crenshaw. And for the more adult readers who want some NSFW but wholesome stories, Sunstone by Stjepan Sejic.
Pretty sure I missed something I will regret later, so just go to your local bookshop and pick up any LGBTQ+ books you find interesting! That's what I usually do and nine out of ten times I don't regret it.