Lewis Hancox is a writer, illustrator, and filmmaker from North West UK. Mainly known for his online characters British Mum and Prinny Queen, he's built a committed following and regularly produces viral comedy videos. He has been featured in the Channel 4 series My Transsexual Summer and co-created an ongoing film project about trans people called My Genderation. You can find him on Instagram and TikTok at @lewishancoxfilms, on Twitter at @LewisHancox, and on YouTube at Lewis Hancox. As a longtime fan of cartoons and comics, he's proud to have created Welcome to St. Hell, his first graphic memoir.
I had the opportunity to interview Lewis which you can read below.
First of all, welcome to Geeks OUT! Could you tell us a bit about yourself?
Thank you for having me! Hi, I'm Lewis Hancox, I'm a comedy creator and author-illustrator of Welcome to St Hell: My Trans Teen Misadventure. I grew up in a small, working-class town in North England, which definitely shaped my humorous take on life. I've always loved to entertain, so I started making comedy sketches where I play various characters (I'm mostly known as being "British Mum"). The videos unexpectedly went viral which led to an online following! I'm also a filmmaker and co-founded "My Genderation," an ongoing film project celebrating trans lives.
What can you tell us about your upcoming memoir, Welcome to St. Hell? What inspired you to write this book?
Welcome to St. Hell is my memoir in graphic novel form, all about my life as a trans teenage misfit, growing up in the early noughties. In the first lockdown I was drawing a lot to pass the time and was suddenly inspired to draw my story! I realized the real lack of trans guy representation out there, and just trans stories in general that are told with humour and heart, in a totally non-political way. This isn't just a transition tale, though. It's a journey of self-discovery, whilst trying to fit in at a hellish high school, navigate family and friend dramas, cringey crushes and feeling like the only "fridge" (which meant you'd never snogged anyone). Anyone who is or has ever been an awkward teen will relate! And that's what it's all about for me, normalizing the trans experience and incidentally educating through entertainment.
How did you find yourself getting into comics? What drew you to the medium?
I've been drawing since I could clutch a pen. I remember watching all the Hanna-Barbera cartoons and reading comics like Calvin and Hobbes and dreaming that I could one day be a cartoonist! No matter what career path I've focused on, I've always been doodling away in my own time. I think I'm a very visual person, so telling stories through images comes more naturally to me than words.
How would you describe your creative process?
As a chronic self-doubter and perfectionist, I tried my best to let go and just have fun illustrating this book. The drawings don't have to be perfect, in fact the imperfections bring the personality! I draw using my iPad and Apple Pencil, which gives me so much freedom (there would be a huge heap of scrunched up paper in the bin if I drew with an actual pen and paper!) With this book I didn't overly plan it, I let the memories and ideas flow at their own rate and then sort of stitched the story together afterwards. A lot of the memories I'd buried deep, so I'd be drawing one scene and something important would suddenly resurface that I'd forgotten entirely! It was actually a genuinely therapeutic process for me, to revisit it all with a more positive outlook.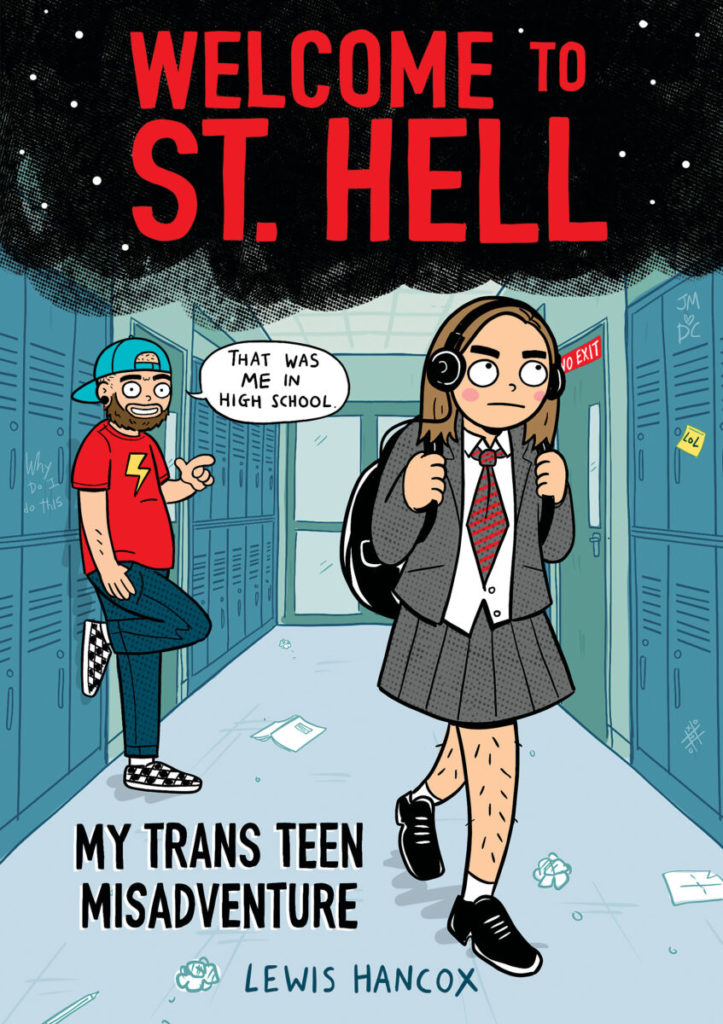 As an artist, who or what would you say are some of your greatest creative influences and/or sources of inspiration?
I read a lot of graphic novels that are routed in reality but with a surreal twist. I loved the Scott Pilgrim series, that was when I realized comics don't all have to be about superheroes—they can be about real human things like a character's love life! I also take inspiration from film and TV, as I kinda see drawing a comic like creating a storyboard for a film. I'm a big fan of Edgar Wright films, they all have that cartoonish vibe. I'd also say just life in general is my inspiration! I like to write about the little, relatable things.
What would you say are some of your favorite craft elements to work on? What are some of the hardest?
This is a hard question because drawing in general is my meditation, I honestly enjoy every part. I like getting playful with perspectives, timings and expressions. I love when I get a really clear vision for a scene in my head, and seeing it come to life on the page. Obviously, I get creative block though, as everyone does. That is super frustrating, and the self-doubt massively kicks in! Sometimes I find structuring the story hard, especially if I've got all these clear ideas for scenes but I'm unsure how to make them flow from one to the next. I'm still learning!
What's a question you haven't been asked yet, but wish you were asked (as well as the answer to that question)?
Something I often think about – if I could click my fingers and be born again NOT trans, would I? There have been times I would've said absolutely, yes, please let me be a cisgender man. But, actually, being trans has given me so many unique experiences. I've learned to turn the hard times into humour and art, which has brought me amazing opportunities. This journey has ultimately led to me achieving my childhood dream as a comic artist! I'm at peace now with the fact that I'm just a guy like any other, but with a different perspective of life.
Are there any other projects or ideas you're sitting on and at liberty to speak about?
I can't say much about this but Welcome to St. Hell definitely won't be my last graphic novel! I'm also working on some exciting ideas with the My Genderation team, delving more into feature length fictional films. And I'll be continuing to create my online comedy for as long as people are enjoying that!
What advice might you have to give to aspiring writers?
I would say just never ever give up! I've had countless scripts and ideas be rejected in the media world, but, similar to the knock backs in my transition, I just kept going! It still feels unbelievable to me now that I have a book being published with Scholastic. For me, writing about what I know has come the most naturally, so definitely take inspiration from real life (even if that's in a more subtle way).
What LGBTQIA+ books/authors would you recommend to the readers of Geeks OUT?
Here are some awesome graphic novels I've read recently that contain LGBTQ characters: I Am Not Okay With This by Charles Forsman, Deadendia by Hamish Steele, Heartstopper by Alice Oseman, Fungirl by Elizabeth Pich, The Girl From The Sea by Molly Knox Ostertag, Kisses For Jet by Joris Bas Baker, and On A Sunbeam by Tillie Walden.
---
Header Photo Credit Jo Gabriel