Deb JJ Lee is a Korean American artist currently living in Brooklyn, NY. They have appeared in the New Yorker, Washington Post, NPR, Google, Radiolab, PBS, and more. Books they have illustrated include The Invisible Boy by Alyssa Hollingsworth (Roaring Brook Press, 2020) and The Other Side of Tomorrow by Tina Cho (HarperCollins, 2024). They enjoy reality tv, sparkling water, and pretending to be an extrovert.
I had the opportunity to interview Deb, which you can read below.
What can you tell us about your upcoming graphic novel, graphic novel memoir, In Limbo? What inspired you to write this story?
On the surface, IN LIMBO is about the intersection of Korean-American diaspora and mental illness, and difficult maternal relationships. But deeper down, it's about the trials of asking for and granting forgiveness to and from those you have hurt, including yourself.
The roots of IN LIMBO started in 2018 in the form of a weekend project—a four-page comic about trans-generational language barriers that made its way around Twitter when Michelle Zauner of Japanese Breakfast retweeted it! My agent Ed and I were working on a picture book pitch at the time when he suggested the idea of a graphic novel, which I never thought I'd be capable of doing. That four-page comic was my longest sequential work, so a 350-page graphic novel was unheard of.
But I knew I have always wanted to make a story like this, even back when I was in the 5th grade. I was so miserable even as a 10-year-old since so much has already happened in my life that I wanted to write something to let it all out, but I'm glad I waited. Then you had those draw-my-life videos on Youtube in 2012, 2013? I must have been around 16 or 17 around then. I didn't partake even I wanted to so badly, but again, I'm glad I waited. But at the end of the day, I wanted to make this book for me—a letter, a therapy session for myself. I wouldn't change a thing about it.
How did you find yourself getting into storytelling, specifically comics? What drew you to the medium?
Though I didn't think I could make comics into a career until I literally started the pitch of IN LIMBO, I think there were instances throughout my life where I should have known it would happen. I remember making tiny little comics (early zines?) when I was very little, maybe around 7 or 8. I would fold a piece of computer paper into a book, write little fanfiction and draw fanart along with it and put them on display on my windowsill. I suppose that was my first solo tabling experience? But I think I stopped because my brother found them and told my friends, haha. But then afterwards I'd sneak into the comics section of Barnes and Noble when my parents weren't looking and inhale as much material as I could. Though that, unfortunately, stopped at around 12 for a reason I cannot recall.
Growing up, were there any books/media that inspired you as a creative and/or that you felt personally reflected in? Is there anything like that now?
Continuing on from the previous question, I wasn't allowed to read manga or any comic medium as a kid, so I had to find loopholes (sitting in the comics section of Barnes and Noble, reading Death Note or Fruits Basket on my iPhone 3GS before bed). But in 2007 I did convince my parents to buy me a copy of Brian Selznick's The Invention of Hugo Cabret, which is half prose, half illustrations, probably one of the first mediums that made me want to be serious about drawing well. I remember doing little studies of certain pages because Selznick was *the* artist I wanted to be back then! And even though Hugo Cabret isn't a comic, I think the medium comes close.
However, there were no books that I knew of that I felt personally related to in the 2000s, the early 2010s. Obviously there a good deal now—I know I would have loved Almost American Girl by Robin Ha. Though Robin's takes a different tone, the parallels on paper are quite similar to my own life—Korean in Alabama, art as solace, difficult familial relationships.
As an artist, who or what would you say are some of your greatest creative influences and/or sources of inspiration?
For IN LIMBO in particular, I had Inio Asano, Brian Selznick, Rosemary Valero-O'Connell, Jillian Tamaki, Mariko Tamaki, and Shaun Tan's work sitting on my desk. But for art in general, I'm lucky to be in a community full of artist friends who inspire me with literally every piece they make, and to even take the time to blurb the book(!) Other sources of inspiration include Art Deco, Japanese woodblock printmaking, Moebius, and everything maximalist.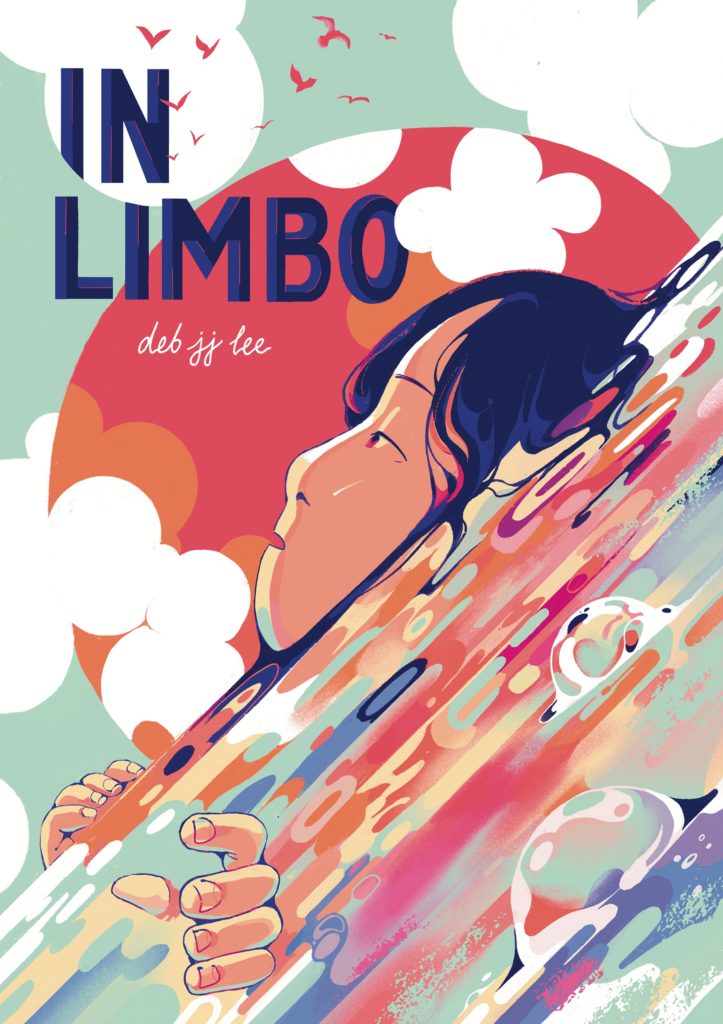 For those curious about the process behind a graphic novel, how would you describe the process?
Making a graphic novel gets emotionally taxing, no matter the topic. If a book has, say, 350 pages, with each page having 3-6 panels, that would be up to 2100 drawings. I worked on this book almost every day for three years, pumping out one page a day, and it was exhausting. However, to have it printed and in your hands has to be one of the most rewarding experiences, and a unique one too, especially for us digital artists. And when it's out, it's out—the book has a life of its own.
What are some of your favorite parts of the creative process? What do you find to be some of the most frustrating/difficult?
The best parts of the creative process has got to be the beginning and the end—writing the story, thumbnailing it out. The freedom is yours, the book can be everything and anything you want it to be. The possibilities are endless! And the end of the creative process is, well, you're done, you can pop a bottle of champagne with your friends, and then start the next project.
The most frustrating/difficult parts is everything in the middle. Cutting things out, learning that parts of your story doesn't land or make any sense. Figuring out what it's like to work under the timeline you're given, realizing that it's unrealistic in this economy, and having to ask your editor for a 2-year extension and holding your breath as you wait for their response.
I made a promise to myself that my future graphic novels will be worked under my own terms of being given as much time as possible—it will be done when it's done.
What are some things you would want readers to take away from In Limbo?
As hinted earlier, forgiveness is really hard to earn and grant. You may never accept or want to give it. And that is ok. Our problems will usually never disappear, but we can learn how to tame them as they fade in and out.
What advice might you have to give to other aspiring creators?
To find or build your community! To have friends who understand what it's like to struggle with yourself and the industry despite the level you're at, and to have people you feel comfortable giving and receiving help from is an unparalleled experience. It's a wonderful feeling to be able to recommend and share each other's work, to bring each other up. Being a freelance illustrator and/or artist is a lonely practice, so to have people who you genuinely care about vastly improves the experience.
And on a similar note—kindness sometimes goes a longer way than being a good artist. There are plenty of people in the industry who are at the top of the game who have repeatedly been rude or mean to their peers, and word gets around. You don't have to let your boundaries loose, just be kind!
In terms of skills, don't be afraid to keep building your basic foundations. It's always encouraged to break the rules, but you have to be very familiar with what those rules are. For instance, I think I have quite a ways to go in improving lighting and coloring—while I think I can tell what works and what doesn't, there's still a lot I am confused by.
Also, avoid fixating on one artist to take inspiration from! Look back into history. Chances are if you have a visual problem you need solving, it's been done 182379 times, multiple different ways. Looking into the past also helps you avoid emulating trends and saturated methods of drawing—it will make you stand out as an artist!
And when working on book projects, one of the most important things of the process is to have a good relationship with an editor, preferably one who understands the intense labor of drawing and can give you more time, which you should never feel shy asking more of. You only have one body!
Besides your work as an artist, what are some things you would want readers to know about you?
Related to IN LIMBO, I do see myself exhibiting similar patterns of hopelessness but I definitely improved a long way! My problems have never really disappeared, but I like to say that I've gotten much better at coping with them.
And even though I'm a she/her in the book, I'm very much a they/them. The nonbinary bit came in after the book was finished, but I decided to keep it she/her in the book still because that's who I wanted to be at the time. But a lot of people don't know the difference, so I'm still misgendered in a lot of notes, unfortunately 🙁
What's a question you haven't been asked yet but wish you were (and the answer to that question)?
Question: How has writing a memoir make you look at your past differently?
Answer: Wow thanks for asking! Making IN LIMBO was therapy about a parallel universe. I'm much more comfortable talking about my past; writing about it for the public was the best way for me to process it all. The events that happened in the book vs in real life are as similar as I could make them, but the book version is much more palatable for readers. I wish I could have included every aspect (like how there were *three* orchestras I was part of instead of one, two different Korean schools, bullies in the New York art program, and how Quinn and I did meet up in Korea and were on good terms until 2018) in 350 pages, but that would make the story too complicated. The conclusions are the same, but the means to get there are slightly different. But I do worry that as time goes on I will start confusing one memory for one that I fabricated for the book.
Are there any projects you are working on or thinking about that you are able to discuss?
I'm working on THE OTHER SIDE OF TOMORROW with Tina Cho over at HarperAlley, which is about kids escaping from North Korea. I should be done coloring it by the end of this year so I think it's publishing in Fall 2024!
We also just announced MONSTER SEEK, a picture book with Rainie Oet at Astra Books about gender identity.
As for projects that only exist in my head, I do one day want to work on a book that mixes PACHINKO and CLOUD ATLAS. I have no idea how I would be able to accomplish that but that's part of the challenge, isn't it?
Finally, what LGBTQ+ books/comics would you recommend to the readers of Geeks OUT?
The classics: SKIM by Mariko Tamaki and Jillian Tamaki, SUPERMUTANT MAGIC ACADEMY by Jillian Tamaki, DON'T GO WITHOUT ME by Rosemary Valero-O'Connell, MAGIC FISH by Trung Le Nguyen, STRAY by Molly Mendoza, and SPINNING by Tillie Walden.