Everyone was excited to see what new information we'd get about the Last of Us Part II at E3, and I was certainly not disappointed. Yes, we didn't get a release date, but what we got will hopefully sustain us until the game actually comes out.
In the game play shown at the conference we got to see that indeed we'll get to play as Ellie, who's looking as queer as ever. And that's not all! We don't have to worry about the game shirking away from her sexuality, because we got a kissing scene in the first few minutes of the trailer! The way they transitioned from the kiss to game play and then back was absolutely fabulous and stunning, but there was a queer kiss! In a trailer for one of the most anticipated games! In front of a large in-person and online audience. During Pride Month! It doesn't get much better than that, folks.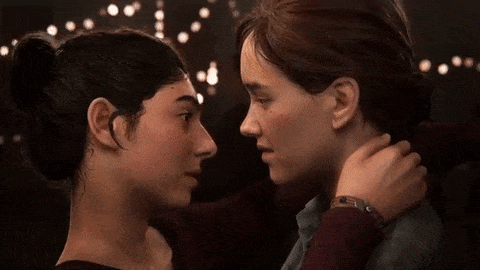 Seriously, I could stare at that GIF forever and it would never be enough. The kiss was so tender and adorable and sexy and it's beautiful. The motion capture work that Naughty Dog uses for this game is truly astonishing and most definitely pays off in super queer ways.
The Last of Us Part II changes the game. If you want to play one of the probably hottest games (of hopefully 2019—please, Naughty Dog?) you have to play as a queer woman. Dude bros who are mad at the very idea of female inclusion in the video game are made to play as a Ellie. And more importantly, queer female gamers get to play as a character who reflects a part of their identity. Getting to smash zombies or weird cultists or Fireflies as a queer woman is going to be so much more satisfying.
It's going to be very interesting to see where Ellie and her story leads. Will we get to see more of her and her dance partner throughout the game? And where does Joel fit into all of this? We definitely have time to speculate, but for now I think it's important to reveal in the fact that a major video game developer showcased their game with a big gay kiss at one of the biggest conferences in the industry.
In a world where we're often silenced, it's nice to have a little reprieve in which we're the main character in an epic story. We're here, we're queer, we're in your video games. Get used to it.