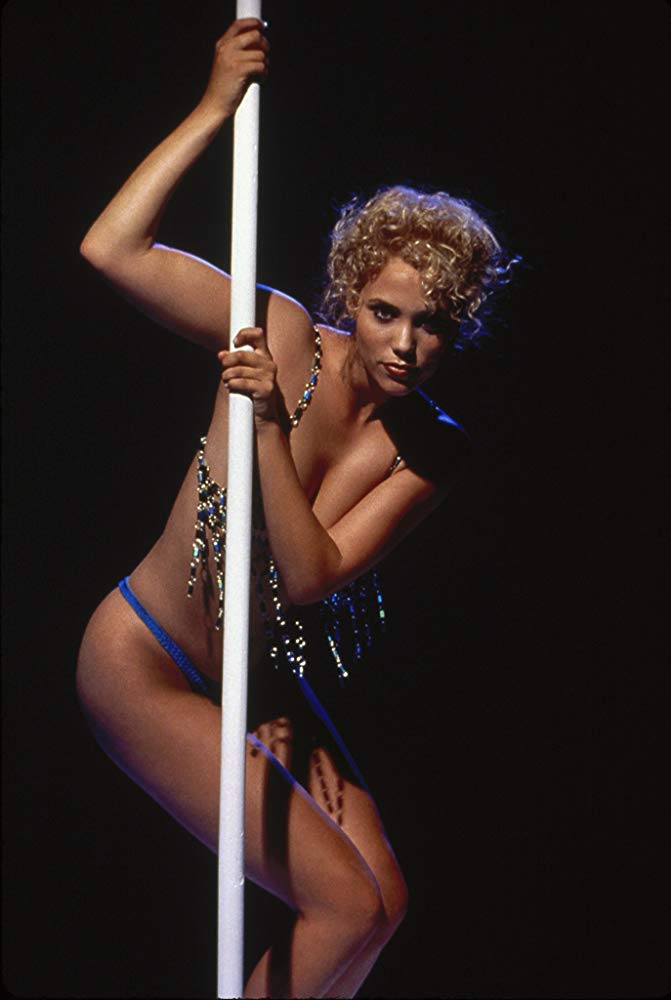 For camp movie fans, the existence of a documentary about the Showgirls cult is both remarkable and unsurprising. It's unlikely subject matter in some ways, but if you saw Paul Verhoeven's notorious 1995 flop for the first time with a date who did all the dance moves while watching—and then, later, with an adoring crowd led by the inimitable Hedda Lettuce—it's no wonder someone got a whole ninety minutes out of this. It's a testament to writer/director Jeffrey McHale and his exceedingly witty, literate commentators that You Don't Nomi exceeds expectations—it's not just diverting but intensely imaginative and thoughtful, and it becomes a film not just about Showgirls but about movies and our love for them, too.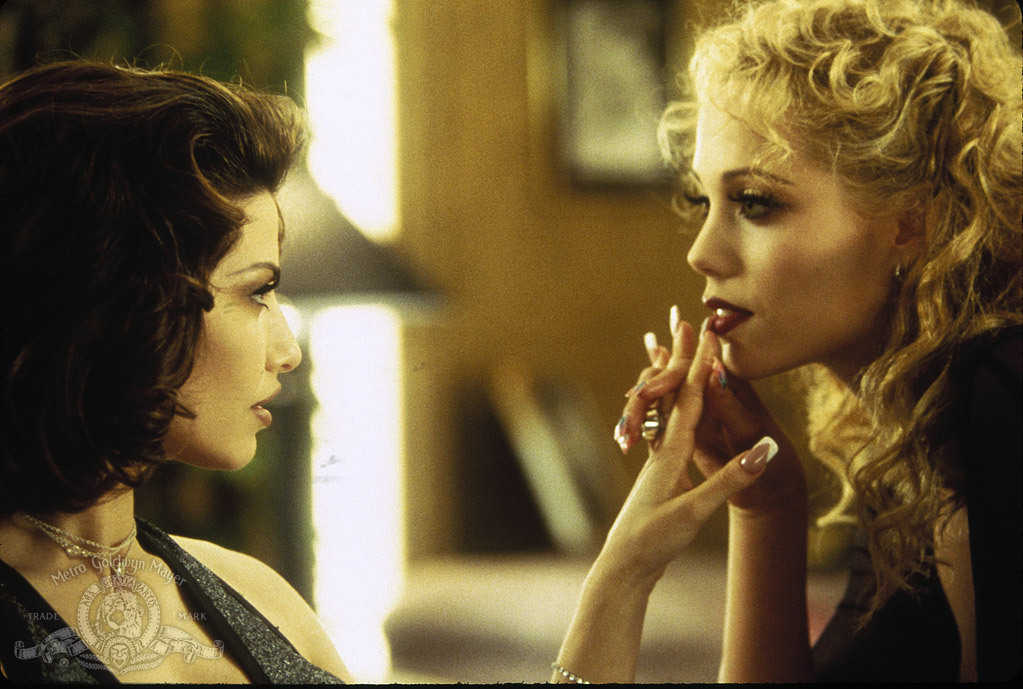 Showgirls arrived twenty four years ago amidst a swirl of controversy: it was the first ever mainstream NC-17 movie, and it starred Saved by the Bell good girl Elizabeth Berkley in a potentially star making role as stripper Nomi Malone. Nomi is running from a mysterious past—when friend Molly asks her where she's from, she memorably blurts "DIFFERENT PLACES!!!!"—and is seeking stardom in the tawdry world of Las Vegas. Her big break comes via Cristal Connors (a delightful, scenery chewing Gina Gershon), the star of the revue Goddess, and her entertainment director boyfriend Zack (heartthrob Kyle MacLachlan), who's willing to help Nomi replace Cristal in the lead in exchange for some spastic swimming pool action. Before you can say All About Eve, Nomi's headlining at the Stardust, but at what price?
---
McHale forgoes "talking head" interviews in favor of a continuous montage approach. He deftly weaves together footage from Showgirls as well as Verhoeven's other films, like Robocop and Basic Instinct, and other notable film favorites like Mommie Dearest. All the while, we hear ruminations from an engaging cast of characters: Adam Nayman, film writer and author of It Doesn't Suck: Showgirls; April Kidwell, a theater performer who played Nomi in the Off-Broadway Showgirls musical (pictured above) and who's touring this summer with a new prequel show, I, Nomi; and Jeffery Conway, a poet who wrote a book of sestinas (!) based on the film. They and others offer their perspectives on Showgirls: for some, it's an endlessly watchable piece of trash; for others, it's a surprisingly underrated satire that brilliantly skewers cultural attitudes towards sex, entertainment, and other issues. Kidwell used her roles as Berkley's caffeine pill addicted Jessie Spano (in Saved by the Bell: The Musical) and Nomi to overcome her PTSD following a rape; while some deride the scene in which Nomi avenges Molly's rape, for Kidwell, it was an especially empowering and resonant moment. Another commentator points out that Nomi, in seeking success in the big city, freely using her sexuality, and building her own chosen family, is reflective of many queer people's experience (to say nothing of the unsubtle lesbian "subtext" that pervades her interplay with Cristal).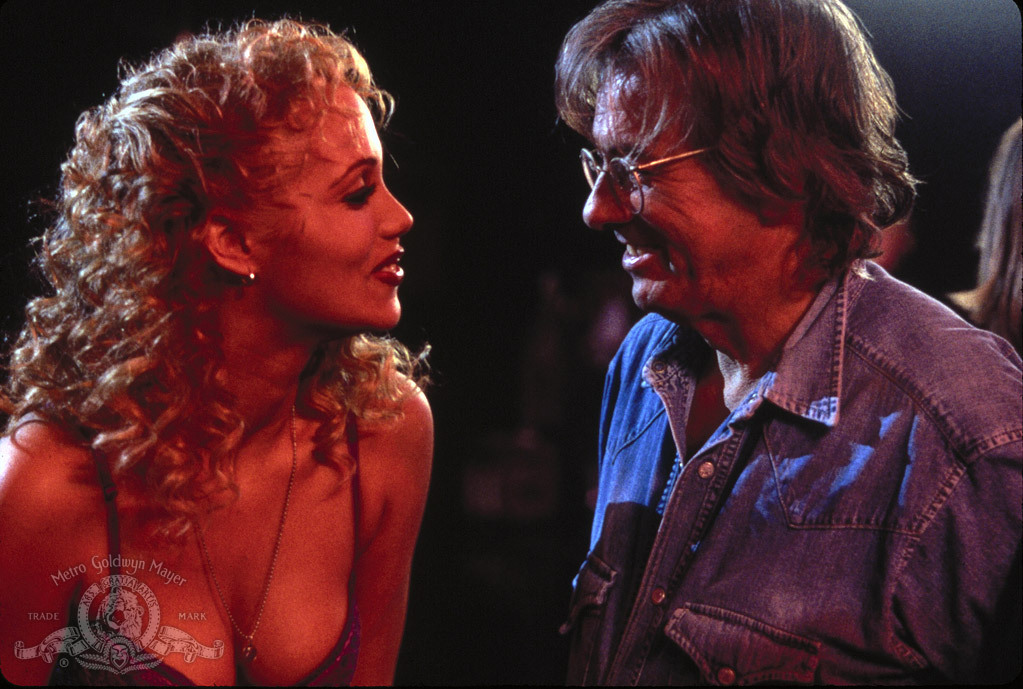 The movie also examines why Berkeley became the scapegoat, in many ways, for the movie's box office and critical failure. While You Don't Nomi's participants revel in her outlandish performance, they also take pains to demonstrate that Verhoeven directed her specifically to behave in an outsize way. They also hint at the sexism that played a part in her torpedoed career: a clip shows Gene Siskel bluntly criticizing her appearance, and Verhoeven's misogyny is detailed at length. When Berkley is shown introducing a packed Hollywood screening of the movie in 2015—and receiving a standing ovation—her emotion is palpable.
---
You Don't Nomi is a must see for fans of Showgirls, but more broadly, this is a movie about the profound ways film can impact and inspire the lives of audiences, particularly queer moviegoers.
---
You Don't Nomi screens Tuesday at 8:30 as part of the Tribeca Film Festival. Visit tribecafilm.com for more.