The Chicago Alternative Comics Expo (CAKE) is this Saturday and Sunday, June 1 & 2, 11a-6p, at Chicago's Center on Halsted (3656 N. Halsted Street). It is a celebration of independent comics, inspired by Chicago's rich legacy as home to many of underground and alternative comics' most talented artists. Featuring comics for sale, workshops, exhibitions, panel discussions and more, CAKE is dedicated to fostering community and dialogue amongst independent artists, small presses, publishers and readers. The event is open to the public, and admission is free.
---
I had a conversation with two of CAKE's queer organizers, Chris Lopez and Jon Mastantuono, to talk about their roles in organizing CAKE, highlights of the weekend, the role of conventions in sharing comics and queer culture, and more.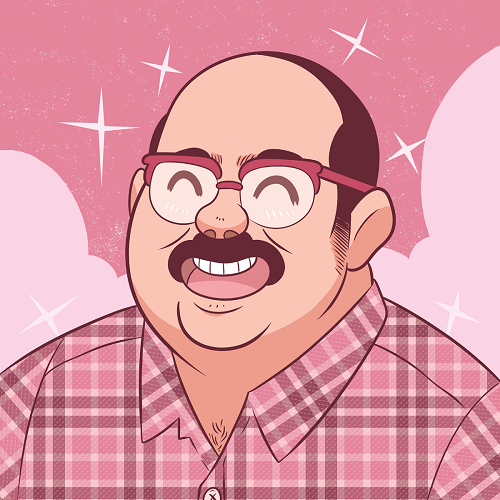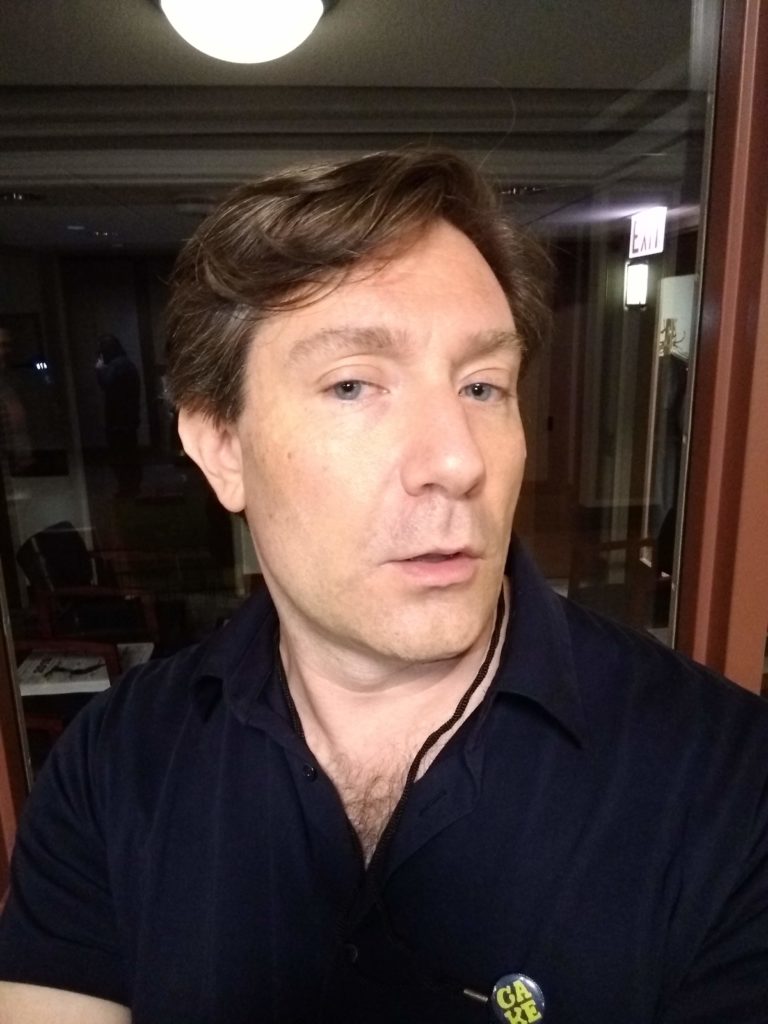 Gavin: I know there are two administrative roles in planning CAKE, coordinators and organizers. Can you detail what you do as organizers, and how are those responsibilities different than a coordinator's?
---
Chris: I am in charge of Exhibitor Services. I set up the applications, organize the jury, create & send out the jury scoring packets. I started out volunteering for CAKE for several years before being asked to come on as a coordinator, and a bit later, as an organizer. We tend to have our organizers in charge of specific, key aspects of the show, while coordinators help out in some of those areas, as well, or are invited to take on their own projects, like putting together the CAKE anthology for the show.
---
Jon: I cover CAKE sponsorship, budgeting and accounting, show logistics, and I run the art auction fundraiser in the Spring. I've worked as a volunteer in similar roles at other art non-profits. Same as Chris, I started as a show volunteer and took on more responsibility as needed.
---
Gavin: Now that we're getting close to CAKE weekend, what specific aspects are you looking forward to unveiling? There are a lot of panels and workshops that look engaging. I may be mistaken, but it seems like there are more than past years. Are there particular queer creators expo attendees should be mindful of? Who are you most excited to see represented?
---
Jon: We expanded the size of the curatorial jury by more than 100% this year, I'm looking forward to seeing the breadth and diversity of creators and types of work that result from that. CAKE is a curated show, and we felt that the best way to represent more and different voices was to have more and different eyes scoring all the applications. New people got in, people who were frustrated by our wait-list process, or the amount of competition for a spot, got in. The thing I look forward to the most is floating around and seeing if it worked.
---
I think ORGAN (Table 210A) is going to surprise and delight a lot of people. Calling it like queer horror is criminally reductive; it's being chained to a wall in a dark room and you're screaming not sure if you're awake or dreaming and something horrible occasionally brushes across your thigh at irregular intervals. I naturally gravitate to work about the condition or contexts of being LGBTQA+ that are not cute or happy or confident or signifiers of community.
---
That said, you really can't go wrong with locals Gabe Howell (206A), JJ McLuckie (206B), Sage Coffey (517B), Tony Breed (310A), or Aim Ren Beland (107B) – all super-perceptive, creative, and evolving, and succeeding hugely. Five wholly unique points-of-view.
---
Same for out-of-towners Pete Faecke (410B), MS Harkness (410A), Archie Bongiovanni (504B), M. Sabine Rear (406A), Eric Kostiuk Williams (310B)- I'll always go out of my way to get what they make.
---
Special guests Isabella Rotman (504A) and Corinne Halbert (216) are absolute pros of the highest order, you probably already know them. No one's ever regretted buying anything of theirs for a single second ever.
---
I'm certainly forgetting people! There are always people I don't know or haven't read out there who are stunning and wonderful and wonderfully stunning- I'm sorry I don't know them!
---
Chris: From a personal perspective, I am most excited to be revealing my own book this year! After several years of work, I'm proud to show it off. It's a hundred pages of a play that I adapted into comics. Show-wise, the focus on queer creators has always been something I've felt strongly about, so I'm hopeful that the public can find a bit of themselves reflected in the work, no matter where they're coming from.
---
Gavin: Sage Coffey, and their character Wine Ghost, is a big favorite of mine. Tell us more about your book, Chris.
---
Chris: It's titled Signal & Silence. You can find it at the CAKE comics table, right by the info desk. It's the story of a group of friends recently graduated from a religious school, and how they are trying to forge ahead with the rest of their lives after some secrets are revealed. The original play is from Randy Wyatt, a theater professor and dear friend. It is self-published, after realizing that a large, full-color dramatic adaptation might not be what publishers are clamoring for.
---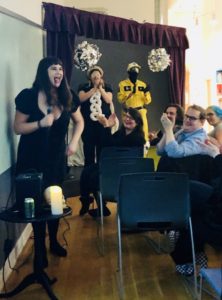 Gavin: Would you talk about the role of conventions/expos in proliferating queer and comics culture? How can patrons benefit from conventions in a way that, say, the internet cannot? Jon, you mentioned the importance in not just establishing diverse creators, but also involving a diverse curatorial body. Chris, can you add to that?
---
Chris: Expanding the jury pool for this year's CAKE was one of our most ambitious goals, and I'm proud to say I was able to more than double the number of people who took time out of their schedules to study the applicants' work and score them. More representation in who is curating the show will lead to more representation of the types of voices who have stories they want to tell. I mean, it's not enough to just have a number of LGBT comics at the show. We also want to highlight and showcase LGBT stories from people of color, people whose experiences we may not get to hear about as often. I am a chubby, latino, gay dude from Miami who is into games, music, and nerdy shit – and all these labels are reductive, and far from a complete list of course, but they serve to highlight that it's not just some singular gay experience that needs to be spoken to, but that people are wonderfully complex and their stories can be equally as deep and involved.
---
Jon: Hmm. I remember in 2002, when I was almost young, I had the good fortune to operate a kissing table at an experimental theater carnival. The show was narrative but during the hour before it started, you could have a tarot reading, or a band would improvise a song for you, or there were some tumblers you could watch- you were given tickets with admission and you could spend them on these things…I had a tuxedo jacket and breath spray and a single red rose and if you gave me a ticket I would kiss you. I'm bisexual, and I would kiss whoever with some amount of conviction and excitement. And one guy came back the next week, he paid to get in a second time, to tell me he'd been kind of wondering if he might be gay, and setting up my table and lowering the barriers for him to just try it, truly, without any consequences or worry- make out a little with a man in a public space and walk away- helped him in his thinking. Getting to do that was an invitation, or the asking of a question.
---
CAKE has always felt that same way to me…a person who's there to meet Nicholas Gurewitch or Jim Woodring might also meet an exhibitor or read a book that helps them connect with some essential part of themselves or the world. They might ask themselves the question. Not just about sexual identity: they might understand intersectionality or colonialism better, or their own inherent biases. A person might orient toward an understanding of rape culture. They might look at poly in a different way, or the asexual pantheon, or any of the beautiful expressions of kink culture. Or they may think about their mental health in a new way. The times I was lucky enough to exhibit at CAKE, I cannot count the number of people who came out to me as newly queer or trans, or cried to articulate some truth about grief or loss that no one had opportunity to ask them before. Many. Dozens.
---
I don't know how that's different than the internet, and I'm not internet native….some of my group chats feel like that sometimes. Tumblr at its finest was not un-CAKE-like. But, you know, there's some exchange, there's some electricity when it's real life. I think it's good to go somewhere sometimes.
---
Chris: As for convention culture in general, I wouldn't place the internet on one end and cons on the other; they are symbiotic and benefit each other. You can follow someone's work for a while on the net, but getting to meet them in person, and at an intimate show like CAKE, you might actually have the chance to talk and make a connection face-to-face. Additionally, there are exhibitors whose work can't be displayed on a web page, as they play with the form of either paper folding, laser-cuts, or somehow incorporating the physical medium as part of their art. Walking out of the show with an armful of comics by people you've interacted with is an entirely different experience than going to your regular bookmarks and spying the latest pages, but it's not always possible to find or physically discover all this new talent out there, so the internet is still an amazing resource. I know I invited several people to apply to CAKE after following their posts for a while.
---
Gavin: Chris, you commented on the value of the physical medium of comics, and the importance of different techniques of expression within the form. Can you both identify trends that have shaped comics in 2019? I have seen risograph techniques increasingly used by many creators, for example. Have you seen similar ideas coming out of the collective consciousness in 2019, or recently?
---
Jon: I don't know, I think in general the industry is contracting. If I've noticed a trend in art comics it's that only the very strong and the very foolish survive, and it can be tricky to tell which is which. They're also not mutually exclusive categories. But that's probably not new?
---
Chris: Riso has definitely been gaining in popularity, but as of right now, I wouldn't be able to identify any particular trends, besides all those Game of Thrones comics I'm expecting to see after the finale. 🙂
---
Gavin: Is there anything else you would like to share about your experience with CAKE, and queer comics in 2019?
---
Jon: Working with Chris and the other organizers (Matt Brady, Mike Freiheit, Jackie Roche, and Ed Witt) is a gift. I'm genuinely impressed by their generosity, quality of work, and deep commitment to the mission of CAKE. We're all communicating well and trusting each other this year more than ever, and it is a dream to work with each of them. We all give a lot of ourselves to planning this book fair.
---
Also, please come to the expo! We have an amazing exhibitor list, workshops, and panels. You won't be disappointed. It might change your life.
---
Chris: Working to produce CAKE has been immensely rewarding. I've gotten to interact with some of my comics heroes and meet a whole lot of people in this community. It's like, you know there are all these amazing comics out there, but having this many creators all in one room takes it to another level. Like Jon said, we'd love to see you at the show. It's free, fun, and fabulous!
---