"It was one of those freezing cold days," author and actor Joe Zaso recalls, explaining the genesis of his series of "Café Himbo" cookbooks, "I was home and I love to cook, and I decided to start dabbling in recipes and things. Back then I was in the West Village. Jessica Harper [from the original Suspiria] had just written a book called The Crabby Cook Cookbook and I was very inspired by [it], so I said, I think I'm gonna start a blog. So we can exchange recipes. And because I'm called the Horror Himbo by some sites, [like queer horror site Camp Blood] I made the name the Café Himbo, which became a blog, which became a cookbook, which became a little featurette show on YouTube, which became a brand, and here we are, still going strong."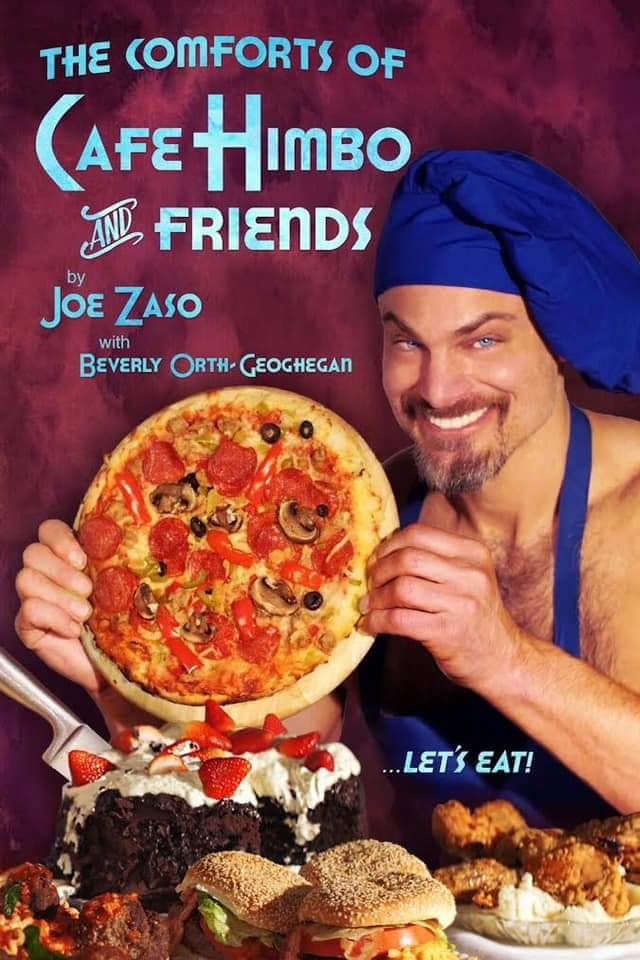 Zaso and I are chatting in a coffeeshop in his current neighborhood in the lower east side. Zaso is jovial and easygoing, talking quickly and excitedly and using his hands. He has an amusing tendency to imitate the voices of the people in his life—and books—perhaps reflecting his background as an actor. Apart from his own roles in horror films like Revenge of the Egg and 5 Dead on the Crimson Canvas, the "Himbo Chef" is a lifelong fan of the genre himself, and his books are filled with recipes from other horror players like Rutanya Alda (Amityville II: The Possession, Mommie Dearest) and Candice Azzara (Pandemonium).
"It's what's so surreal about people like Rutanya Alda, I've been watching them in movies since I was kids, with my brother on HBO, and here I am 30 years later and we're talking about their cats, kvetching about rent, she's telling me about her past relationships," Zaso says. "She will slip into Amityville II, here and there, but, you know, we'll be meeting here and she'll tell me how she's into gluten free [foods]." Zaso draws collaborators from his personal life, horror conventions, and occasionally messaging people on social media. "It's cute because everybody, I think they find it flattering and fun," he states. "Some people they don't return emails, or they say thank you for asking. Camille Keaton, from [the notorious "rape revenge" film] I Spit on Your Grave, she said that she makes popcorn, and that's about it."
For his latest book, The Comforts of Café Himbo and Friends, Zaso teamed up with his friend Beverly Orth-Geoghegan. "She's fun to work with, she's very seasoned, she knows her wines, she's a good cooking partner," Zaso enthuses. "So I was like let's write a book together. And she said, [Zaso slips into an impression] 'oh, it would be fun!' We exchanged recipes, and cooked at each other's places." Orth-Geoghegan has a horror connection herself; her husband Ted Geoghegan is a writer/actor who wrote the critically acclaimed independent film We Are Still Here (2015) and appeared in last year's The Ranger.
As the title indicates, Zaso's latest focuses on comfort food, from "Tiramisu French Toast" to "Creamy Dreamy Tomato Parmesan Soup" to "Single White Trash Chicken" (the latter from Rockbar co-owner and fellow horror fanatic Jason Romas).  "The book is about comfort food and just comforts, period," Zaso explains. "There's just unease at the moment, you almost feel guilty for having fun and doing certain things.  On Facebook I would see people posting every day with their favorite junk foods and all these decadent things, and I said, 'didn't we used to be really health conscious?'  And I think people are just saying 'no, we want fun right now.  We want to be healthy, but right now we want to be, you know, are souls need to be improved.'"
Zaso finds certain horror films from the 70s and 80s to be a sort of comfort food, and was tickled to include some of their stars in his latest.  "One person I like very much is this actress Elizabeth Shepard, who you may know as Joan Hart, the woman who got pecked by the raven in Damien: Omen II," Zaso says.  "She is such a doll.  She lives uptown, she teaches Shakespearean classes down here.  She gave me a whole bunch of recipes over the years.  The weirdest, most interesting recipe I got from her was for Pigeon Pie, which is very Northern English, it's like squab, so we made a joke, 'in honor of my attacker.'  For this one she gave me Welsh Rare Bit and Elizabeth Shepard's Shepard's Pie."  The book also features Lynne Griffin, who famously played the first victim in the original Black Christmas (1974) and has found more recent success starring in Hallmark movies like Santa Baby (2006).   "She's bubbly," Zaso shares.  "And she has her fans, she has her horror fans, and if you're like my mom– and I'm becoming a bit of one myself– she has Hallmark.  She's such a good cook herself, she has such great advice.  She and her husband have recipes galore in the book and they're just wonderful."
I ask Zaso why he thinks horror has such devoted queer fans, and he ruminates on the topic a bit.  "I have this theory that half the horror fans in this world are gay people," he says.  "What made me discover this is when you go to newsstands and Barnes and Noble, all the horror magazines are near the gay magazines.  Everyone who likes Pino Donnagio [composer of films like Carrie and Dressed to Kill]they always turn out to be gay, I don't know why.  What is it about horror sequels: Damien: Omen II, Exorcist II, Elm Street II, they are always big with gay fans.  What is it?  There's something there.  I don't know what it is.  There's something in horror that just speaks to their soul."  Later, Zaso brings up a theory a friend once offered about the author's personal connection to the genre.  "My friend Ricardo, from Rome, who's straight, he said, 'I think you liked horror in the 80s and 90s more, were you out yet?'  And I said, no.  And he goes, 'when you came out, you noticed that you liked horror less, maybe it's an exchange of aggression, maybe it was your guilt, or like hatred or darkness that exchanged,' and he was being very philosophical and as soon as I became more comfortable with being gay I stopped liking horror as much.  I don't know if that had something to do with."
Zaso is more assured when it comes to advice on becoming a good cook.  "Patience and space, are the two vital things that will help you become a better cook," he declares.  "Because when you have that, then you want to try things and relax and not rush and not burn things, and you want to take a little more time to cut that tomato up and not just, you know, hack away like Jason.  When you have a nice kitchen, and you have people there, and you have a glass of wine, and you're talking, it's pleasant, it makes the whole experience fun."
The Comforts of Café Himbo and Friends is now available in physical and e-book form on Amazon and at joezaso.net.