The Okay Witch is a recently released YA graphic novel, written and drawn by Emma Steinkellner, published by Simon and Schuster's Aladdin imprint. Steinkellner, who previously illustrated the Eisner-nominated Quince series, makes her graphic novel writing debut in this coming-of-age story about Moth Hush, a serially bullied thirteen year old girl from the town of Founder's Bluff, Massachusetts. It may seem easy to overlook one more young adult comic about witches, but it would be a mistake to compare this book to any of its superficially similar contemporaries. What The Okay Witch truly excels at is showing off the enormous scope of stories and subject matter at home in the coming-of-age fantasy genre.
This book is far from the first piece of fiction rooted in early American witch hunts. A common problem with these stories is that they can sometimes seem to play into the narrative of witch hunts as legitimate criminal trials rather than absurd, state-sanctioned torture by suggesting that real witches were actually involved. This book manages to subvert this issue by calling out the inherent misogyny of these hunts, and exploring as a major theme, the deliberate erasure of history as a way to control marginalized communities and embolden those already in power. Where this intersects with racism heavily influences the entire narrative. Our protagonist, Moth, is a mixed race teenager who has never known her father, and whose mother's side of the family is an utter mystery. Moth suffers from accusatory, racially tinged questions like, "Where are you from," despite her family having roots in the very founding of her town. The witches themselves also reflect the problems of white feminism failing to center the voices of women most particularly targeted by patriarchal violence. The leadership of a black woman is questioned by the other witches again and again throughout the story. "Many were already uneasy with her leading them, and fear and doubt were making it worse." And while LGBTQ themes are not as significantly apparent as themes of race, a declaration of love between two young men in the fifties is delightfully queernormative in a way that reinforces the book's ideas about erasure and representation.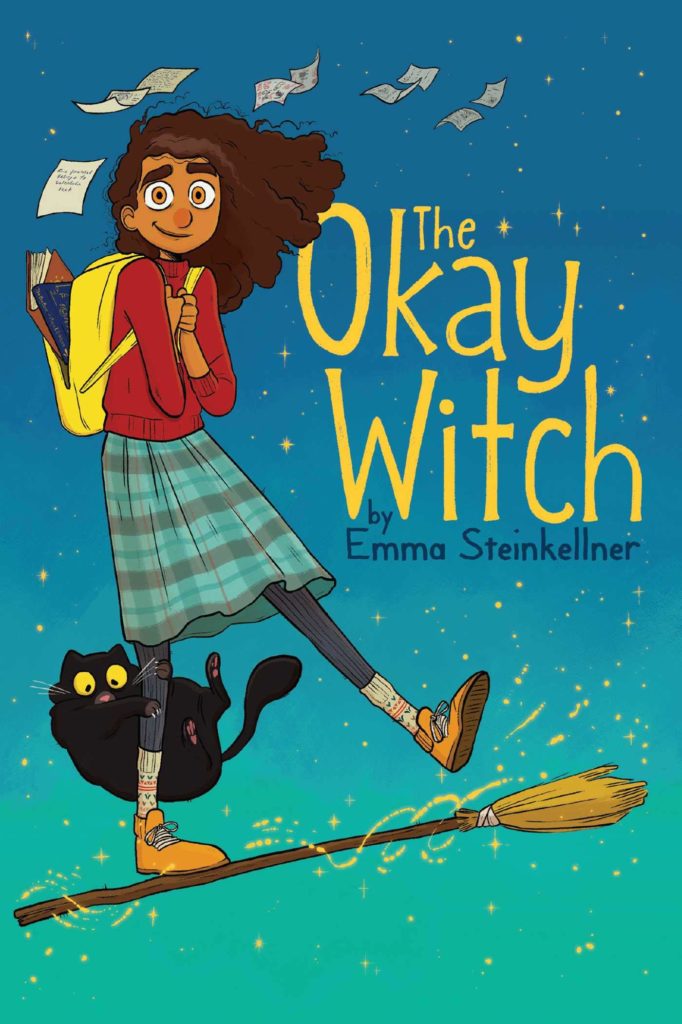 Beyond the storytelling, the craft of the book is superb. The art is whimsical and joyful, each character's design is unique, memorable, and instantly recognizable. The colors express a range of moods, and highlight the difference between present day, flashbacks, and other worlds brilliantly. The lettering is especially impressive. While some pages are very dialogue heavy, they read well, never slowing down or distracting from the art. Given that Steinkellner is the only person credited in the book, it seems safe to assume she handled each of these duties, which is an honest-to-goodness triumph. YA graphic novels continue to explode into the market, and with titles like Raina Telgemeier's Guts and Dav Pilkey's Dog Man: For Whom the Ball Rolls showing up on the American bestseller list for books overall (not comics or kids books mind you, but books), it seems readers can't get enough. My recommendation is this, you won't find a better read for the fall season than The Okay Witch. And if you've already checked out Witch Boy, or Mooncakes, or Witchy and feel like you can skip this one, I assure you that all these wonderful titles have different things to offer, and this is just one more that definitely deserves your attention.