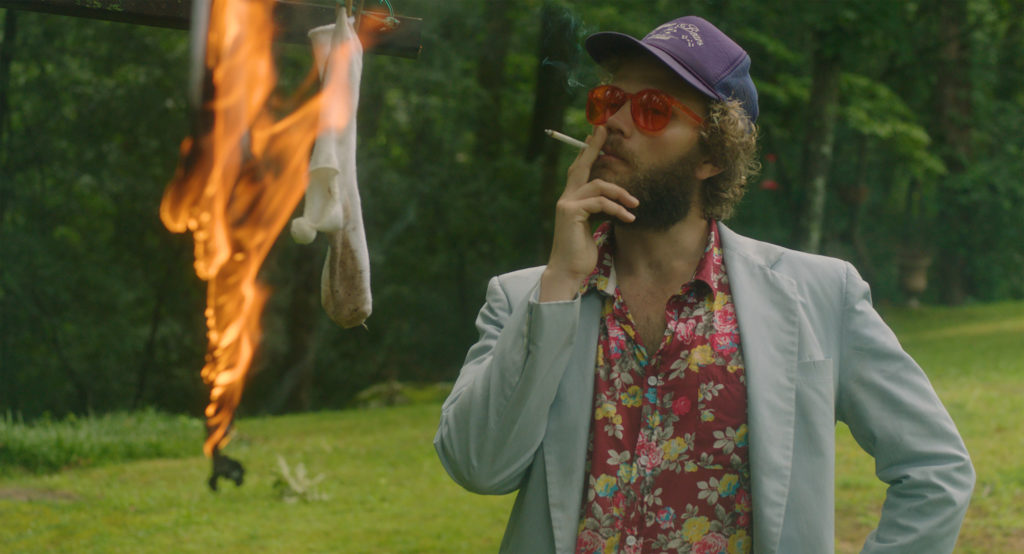 My early notes for Socks on Fire, Alabama-born director Bo McGuire's unusual and personal documentary, are pretty harsh. "Bizarre," I wrote after the opening few minutes, with elaborate tableaus of various people throughout a house, with objects like dishes mysteriously floating in the air. We're dropped in with little context or explanation of who these people are or what these tableaus are meant to convey. I jotted down "pretentious?" after McGuire drawled the first of many monologues, this one concerning his childhood belief that his grandmother's backyard was "the forest." I continued to struggle with McGuire's unique approach to his family history. Mixed in with home videos and interviews with his mother, godmother, and uncle are elaborate recreations of events, as well as behind the scenes glimpses of those recreations. Was he purposefully emphasizing the artificiality of these scenes? To what end? Was this all just a little too arch, too camp, to take seriously?
But as I continued to watch the film, and Socks on Fire established a narrative—essentially, it's the story of how Bo's gay uncle John was ostracized by his aunt Sharon, who tried to lock him out of the family home his mother wanted him to inherit after her death—I warmed to the movie's offbeat approach. With his hipster trucker hat, red glasses, and colorful suits, McGuire cuts a distinctive figure. He relates his own experience growing up gay in a small town, and his close relationship with his grandmother and mother. He and his aunt Sharon were close, too, but as he became a preteen and started to show more flamboyance—the videotapes from this time are priceless, and relatable—she seemed to turn against him. He recalls how she mockingly called him "Reba," after his favorite singer at the time, Reba McEntire, and how hurtful that was. Following his grandmother's death, Sharon conspired to take her house away from John, who would otherwise be homeless. This seemed driven mostly by her immense discomfort with his sexuality.
Apart from an intriguing bit of hidden camera footage in which Sharon confronts John inside the house, McGuire dramatizes the conflict by casting John, a drag queen, in the role of his own sister. John's performance manages to transcend camp and get at a deeper emotional truth about his estranged sibling. I wondered if it was unfair to make this film without giving Sharon a voice to defend herself, but it's clear that McGuire was interested in more than a caricature or a middle finger at his aunt. A discussion of her troubled, possibly abusive marriage and scenes of actors Odessa Young and Michael Patrick Nicholson playing young Sharon and her husband suggest a desire to understand what drives her.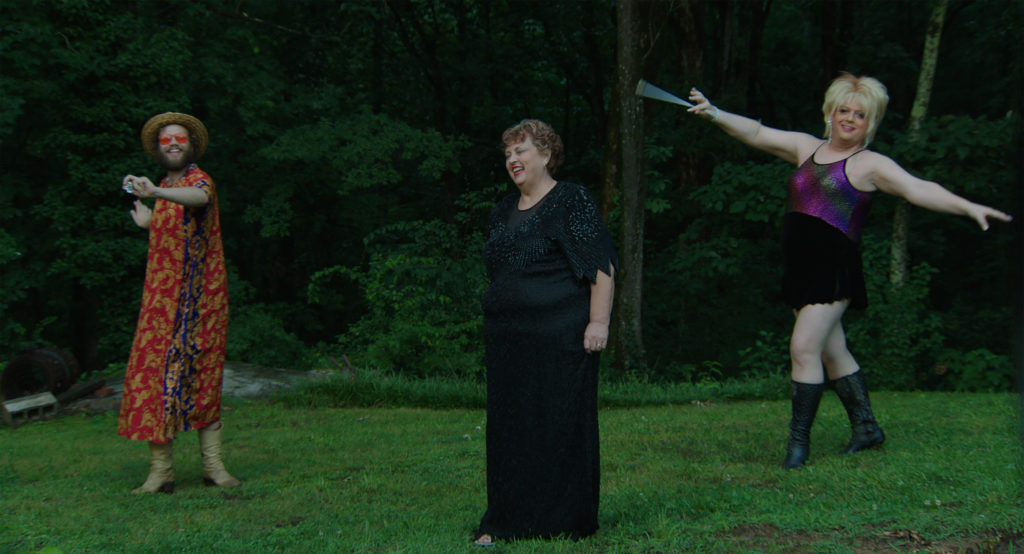 McGuire has a keen visual sense and displays creativity throughout his movie—animating photo collages to bring them to life, for instance. His movie is a heartfelt reflection on the importance and meaning of family, with his loving and accepting mother Susan helping to explode stereotypes about Southern attitudes towards gay folks. Socks on Fire stands out from the pack even in a festival known for its documentaries; McGuire was awarded Tribeca's Best Documentary Feature prize for his efforts. It challenged my ideas of what a documentary could be.