Bred in Alaska, James Sweeney is an actor-turned-playwright-turned-filmmaker. His debut feature, Straight Up, was the Breakthrough Centerpiece at Outfest and distributed by Strand Releasing. I had the pleasure of interviewing him recently, which you can read below.
To start, how did you first find yourself getting involved in the filmmaking industry? What attracted you to it and how do you find yourself wanting to change it?
My first love was theater, then television, and film came later. I do believe good storytelling can positively affect the world, and that, plus the buckets of cash, is what drew me to Hollywood. I would like to see the entertainment industry become more sustainable environmentally and socioeconomically, for upcoming talent and crew alike.
When the trailer for the film first premiered, various people including asexual activist David Jay, picked up on some ace coding for the main character. Were you influenced by the asexual community in any way while writing for this film?
Certainly. We wanted to address asexuality both explicitly and implicitly, but also didn't want to misappropriate Straight Up by marketing it as an asexual romance because this is a story about two people who enter a sexless relationship for different reasons. Also asexuality is a spectrum, like most terms under the queer umbrella, and the reality is not everyone knows exactly how they want to define themselves by age XYZ (if ever) and I think that's perfectly okay. So while personally I do see Todd as on the ace spectrum, I don't know when another label is in the cards for him—and it was important to me to end Todd's arc with a departure, instead of a destination.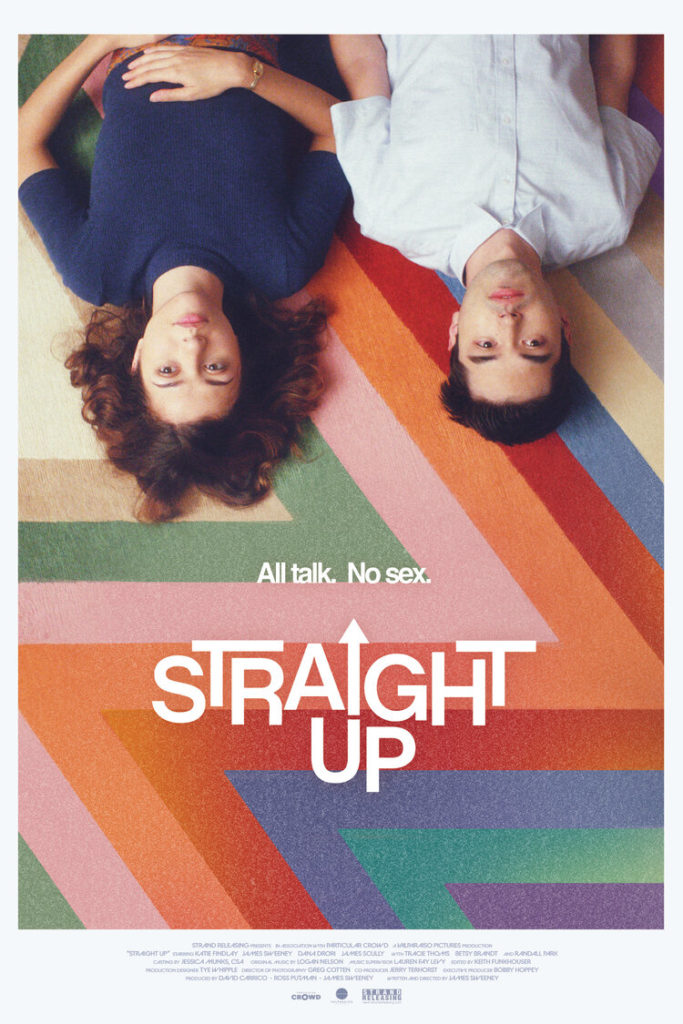 At a movie event in New York, you had described Straight Up as an "homage and deconstruction of rom com and screwball." Could you expand on this statement and reconstruction on classic film tropes?
The screwball comedy is historically sexless because the genre was popularized during the Hays Code era; Todd and Rory would fit right in. Besides the staple fast-talking banter, the classic screwballs also challenged femininity, masculinity, and gender roles—and I like to believe Straight Up continues that tradition, but updates it for a modern, more fluid generation. As for romantic comedy tropes, we've got the meet-cute and the grand gesture, but we also question what even constitutes romantic love, and is it practical or laudable for one person to 'complete' you? One of my greatest frustrations with many romance films is how often I don't understand why the leads even like each other, besides both parties being insanely attractive. In Straight Up, you know it's not about that.
What's so unique about this film is its exploration of queer identity, touching on a period intense analyzation/ dissection of "attraction" that is familiar in many queer persons (especially ace persons) lives. Was it always the intention to explore how queer identity exists beyond single word descriptors like "gay?"
Yes. Todd mentions in passing, but the politicalization of the word 'gay' had a specific purpose in history for civil rights, but on an interpersonal level, labels can be limiting and detrimental. As our vocabulary for various attractions and orientations expands and is normalized, I hope folks learn to view words as tools for communication, not barriers to distance or disparage others, or yourself.
Within the film there's a truly captivating chemistry between you (Todd) and Rory (Katie Findlay) on screen. What was the energy like working together on set and would you work on any projects together in the future?
Thank you. Controlled chaos energy levels. And yes, Katie and I are looking to find something else to do together.
In quite a few ways you seem to mirror your protagonist, Todd, in being a queer Asian man navigating his identity in a world that doesn't reflect it back to him often. In what ways would you say you relate to your own character and what ways do the lines of fiction and reality separate?
On a scale of 6, I'm a Todd 2. Maybe a 3 pre-pandemic when I wasn't wearing sweatpants every day.
Are there any projects you are currently working on or project ideas you are currently working on and are at liberty to say?
Twins. Parallel universes. That's all I can say for now.