Maia Kobabe is a nonbinary, queer author and illustrator from the Bay Area, California. Eir first full length book, GENDER QUEER: A MEMOIR, was published in May 2019. Maia's short comics have been published by The Nib and in many anthologies including THE SECRET LOVES OF GEEKS, FASTER THAN LIGHT Y'ALL, GOTHIC TALES OF HAUNTED LOVE, SHOUT OUT, ADVANCED DEATH SAVES and BE GAY, DO COMICS. Before setting out to work freelance full-time, e worked for over ten years in libraries.
When did you first realize you could tell stories through words and images? What drew you to the graphic novel art form?
I think I internalized the combination of words and images at a very young age, from children's picture books, which remain one of my favorite forms of media. I started reading graphic novels (specifically, Japanese manga) when I was in junior high, when they started to trickle onto my local library's shelves. I love both writing and drawing, so graphics novels seemed like the perfect merger of my two loves. 
Your book, Genderqueer, features one of the first discussions of asexuality I've seen in comics. If you feel comfortable, can you expand on your relationship to your asexual identity and what the process was like in depicting it?
Asexuality can be very hard to define or explain to people who haven't spent time thinking about it, since it's the lack of something, rather than the presence of something. I'm actually aromantic as well, which I think is maybe an even more important factor in how my life has developed. I received so much passive messaging from basically every single book and movie that eventually I would both fall in love with someone and also want to have sex with them. Though I did get crushes as a teen, I never had any desire to act on them. I think I kind of just kept waiting, thinking, well, is this romantic urge going to just hit me out of the blue at some point like I've been taught to expect? But it never did. By age 30 I felt confident saying "okay, enough time has passed that I think I can firmly say that romantic partnership is just something I don't care about at all, and sex is interesting only at the level of curiosity." I tried to depict this partly through trial and error experiences that helped me fumble towards greater clarity.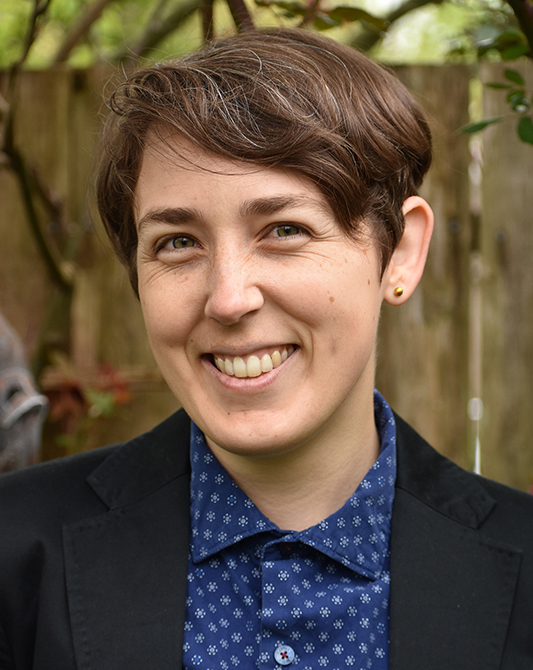 Within the course of your graphic novel, you discuss how your identity has changed and evolved over the years, showcasing the beautiful and often frustrating reality of gender/sexuality identity exploration. Can you expand on that?
I spent a lot of time not knowing what I was, not having a label for how I felt. I can't tell you how many countless pages of journal entries I wrote asking, "Am I gay, am I bi, am I a lesbian, am I a boy, am I a girl, am I neither, am I half and half" etc. This questioning took up a huge amount of my mental space, and I definitely wanted to hold the readers in that period of uncertainty, in that undefined grey area. 
In Genderqueer, pop culture plays a very big role, whether being mentioned within the form of comics/manga, figure skating, fantasy literature, etc. How as queer individuals do we respond and relate to the pop culture around us in terms of conceiving and understanding our own identities?
As a young queer person who only knew two or three out queer adults, and was uninterested in dating and sex, consuming queer media was my main form of exploration and discovery of queer identities. I think lots of young queer feel this need to research who we are, especially if we don't see any role modes in our family or community. Many of the queer books I read as a teen remain my very favorites to this day because of how intensely intimate and emotional it felt to read them.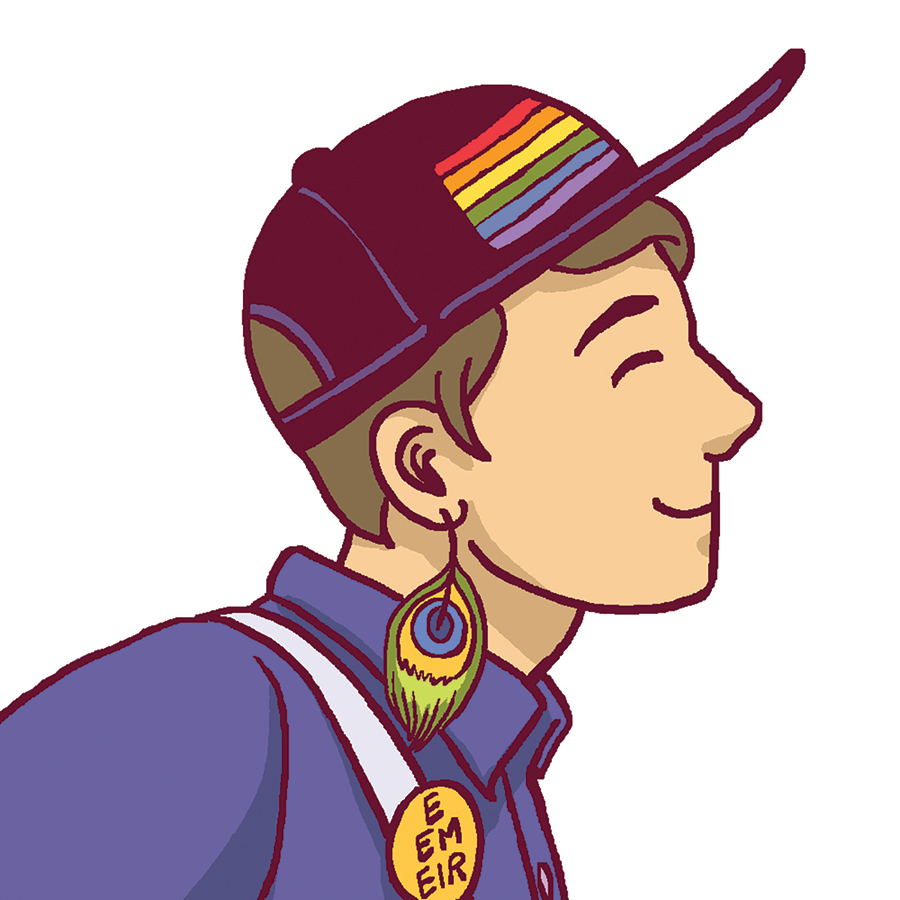 What's a question no one has asked you yet or that you wish was asked more?
I wish more people asked me, "Should I write my own memoir?" so I could tell them yes!
What are some of your favorite elements of comics/graphic novel medium? What craft elements/techniques stand out to you the most?
One element I love is called a non-adjacent sequence. It's a series of panels or even pages which are repeated, with a new twist, two or more times in a book. The idea is that the reader will either consciously notice this call back and flip back in the book to find the first example, or else be unconsciously influenced by the repetition and better understand that the two scenes are linked. In "Gender Queer" I used the same panel layout for pages 125 and 219. I also repeated the same plant motif on pages 66, 67 and 191.
Aside from Melanie Gilman, the queer/ non-binary mentor stated within your book, who are some of your other creative/artistic influences?
I am influenced by a lot of other cartoonists, especially ones who draw from their own lives: Mari Naomi, Lucy Knisley, Lucy Bellwood, Erika Moen, Raina Telgemeier, Alison Bechdel, Dylan Edwards, Ajuan Mance, Thi Bui, Sarah Mirk and Shing Yin Khor immediately come to mind. The comics journalism website The Nib has also impacted me a lot- I am both a reader of and a contributor to their site, and their latest anthology "Be Gay, Do Comics." Many of my very first nonfiction comics were published by The Nib and I benefited greatly from working with their all-star editorial team. 
As a creative person, what advice would you give to other aspiring artists/writers?
Go forth! Be recklessly honest, be gentle, be bold, be strong, be soft. If you tell your own darkest secrets with a spirit of compassion towards your younger self, you will help readers heal their own wounds.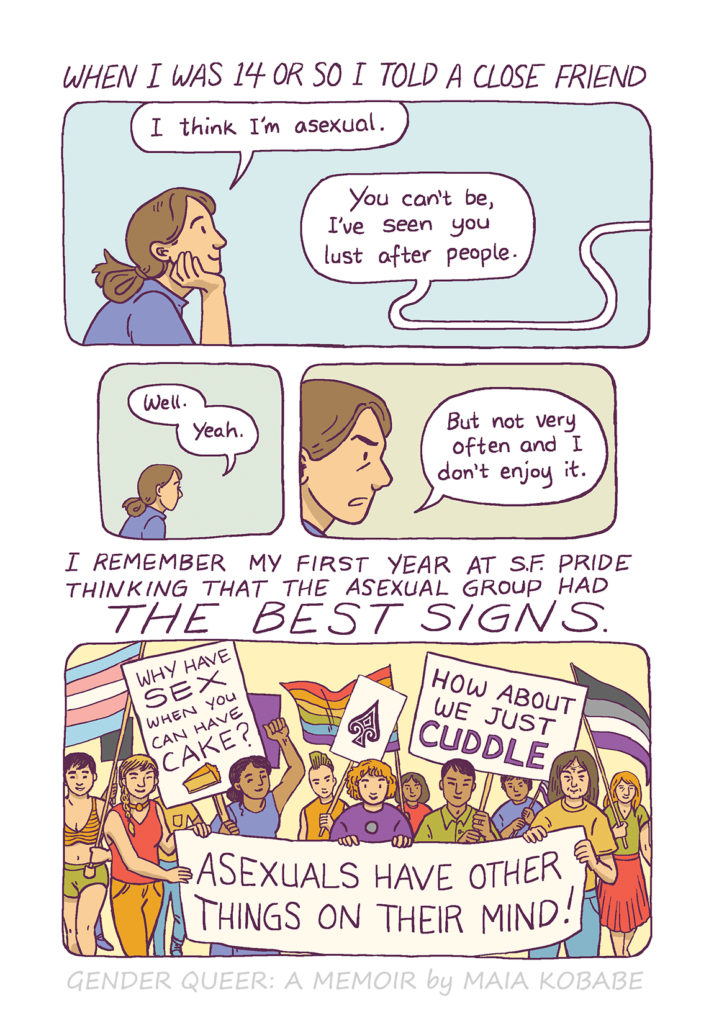 What are some things you wish to say to your trans/non-binary readers?
I love you, and we are family. 
Are there any projects you are working on at the moment and are at liberty to speak about?
I illustrated a YA prose novel called "We Are The Ashes, We Are The Fire" by Joy McCullough which is due out from Penguin Random House in Feb 2021. It's got some very heavy themes, but also a renaissance-fair obsessed nonbinary teen character who I love very much. I am also developing my next full length graphic novel in collaboration with the nonbinary cartoonist Lucky Srikumar.
Finally, what are some LGBTQ+ comics or books you would recommend to the readers of Geeks Out?
Buckle your seatbelt, I have a lot of recommendations. I post 100 book reviews per year on Goodreads, so feel free to follow me on there if you want even more! But here are some comics with trans and nonbinary characters which I really loved: Grease Bats by Archie Bongiovanni (a slice of life comic – nonbinary main character) (author is also nonbinary)  
Heartwood: Non-binary Tales of Sylvan Fantasy edited by Joamette Gil (anthology of short comics, all with nonbinary authors)
The Avant-Guards by Carly Usdin and Noah Hayes (an ongoing comic series, one nonbinary character, one trans character)
Laura Dean Keeps Breaking Up With Me by Mariko Tamaki and Rosemary Valero-O'Connell  (a slice of life comic – a nonbinary secondary character)
Mooncakes by Suzanne Walker and Wendy Xu (fantasy YA comic – a nonbinary main character)
Snapdragon by Kay Leyh (a trans secondary character)
Stage Dreams by Melanie Gillman (trans character, nonbinary author)
As The Crow Flies  by Melanie Gillman (trans character, nonbinary author)
The Deep and Dark Blue by Niki Smith (trans main character)
O Human Star by Blue Delliquanti (trans secondary, nonbinary author)
Wandering Son by Takako Shimura (a manga series, multiple trans characters)
Paradise Kiss by Ai Yazawa  (a manga series, one  trans character)
On a Sunbeam by Tillie Walden (sci-fi comic – a nonbinary secondary character)
Happy reading 🙂
---
You can follow Maia Kobabe @redgoldsparks on instagram and tumblr