Casey McQuiston is the New York Times bestselling author of Red, White & Royal Blue, as well as a pie enthusiast. She writes books about smart people with bad manners falling in love. Born and raised in southern Louisiana, she now lives in New York City with her poodle mix and personal assistant, Pepper. I had the opportunity to interview her, which you can read below.
How did you know you wanted to be an author?
Honest, I can't remember not wanting to be an author, so it's hard to answer this. I've always gravitated to storytelling and books, as far back as preschool, and I always dreamed of writing my own one day. I started and abandoned a dozen novels throughout my teens, and eventually tried to find a job that seemed more practical, but I could always tell I wouldn't really be fulfilled until I gave it a real try. I'm so glad I did, because five-year-old me was right: writing books is what makes me happiest.
What books inspired you growing up and inspire you now?
Growing up, I loved fantasy novels and voice-y, contemporary comedies. I was into all the big escapist blockbuster series like Harry Potter and The Lord of the Rings and things that made me laugh like Louise Rennison's Georgia Nicolson series, plus whatever raunchy supermarket romances I could steal from my older sister. Now, I read across all genres, looking for anybody doing something cool with voice or craft. Some of my favorites lately have been The Locked Tomb series by Tamsyn Muir, Hanif Abdurraqib's backlist, basically any romance novels by Alyssa Cole or Talia Hibbert, My Dark Vanessa by Kate Elizabeth Russell, and good old fashioned Jane Austen.
Your debut novel, Red, White, and Royal Blue, can be described as a very contemporary book entranced in the here and now. What was it like writing in such a precarious time while creating a novel filled with so much joy and hope?
It was hard, but at the same time, it was easier than it would have been if I tried to write the same book right now. I conceived the idea in early 2016 and wrote it in 2016 and 2017, while I was still relatively close to the feelings of hope and optimism I felt when I voted in my first election and helped re-elect Obama. I think the reason it works is because I was still able to access that. I wanted to create something that could be a small amount of sustenance for readers who wanted a momentary escape, and that was the motivation that kept me reaching for joy when I was writing.
Could you tell us any trivia about the main characters of Red, White, and Royal Blue, Alex and Henry that we might not know yet?
For Alex, his favorite Whataburger order is a patty melt with bacon. For Henry, his moon is in virgo.
As one can tell by your writing, you seem to be a fan of tropes. What are some of your favorite tropes, and what are some tropes we can expect from your writing in the future?
Obviously, one of my all-time favorites is enemies or rivals to lovers—so much banter and tension, plus the idea I think many of us covet, which is that someone could see the very worst of us first and fall in love with us anyway. I also love gratuitous karaoke scenes, forced proximity, star-crossed lovers, and a grumpy character falling for a sunshine character. One trope I haven't explored yet in a main romance pairing is best friends to lovers, so I definitely have that one at the top of my to-do list.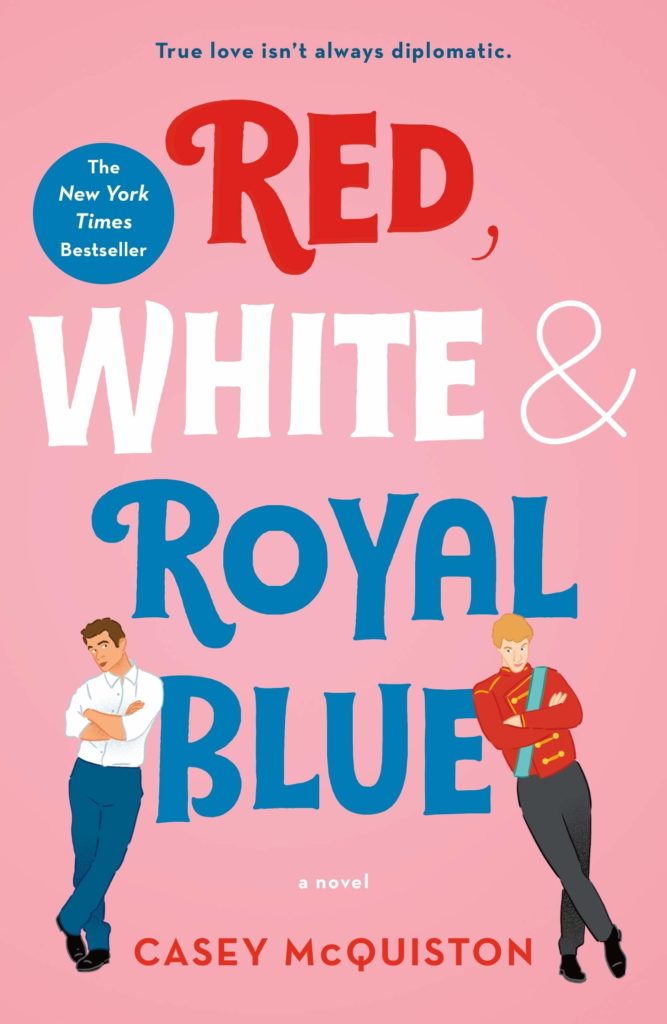 To quote a friend, where do you get all your amazing dad shirts?
Haha, thank you for asking! I'm so proud of my collection, so I'm happy they seem to be something people associate with me. I get them from all over! Some are thrifted or vintage, some are from the men's section of Forever 21 or Target, some are from Ragstock, some are from Madewell, and I have one that a friend brought back from the Philippines for me.
What can you tell us about your forthcoming book, One Last Stop? Any minor spoilers you can give to the readers of Geeks OUT?
I can tell you that I love this book so much. The jacket copy covers the basics: it's about a struggling waitress/student who falls for a girl on her subway commute who turns out to be displaced in time from the 1970s. What there wasn't room to mention is that it's also very much about finding family and community. It's a love letters two weird roommates who saved your life in your early twenties, dive bars, 24-hour diners, drag shows, and queer history. I can also tell you that it will make you very hungry. Food plays a major role in the book—especially fried chicken and dumplings.
What's a question no one has asked you yet or that you wish was asked more?
I feel like you already nailed it when you asked about my dad shirts! They're my pride and joy, so I could talk about them all the time. But also more people should ask me what my favorite cocktail is (it's a paloma).
What advice would you give to those who may want to create their own stories or are struggling in the process?
Write for yourself and for your characters. Say what you mean, and say it for no other reason then because it is what you want to say. The purpose of writing is not to have your point of view validated by others—it is to have a point of view and write it.
Finally, what queer books would you recommend to others?
A lot of my recommendations are up there under what books inspire me! To add a few, I'd definitely like to shout out all of Danez Smith's poetry, anything by Akwaeke Emezi, Cemetery Boys by Aiden Thomas, Laura Dean Keeps Breaking Up With Me by Mariko Tamaki, and The Locked Tomb series (again).