Ashley Shuttleworth is a young adult fantasy author with a degree in English literature and a slight obsession with The Legend of Zelda, Kingdom Hearts, and Final Fantasy. They currently live in Ontario, Canada, with their cat named Zack and a growing collection of cosplay swords. I had the opportunity to interview Ashley which you can read below.
When did you first realize you wanted to become a writer? What were some of the first stories that grabbed your attention and inspired you?
I knew I enjoyed writing from a very early age. I spent much of my childhood writing fan fictions for the shows and video games and books I loved, filled so many notebooks with handwritten chapters (because back then, I was more into writing scenes than full complete stories) and eventually took to online communities to post the fanfic I wrote. Some of the first books I can ever remember adoring were The Bailey School Kids books (I love my paranormal mystery novels) and the Artemis Fowl series, which played a huge role in developing my fascination with faeries. A little later on, I discovered Holly Black's MODERN FAERIE TALES and I was hooked.
Where did the inspiration for your debut novel, A Dark and Hollow Star, come from?
A DARK AND HOLLOW STAR was influenced by a number of things—my university studies in English Lit and Ancient Greek and Roman history/mythology; my love for video games like Final Fantasy and Legend of Zelda; books I enjoyed reading such as THE STAR TOUCHED QUEEN by Roshani Chokshi and DAUGHTER OF SMOKE AND BONE by Laini Taylor and CITY OF BONES series by Cassandra Clare. I'm also heavily influenced by music and shows and day to day things in my personal life, but I think the biggest inspiration for ADAHS was the lack of LGBTQ+ representation I had growing up, and my desire to be the change I wanted to see in the world. I just wanted to write a book full of different identities, all being accepted and represented in a casual, normal way while at the same time, leaving nothing ambiguous.
Your book, A Dark and Hollow Star, is a queer urban fantasy that touches upon fairy mythology. Are there any urban fantasy authors/stories you looked to for inspiration while writing this project?
Well I was definitely inspired by Cassandra Clare's CITY OF BONES and Holly Black's MODERN FAERIE TALES (particularly VALIANT, my favourite) when it comes to who I probably have to thank for my fascination with urban fantasy. But honestly it was probably FINAL FANTASY XV that I looked to the most for crafting my particular world, an expansive world of its own that blended high fantasy with urban fantasy in a really neat way. I like to try and balance reading fiction with "research" for my projects though, so I did pick up a few books on European folklore and the science of alchemy.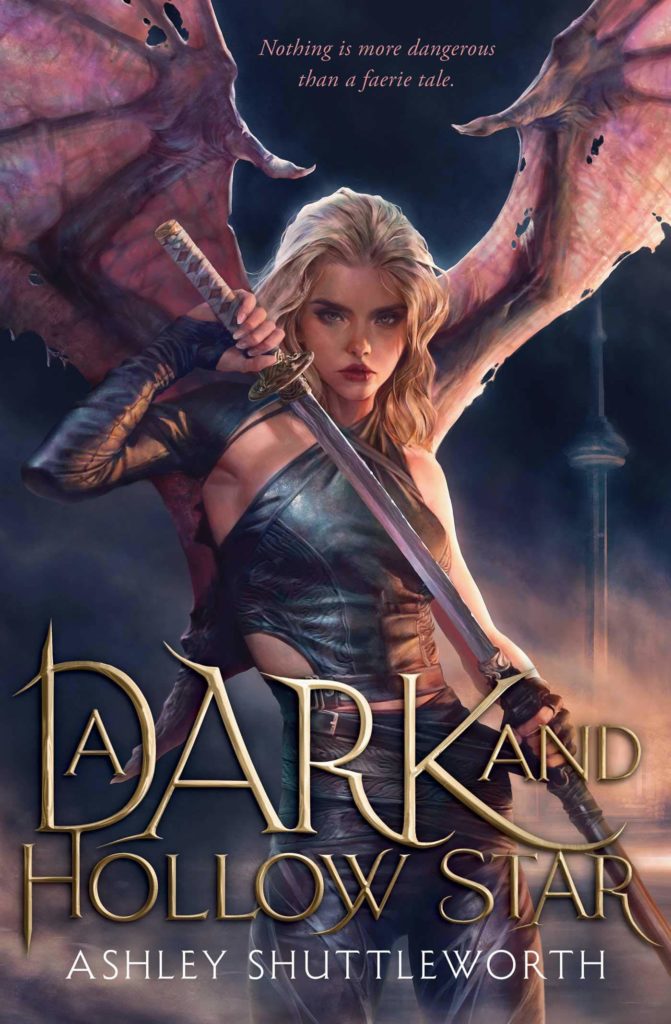 As a queer author, what were some of the LGBTQ+ stories that first caught your attention? What kind of stories did you feel were missing or lacking and did this inspire you as a writer today?
ASH by Malinda Lo stands out to me as one of the first LGBTQ+ books with a queer MC to really grab my attention. A fairy-tale retelling of Cinderella, at the time of reading this I hadn't come across too many traditionally published works that were both Young Adult and fantasy in genre, that depicted main characters doing and going through the same sort of fantastical and every-day things you'd encounter in books about allocishet characters. Growing up, there really wasn't all that much available to me that had openly queer characters with meaningful development, going on grand adventures, falling in love, and exploring magical settings. It definitely inspired what I write now, my desire to put more content into the world like what I found in ASH.
What's a question you haven't been asked yet and wish you were asked (and your answer to that question)?
Well, I've never been asked which author I would choose to do a panel/event with, if I could pick from anyone—and I'd have to say I would love to do one with Laini Taylor. Her books have been a pretty big inspiration to me and I really admire her talent. It would be fun (and also intimidating) to get to chat craft with her.
Are there any other projects or story ideas you are currently nursing and could tell us about?
I do have a few things on the go right now, a couple that are just private tinkerings I hope to unleash on my agent, and then the public, one day soon. For now, I'm currently working on the second installment in the HOLLOW STAR story, where I get to expand on the characters introduced in the first, as well as bring a new play or two into the mix whom I hope people will enjoy.
What advice would you give for writers who are navigating writing and publishing?
The best advice I can give is to find your community—other writers to keep you company and share in this experience with you—and honestly just to keep writing. The road to publication can be a difficult journey at times. It never goes the way anyone expects it to, and set-backs can become discouraging the more of them you encounter. But if authoring books is something you genuinely want to do, first and foremost you just have to write that book. It's okay if it isn't perfect, if you need to edit it multiple times, find beta-readers and critique partners to help you catch what you miss on your own—it's okay even if that story ultimately gets shelved and you have to start a new one. It's all experience that will lead you to the story you need to tell, but nothing else is worth worrying about without that first draft to work with. So just keep going, learn how to drown out the impostor syndrome (which never really goes away, I have to say, but it does get easier to manage with writing friends as support, and time) and focus on things one step at a time.
Finally, what are some LGBTQ+ stories you would recommend to the readers of Geeks OUT?
There are so many incredible LGBTQ+ books coming out this year—definitely buy and read as many as you can! But a few that I'm personally VERY excited for:
SWEET & BITTER MAGIC by Adrienne Tooley (out now)
IN THE RAVENOUS DARK by A. M. Strickland (May 18th 2021)
THE WITCH KING by H. E. Edgemon (June 1st 2021)
ACE OF SPADES by Faridah Àbíké-Íyímídé (June 1st 2021)
GEARBREAKERS by Zoe Hana Mikuta (June 29th 2021)
IRON WIDOW by Xiran Jay Zhao (September 21st 2021)