Alyssa Zaczek grew up in the south suburbs of Chicago, Illinois, where she spent her childhood writing stories about nervy girls and slowly amassing a landslide of books beneath her bed. She holds a Bachelor's degree in Playwriting, which she uses to justify her love of banter. When not reading or writing, she enjoys cooking, curating vintage clothing and making her partner laugh. She currently lives in St. Cloud, Minnesota, with said partner and their four animals. MARTIN MCLEAN, MIDDLE SCHOOL QUEEN is her debut novel. I had the opportunity to interview her, which you can read below.
First of all, how did you come into writing? What draws you in most about the craft, be it middle grade or other genres?
I've been writing for as long as I can remember, but I only began to explore it seriously when I merged it with my love of theatre in college and majored in Playwriting. Interestingly, coming back to prose in adulthood, I've found that the aspects which draw me in the most are also the most theatrical aspects — the ways language can be used to reveal or conceal elements of character, the way a story can set a scene and keep you there, fully immersed in that world. Writing middle grade in particular, I've found a great deal of joy in exploring those difficult emotions of that age and expressing them in ways that feel true. It's a wonderful age group to write for, because it is so inherently full of tension — these kids are not quite as "grown-up" as high-schoolers, but they're also not exactly "children" any more — and tension makes for dynamic, emotionally rich stories!
Where did the inspiration for your debut novel, Martin McLean, Middle School Queen, come from? Was there some impetus for writing queer middle grade book as a queer writer yourself?
When I began to consider writing my first novel, I knew immediately that I wanted it to be middle grade. Middle school was a deeply formative — but also deeply difficult — time for me, and I think it's a season of life where we tend to feel lonely, and stories can be an incredible comfort in loneliness. I also knew I wanted it to incorporate the performing arts in some way, because discovering theatre in my middle school years was so pivotal for me, but I didn't want to limit myself strictly to theatre. Drag, which is so inherently theatrical already, seemed like a perfect fit, both for its inextricable ties to the queer community as well as its joyful exploration of self.
I identify now as a queer person, but in middle school, I wasn't even aware that there was a spectrum of queerness. As far as I knew, there was gay and straight, and that was it. None of the books I had access to at that time had queer protagonists, and if a queer character did appear, they were always a supporting character and always either the butt of the joke or a caricature of an ultra-femme gay man. When I began to explore my queerness as an adult, I reflected often on how differently my experience as a young, questioning person would have been if I'd been exposed to books with queer protagonists — particularly ones that were diverse and complex, who questioned and lingered in that uncertainty. That was a huge driving factor in creating Martin as a character and as a narrative. I wanted to show kids that not only is it okay to be different, it's okay to not be sure where you fit in.
Martin McLean, Middle School Queen centers an Afro-Cuban-American queer boy. What concerns did you have with writing a character outside of your own identities, including consulting sensitivity readers?
As a white cis woman, I knew that writing a BIPOC protagonist outside of my own gender identity would be hugely sensitive, and I wanted to approach those aspects of Martin's identity as a listener, not a speaker. The BIPOC experience, the Afro-Cuban experience, the mixed-race experience, the queer man experience — these are all well outside my own lived experience, so I knew going in that I wanted to do a great deal of listening to others who have lived those experiences.
Martin's Afro-Cuban identity was inspired by the roots of drag; drag was built by Black and Latinx queer men, and I felt that having anything other than a POC at the center of this story would be doing a disservice to the institution of drag. His father being Irish-American is a nod to my own roots, but from a story standpoint, Martin's mixed background serves to highlight that sense of not really fitting in anywhere — having one foot in one world, and one foot in another. Choosing an Afro-Cuban background was also a conscious choice. I'd noticed that in popular queer media, the queens that received the most attention and the most opportunities were almost always Black, white or white-passing, while queens from Latinx backgrounds were pushed aside, teased for their accents, etc. It never sat well with me, so I wanted Martin to offer some positive representation for young Latinx queens.
But therein lies the question I asked myself repeatedly in the writing and publishing of MARTIN: As a white woman, can I even offer that kind of representation? Would it be accurate and authentic? The answer is no — not without a lot of help. Knowing that, I was passionate about finding sensitivity readers, paying them for their work and expertise, actively listening to their feedback and making changes accordingly. I was humbled and blessed to have been able to do exactly that. We worked with sensitivity readers on every single diverse identity in this book. I was honored to listen to their feedback — from the Spanish language and Cuban turns-of-phrase throughout the book to the mechanics of Violet's motorized wheelchair — to make this book something I'm proud to put in the hands of readers.
With the emergence of younger drag artists and more queer middle grade fiction, it seems like there's more exploration of queer identity in all-ages audiences. What are your thoughts on the current state of LGBTQ+ literature and how do you think we can do better?
I'm delighted to see young people feeling the validation and safety they need to express themselves with curiosity and joy, and that there are more queer stories on the shelves than ever before to reflect their experiences. As a young reader, I don't think I could have fathomed that queer literature would move into the mainstream the way it has even in the last 5 years or so.
Personally, I'm excited by queer literature that very mindfully moves past the coming-out narrative. MARTIN was specifically written to be an exploration narrative, not a coming-out narrative, because I felt — and still feel — that the questioning phase of queerness is one not yet richly explored in our books for young people. I also love books that are moving past queer pain and into queer joy. In 2021 and beyond, I'd love to see more books with queer characters at the center of a story that is not driven by their queerness — that is to say, more books about queer people simply living their extraordinary lives! I'd also like to see publishing steer away from queer retellings and start putting some significant resources behind original stories by queer authors. Don't get me wrong — I love a retelling, especially a queer one, and I think examining classic literature through a queer lens is both important and just plain fun to read! — but the fact remains that queer people are good for more than simply stepping into stories already validated by history. Ultimately, my feeling is that true equality is only achieved when queer readers can see themselves represented in the same depth and breadth of literature as straight readers — so I'm excited to see more original queer narratives emerge across every genre and age group!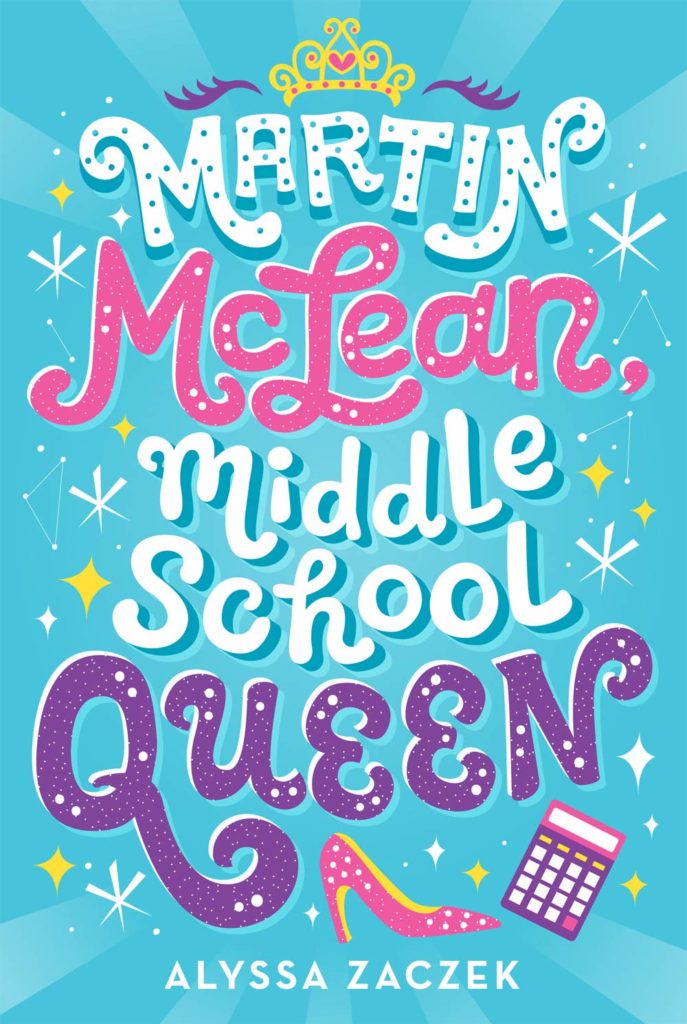 What's a question you haven't been asked yet or wish you were asked?
So far, I've not been asked why I chose to have Martin's two competitions turn out the way they do. [In the interest of keeping things spoiler-free, I'll stay vague as to what those outcomes are, but if you know, you know!] I'd love to talk about why I made those decisions.
Learning to cope with failure was a massive part of my middle- and high-school experiences. I'm naturally ambitious and competitive, and I threw myself into theatre and the speech team in a big way. Experiencing failure — bombed auditions, coming this close to landing a role, not placing at a competition — was extremely hard for me, but eventually I learned how to process it without derailing my mental and emotional health. Middle school is a time where a lot of kids experience their first significant failure, be it a low grade on a test or a lost championship game, so it was important to me to show that, even with all his talent, preparation, support, ambition and positive attitude, Martin could still fail. But — and this is the most important part — he learns from it, and doesn't let it crush him. That's a huge lesson at that age.
Hypothetically speaking, if the characters of your books or you yourself could interact with characters from any other fictional universe, where would they be from?
Martin would definitely want to hang out with the Marvel heroes, that's completely his jam. I could see him really enjoying time with Miles Morales, or the Tom Holland iteration of Peter Parker. Carmen would want to be thrown into the world of a musical — maybe Prom Night or something classic, like Grease. I could see Pickle in the world of Netflix's A Series of Unfortunate Events, as all the characters on that show are very erudite and clever, just like him.
Are there any projects you are currently working on or project ideas you are currently nursing and are at liberty to speak about?
My next middle grade project, which I'm working on currently, is a dark fantasy retelling of Peter Pan that transforms Peter into a monstrous antagonist and sends Wendy on a quest through Neverland's creepy shadow world to rescue her little brother with the help of Captain Hook and her flying pirates.
It is very different from MARTIN, and intentionally so. Authors, especially in the middle grade and YA spaces, are often told that it's best to find their particular niche, but I have interests coming out the wazoo! I couldn't possibly pick a single age range or genre to write in, so I'm quite happy to write whatever tugs at my mind and my heart at that moment in time. I hope that you'll see many different kinds of novels from me in the future, especially in middle grade and YA.
What advice would you give for writers who want to attempt to write middle grade or just in general?
The hardest part about writing is getting started. If you have a story that's been nagging at you to get out, or even just an inkling that you'd like to write a novel, start! Start today! Start right now!
After that? Listen to what interests you. If you don't feel like you know what you might like to write about, make a list of your favorite books, TV shows and movies. Then look at each title and ask yourself: What exactly about this do I like? What makes it interesting to me? Write those things down, too. Soon enough, you'll have a list of story elements that could help inspire your first (or second, or third, or thirty-third) novel.
Finally, don't listen to the people who insist "real writers" write every day. That's a privileged, nonsense point of view. It doesn't matter if you write every day — it only matters that you write. Whenever you write, you're a "real writer," and you don't stop being one just because you've walked away from your laptop or notebook for a while. I promise, your words will still be there when you get back. Take your own time and run your own race.
Finally, what books would you recommend to the readers of Geeks OUT?
I read James Howe's THE MISFITS when I was in middle school, and it was a major influence on MARTIN all these years later. There are now several books in the series, and I love them for their frank, empathetic approach to difficult issues, like Joe's queerness or Addie's insecurities. 
Other recent middle grade books I love that fans of MARTIN will enjoy, too, include the ALAN COLE books by Eric Bell and the BETTER NATE THAN EVER series by Tim Federle, STAR-CROSSED by Barbara Dee, LILY AND DUNKIN by Donna Gephart, and IN THE ROLE OF BRIE HUTCHENS by Nicole Melleby.
For young lovers of graphic novels, I recommend NIMONA by Noelle Stevenson, THE DEEP & DARK BLUE by Niki Smith, THE TEA DRAGON SOCIETY by Katie O'Neill and LUMBERJANES by Shannon Watters, Grace Ellis, Brooklyn A. Allen and Noelle Stevenson. For grown-up graphic novel lovers, SAGA by Brian K. Vaughan makes my heart sing.