Chad Lucas has been in love with words since he attempted his first novel on a typewriter in the sixth grade. He has worked as a newspaper reporter, communications advisor, freelance writer, part-time journalism instructor, and parenting columnist. A proud descendant of the historic African Nova Scotian community of Lucasville, he lives with his family near Halifax, Nova Scotia. He enjoys coaching basketball and is rarely far from a cup of tea. Thanks a Lot, Universe is his debut novel. I had the opportunity to interview him, which you can read below.
First of all, congratulations on your debut. Could you tell us in your own books what your debut book, Thanks A Lot, Universe, is about?
Thank you, Michele! Thanks A Lot, Universe is about two seventh-grade boys, and it's told in alternating chapters from each of their perspectives. Brian has always been anxious, but things get worse when he and his brother are placed in foster care. Ezra notices Brian pulling away and wants to help, but he worries his friends might figure out he has a crush on Brian. But when Brian and his brother run away, Ezra takes the leap and reaches out. Both boys must decide if they're willing to risk sharing parts of themselves they'd rather hide. If they can be brave, they might find the best in themselves—and each other.
What books inspired you growing up? What books inspire you now?
I was a huge Gordon Korman fan growing up. His books made me laugh so much. I also loved a lot of kidlit classics—Roald Dahl, Judy Blume, the Chronicles of Narnia. But what I rarely saw in those books were kids who looked like me. So now I draw a lot of inspiration from kidlit writers like Jason Reynolds, Lamar Giles, and Julian Winters, to name just a few. I also admire Rebecca Stead and Laura Ruby, who are both so inventive but also gifted at crafting great characters.
How did you find yourself coming to write this story? What drew you to writing in general?
I've loved writing for as long as I can remember, and I've been lucky enough to make a living with my words, first as a journalist and later in communications. But fiction was always my first love. For this book, I had Brian's character and general story arc in mind for years. I tried to write it in different ways that just didn't click until I realized that Ezra needed his own storyline too, and I wove the two together.
The field of LGBTQ+ Middle-Grade literature is slowly, but steadily growing? What are your thoughts on the medium as it stands, and can you name any titles that stand out to you?
It does feel like LGBTQ+ Middle Grade books are becoming more common, though when you look at how much Middle Grade has grown overall lately, there's definitely room for more. For me, Eric Bell's Alan Cole is Not a Coward and the sequel, Alan Cole Doesn't Dance, were really influential—and I was lucky enough to work with Eric as a mentor on Thanks a Lot, Universe. I also love The Best at It by Maulik Pancholy and Felix Yz by Lisa Bunker. One great thing about both of those stories is that the main characters' sexuality isn't the sole focus; it's just part of who they are. Stories that help middle graders explore their identities are certainly important, but I'd also love to see—and write—more Middle Grade books where kids are just queer as a matter of fact.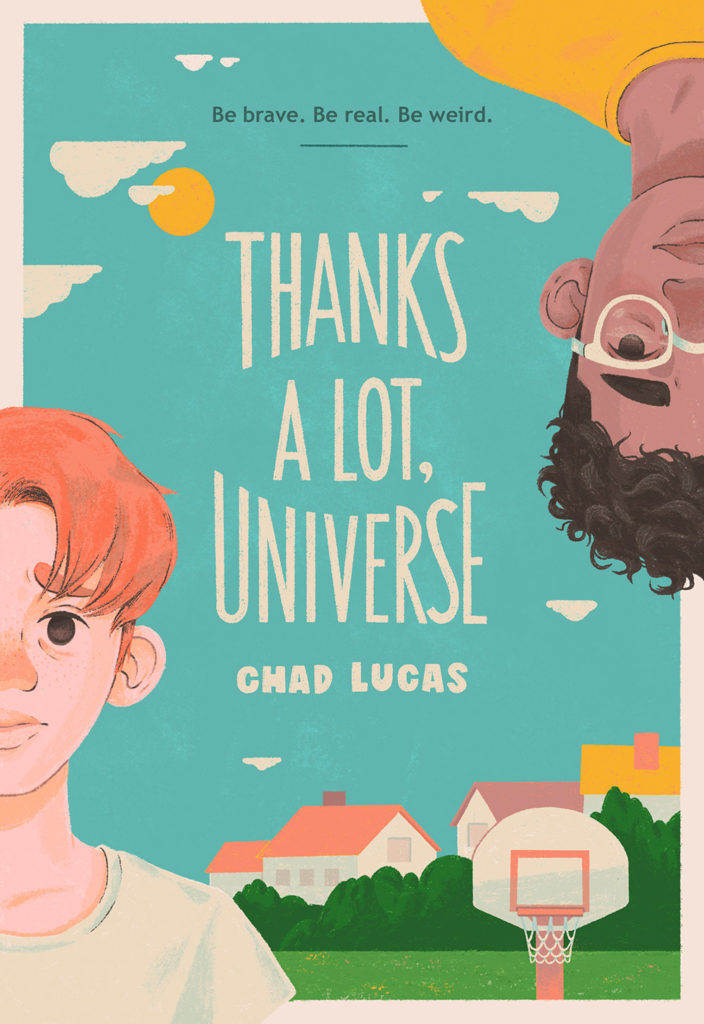 Though the book is not autobiographical, you have stated in various interviews that it does explore issues you went through in junior high as well, such as anxiety, discovering queerness at an early age, and so on. Would you say fiction is a safe medium for authors to explore their own lives and issues?
I can't speak for everyone, but that's certainly been the case for me. I grew up in a conservative evangelical environment, and I knew by junior high that I wasn't straight but I was well into adulthood before I could comfortably call myself queer. Writing a kid like Ezra, who accepts himself in a way that I couldn't at that age, was liberating in ways I didn't expect. I heard a great quote from A.S. King in a podcast recently where she said she asked teenagers in her writing workshop, "What makes you angry right now?" I love that. Not that all writing must be driven by anger, but the heart of that advice is to dig into the things that matter most to you. I think doing that can be both a healthy outlet and the source of our best work.
Out of all the age groups to write for, the Middle-Age can be one of the trickiest to write for as the audience is both vulnerable and particular as middle-graders? What drew you to writing Middle-Grade, as opposed to other age groups?
I really like middle graders! I'm a parent, I've coached a lot of kids between 10-13 in basketball, and they make me laugh all the time. One of my favorite events from my book launch week was a virtual school visit with two seventh grade classes. They asked such great questions, and I had a blast. I find it such a fun age to write for as well. Kids that age are discovering themselves, they're starting to tackle big ideas and decide what they're passionate about, and books can be part of that journey.
Besides your writing, what are some things you would want your readers to know about you personally?
Three things about me:
I'm Canadian, and it pains me every time I have to surrender the 'u' in words like "favourite" and "colour" to make my American publisher happy. (I still love you though, Abrams!)
I love the beach and I'm not sure I could handle living too far from the ocean.
I play the piano, and my latest pandemic project is learning Beethoven's Moonlight Sonata.
What advice would you have to give to authors, especially other QPOC authors?
Write the stories that feel truest to you, in the way that feels truest to write them. Publishing is a strange and fickle beast, and all we really have control over in this industry is how we write. And feel free to write stories that are full of joy. Serious topics will always have their place—there are certainly some in my book—but queer kids of color also deserve to see characters like themselves solving mysteries and learning magic and doing things that other kids in books get to do. I don't know who first coined this phrase, but I believe that joy is an act of resistance.
Are there any other projects or story ideas you are currently nursing and could tell us about?
I'm in the editing stage on my next book, due out next spring. It's quite different from my debut—a Black boy moves to a mostly white small town and stumbles across some spooky things happening behind the scenes. I'm looking forward to saying more about it soon!
Finally, what are some LGBTQ+ stories you would recommend to the readers of Geeks OUT?
I think anyone who likes Thanks a Lot, Universe will also enjoy Almost Flying by Jake Maia Arlow, which releases on June 8. It has a whole cast of queer characters, found family, and roller coasters! And Meow or Never by Jazz Taylor is also a sweet Middle Grade story about dealing with anxiety and facing a first crush.