IOLANDA ZANFARDINO is a comic book artist, writer and cover artist currently working for Black Mask Studios, Image comics, Titan Comics, Marvel and several independent publishers. Her first Original Graphic novel "Midnight Radio" was published by Lion Forge comics. After a long arduous "I'll do what I really love!" process, she finally works on queer (love) stories, and she's so excited she still can't even believe it. She likes rock musicals, street art, Pride parades, dystopian literature and brave heartwarming comedies.
ELISA ROMBOLI is a comic book artist and illustrator currently working for Black Mask Studios, Image comics, Titan Comics and various independent publishers, partnered briefly with Marvel and with Square Enix for promotional illustrations. Co-author of Helen Bristol published by Shockdom.
Since she was a child, her dream has always been to be a comics artist. The thing is: she didn't know what she was getting into. Now she's almost completely absorbed into drawing and has forgotten everything else. Cat owner full time.
I had the opportunity to interview Iolanda and Elisa on their current project, Alice in Leatherland, which you can read below.
To start off, welcome to Geeks OUT! Could you tell us a little about yourselves?
Both: Hi Geeks OUT, and thank you for this great opportunity! We're so honored to be on your website!
I: I'm Iolanda Zanfardino, a comic book artist, writer and cover artist currently working for Image comics, Black Mask Studios, Titan Comics and Marvel. After a long arduous "I'll do what I really love!" process, I finally work on queer (love) stories, and I'm so excited I still can't even believe it!
I like rock musicals, street art, Pride parades, dystopian literature and brave heartwarming comedies.
E: I'm Elisa Romboli, a comic book artist and illustrator currently working for Black Mask Studios, Image comics, Titan Comics and various independent publishers, co-author of Helen Bristol published by Shockdom.
Nostalgic video game lover, I have a strong passion for enamel pins and miniatures. I like robots and mechanical designs in general, I have an odd thing for triangle-shaped objects. Oh, and space!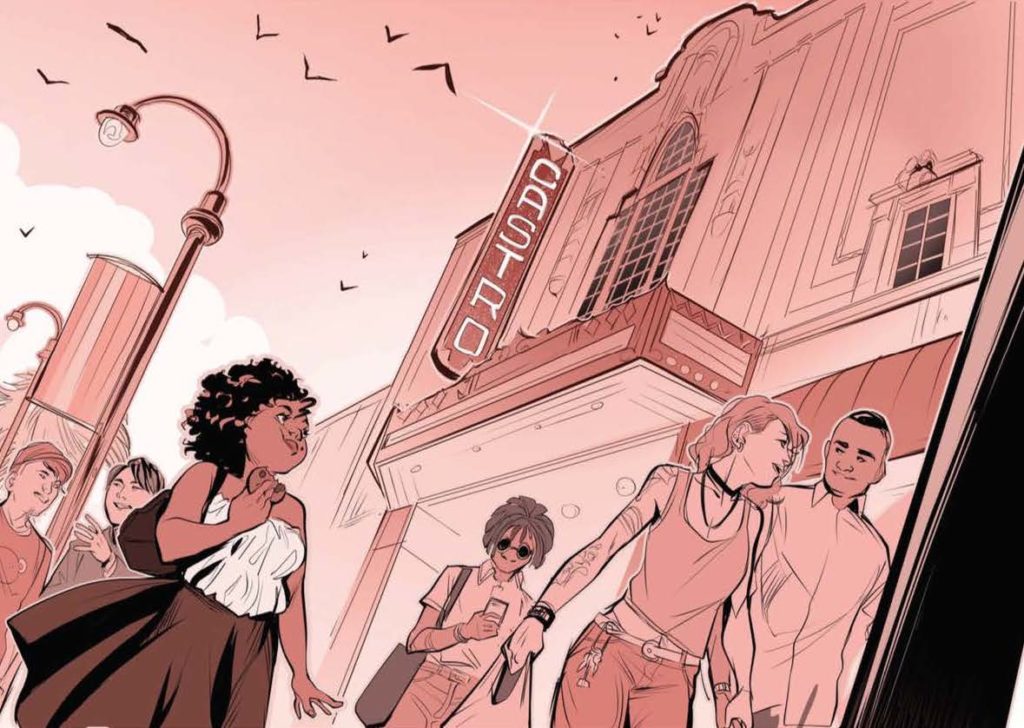 How did the both of you get into comics? What drew you to the medium?
I: Telling stories has always been like a physical need I've perceived in my life, even when I was following a different career path. At a particular moment, I took the decision to quit everything else to pursue my dream to become a comic book creator. It was a tough journey (where I found myself being so behind people my age) but I'm happy for real now. If I could turn back time I'd do it again.
E: I'd say it was because of anime series airing on tv when I was a child. I used to watch a lot of those and I really enjoyed drawing those characters on paper, giving it my own direction. I loved to tell fighting stories, with monsters and robots. I used to make a ton of little stapled books with crazy things in there, without any kind of focus. Sadly, I've never been able to create stories that made sense, but this didn't stop me from drawing.
What are your favorite parts of making comics? What are the trickiest and or hardest?
I: As a writer, my favorite part is the very first one of the creation itself: those vivid and sudden images that appear in your mind and you have to write them down before they become a huge avalanche inside you.
The hardest part is to let the characters free to come to life on the scripts while not losing sight of the direction and the meaning of the scene itself (and of the limited number of the pages!)
E: My favorite part in making comics is finally drawing that specific scene that gave birth to the whole project. There's always that scene, that small frame that gets stuck in your head until you don't start unfolding the rest of the story.
The hardest? Imagining a full environment from scratch, like a whole new world. Some might find it entertaining, but it's not my cup of tea; it's tricky, you have to remember lots of stuff and I'm quite a forgetful person.
Could you tell us a bit about your current project, Alice in Leatherland? Where did the inspiration for that story come from?
Both: From the very first moment we found ourselves working at home side by side, we dreamed of being able to do it together as a team on something of our own. We chose a rom-com because it's the kind of movie we most love to watch together after a hard day.
Plus, many of the events of "AiL" are inspired by real life events, that's too bad we can't say what they are!
A large part of the book involves discussing sex positivity and exploring one's sexuality, one's comfort and limits with it. How did you approach your characters exploring that in ways that were organic to their character arcs?
Both: We tried to create a juxtaposition between Alice and Robin, the two main characters.
Robin is very open to new sexual experiences and she's thrilled with the queer scene in San Francisco, but she also made up for herself strict rules against serious relationships that are not getting along with what she actually feels for Alice.
In the meantime, Alice is trying to set aside her "true fairy-tale love search" for a while in order to explore her sexuality (and to mend her broken heart). At first, she finds herself completely out of her comfort zone, but despite this she will learn to love and know better herself.
The meaning of the research of the firefly's light in Alice's own fairy tale is that true love cannot be forced and doesn't depend, for example, on a partner's mathematically calculable qualities. It's something you find yourself in all of a sudden, without apparently any rational reason, and when it's too late for you to get yourself out of it.
And this beautiful thing is what happens to Alice, while she's freely exploring her sexuality and her relationship with her body!
Often when thinks of erotica, they think just that, erotic. But Alice in Leatherland combines sex with a sense of humor and tenderness, making sex both silly and playful and a larger part of the emotional story. Was this always your intention?
Both: Thank you so much! Sure it was: at the beginning, "AiL" had to be just a short funny story about cliches of sapphic dates on dating apps, but then we got involved with our characters and the story evolved into something more complex, long and romantic than we planned!
The sex positivity is a very important part of the story, and the main focus of our creative process of this project.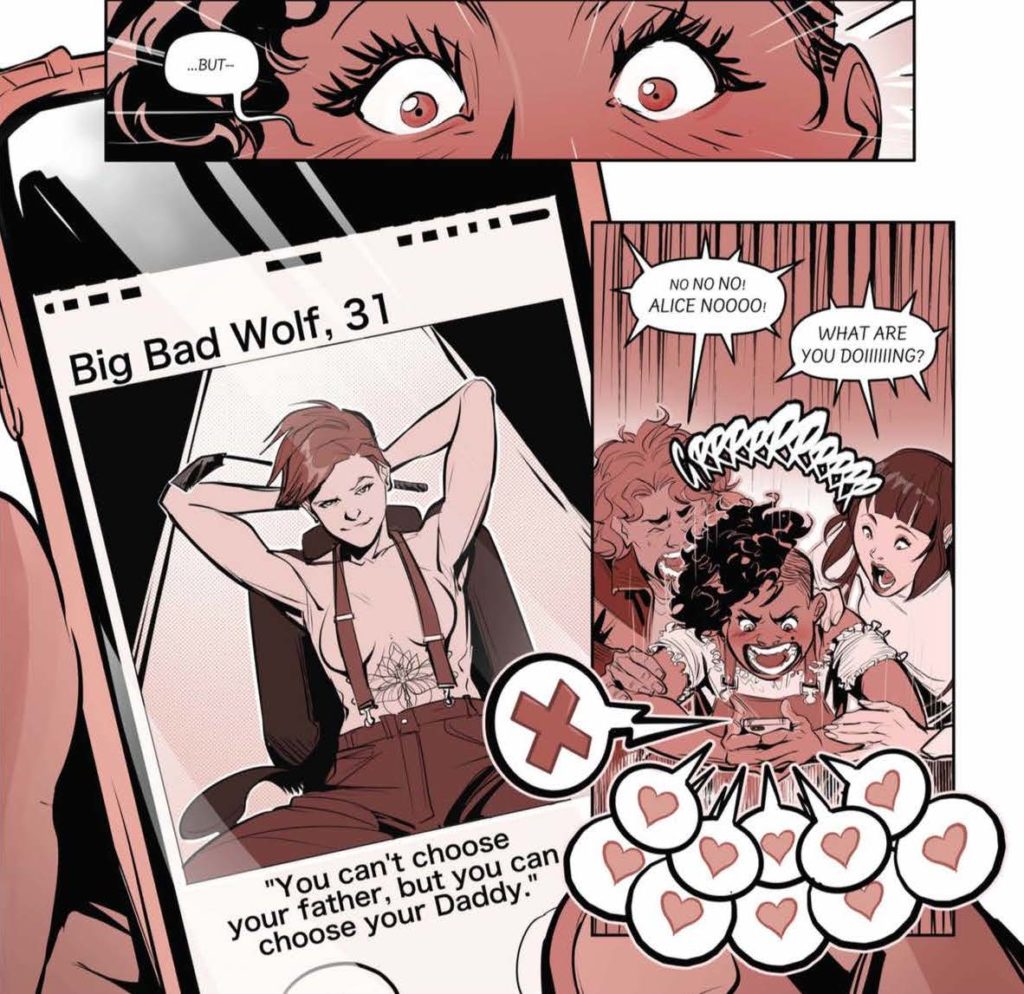 Within your books, Midnight Radio and Alice in Leatherland, there's an obvious queer aesthetic that makes other queer readers smile in recognition at how familiar it is? Did you feel your own experiences as queer creators influences your work?
Both: Our experiences as queer creators not only influence our work but it's our big push. We believe that the representation of LGBTQIA characters in stories that talk about growth, friendship, life experiences and adventures, other than our "traumas" and difficulties or the discovery of our sexuality, is very important.
The world needs more different stories with queer protagonists. We needed it as teenagers and now that the world is finally changing, we want to do our part and participate to this necessary revolution.
I previously read and loved your last book, Midnight Radio. Where did the inspiration for that book come from?
I: I'm so glad you appreciated my "Midnight Radio"! I wrote that story during my year in San Francisco. It was a life-changing experience for me.
The inspiration of the book is the thought that everywhere there are people that are facing the consequences and frustrations of a life spent suppressing, for different reasons and in different ways, their true selves and aspirations. But that often they just need some kind of signs, an unexpected message to give them the strength to free themselves and to take hold of their lives again! Like little and unpredictable bursts of truth.
I'm sure it happens often! That's surely happening in this right moment somewhere.
What advice might you have to give to other aspiring creators?
Both: What we really want to say is: If you have a story to tell, something you truly believe in, please, please, please write it down! Draw it!
You'll definitely find someone who wants to read it out there, or needs it in their life without even knowing it.
What projects are you currently working on and at liberty to speak about?
Both: We're currently working on "A Thing Called Truth", a new comics mini-series. It's a queer romantic-adventure road-trip story!
Issue #1 will be published by Shadowline IMAGE Comics this November. We can't wait to know if someone will love it as much as we do!
What books/comics might you recommend to the readers of Geeks OUT?Both: Among our favorite comic books there are: "Betty Boob", a lovely silent bande dessinée by Vero Cazot and Julie Rocheleau, "Fun Home" by Alison Bechdel and all Liv Strömquist's irreverent books!