Gabriela Martins is a Brazilian kidlit author and linguist. Her stories feature Brazilian characters finding themselves and love. She was a high school teacher and has also worked as a TED Ed-Club facilitator, where she helped teens develop their own talks in TED format. She edited and self-published a pro-bono LGBTQ+ anthology (Keep Faith) with all funds going to queer people in need. When she's not writing, she can be found cuddling with her two cats or singing loudly and off-key. Like a Love Song is her debut novel. Find her on Twitter at @gabhimartins and on Instagram at @gabhi.
First of all, welcome to Geeks OUT! Could you tell us a little about yourself?
Thank you so much for having me, friends! I'm super excited to be here! I'm Gabriela Martins, a Brazilian author, and LIKE A LOVE SONG is my debut. I was an English teacher for ten years and I'm also a linguist, now writing full-time while my cats cuddle on my lap.
How did you find yourself getting into writing fiction, particularly Young Adult?
I've always written fiction. My first-ever book was a rip-off of one of my favorite books at 11 years-old, only it was a lot gorier, and the protagonist was suspiciously like me. From then on, I wrote fanfic for many more years before starting to try to get published traditionally. And I tried and tried for a decade! I queried a handful of books, and they were all YA. I was always drawn to narratives that explore firsts, and being around teenagers for such a long time as a teacher has also definitely helped.
Your debut novel, Like A Love Song, features a Brazilian protagonist along with a variety of queer characters. As a queer, Brazilian author yourself have you ever felt like you were writing yourself, or parts of yourself, into this story? Also, was the title inspired by the Selena Gomez song?
I think we all write parts of ourselves in our stories, but being queer, especially so when we're writing a story about finding out who you are, and having the courage to own up to it. My main character in the book isn't queer, but she faces her own issues with self-acceptance throughout the book, more in relation to her heritage.
While Natalie, our main character, isn't queer herself—which is also a conscious choice, as I grew up with the social and cultural message that queerness was contagious, and not truly who I was, just a product of being around so many queer people—her two closest friends and love interest are. I align way more with chaotic bi and sweatpants-loving Brenda than with all of Nati's glamour in being a pop star, but I think there are bits and pieces of me in all of them in different ways.
The title actually came way later! The book's initial title was You Can Call Me Nati, but our publishing team wanted that could tell you right off the bat that it was a romcom book and also showcase the musical aspect with a song as the title. I absolutely loved their suggestion, and we ran with it!
How would you describe your writing process? What do you wish you had known when you first started writing?
I wish I had known that revision is a biiiiiig deal. Before the shift from aspiration to day job, I am embarrassed to admit that… it's not even that I wasn't good at revising, I simply didn't do it. I queried lots of books without having properly revised them. I didn't even know how to. I write relatively clean drafts, but that doesn't mean they don't need tons of revisions! Working with skilled editors—my agent has a decade of history working as a RH editor prior to becoming an agent—helped me understand where my weaknesses are, so I can do a slightly better job at self-revising before I show anyone else my work. But I will say that I won't be caught dead sharing a first draft with anyone, ever! That baby needs to sleep for a few days before I read it over and convince myself it's not as bad as I think it is before I can even share with my critique partners. lol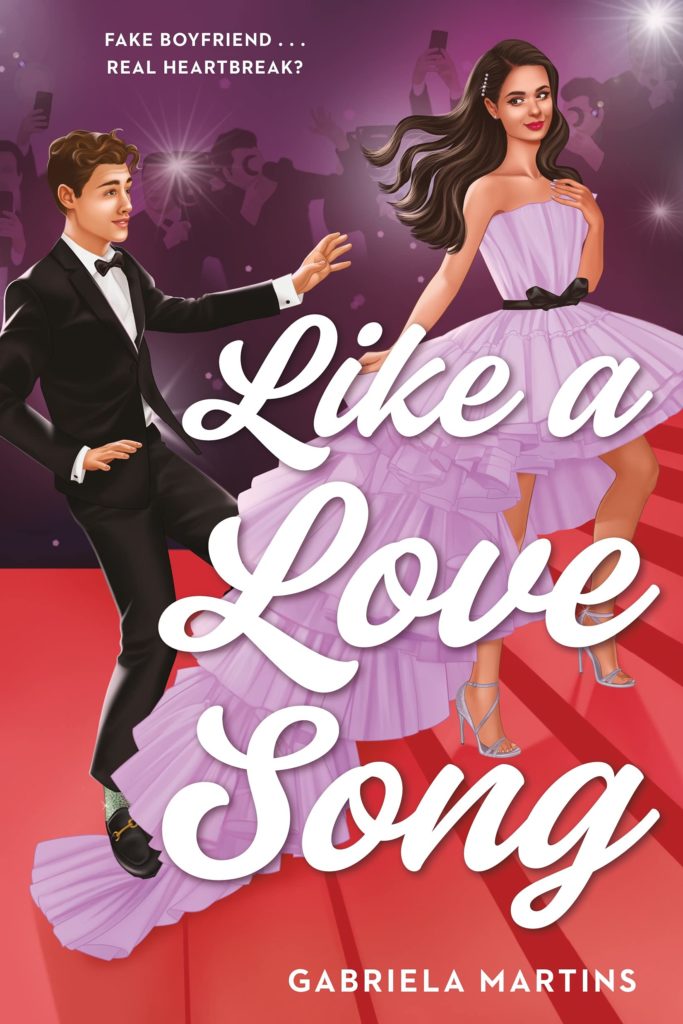 Aside from your own book, is there any Brazilian media (i.e. books, movies/TV, music, etc.) you would want people to know about?
There are so many good things. Brazilian art is deeply prolific, and some of my favorite medias of all kinds are Brazilian. My favorite romcom movie of all time is Brazilian ("O Homem do Futuro", a romcom/scifi crossover that is hilarious, nostalgic, and ultra-swoony). My favorite pop singer, IZA, is Brazilian, and I grew up with rock stars who were out and proud and defined rock'n'roll in Brazil: names like the late Cazuza, Cássia Eller, Renato Russo, but also Lulu Santos. Netflix recently released a Netflix Original called "Cidade Invisível" (Invisible City), a crime/fantasy show about Brazilian legends with a new spin.
Since your debut book is obviously inspired by music, did you listen to any specific artists while writing it? And who would you say are some of your favorite artists?
The album "Lover" by Taylor Swift had just come out, so I had that on repeat while I was drafting and revising. Funny thing, then "SOUR" by Olivia Rodrigo came out earlier this year, and I've been listening to that non-stop ever since! I feel like "Brutal" is just perfect for the book. I wish that song had been around already before the book was published, so I could add it as an epigraph. It's just perfect.
As a writer, who or what you say are some of your greatest creative influences and/or sources of inspiration?
I read a lot and across a lot of different genres, so I feel like I should say books, but I do that for pleasure. What fills my well and ignites my veins really is music. Even little sparks of a story—a trope, a character name, the idea of a situation—only really take shape once I start listening to songs that fill in the blanks, and it snowballs from there. Some of the albums on repeat on my Spotify lately are SUNMI's "1/6", Taemin's "Advice", Olivia Rodrigo's "SOUR", Sum 41's "Underclass Hero", and Kid Abelha's "Educação Sentimental".
Are there any projects you are currently working on and at liberty to speak about?
In summer 2022 my sophomore book comes out, also with Underlined/PRH. It's called BAD AT LOVE and it features Daniel, a rocker with a bad rep of being a player—but who's actually super shy and only suffered a million tabloid misunderstandings—and Sasha, a stubborn and cynical teen journalist with no chance of going to college… until their paths cross. Daniel is challenged by his bandmates to date Sasha for the whole summer on a bet, and she's offered a chance at a scholarship if she can find the dirtiest dirt on L.A.'s favorite bad boy. He is demi and she is pan, and I can't wait for you to meet them too!
Finally, what LGBTQ books/authors would you recommend to the readers of Geeks OUT?
Adiba Jaigirdar is one of my favorite authors of all time, and she has a new book out this year, called HANI AND ISHU'S GUIDE TO FAKE DATING. It also features fake dating, and Adiba's wonderful prose!