Steven Salvatore (they/them and he/him) is a gay, genderqueer author, writing professor, Mariah Carey lamb, and Star Wars fanatic. They hold an MFA in Creative Writing from The New School. They currently live in Peekskill, New York, with their amazingly patient husband, whose name is also Steve. They are the author of CAN'T TAKE THAT AWAY and AND THEY LIVED…. They are also the co-founder of Pride Book Fest. Steven is represented by Jess Regel of Helm Literary Agency.
I had the opportunity to interview Steven, which you can read below.
First of all, welcome to Geeks OUT. Could you tell us a little about yourself?
Thanks so much for having me! I'm honored to here! My name is Steven Salvatore and I'm a gay, genderqueer (they/them and he/him) author—my debut CAN'T TAKE THAT AWAY came out this past March, 2021, and my next novel AND THEY LIVED… comes out this coming March 8, 2022. I'm are also the co-founder of Pride Book Fest. I spend most of my time daydreaming about all the stories floating around inside my head. Honestly, if I could live inside my stories, I would. That's kind of how I write: Embody my main characters, walk around in their heads, do what they would do. Thankfully, it hasn't gotten me in trouble yet, but maybe that's because so many of my main characters tend to share my same obsessions: Like, Carey Parker in CAN'T TAKE THAT AWAY, I'm obsessed with Mariah Carey. Like Chase Arthur in AND THEY LIVED…, I'm a Disneynerd. Like the main character in my 2023 release A SUPERCUT OF US, I'm a Star Wars fanatic. I could go on and go, but basically, if you want to know who I am, read my books and meet my main characters and that'll tell you everything you need to know.
When did you know you were first interested in writing, and what drew you specifically to Young Adult Fiction?
I've been writing stories since I was eight years old (that's as far back as I can remember, anyway.) I started by writing The Lion King fanfiction, and eventually that lead to me trying to write original stories. It took me a long time to hone my craft, though. I got my undergraduate degree in writing, and went on to get my MFA in creative writing, but I had to really work hard to improve to get to where I am today, where I can more easily tell the stories I want to tell; a lot of that had to do with my identity because I lied to myself and suppressed who I was for such a long time that my stories felt like they were lying or that they just existed on the surface of something much, much deeper. Once I came out, I was able to start writing my truth, and as I continued to explore my genderqueerness I really came into myself as a storyteller.
I was first exposed to YA in undergrad in a children's literature writing course, and the voice of YA drew me in. It felt raw and honest and chaotic and straightforward in a way that adult literary fiction just wasn't. Now, you see more voice-y adult commercial fiction being published, but that wasn't the case 15 years ago.
Where did the inspiration and the impetus to write your debut book, Can't Take That Away, come from? What about for your upcoming book, And They Lived…?
When I started CAN'T TAKE THAT AWAY, I was processing my own complicated relationship with gender and realizing that I'm genderqueer. It started when I was teaching a creative writing course in the spring of 2018 and I decided to participate in the free-write prompt I gave my students. Carey Parker appeared on the page in their therapist's office, holding a pair of ruby red slippers that were destroyed. I knew immediately who they were: a diva without a stage. I didn't know the full story yet, but Carey was the person I wanted to be in high school. I imagined what it would have been like if I knew all aspects of my identity in high school and as I wrote, I channeled all my thoughts and feelings and experiences into Carey and their story.
AND THEY LIVED… has a slightly different origin story. The main character, Chase Arthur, has existed in my mind since I was 15-years-old. He was my way of escaping the world around me. And I've tried to write his story so many times over the years but could never get it right. Then I realized that his story is not just his story, but his story with his first love, Jack, who is based on the first person I fell in love with. It didn't go the way I had hoped, so this was a way for me to rewrite my past and give myself and my version of Jack our happily ever after.
Like Ali Stroker's book The Chance To Fly reimagines Wicked with a disabled lead, you also reimagine a more diverse portraying of the Broadway musical, this time with a genderqueer lead. What do you think your book has to say about musical theater, both its power, limitations and possibility for reinvention?
I think the beauty of musical theater is the energy and creativity and power of the live performance structure. The obvious limitations—the fact that everything exists on one stage, in the performances and dialogue, and is person-made as opposed to computer effects—are its greatest strengths, and in that stage has the ability to reinvent what's possible: gender-diverse, racially diverse, and ability-diverse casting can broaden up the possibilities, and the fact that actors are always rotating in and out means that many different actors can embody lead roles, which will show audiences that the only limitations that exist are the ones that imposed by those in power. So really, that's the real limitation: the imagination and agenda of those in power, who hold the purse strings (who are usually cis, straight, white, able-bodied men.) Theater has and always will be the most progressive and imaginative and raw form of entertainment. Hopefully Carey Parker can represent that for readers.
On that note, what's your favorite number from Wicked and are there any other musicals you enjoy?
"The Wizard and I" will forever be my favorite. I will always love RENT, Hedwig and the Angry Inch, Newsies, Beauty and the Beast (my first Broadway show—it will always stay with me!)
Something I've noticed with a lot of queer authors is that they often write the books that they wished their younger selves had. Did that in any way feel true for you?
Absolutely. I wish I had a gay genderqueer diva like Carey Parker as a teen. I wish I had a supportive mom, like Carey had. Perhaps if my book existed for me, I would've felt less alone and could've shared that with my own mom. Likewise, if I had a love story like Chase's in AND THEY LIVED…, maybe I wouldn't have thought that love wasn't just a fairytale idea. It's so important to have stories like these so that young people—and older folks too!!—feel valid, loved, supported, and can see themselves and all the possibilities, good, bad, and in-between.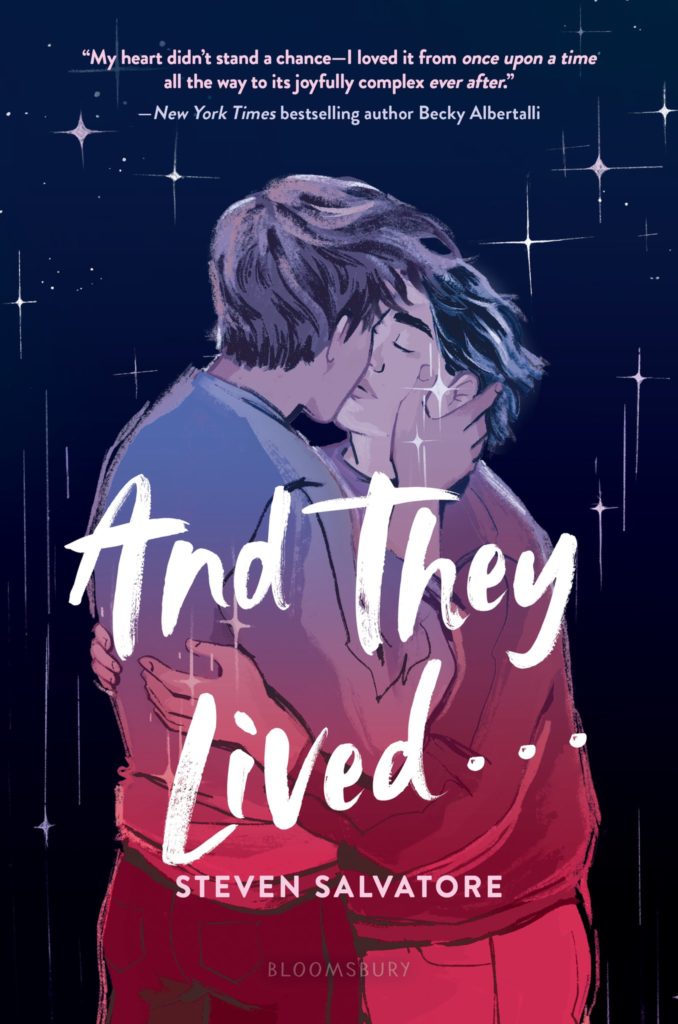 Were there any stories (queer or otherwise) that you read or watched growing up that had touched you or felt relatable in any way? What stories feel relatable to you today?
Queer stories? No. I had nothing growing up but Will & Grace, and while I enjoyed it, I never felt like a "Will" or a "Jack," so I didn't think I fit in anywhere because those were the only two representations of gay male archetypes I saw. I wish I saw more stories that reflected me when I was young so that I could have related better to myself.
The stories I relate to today are the ones that showcase the queer experience in all of its shades—from identity to sex.
I also want to address the idea of relatability, too. Because for me, stories shouldn't necessarily be just about that aspect. I love stories that showcase something different than what I know because it's about exposing me to different thought processes, different cultures, different practices and such. I think that every good story is a human story, and in that way, we can and should all relate to the humanity that exists in every story. But beyond that, as an adult, I don't feel like I need to personally relate to everything I read in order to love and enjoy them the way I did was I was younger and never saw any aspects of myself.
What advice would you give to other aspiring writers?
Don't give up! Writing is fun, but it's also hard work, and it's a long path to publication, if that's your journey. But that doesn't have to be your journey, either. Every writer has their own relationship with writing, and the most important thing is to keep doing it, over and over again. Try and fail. And then try again. Find your people, other writers you can trust to share your work with so that you can improve and learn from and share in successes with. Write, write, write. If you can't live with telling stories, then do whatever you can tell to share that. Because the truth is, only YOU can tell YOUR story.
Aside from writing, what are some things you would want others to know about you?
There are so many things, so many goals I have, so much of my past and present, so much of my personhood and personality that I could share if I wanted to. But honestly, I just people to remember that I'm human. I'm vulnerable and sensitive and emotional. Sometimes I think people forget that writers are human.
What's a question you haven't been asked yet and wish you were asked (as well as the answer to that question)?
I am obsessed with cheese, so "What's your favorite cheese?"
Thank you for asking! I would have to say a good cambozola.
Can you tell us about any new projects you are working on and at liberty to discuss?
My third novel, A SUPERCUT OF US in coming out Spring of 2023, and I'm super excited about that—very Jandy Nelson's I'LL GIVE YOU THE SUN meets Dawson's Creek with a bit of HBO's Euphoria, which is told from two points of view—a brother and sister—who are dealing with their incarcerated fathers' death and the mess he left behind for them, including an unknown half-sibling. I also have other projects in the work s
Finally, what LGBTQ+ books/authors would you recommend to the readers of Geeks OUT?
Jason June's JAY GAY AGENDA, Julian Winters' THE SUMMER OF EVERYTHING, Nicolas DiDomizio's BURN IT ALL DOWN, Kalynn Bayron's CINDERELLA IS DEAD, PJ Vernon's BATH HAUS, Kacen Callender's FELIX EVER AFTER, TJ Klune's THE HOUSE IN THE CERULEAN SEA, Margot Wood's FRESH, and anything by Becky Albertalli, Adam Silvera, and Casey McQuiston.