Kat Calamia has been working in the comic book industry as a critic for over a decade with her YouTube channel, Comic Uno. She's been writing for Newsarama since 2017 and also currently writes for DC Comics' DC Universe – bylines include IGN, Fandom, and TV Guide. She writes her own comics with her titles Like Father, Like Daughter and They Call Her…The Dancer. Calamia has a Bachelor's degree in Communications and minor in Journalism through Marymount Manhattan and a MFA in Writing and Producing Television from LIU Brooklyn.
I had the opportunity to interview Kat, which you can read below.
First of all, welcome to Geeks OUT! Could you tell us a little about yourself?
Of course! My name is Kat Calamia. I'm the editor, creator, and one of the writers for Bi Visibility: A Bisexual Anthology. I'm the writer/creator for the superhero drama, Like Father, Like Daughter, and the psychological martial arts thriller, They Call Her…The Dancer. I'm also the co-creator for WebToon's queer romance, Slice of Life.
I've been a comic book critic for over a decade with my YouTube channel, Comic Uno. I currently write for Newsarama and have bylines with IGN, DC Comics, Fandom, and TV Guide.
What can you tell us about your upcoming work, Bi Visibility: A Bisexual Anthology? What inspired the project?
Bi Visibility is a comic book anthology about bisexuality. It features 20 creators, telling a total of 9 stories ranging from romance to high fantasy.
As a bisexual creator myself, this is one of the most important projects I've ever worked on and a subject near and dear to my heart. Growing up, I had very little bisexual representation. I knew the label existed, but I didn't know what it looked like, how it felt, or that I could be bisexual. This was the driving force towards putting together this anthology. Representation matters!
Can you tell us a bit about some of the artists/stories we can expect to see featured in the anthology?
There's such a great range of creators and stories on this book. There are some creators that have worked on other sides of comics like journalism, PR, and lettering. Then we have other creators that are making their comic book debut with this anthology.
As for the stories, we really wanted to display a diverse palette. This volume dives into dramatic stories like coming out, but then on the other side of the spectrum we have stories that dive into the fantastical world of D&D. We really have a narrative for everyone!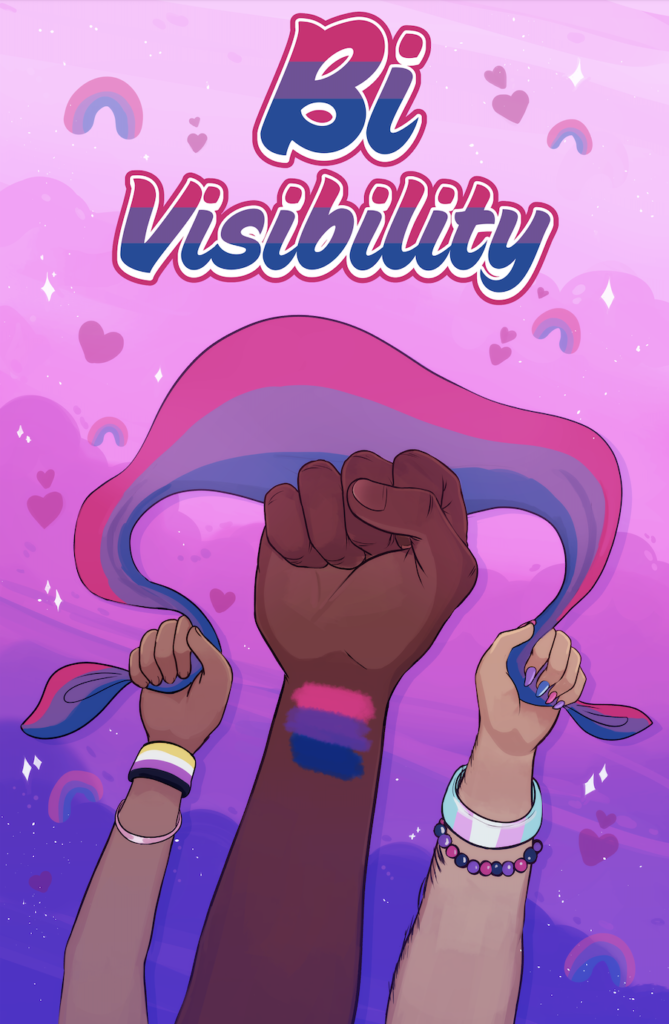 Also, what exactly goes into making an anthology? Could you describe what it was like for you working in that process?
Well, first there's the call for action. A couple of months ago we asked for writers and artists to write a script or showcase their portfolio if they wanted to apply for the anthology. This is how we picked the 20 creators that are now featured in the book. Once we narrowed this down, it was smooth sailing. We had an absolutely wonderful team, which really made everything a well-oiled machine.
As a comic book creator and journalist, what pulls you to comics? Do you remember any of the first comics (queer or otherwise) that drew you to the medium?
I've honestly been a comic book fan all my life. My dad got me into comics when I was really young. Instead of reading Snow White, we read Silver Age Superman comics.
What pulls me to comics? I would say at first superheroes, but as I learned more about the medium it was the marriage of literature and visual storytelling. It really is the best of both worlds. The only limitation is your imagination!
As for queer comics, I'd say Yuri manga really got me into queer storytelling. They have a plethora of queer content that traditional American comics just hasn't fully tapped into – well at least to the extent where you get monthly physical releases from a solely GL genre.
As a bi person, what do you hope this anthology says about bi identity (other than the fact that it's real and people should stop calling it a phase, urgh)?
I just hope people see the different facets that bi people go through, even if they learn that through an action spy thriller about having to give up your "bi card".
What advice would you give to other aspiring creators?
CREATE!! Put the stories out there that you want to tell! There are so many avenues opening up that's making this more and more possible.
What's a question you haven't been asked yet and wish you were asked (as well as the answer to that question)?
You've asked all good ones!
When can readers expect to see the completed anthology?
The book is actually all wrapped. I have the printed books all in my living room HAHA. They can expect the digital book a week or so after we wrap the Kickstarter and the physical book a few weeks following that.
Are there any others projects you are working on and at liberty to discuss?
Our next Kickstarter we're launching is actually in October. It's for a physical version of our queer romance WebToon, Slice of Life.
When gritty anime protagonist, Lady Vengeance, is brought to the real world by a super fan, she'll learn there's more to life than darkness and revenge…and she'll find love with the super fan's twin sister – a kind-hearted cheerleader.
Slice of Life is a queer romance that deconstructs the "Slice of Life" genre, unpacking the importance of everyday narratives to tell a larger story about the meaning of life from the point of view of a fictional character.
Finally, what LGBTQ+ books/comics would you recommend to the readers of Geeks OUT?
For manga, I recommend books like Girl Friends and Bloom into You. For traditional comics there's some great representation in Ms. Marvel with Zoe's character, Heavy Vinyl is a wonderful queer book over at BOOM!, and, of course, there's Runaways.