Kit Rosewater has a master's degree in children's literature from Hollins University. The Derby Daredevils was her debut book series, illustrated by Sophie Escabasse, with three volumes currently available. She lives in Albuquerque, New Mexico.
First of all, welcome to Geeks OUT! Could you tell us a little about yourself and your series, The Derby Daredevils?
Thank you so much for having me on the blog! I am a queer, cis children's book author and I use she/her pronouns. I currently live in Albuquerque, New Mexico, but a few years back I lived in Austin, Texas and got the idea to write a middle grade series about a quirky junior roller derby team based in downtown Austin. That idea eventually grew into THE DERBY DAREDEVILS!
Where did the inspiration for The Derby Daredevils come from? Do you yourself have any personal connections to the sport of roller derby?
When I first moved to Austin, I quickly dove into the roller derby scene. I loved the chaotic energy and open acceptance in that world. I attended a lot of bouts (official roller derby games) and then started to get into the sport as a referee. I trained as a referee with a New Mexico team when we moved, but had to drop out due to health issues before our league got into the main bout season. I will never stop being a humongous roller derby fan.
What inspired you to get into writing for younger audiences? Were there any writers or books that made you think "I want to do this, too someday"?
Oh gosh! I've wanted to write for children for as long as I can remember… basically since I was a kid. The books I read when I was eight, nine, ten—those are the books that have stayed with me the rest of my life. I was obsessed with Louis Sachar's HOLES and E.L. Konigsburg's THE MIXED-UP FILES OF MRS. BASIL E. FRANKWEILER. Around that time, my mother quit her job as a paralegal to write a children's book manuscript, and I thought that was super brave and inspiring. I knew I wanted to do that too someday.
On your website page, it says you've had some education in Children's Literature. Could you discuss that a bit in detail?
You know, I was vocal about loving children's books from the get go, but for some reason when I was in high school and college I lost my nerve when it came to creative writing. I was afraid someone would come along and tell me my writing was bad and then my one major dream would go up in smoke. So when it came time to hop into graduate school, I decided to take a critical analysis track and study children's books as a scholar. And honestly I am so glad I did! Investigating themes and trends in the canon of children's literature has made me a better writer, but even more importantly, it helped me discover a long history of radical queer themes in children's books. I feel very close to this category of literature as both a queer writer, but also as a young queer reader.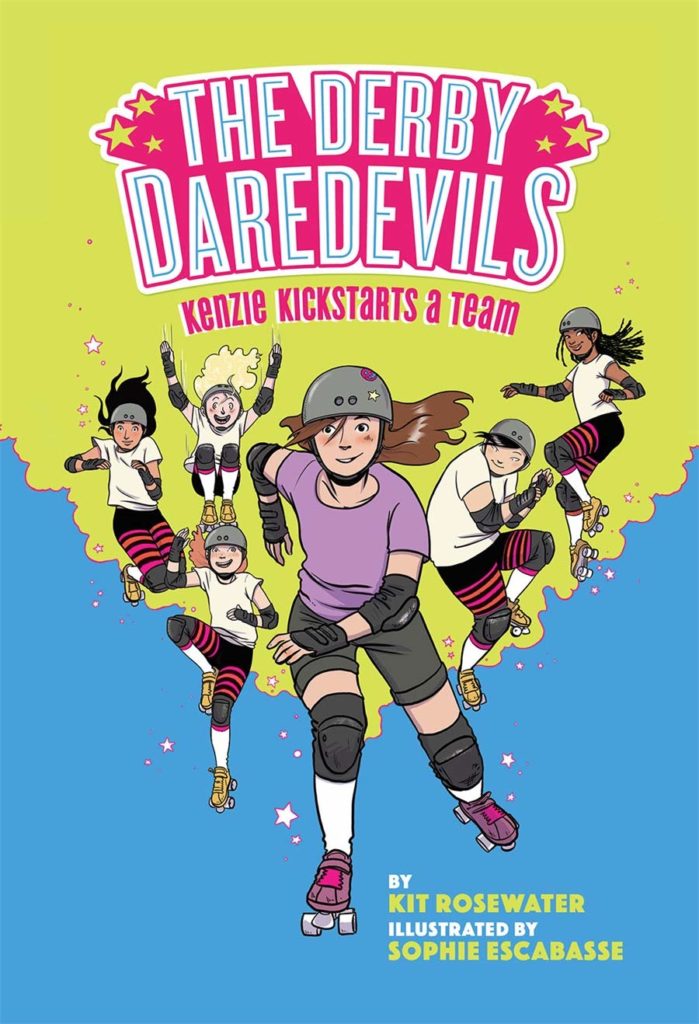 Since Geeks OUT is a queer website, could you talk a bit about the queer representation/themes we can see in your books?
Absolutely! One of my main objectives with THE DERBY DAREDEVILS has been to create a setting and cast of characters that normalize and celebrate queerness. The books feature queer role models—a funny and loving trans dad in one, a great non-binary friend and mentor in another. The books also feature a young queer relationship, or really more of a queer crush that at least one character develops. It was important to me to not have the queer aspect be a source of tension in the narrative, but to simply exist and be visible to the reader. I think in a lot of ways I'm writing stories I wish I had access to as a kid when I was trying to figure myself out.
What advice would you have to give for aspiring writers, particularly for writing sports and other physical activities?
My advice to all writers is to keep learning and not give up. If you learn something new with each story you write, then no words are ever wasted. To sports or action writers in particular, my best writing advice is to tackle action scenes with lots of interiority. By this I mean that it's important to really get into the heads of your characters, and allow the reader see and smell and taste and feel what it's like to be in the middle of action rather than watching it from the side. Sometimes I'll be working on stretching a two-minute long derby jam into four pages of text, and in order to keep things engaging for the reader, that means I need to get into the head space of what my characters are thinking and how they're communicating and the way they're interpreting the action going on around them.
What's a question you haven't been asked yet, but wish you were asked (as well as the answer to that question)?
I've been really lucky over the past couple of years, as young readers in particular have asked me some stupendous questions. Once a student asked me if I tested out all the Daredevils' moves myself before putting them in stories. The answer is complicated, because technically I'm not supposed to be on wheels body-checking people left and right at the roller rink. But nearly every Daredevils move or play is something I did with my friends and cousins as a kid. There's a move where the Daredevils join hands around their team's jammer and squawk like birds to ward off the other team. I actually did that move in a flag football game! Turns out it was completely illegal, but it's one of my favorite memories.
In addition to being a writer, what are some things you would want readers to know about you?
I love reptiles, especially snakes! I had a pink albino corn snake when I was a teenager and I named her Dina after Alice's cat in ALICE IN WONDERLAND. My hero when I was young was Steve Irwin, a nature conservationist based in Australia who would go out and catch animals and give them loving little pats while explaining their importance to the ecosystem. If I wasn't a writer, I'd want to be snuggling sloths and helping animals and the environment.
Are there any other projects you are currently working on and at liberty to talk about?
I am working on a couple of other projects, though I can't talk about any in too much depth right now. I will say that I am definitely still writing books for young people and I am definitely still writing books that feature sports. ☺
Finally, what LGBTQ+ books/ authors would you recommend to the readers of Geeks OUT?
There are so many great authors out there!!! For middle grade I highly recommend A.J. Sass's ANA ON THE EDGE and Ash Van Otterloo's CATTYWAMPUS. In the young adult world, Brian D. Kennedy has a hilarious and swoony queer debut coming out next summer titled A LITTLE BIT COUNTRY.