Skye Quinlan (she/they) was born in California during an earthquake and raised in the Midwest, where cornstalks outnumber people. Forward March (Page Street Kids, March 8th, 2022) is her debut novel. When she's not writing, you can catch her at the nearest metaphysics or craft store, dressed up in cosplay at the nearest convention, or ruining antique furniture with epoxy resin and paint. Skye still lives in the Midwest with her wife, their two dogs, several lizards, a snake, and the occasional little human (their niece). She is represented by Moe Ferrara at BookEnds Literary Agency.
I had the opportunity to interview Skye, which you can read below.
First of all, welcome to Geeks OUT! Could you tell us a little about yourself?
Thank you for having me! My name is Skye Quinlan, and I am the author of Forward March, a queer young adult novel centered around a high school marching band. Most of my free time is spent writing, but I'm also a huge nerd who cosplays with my wife and niece, so you can usually catch me at the nearest anime convention or comic con! I'm also really into gardening, so you can always find me at the nearest plant nursery as well.
When did you know you were first interested in writing, and what drew you specifically to young adult fiction?
I've been writing since a very young age; I distinctly remember being six or seven years old and letting a friend read the first story I'd ever written, which was a Pokemon fanfic (oof – that's embarrassing to admit). She got so angry with me for having Pikachu evolve that she stood up on the bus and threw the notebook over the seat at me, screaming something about, "how dare you?!" I've been writing ever since, but for a long time, I dabbled in fandom and fanfic, which was already heavily rooted in YA subculture, so making the transition from fanfic to original young adult fiction felt the most natural. I've stayed in YA because I love it—I love the books, the authors, the fandom, and it's something that I want to be a part of.
What can you tell us about your debut novel, Forward March? Where did the inspiration for this story come from?
The inspiration for Forward March came from my days as a high school band geek. I played the clarinet for 10 years, and as a teenager, my entire life revolved around marching band—ask anyone who knew me back then, and they'll tell you that I was the kid who took band way too seriously. I was a menace my senior year when I became section leader, always calling for extra rehearsals and making my clarinets march and play until they were blue in the face. In Forward March, Harper is very much the same way, and I used both her and her story as a way to memorialize my days in band, from some of our old traditions to a few beloved memories spent performing in the rain and snow.
What can we expect from the characters of Forward March?
I'd be lying if I said that my characters weren't a bit overdramatic, but that is why we love them. From Harper in particular, you can expect to see her journey of self-discovery, which includes coming to the realization that she's an asexual lesbian with a thing for punk drummer girls in combat boots. You can also expect a dive into complicated family dynamics, friendship break-ups, and miscommunication—my characters are all teeangers, and they're messy. Very, very messy, and they don't always make the best decisions.
Like the main character, Harper, have you ever had any experience with marching band or music in general, or was this something you had researched for the book?
Going into Forward March, I was very fortunate in that I didn't need to do too much research where music and band was concerned—I always knew that my days as a band geek would pay off someday!
As an aspec reader, I'm always excited to see more aspec fiction, especially aspec Sapphic fiction. Could you talk about your motivation to write this kind of representation, and what queer representation in general means to you?
Teenagers are the target audience for Forward March, and as an aspec lesbian author who never saw myself represented in the media until I was in my early twenties, queer representation means everything to me. I want my readers to be able to see themselves represented in my books, and that has always, always been the primary goal for me when it comes to my writing. If I can give my readers what I never had, then I've done my job.
How would you describe your writing process? What are some of your favorite (or most frustrating) parts of writing?
My writing process is chaotic, and I think the people who've worked with me in publishing would probably agree. I don't like writing outlines for my books (I tend to deviate from them when I do), and I often edit my work as I go—that's probably the most frustrating part for me, editing as I go, but mentally, for whatever reason, I have to do it that way. So I'll write a few paragraphs, open up a new word document, and then keep re-writing those same few paragraphs until I'm satisfied. It's not the fastest way to write a book, but it works for me. My favorite part, though, is getting to create new characters and then bring them to life on the page. I probably spend more time writing character profiles and creating their backstories than I do writing the actual book.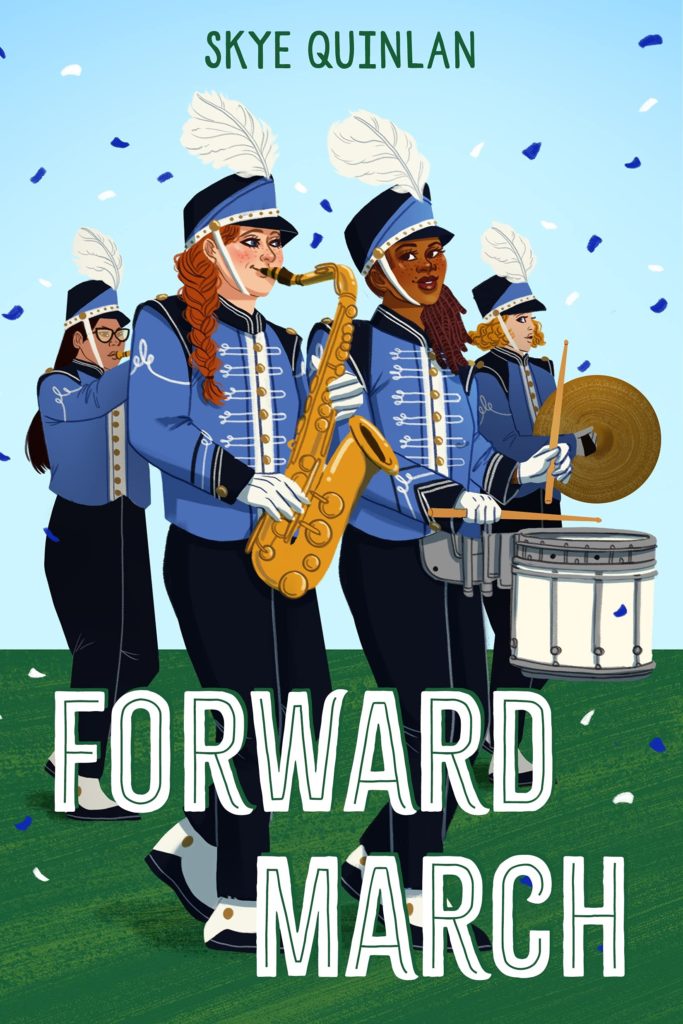 Did you draw on any specific sources of inspiration while writing your debut novel, Forward March, i.e. books, movies, music, etc.? Where do you draw inspiration or creativity in general?
For Forward March, my biggest inspiration came from my days in marching band. I really wanted to preserve those memories and traditions. In general, I draw a lot of inspiration from music, and you'll almost always catch me listening to different soundtracks while I'm writing. For each new book I start, I create a different playlist on Spotify, and that's what I have on while I'm working. For Forward March in particular, I listened to a lot of drum cadences, and I always had on the soundtrack from Drumline.
What advice would you give to aspiring writers?
The advice that I would give to aspiring writers is this: keep writing. Your story, your voice, and the pieces of yourself that you'll leave on the page are equal parts important and valid, and you yourself are worthy of a place in this industry. Publishing has a way of making even the best of us doubt ourselves, but the important thing to remember is never, ever give up.
Besides being a writer, what are some things you would want your readers to know about you?
There isn't much else to know about me other than that I cosplay and love gardening, but let's see… I crochet, I love crystals and geodes, and I taught myself how to ice skate by watching youtube videos.
What's a question you haven't been asked yet but wish you were (and the answer to that question)?
I always wish someone would ask me about my cosplay goals! My very first cosplay was Lexa from The 100, and I would LOVE to re-make that costume and do it again. My wife and I are dying to be Vi and Caitlyn from Arcane, Korra and Asami from ATLA: Legend of Korra, and Adora and Catra from She-Ra. Someday, I would also love to be Loki, because like…Loki.
Are there any projects you are working on or thinking about that you are able to discuss?
I have a few projects that I'm working on, but nothing too concrete right now, so it's probably best to keep them secret!
Finally, what LGBTQ+ books/authors would you recommend to the readers of Geeks OUT?
I recently read Like Other Girls by Britta Lundin and absolutely loved it, and I'm currently reading A Lesson In Vengeance by Victoria Lee and have enjoyed it so far! I'm really excited for Andrew Joseph White's Hell Followed With Us, F.T. Luken's So This Is Ever After, and Maya Deane's Wrath Goddess Sing.