New York Times Bestselling and award-winning author, Claribel A. Ortega is a former reporter who writes middle-grade and young adult fantasy inspired by her Dominican heritage. When she's not busy turning her obsession with eighties pop culture, magic, and video games into books, she's co-hosting her podcast Bad Author Book Club and helping authors navigate publishing with her consulting business GIFGRRL. Claribel is a Marvel contributor and has been featured on Buzzfeed, Bustle, Good Morning America and Deadline.
Claribel's debut middle grade novel Ghost Squad is out now from Scholastic and is being made into a feature film. Her forthcoming books include Witchlings (Scholastic) and the graphic novel Frizzy (First Second.) You can find her on Twitter, Instagram and Tiktok @Claribel_Ortega.
I had the opportunity to interview Claribel which you can read below.
First of all, welcome to Geeks OUT. Could you tell us a little about yourself?
Hello! And thanks for having me. My name is Claribel, I am a former reporter and book marketer who writes middle grade and young adult fiction. I grew up in the South Bronx and am Dominican American. When I'm not writing, I'm playing video games. Usually on my Nintendo Switch though I am a big Sims fan and my go-to karaoke song is either Black Velvet by Alannah Myles or Mean by Taylor Swift.
When did you know you were first interested in writing, and what drew you specifically to writing for younger audiences and speculative fiction?
I have loved writing from a very young age. I probably began writing short stories in second or third grade. I mostly wrote poetry and song lyrics though, and started writing in longer form in college. I never made a conscious decision to write for kids, the stories I wanted to tell just so happened to have young protagonists, and that's probably because the things I watched and read in middle school were really formative for me. I'm always returning to the lessons and themes I discovered in things like Goosebumps or Disney Channel original movies like Halloweentown and Twitches.
How would you describe your latest book, Witchlings? What inspired the story? And on that note, where do you find inspiration in general?
It's about a twelve year old witch who is sorted as a Spare, which means she doesn't belong in any coven, along with her bully and the new girl in town with a terrible secret. When they can't seal their coven and are about to lose their magic for good, Seven invokes the impossible task–a magical trial that will allow them to keep their magic if they can defeat the dreaded Nightbeast. If they fail they'll be turned into toads. Witchlings is what I've been calling Shrekian fantasy (thanks to editor Angeline Rodriguez who I first heard that description from) in other words, prophecies and mythical monsters but with cellphones and the internet. Or the witchernet as it's called in Witchlings. It's also a fun, magical adventure wrapped in a mystery that tackles heavy topics like friendship breakups, abuse and classism.
The story was inspired by a few different things. One was the River Towns, which are a group of towns along the Hudson River in New York. Ravenskill, the town where the book takes place specifically, is based on Peekskill New York. It was inspired by my love of fantasy and underdog stories and by the trans and nonbinary community that is often left out and treated much like Spares are.
Were there any stories (queer or otherwise) that you read or watched growing up that had touched you or felt relatable in any way?
I didn't have the kind of representation kids today have, so I unfortunately don't have examples of queer stories that impacted my growing up. The House on Mango street was definitely one of my childhood favorites though, and one of the books that inspired me to be a writer.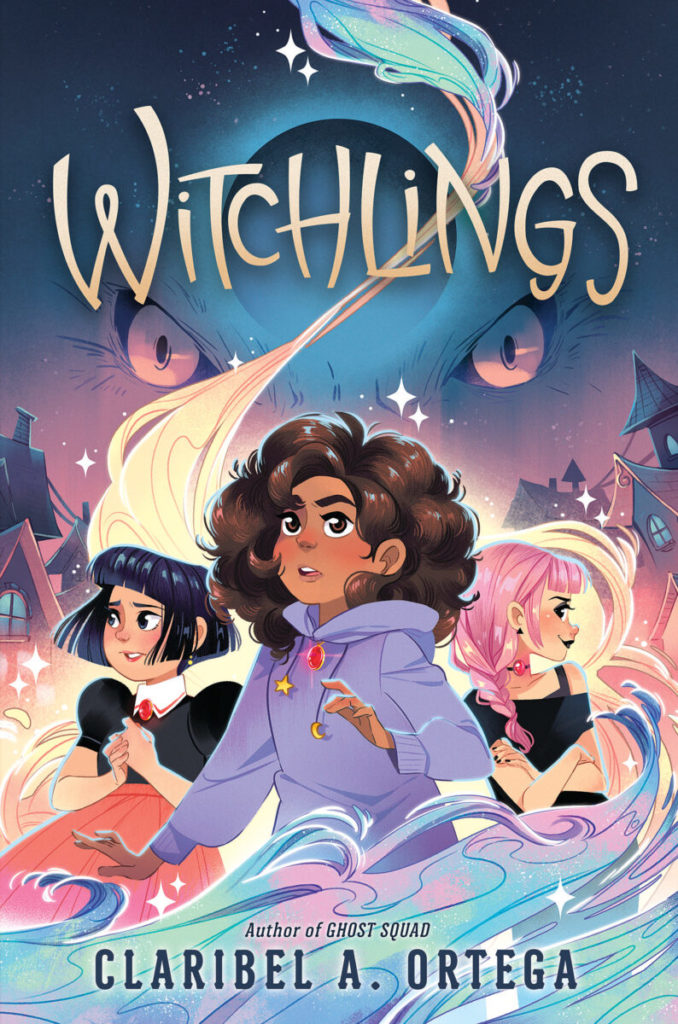 How would you describe your writing routine or process? What are some of the enjoyable, hardest, and strangest parts about writing for you?
It's basically chaos. I try to outline, but the story always changes a ton no matter how much I try to plan ahead. My characters are rebellious as well. I transitioned to becoming a full time writer just as the pandemic started, so I didn't really have a chance to set my writing routine in a way that I was happy with until recently. I'm usually at the desk by ten, and trying to write, and I'll be there until at least six, even if no writing has actually occurred. It's been hard having to write at home for the better part of the past two years. I used to love writing in coffee shops and bookstores, and that really helped my creativity and productivity but writing at home felt a bit stifling for me. In terms of what's enjoyable, I love when a story finally comes together. There is a cycle of "this is amazing, this is actually awful, no wait it's amazing!" that I go through every time I write a book, and getting to the "it's amazing" phase is really satisfying. And honestly, it's strange to make things up for a living. Not gonna lie. I make up stories and get paid for it, it sounds fake. And it's weird, but I love it so much!
In addition to prose, you're also a comics writer (as seen with your upcoming book, Frizzy.) Could you walk us through how you learned to write for a graphic novel medium and what writing the script was like for Frizzy?
I am a huge graphic novel fan, so my first stop in learning to write them was pulling from my experience as a reader which is much like my prose. My incredible editor at First Second sent me a box of graphic novels as well, and a few scripts for me to study and learn from. Everything after that was a hands-on learning process but I adored it. I am a very visual writer normally, so writing graphic novels really appealed to me and I felt comfortable doing it.
Aside from writing, what are some things you would want others to know about you?
I think people already know way too much about me because I talk too much on the internet, but I guess I wish they knew I am a harmless troll and a lot of the things I post about online are actually running jokes. Like the fact that I write my books in Wingdings 3. I've been telling people that for years but it's not true at all lol.
What advice would you give to other aspiring writers?
Read a lot, don't try to be perfect, and write what makes your heart feel like it's about to explode.
What's a question you haven't been asked yet and wish you were asked (as well as the answer to that question)?
How are you? Just kidding, I wish people asked me more about my young adult writing! I'm currently working on a dual POV sapphic murder myster fantasy I'm really excited about that's based on Dominican folklore and I hope to go on submission with it this year.
Can you tell us about any new projects or ideas you are nurturing and at liberty to discuss?
I can't really talk about my other projects at the moment but I just handed in Witchlings book 2 and it's not only bigger, but more dramatic, and a lot of fun.
Finally, what LGBTQ+ books/authors would you recommend to the readers of Geeks OUT?
Definitely Ryan La Sala, Leah Johnson, Phil Stamper and Kalynn Bayron!