Adiba Jaigirdar is the critically-acclaimed and bestselling author of The Henna Wars and Hani & Ishu's Guide to Fake Dating. A Bangladeshi/Irish writer and teacher, she has an MA in Postcolonial Studies from the University of Kent, England and a BA in English and History from UCD, Ireland. All of her writing is aided by tea, and a healthy dose of Janelle Monáe and Hayley Kiyoko. When not writing, she is probably ranting about the ills of colonialism, playing video games, or expanding her overflowing lipstick collection. She can be found at @adiba_j on Twitter and @dibs_j on Instagram.
I had the opportunity to interview Adiba, which you can read below.
First of all, welcome to Geeks OUT! Could you tell us a little about yourself?
Thank you so much for having me! I'm a Bangladeshi-Irish author and former ESL teacher. I was born in Dhaka, Bangladesh, but have been living in Dublin, Ireland since the age of 10. I love reading and playing video games in my spare time.
When did you know you were first interested in writing, and what drew you specifically to young adult fiction?
I've always loved storytelling since before I could even read. So once I learned how to read and write, writing stories seemed only a natural progression of my love of storytelling. Some of the most memorable books I read are from when I was a teenager, many of them being Young Adult books. I think of them as formative to me, both as a person and as a writer. I think this is the case for a lot of people. The stories that we grow the most attached to, the ones that we remember and often go back to, are the ones that we read when we were teenagers. And so, I wanted to write those stories that hopefully help teens see themselves, and that I hope stay with kids for a long time.
How would you describe your writing process?
Chaotic. I don't really have a single writing process. I try a bunch of different things with each book that I write and see what works and doesn't work. I like to go where the story and characters take me.
As a queer Jewish person, can I say how cool it is that your books feature complex queer characters of faith. Would you mind speaking a bit about what that kind of representation, or what representation in general means to you?
Sadly, I think a lot of the world views faith and queerness as mutually exclusive. In my experience, when we have this quite narrow point of view, we drive people away from faith, and oftentimes we also make people feel uncomfortable with their own sexuality. I've always simply wanted to write stories that feel authentic to my experiences, or the experiences of people that I know, and that includes the representation of people from religious backgrounds who are also queer. And so that's the representation I often end up writing, because it's true to my experiences.
Did you draw on any specific sources of inspiration while writing your debut novel, The Henna Wars, and your more recent novel, Hani and Ishu's Guide to Fake Dating, i.e. books, movies, music, etc.? Where do you draw inspiration or creativity in general?
In general, I draw inspiration from anything and everything. For Hani and Ishu's Guide to Fake Dating, specifically I was inspired by the TV show Faking It. I was a little annoyed at the sapphic representation and the bisexual representation in it, and so I just wanted to write my own version of a sapphic fake dating story, where the representation was more authentic to my experiences, and the sapphic characters got to have a happy ending.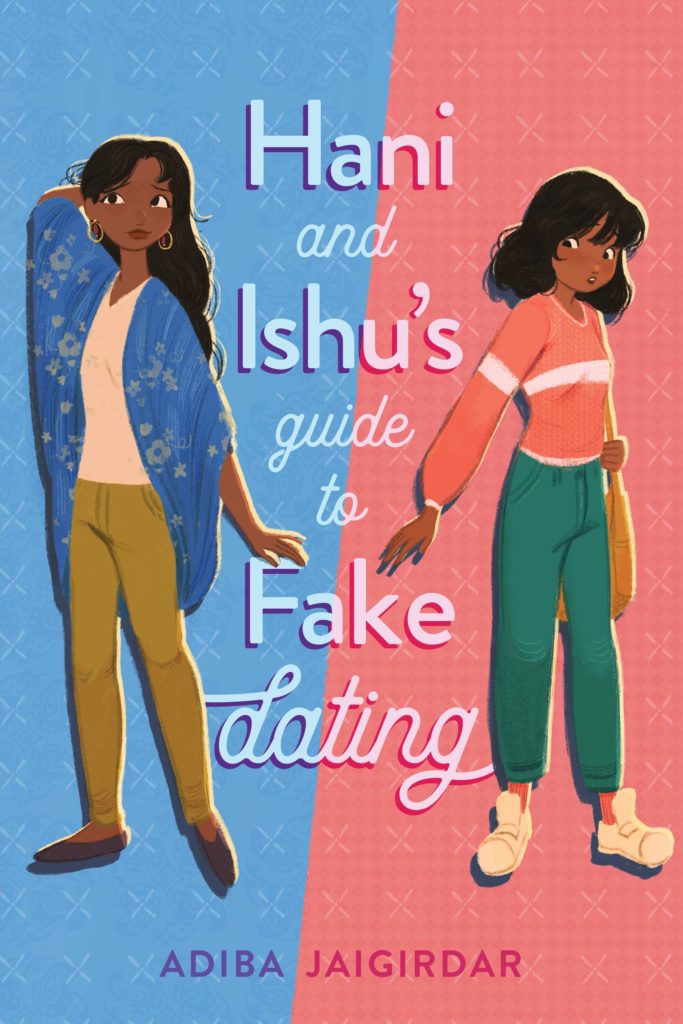 One of the notable things about your novels, is not only featuring Bangladeshi/Muslim characters but also queer characters from Ireland, something that is still rare (though getting less so) in YA. What do you think are some of the distinctions between US centric and Irish YA/cultures, in terms of queerness or in general?
This is a difficult question to answer because I'm not from the US, so I don't actually know what US culture looks like in terms of queerness or really, in general. I know America is also hugely influenced by religion, but I do think a big part of queerness in Ireland comes with having to unlearn a lot of the harm that the Catholic church has perpetrated over the years. Most of our schools are single-sex and run by the church, and we often have nuns as teachers and principals, and if not that, then living on school campus. This is the kind of school I went to (and I graduated just a decade ago), and there were no out students during my school years. There was also quite a bit of homophobia which was probably both a result of the culture and the times. Ireland has come a long way in terms of this though, and we were the first country in the world to vote for marriage equality by way of popular vote.
Besides being a writer, what are some things you would want your readers to know about you?
My favourite way to unwind is by playing video games. My favourite video game franchise is probably Uncharted, closely followed by Assassin's Creed. But I love any good action/adventure game that has a compelling storyline and enjoyable gameplay. I also like to read a lot of adult thrillers in my downtime, and find them very comforting to read when I'm feeling down.
What's a question you haven't been asked yet but wish you were (and the answer to that question)?
What's your favourite flavour of donut? I love coffee flavoured donuts.
Are there any projects you are working on or thinking about that you are able to discuss?
Later this year, my first YA historical will be released. It's called A Million to One and it's about four girls who board the Titanic in order to steal a rare jewel-encrusted book. Next year, I have another romcom coming out called Donut Fall In Love. It follows a Bangladeshi-Irish girl who joins a Great British Bake-Off style reality TV show, only to find that her ex is one of the competitors, along with another girl who she may be developing a crush on.
Finally, what LGBTQ+ books/authors would you recommend to the readers of Geeks OUT?
There are so many I love. I would definitely recommend any book by Alechia Dow, who writes the most wonderful sci-fi books starring LGBTQ+ characters. I highly recommend Ace Of Spades by Faridah Abike-Iyimide, which is a brilliant thriller pitched as Get Out meets Gossip Girl. I am a huge Nina LaCour fan, so I would recommend absolutely anything she has ever written, because it's all brilliant. In terms of romance, I love Meet Cute Diary by Emery Lee, She Drives Me Crazy by Kelly Quindlen, and Fifteen Hundred Miles From The Sun by Jonny Garza Villa.