Laura Gao is a 25-year-old queer artist, author, and bread lover. Originally from Wuhan, China, Gao immigrated to a small town in Texas when she was four. Gao's art career began by doodling on Pokémon cards and has since blossomed to be featured on NPR, the MOCA in NYC, and most notably, her parents' fridge. Her debut graphic memoir, MESSY ROOTS, was published on March 8, 2022 with HarperCollins.
Gao graduated from the University of Pennsylvania in 2018. She worked at Twitter as a Product Manager until 2020, when her webcomic, "The Wuhan I Know", went viral on Twitter and ignited her art career. She swears on Jack Dorsey's beard she did not pull any strings to go viral, and wishes people would stop asking her for tips. Besides drawing and complaining about early-onset back pain, Gao enjoys living nomadically and biking around the world, designing apps for nonprofits, bakery-hunting, and watching SNL. Laura's pronouns are she/her and they/them.
I had the opportunity to interview Laura, which you can read below.
First of all, welcome to Geeks OUT. Could you tell us a little about yourself?
Thank you for having me! I am a queer artist and author of the upcoming graphic memoir, Messy Roots. I was born in Wuhan, China and then immigrated to a small town in Texas where I grew up. I've been drawing ever since I was a toddler doodling (and probably slobbering) on Pokemon cards, but I didn't start pursuing it professionally until 2020 when a comic of mine went viral and got me a book deal.
What can you tell us about your debut graphic novel, Messy Roots: A Graphic Memoir of a Wuhanese American? Where did the inspiration for this story come from?
Messy Roots is about my self-discovery journey as a queer, Chinese American teenager stuck between cultures, homes, and expectations of "who I should be" instead of "who I want to be". It explores my differing experiences between Wuhan, where I was born and visited later on, Texas, where I grew up and experienced the most amount of racism and homophobia, and college and San Francisco, where I had to reckon with and love my entire identity.
Messy Roots started out as a viral comic I created called, The Wuhan I Know, which highlighted the beautiful things I loved about my hometown and shared my own experience with racism growing up and at the start of the pandemic. When the comic unexpectedly went viral, I received countless heartwarming notes from people around the world! The one that struck me the most was from an Asian-American mother whose daughters had read and were inspired by the comic, asking if I was planning on writing more.
And that's how this book began.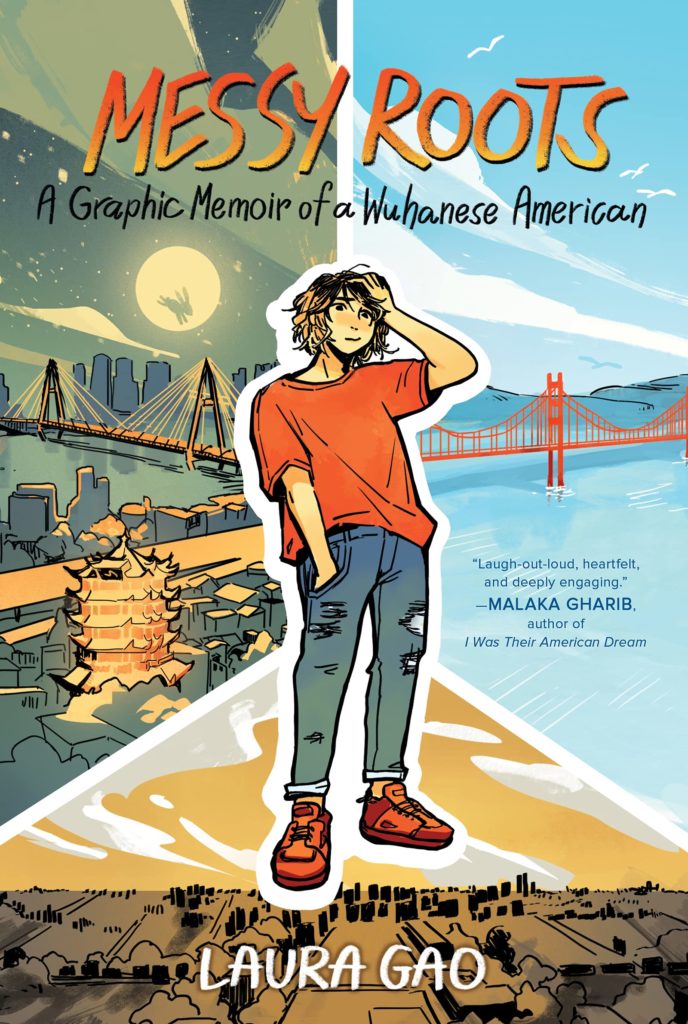 How did you find yourself getting into comics? What drew you to the medium?
I didn't start drawing comics until after graduating college, although I've been reading them for as long as I could remember how to read. The most impactful graphic memoir I read, Spinning by Tillie Walden, was pivotal in helping me understand my own LGBTQ identity despite growing up in a conservative place like Walden did. After graduating college, I worked a standard corporate job but kept up drawing after work as a creative outlet. I've always loved telling stories, and had taken animation classes in college where I learned my favorite part was the storyboarding, so comics became a natural medium for me to explore.
For Messy Roots, I wanted to magically transport the reader into my shoes as they undergo the same identity-seeking journey I did. From squirming in embarrassment as the entire school mocks the Asian mathlete, to staring in awe at the beautiful Wuhan skyline reflected on the Yangtze river the first time I went back to my hometown, to my internal battle with identity portrayed by the white rabbit from Chinese candies and folklore. Comics enable me to marry my storytelling with my art to give readers the full, immersive experience.
As an artist, who or what would you say are some of your greatest creative influences and/or sources of inspiration?
Makoto Shinkai's works, Weathering With You and Your Name. Tillie Walden. Anime and manga I grew up on, like Yotsuba, Naruto, and Haikyuu. Comedy TV, like SNL, Parks and Recreation, and Sex Education.
In light of the pandemic and this being a memoir, this story seems like a highly intimate and potent project for you. Could you discuss some of the craft elements you utilized when trying to depict the personal?
Talking about personal and sometimes traumatic events is incredibly hard, especially when sharing with millions of strangers! However, in the same way I often cope with bad memories through humor, I balance out the heavier scenes with comedic ones throughout the book. It lets the reader take in all the Big Feelings while also allowing them a break before the next Big Feeling.
I also depicted some intangible feelings through motifs, such as the dream-like scenes with the white rabbit from Chinese candies and folklore that symbolize my internal battle with my Asian American identity, and the moon being hidden by clouds as signs of my closeted feelings.
What are some things you would want readers to take away from Messy Roots?
I hope readers understand that everyone's search for identity and home is different and complex. And that's okay!
I just wrote a whole memoir about it, and every day I'm learning new things about myself. However, by letting your voice shine above the doubts, you'll realize the right people and places will naturally gravitate towards you. No matter how messy your roots are.
What advice might you have to give to other aspiring creators?
Post terrible work!
Yes, you heard right. The quicker you get over your perfectionism, the faster you'll finish projects, get feedback, improve, and overcome imposter syndrome or "artist stage fright". I give myself a deadline for when I must post the art, finished or not. Even if it has mistakes, after I post, I realize 99% of people never even notice. Ultimately my goal is to tell a story; I don't need to be perfect to be impactful.
When I look at "The Wuhan I Know" I see plenty of ways I could've improved it, and I'm sure I'll feel the same about my book when it comes out, but if I kept the comic in my drafts trying to get it perfect, I'd never have published it and gotten the book deal to give me my dream career.
Besides your work as an artist what are some things you would want readers to know about you?
I lived nomadically last year, splitting my time between Taiwan and Europe, and would love to continue exploring the world while drawing and hunting for the best bread. I also build websites and apps for various nonprofits. My bucket list includes biking every major long-distance trail in the world, and starting a media company that only creates queer joy content.
What's a question you haven't been asked yet but wish you were (and the answer to that question)?
What's your favorite queer ship? Korrasami hands down.
Are there any projects you are working on or thinking about that you are able to discuss?
I'm currently working on my second book, which will be a queer rom-com about astrology throwing a group of teens' lives into a hot mess!
Finally, what LGBTQ+ books/comics would you recommend to the readers of Geeks OUT?
Any book by Tillie Walden, She Drives Me Crazy by Kelly Quindlen, On Earth We're Briefly Gorgeous by Ocean Vuong, Woman World by Aminder Dhaliwal, Flamer by Mike Curato, and Stone Fruit by Lee Lai.