Dean Atta is a British author from London. He is a member of Malika's Poetry Kitchen and a patron of LGBT+ History Month. His young-adult novel in verse, THE BLACK FLAMINGO (Hachette Children's Group / Balzer + Bray), won the 2020 Stonewall Book Award and was shortlisted for the CILIP Carnegie Medal, Jhalak Prize, Los Angeles Times Book Prize and Waterstones Children's Book Prize.
I had the opportunity to interview Dean which you can read below.
First of all, welcome to Geeks OUT! Could you tell us a little about yourself?
My name's Dean Atta, my pronouns are he/him, I'm an author from London, England, and I now live in Glasgow, Scotland. I'm listening to Taylor Swift's folklore album as I write my answers to these questions.
How did you find yourself drawn to the art of poetry and storytelling? What drew you to write young adult content specifically?
I began writing poetry as a teenager as a way of expressing myself. I performed at open mic events and eventually published a book of poems. That led me to getting an agent who encouraged me to broaden my horizons regarding the types of books I could write. Young adult fiction appealed because I have a lot of experience working with young people leading poetry workshops in schools. In both my novels the main characters write poetry at some point. Michael in The Black Flamingo performs poems on stage, whereas Mack in Only on the Weekends only writes a poem because it's set as homework. Mack's main form of self expression is wearing makeup. When I was a teen I didn't see stories about boys like me, i.e. Black queer boys into makeup and poetry. So I write these books now to make up for the representation I lacked when I was younger.
What can you tell us about your latest book, Only On The Weekends? What inspired this project?
Only on the Weekends was partly inspired by me and my boyfriend moving from London to Glasgow. He had lived in Scotland before and it was much harder for me because it's the furthest I'd ever lived from my family. Luckily, I had the excitement of being with my boyfriend and making a home with him. But for the book I flipped it and wrote about a boy moving to a new city and having to leave his boyfriend behind. Mack really wants to make his long-distance relationship work with Karim but this becomes infinitely more difficult when local boy Finlay comes into the picture and finds every opportunity to hang out with Mack and introduces him to new and exciting experiences.
Your first novel, The Black Flamingo, is such a beautiful piece of work in its lyricism and how it explores identity. Had you always intended to write it as a novel in verse? And were there any novels in verse or poets/authors in general who inspired you while writing it?
The Black Flamingo was just one poem at first. I wrote the moment when Michael is with his grandad and they see a black flamingo in a television news report. Michael sees himself in that image of a black flamingo in a group of pink flamingos. To write the novel I expanded the story backwards and forwards in time from that pivotal moment. The novel in verse that inspired me most when writing The Black Flamingo was The Poet X by Elizabeth Acevado. I was also looking at books by Jacqueline Woodson, Jason Reynolds, Kwame Alexander and Sarah Crossan.
How would you describe your writing process? Is there anything you do to help yourself in terms of motivation or creativity?
One of my favorite things is to attend workshops on topics I'm writing about. For example, yesterday I attended an online workshop by London Queer Writers facilitated by Katlego Kai Kolanyane-Kesupile. The workshop title was "Writing as Rioting" and I chose to write about the concept of a riot of empathy because I'm exploring this in my writing at the moment. This evening I'm attending an in-person workshop at Glasgow Zine Library facilitated by Sean Wai Keung. The workshop title is "Memory & Food" and I hope to write about my memories of food and the cultures of my mixed race family. I know Sean explores his own mixed race identity in his work, which is why I picked this workshop. When I can't find a workshop on any given topic I want to write about, I'll read books, watch films and listen to podcasts on the topic, which usually sparks new ideas and connections when I sit down to write.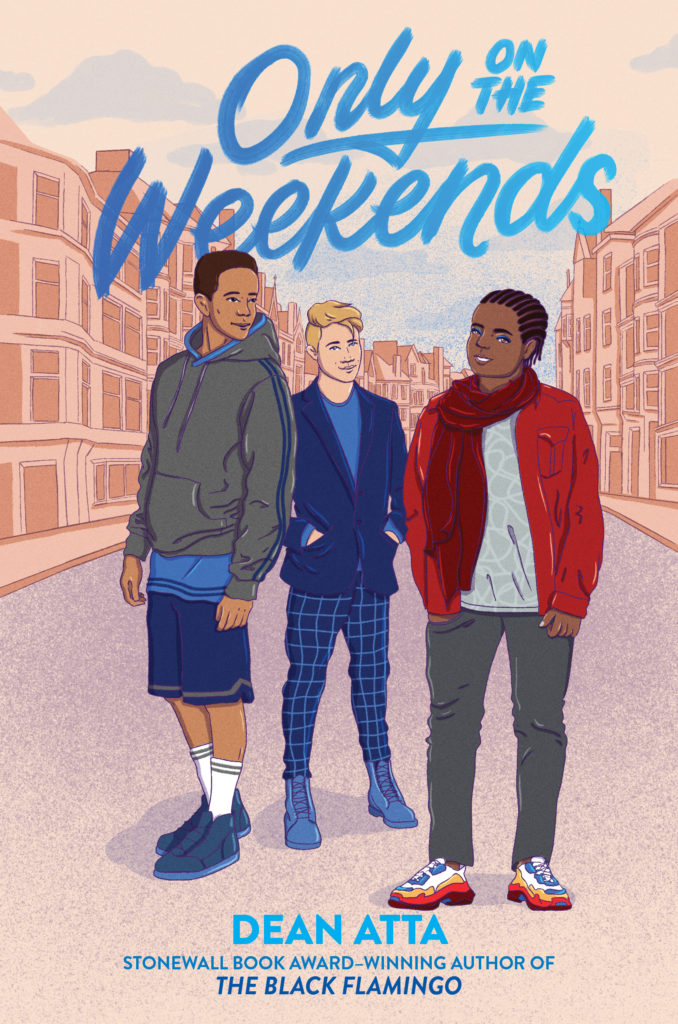 As a writer, who or what would you say are some of your greatest creative influences and/or sources of inspiration?
New experiences, new hobbies or activities or putting myself in new and unfamiliar situations is all really inspiring for me. During the first lockdown of 2020 I learned to ride a bike properly and so bike rides feature in Mack's story in Only on the Weekends. Since moving to Scotland I've also done lots of hiking and this helped form a structural backbone to Only on the Weekends. Over the course of the book you see Mack attempting to summit three mountains, each time with different levels of enjoyment and success. Without having done these things myself, I don't think I'd have written them.
What are some of your favorite parts of writing? What do you feel are some of the most challenging?
My favorite part of writing is when I feel I'm in the zone, when the story is flowing and I can't type fast enough to keep up with the rush of words. Unfortunately, this is perhaps the least common experience. The main challenge is sitting to write when I don't feel so inspired. This may be when I turn to doing more research, making playlists of songs my characters would listen to, thinking about outfits they'd wear. This stuff may not all make it into the book but it helps to keep me immersed in the world of the book until the words come again.
In addition to the written form, you've also done some spoken-word poetry (including this gorgeous video). Do you find yourself tapping into different parts of yourself or your creative energy when you switch between mediums (whether on the page or stage, poetry or prose)? 
I definitely used my experience of spoken-word poetry and drag when writing The Black Flamingo. Michael performs his poetry at an open mic and goes on to perform in drag at the end of the book. The page/stage dynamic was ever-present throughout the book and there are many sections when I'm describing a performance, e.g. when Michael sings "Lady Marmalade" in the school playground, when he sings "Where is Love?" from the musical Oliver! for an audition, as well as the spoken-word and drag performances at university. Since I've had experience with all these types of performance they were easy for me to write.
Aside from your work, what are some things you would want people to know about you?
I love food! Yesterday I made really good egg fried rice and I'm still thinking about it today. I'm keen on meditation and yoga but I'm by no means an expert. I love going to see live music. My favorite gig recently was a Glaswegian singer called Joesef. He's actually mentioned in Only on the Weekends and I definitely recommend you check him out. I'm going to see Harry Styles when he plays here in Glasgow in June and I'm very excited about that!
What advice would you give to other aspiring creatives?
Don't be shy to lean all the way into the topics you're fascinated with, even if they seem too specific and niche. Write about things that excite you. Whether you're an expert or an enthusiast, both are good starting points for exploring an idea in writing. I think the common advice we're given is to 'write what you know' but I'd say 'write what you love.'
Finally, what queer books/writers would you recommend to the readers of Geeks OUT?
I would recommend Gay Club! by Simon James Green. It's about the election of a high school LGBTQ+ society president. It's packed with drama, twists and turns. It depicts many of our real world struggles for LGBTQ+ rights and respect. It has a diverse set of characters that feel fully-formed and loveable but who are also absolutely infuriating at times. It's an emotional rollercoaster of a book!