Natalia Sylvester is the author of Running, her YA debut, as well as two novels for adults. Born in Lima, Peru, she grew up in Miami, Central Florida, and South Texas, and received a BFA from the University of Miami. She currently lives in Austin, Texas. Follow her on Twitter @NataliaSylv.
I had the opportunity to interview Natalia, which you can read below.
First of all, welcome to Geeks OUT! Could you tell us a little about yourself?
Thank you, I'm so happy to be here! A few things to know about me: I was born in Lima, Peru and have also called Miami, Fl, Gainesville, Fl, Mission, TX and Austin, TX home. I grew up swimming in my cousins' pool and pretending to be a mermaid (hence, the mermaid book!) and when I wasn't in the water, I was reading books and writing poems. I'm obsessed with my various houseplants and two rescue dogs. I've been (in no particular order) a magazine editor, a steakhouse hostess, a belly dance teacher, a medical biller, and am currently a copywriter and novelist.
When and how did you realize you were first interested in writing, and what drew you specifically to Young Adult Fiction?
I realized I was interested in writing as soon as I learned to read. Because I was born with hip dysplasia and had many surgeries growing up, my mom used to take me to work with her during the weeks I was recovering from surgery. She had a typewriter in the corner of her office, and I'd keep myself busy by typing up poems on it.
My first two published novels (Chasing the Sun and Everyone Knows You Go Home) are actually for adults, but for my third novel (Running) I was drawn to Young Adult because there's something so joyous and hopeful about the moments in life when you're on the cusp of becoming who you're going to be. It's also a hugely critical time, when you're asking not only, who am I becoming, but who gets to decide who I'm becoming? I still ask those questions. I'm still fascinated by our capacity to grow and change.
I write YA because when you're 13 or 15 or 17, you hold all these seeming contradictions—you're fearless and insecure and apathetic and empathetic and strong and fragile. But really you are everything, and you're trying out everything, and all of what it means to be human is evolving and alive inside you.
How would you describe your writing process? What are some of your favorite parts of it? What inspires you to write and keep on writing?
I have tried to make my writing process as gentle an excavation of myself as possible. And what I mean by that is that writing is self-discovery for me, and being honest with and about myself is hugely important…but it can also mean that sometimes, I dig deep in places and wounds that I may or may not be ready to explore. So I write slowly. I let my ideas simmer. I try not to put too much pressure on myself on a day-to-day basis. I feel like, so long as I'm living with the story I'm writing (whether that looks like actual writing or taking a self-care day) then I know I'll bring it to life on the page in the time it was meant to happen.
My favorite parts of the process are when I write something that totally surprises me but that I instantly recognize to be true. There's power in finding the right words and finally naming something you've felt your whole life.
Your latest novel, Breathe and Count Back from Ten, features a young Peruvian American teen with hip dysplasia training to become a mermaid. Where did the inspiration for this story (and title) come from?
I was born with hip dysplasia and so I was in and out of surgeries as a child. Even from a young age, I would journal about my experiences. At the same time, I loved swimming and I dreamt of being a mermaid. These things were therapeutic for me. When I was writing or in the water, I felt free and full of joy.
I think in a lot of ways, I've been writing Breathe and Count Back from Ten my whole life. It's just that only now do I have the right words and language to make sense of this story. And I made sense of it by making it about so much more than me. It really is my protagonist, Vero's story. She and I have so much in common but she's her own person, and writing her taught me so much about who I wanted to be as a child and who I can still be now.
As for the title, it's from the first line of the book! It also has multiple meanings, which I shared a bit about here.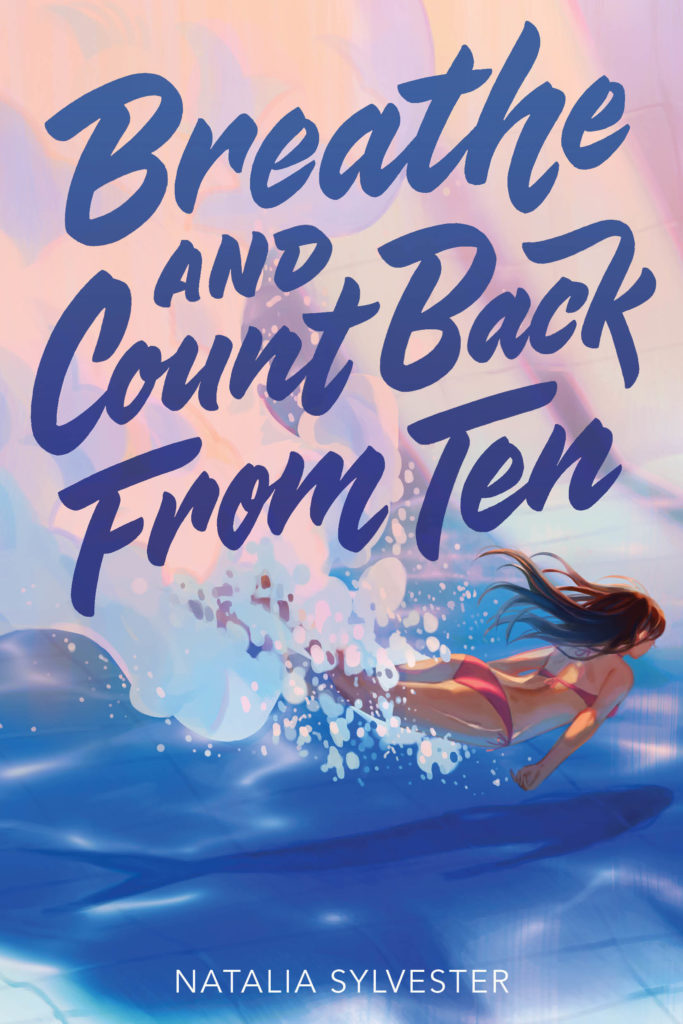 You mentioned on Goodreads, that you "used to hide my scars & now they're on my book cover." How does that time of visibility feel?
I get emotional every single time I see the cover. I never want any young person to ever feel the kind of shame that I felt about my body and scars growing up. I'm lucky to have shed that fear and embarrassment, but it wasn't easy, and it took me years to get here. I love my body for all it is, everything it's been through, and all it's helped me become. Putting my scars on the cover was never even a question—it was always simply about being truthful and unapologetic. I'm so lucky that my publisher was on the same page about it. If my scars on a book cover can help someone else feel that same love, every little bit of hardness I ever experienced would have been worth it.
What inspired the mermaid training element? Do you have any personal connections to mermaids or the water itself?
I've always felt at home in the water, which is probably why I dreamed of being a mermaid my whole life. Though I never got to audition to become a professional mermaid the way that Vero does, I was (for a short, glorious time!) signed up for mermaid camp at Weeki Wachee, the springs that inspired Mermaid Cove in the book. Sadly, mermaid camp was canceled due to the pandemic so it continues to be a dream, one that I lived vicariously by writing this book!
When you're not writing, what do you enjoy doing or consuming in your free time?
I have several plants that I'm tending to and constantly propagating. I also really love baking and making art in very hands-on ways. Most recently, I created a mosaic out of vintage repurposed pool tiles, and now it hangs in front of my home.
What's a question you haven't been asked yet, but wish you were asked (as well as the answer to that question)?
What was the inspiration behind Vero and Alex's love story?
The book opens with Vero first meeting Alex, the cute new neighbor moving into her apartment complex. They have an almost instant connection and happen to come together at a time in their lives where they can give each other a gentleness that they've been lacking in other relationships. I just remember being Vero's age—looking back at my romantic relationships, there were aspects that weren't necessarily healthy, and they caused me a lot of hurt. Vero and Alex have both been through so much due to her hip dysplasia and his struggles with depression. I wanted to just give them space to see each other and be there for each other, in a way that didn't necessarily center their pain.
What advice would you have to give for other aspiring writers?
Be kind to yourself. Writing can be so personal, to the point that we can end up equating our own self-worth with how much we write, how good we think the writing is, whether it gets published, etc. But the best way to nurture your writing is to nurture yourself as a person.
Are there other projects you are currently working on and at liberty to discuss?
Not at the moment!
Finally, what books/authors, particularly those exploring Latinx or disabled identity in their work, would you commend to the readers of Geeks OUT?
I'm such a huge fan of Jonny Garza Villa and can't wait for their next book, Ander and Santi Were Here. Melissa See's You, Me and Our Heartstrings (out in July) has been happily on my TBR forever. And Bethany Mangle's All the Right Reasons just came out in February and is next on my list!