Cory McCarthy (he/they) is the author of numerous books for young readers. They live with their family in Vermont, where they teach writing at Vermont College of Fine Arts. 
I had the opportunity to interview Cory, which you can read below.
First of all, welcome to Geeks OUT! Could you tell us a little about yourself?
Hey! I'm Cory (he/they), a nonbinary trans dude. I've been publishing for ten years, and I'm releasing my first book about what it was like to grow up closeted in Ohio. If that sounds a bit ominous, errr, you're on the right path!
What can you tell us about your upcoming book, Man O' War? What inspired you to write it?
Man o' War is about cultural captivity. The hero, River McIntyre (they/them), is an Irish and Arab American, like me, who has been required to perform femininity and whiteness for the sake of other people's comfort. We meet them at the tender age of fifteen when they encounter a happy, healthy queer person—and begin the long process of releasing themself. The book follows River into their college years and through gender affirmation surgery, which was a joy to write about for a teen audience.
I was inspired to write this book because of a rather notable part of my small-town upbringing: I grew up down the street from SeaWorld of Ohio. The park has been out of business for many years, but between the memories and the metaphors, I knew that I had to talk about how being trans in a close minded community is exactly like being an orca stuck in a bathtub-sized tank.
When did you know you were first interested in writing, and what drew you specifically to young adult fiction?
I fell in love with poetry and memoir writing in middle school and transitioned to screenwriting after undergrad. I've always known I wanted to write for a living but finding my niche took three degrees in writing and endless ambition. I fell into YA backwards. I was writing high fantasy and ended up at Vermont College of Fine Arts where I learned that I was already writing what publishing calls YA. I now write in other formats and age ranges, but YA has been quite an education.
How would you describe your writing process? What do you find are some of your favorite or most challenging parts of writing?
For me, every book is written differently. Over my decade in publishing, my process has evolved to become more fluid. Some books take over a year to write. Man o' War fell out of me over a few weeks of tears and pain and fingers-on-fire. That being said, my favorite part of writing is drafting. Revision takes more out of me, and requires more time, patience, and planning.
In addition to featuring trans representation, the book also features an Arab American protagonist. Can you speak as to what that intersectional representation means to you?
It is scary to write about being Arab American. While the rampant fear and miseducation quadrupled after the tragedy of 9/11, this country has a long history of forcing Arab Americans to forcefully assimilate. It's this wildfire fear that River was bathed in from birth. Don't let people know who you really are…or they might attack you.
This is the same message currently being blasted at trans folks. The echo chamber of intolerance is all the way up to eleven right now. I hope readers of Man o' War find the strength and courage to live their lives openly and safely despite our cultural chaos.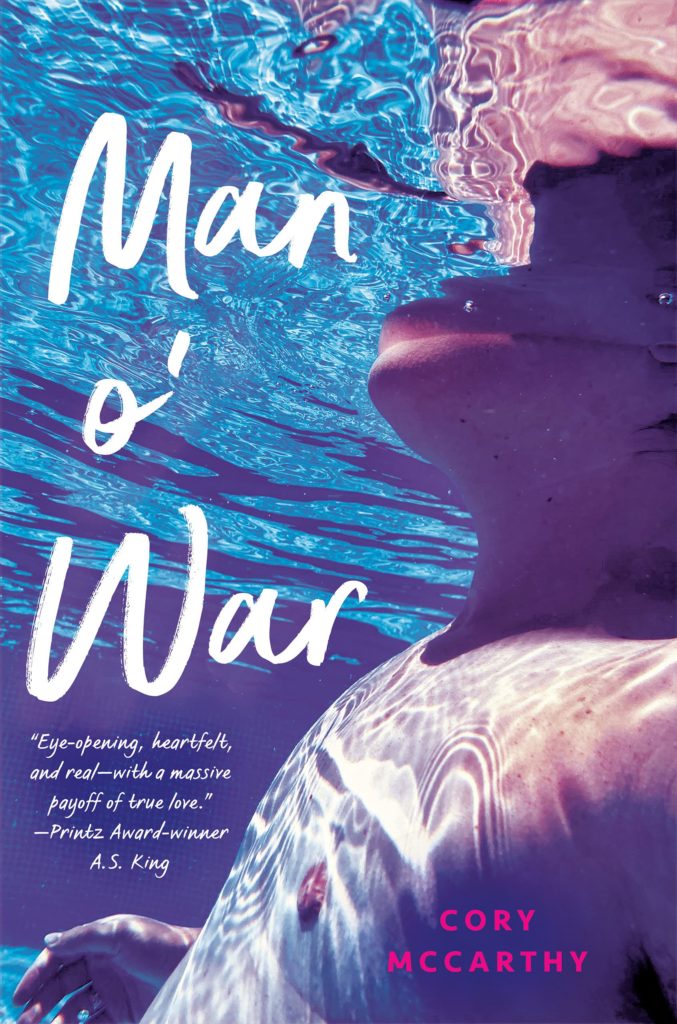 Since the book is centered around swimming, I was wondering if you have any personal connections or memories about water yourself that you would like to mention?
The book has minimal sports content, although River is a competitive swimmer. The story is very much about water, however, and that parallel of the marine life in the tanks and feeling like a captive animal in the lanes. This is also based on personal experience. I started competing at the age of seven, and it was everything to me. I walked away my senior year in high school because the gender dysphoria I experienced in the female suits was too intense. In the story, River goes on to be a trans athlete in college, something I would have loved to do, so in a way, I rewrote my own story into something much more affirming.
Both you and your spouse, A.R. Capetta, seem to be writers as well as co authoring books together. Would you say your creativity as writers sometimes bounces off each other?
We are indeed both authors! We co-wrote the bestselling Once & Future series, aka queer King Arthur in space, and have heaping individual backlists at this point. (Takes a lot of books to pay the bills!) We definitely bounce our ideas and passion for stories off of each other, and we have very different strengths, which we find to be ideal in a co-authoring situation.
What's a question you haven't been asked yet, but wish you were asked (as well as the answer to that question)?
Hmmm, I wish people would ask more about how publishing works. It's an incredibly predatory industry, and until authors feel empowered to talk about it, nothing will change. We are—at a dangerous speed—approaching something that could very well shutdown publishing, not unlike the screenwriter strike in 2007-2008. The industry is currently forcing out marginalized authors with advance payouts that don't happen until seasons or years after the book is released. If this continues, the only people who will be writing books will be those who are independently wealthy. And we know what that demographic largely looks like, now don't we?
What advice might you have to give for aspiring writers?
Congratulations! You will write STORIES for a living, and it will set your soul on fire in the best way. Also: condolences! This industry is a trash heap, but that doesn't mean there isn't hope for a better future. There is always hope.
Are there any other projects you are working on and at liberty to speak about?
I have a middle grade sci-fi series rolling out now called B.E.S.T. World, where tweens get augmented bodies to become literal heroes—only the corporation granting the augs has other plans for these youths. But that's the thing about becoming a hero…no matter who empowers you, what you do with that power is up to YOU.
Finally, what LGBTQ+ books/authors would you recommend to the readers of Geeks OUT?
Grand question! Check out Charlie Jane Anders' new space opera, the Unstoppable series. It starts with Victories Greater Than Death and the newly released Dreams Bigger Than Heartbreak. Also, try Kiss & Tell by Adib Khorram, and if you grew up longing to go to queer camp, well, L.C. Rosen penned some fantastic summer memories for you in his CAMP, which is on its path to becoming a motion picture!
Thank you so much!