Brian D. Kennedy writes books for young adults. Born and raised in Minnesota, he now lives in New York City with his husband and their very photogenic dog. When he's not writing, Brian can be found working at an LGBTQ non-profit. His slightly unhealthy obsessions include: seeing as many Broadway shows as possible, buying weird trinkets off eBay, and all things Dolly Parton.
I had the opportunity to talk to Brian, which you can read below.
First of all, welcome to Geeks OUT! Could you tell us a little about yourself?
Thanks for having me! My name is Brian D. Kennedy, author of A Little Bit Country. When I'm not busy writing, my time is spent working at a LGBTQ non-profit, buying books faster than I can read them, and watching TV with my husband and our miniature schnauzer, Stanley.
How did you find yourself drawn to the art of storytelling? What drew you to young adult fiction specifically?
I've been drawn to storytelling for as long as I can remember. One summer when I was a kid, instead of setting up a lemonade stand, I set up a table to sell stories I wrote. Throughout the years I've also tried my hand at poetry, playwriting, improv and sketch comedy, and acting. I didn't discover young adult fiction until I was in my mid-30s, though. I was taking a non-fiction personal essay class and the instructor said my writing read like "a young adult novel." (I don't think she meant it as a compliment.) That prompted me to pick up my first YA book. I instantly fell in love with the voice, and there was no turning back from there.
What could you tell us about your debut book, A Little Bit Country? What inspired the story?
A Little Bit Country is my love letter to country music and Dolly Parton. It's about two boys who spend their summer working at a Dollywood-esque amusement park. Emmett, an aspiring musician from Chicago, wants to be country music's biggest, gayest superstar. Luke, an aspiring chef from Tennessee, hates country music. So naturally, the two meet and fall in love. In my book, Wanda Jean Stubbs in the fictional country music icon that owns her own amusement park, Wanda World. It just seemed like a rich setting for a novel, and I knew that my love of country music would give me plenty to play off of.
How would you describe your writing process?
Full of procrastination and snacks. If I have all day to write, it will often take me a while to find my groove. It definitely helps if I know what I'm writing, which is why I'm a die-hard plotter. Even once I have a full outline, before I start each chapter, I like to go for a short run if I can. It gives me a chance to ruminate on the scenes I have to write without out the distraction of the internet or my phone. I also like to keep track of my daily word count in the notes app on my phone, because I'm a Virgo who's fueled by constantly trying to one-up myself. (I usually fall short.)
A Little Bit Country definitely contains some strong music themes. What music would you say you've gravitated to while writing this book and in general? Do you have any personal experience singing/ playing an instrument?
Well, the obvious answer is Dolly Parton. The first thing I did when I sat down to start drafting this book was to treat myself to a box set of her music that had some previously unreleased tracks and spanned four decades of her career. But there were a lot of other country artists I listened to while writing A Little Bit Country as well. Miranda Lambert, Kacey Musgraves, Lori McKenna, Maren Morris, Hailey Whitters, Brandy Clark, the Highwomen…I could go on for a while.
I took piano lessons as a kid and played baritone all the way through high school. (Our marching band uniforms consisted of polyester shirts and black cowboy hats. Thankfully, the internet wasn't around to document this.)
And for the record, I'm a terrible singer.
As a writer, who or what would you say are some of your greatest creative influences and/or sources of inspiration?
At the risk of repeating the same answer again…Dolly Parton. I've always been drawn to classic female country singers. Performers like Dolly and Loretta Lynn, who sang bold songs and defied expectations to find success in a male-dominated industry. That's why I created the fictional icon of Wanda Jean for my book. I knew she would serve as a great inspiration for my main characters, two boys who are trying to follow their own dreams in a world that isn't always ready to accept them.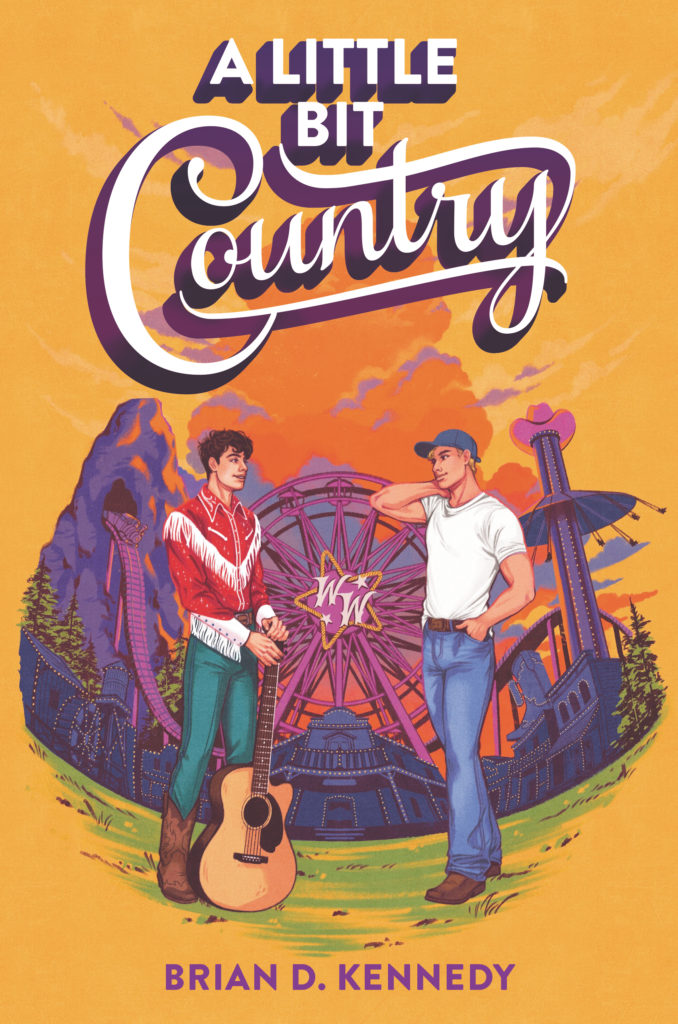 What are some of your favorite parts of writing? What do you feel are some of the most challenging?
I am quite possibly the world's slowest drafter. It's hard for me to turn off the critiquing part of my brain and just get words down on the page. Editing seems to be a less excruciating part of the process for me. (Unless I just received an edit letter—then I reserve the right to change my answer.) When I'm editing, I feel like a sculptor who's sitting with a giant block of clay. It might be a lumpy mess, but at least I have something to work with and (hopefully) make better. A book usually goes through many rounds of edits, and with each one, I can feel my story taking shape.
Aside from your work, what are some things you would want people to know about you?
Although I consider myself a New Yorker, I grew up in Minnesota and there's no denying it shaped who I am. I love nature (especially bodies of water), and could tell you how to make a mean Tater Tot hotdish.
What's a question you haven't been asked yet, but wish you were asked (as well as the answer to that question)?
I love talking about the research I do for a book! For A Little Bit Country I read biographies by Dolly Parton, Loretta Lynn, Tammy Wynette, and Tanya Tucker. I also watched Ken Burns' eight-part docu-series, Country Music, which so informative and thoroughly enjoyable, and the documentary Bluebird, about the Bluebird Café in Nashville. While in the middle of drafting my book, I was also extremely fortunate enough to take a trip to Dollywood for the first time. (It was my 40th birthday present to myself.)
As of now, are you currently working on any other ideas or projects that you are at liberty to speak about?
I have a second young adult rom-com coming out with my publisher in 2023. I'm not allowed to say much yet, but I can tell you that it's a new story with new characters. It will still involve a setting with music, though not country music this time.
What advice would you give to other aspiring creatives?
Writing can be a solitary profession. Finding other writer friends will help. It doesn't even have to be in person. There's a large community of writers online. (Probably procrastinating.) Good writer friends will talk you through your low points and help you celebrate your wins. Writers can also be extremely generous and there are a number of mentorship programs out there (Author Mentor Match / Diverse Voices, Inc.) that are worth seeking out.
Finally, what LGBTQIA+ books/authors would you recommend to the readers of Geeks OUT?
I would love to give a shoutout to some of my fellow #22debut authors who are releasing a book this year. Erik J. Brown wrote a post-apocalyptic love story between two boys that has the slowest of slow burns in the best possible way. It's called All That's Left in the World, and it's almost impossible to read without shouting "Just kiss already!" at some point. I'm also very much looking forward to The Lesbiana's Guide to Catholic School by Sonora Reyes and The Loophole by Naz Kutub.