Julian Winters is a bestselling and award-winning author of contemporary young adult fiction. His novels Running with Lions, How to Be Remy Cameron, and The Summer of Everything (Duet, 2018, 2019, 2020, respectively) received accolades for their positive depictions of diverse, relatable characters. A former management trainer, Julian currently lives outside of Atlanta, where he can be found reading, being a self-proclaimed comic book geek, or watching the only two sports he can follow–volleyball and soccer.
I had the opportunity to interview Julian, which you can read below.
First of all, welcome back to Geeks OUT! How have you been?
I'm great, thank you! Honestly, I'm geeking out at the opportunity to chat with you.
What can you tell us about your latest book, Right Where I Left You? What inspired you to write it?
Right Where I Left You is a geeky, sincere love letter to fandom, friendships, family, and queer teens deserving their happily ever afters. It follows nerdy Isaac, who's out to spend every waking moment of summer with his gamer-best friend, Diego, before college starts. After an old crush reenters the picture, Isaac's distracted chasing the love story he's always wanted for himself, creating friction with Diego. Sometimes, the love we truly seek is right in front of our faces.
The inspiration came in 2018 after I'd seen Black Panther and Spider-Man: Into the Spider-Verse. I remember the overload of emotions (joy, triumph, love) I felt afterward as well as the awe in the younger viewers who'd just seen a hero that looked like them for the first time on the big screen. I wanted nothing more but for queer, geeky teens to experience that feeling in a book.
The cover is gorgeous by the way! What was your reaction to seeing two queer brown boys on the cover of a story you wrote?
Full disclosure: I cried. Happy tears, though! It wasn't just that the cover had two queer Black/brown boys on the cover, it was that they're smiling. Laughing. It's the joy in their expressions. That means a lot to me—to show queer BIPOC readers they can have stories where their happiness is front and center. All the credit goes to the artist, Daniel Clarke, and the cover designers, Samira Iravani and Theresa Evangelista, for creating a cover bursting with love.
When did you know you were first interested in writing, and what drew you specifically to young-adult fiction and romance?
I was always a writer in some form. Short stories, song lyrics, really bad poetry. I hated reading the books assigned to me in high school. Every character that looked or identified like me had a storyline rooted in their pain, trauma, and eventual death. I needed a way to rewrite that narrative, so I turned to fanfiction. It allowed me to write the happy, impactful endings I craved for people like me.
I was drawn to young adult fiction (and romance) because I remember how difficult it was as a teen to repeatedly read those books. I want young readers, especially queer BIPOC readers, to know they're more than their pain—they have power, deserve joy, and love shouldn't be the thing that breaks them or ends tragically. They're the hero of the story, not the lesson.
How would you describe your writing process? What do you find are some of your favorite or most challenging parts of writing?
I'm definitely a plotter—I need everything organized before I start. I'm also very big on playlists and Pinterest mood boards. My favorite part of writing is revising/editing. Once all the words are out of my head, it's easier to piece together the puzzle and see the big picture. The most challenging part is drafting. It takes me so long because I tend to overthink or want things to be perfect instead of simply transferring all the ideas from my head onto the page, trusting I can fix it later.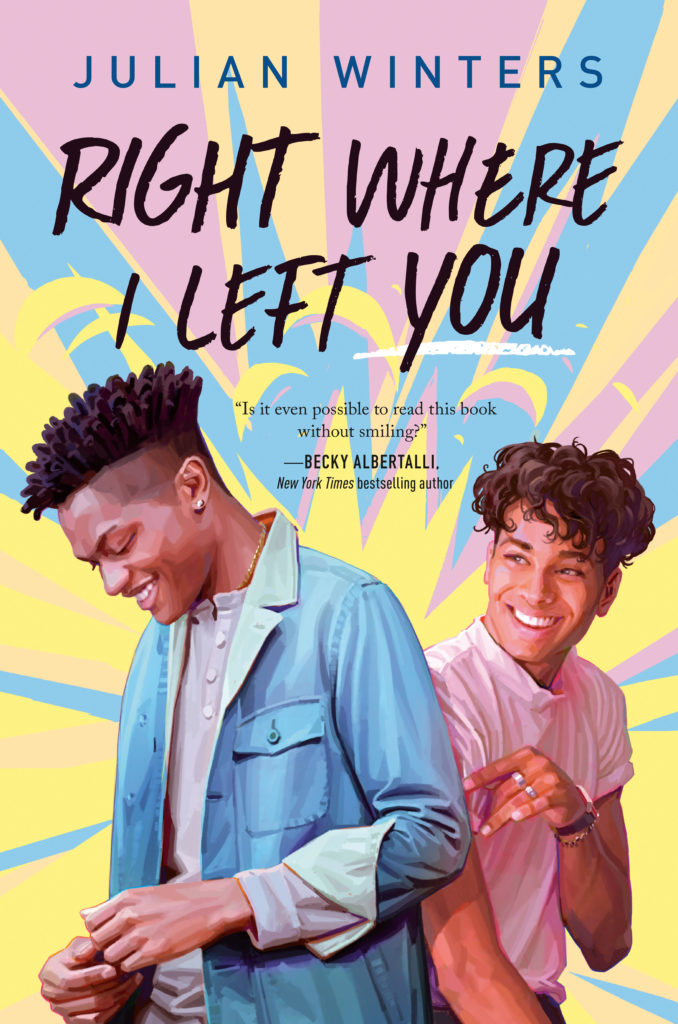 Since Geeks OUT is basically a queer nerdy organization, how would you describe your own literary/geeky tastes and preferences?
If it's queer, I'm there. I never had enough queer content growing up, so I instantly pick up anything I know centers queerness, especially if it focuses on queer people experiencing joy, empowerment, and all the other experiences I often saw for straight characters, but never anyone like me. Bonus points if it's superhero-related or has a thoughtful romance element.
Who are your favorite superheroes?
Definitely Jackson Hyde/Kaldur'ahm. Seeing a queer, Black superhero is always exciting. I'm also a huge fan of Miles Morales, Jonathan Kent/Superman, Wiccan and Hulkling, Tim Drake, Shatterstar and Rictor, America Chavez, Northstar, Catwoman, Poison Ivy, Black Panther, Dazzler.
And what are some of your current favorite fandoms?
Marvel Universe, Young Justice, My Hero Academia, the Untamed.
What advice might you have to give for aspiring writers?
Don't compare your journey to anyone else's. It's easy to get caught up in what's happening to the right and left of you. Where you are versus someone else. But your journey as a writer is unique. It won't ever look exactly like someone else's, so take your time. Trust that there are readers who need the stories you want to tell. No one else will write them like you.
Are there any other projects you are working on and at liberty to speak about?
My next book comes out Spring 2023. It's a fun tribute to the classic teen movies. Five teens all end up escaping to the same bedroom at a house party, trying to avoid issues from their past and present. There's promposals-gone-wrong, dares, a lot of comedic moments along with explorations of toxic friendships, identity, queerness, and the weight of expectations.
Finally, what other LGBTQ+ books/authors would you recommend to the readers of Geeks OUT?
I highly recommend anything by Adib Khorram, Leah Johnson, Kalynn Bayron, Kacen Callendar, Natalie C. Parker, Tessa Gratton, Becky Albertalli, Alex London, Adam Silvera, Jonny Garza Villa, Jennifer Dugan.Some of my favorite must-read LGBTQIA+ books are: Picture Us in the Light by Kelly Loy Gilbert, Cemetery Boys by Aiden Thomas, Aristotle and Dante Discover the Secrets of the Universe by Benjamin Alire Sáenz, You Should See Me in a Crown by Leah Johnson, the Darius the Great series by Adib Khorram, and the forthcoming Kings of B'More by R. Eric Thomas.
---
Header Photo Credit Vanessa North