Francesca May grew up in the middle of England where she spent her childhood devouring fantasy books and brewing potions in her back garden. She currently lives in Derby with her family, three giant dogs, and two black cats. By day she works as a bookseller at Waterstones. By night she accidentally kills every house plant she touches and writes novels about gothic mansions, witchcraft, and queer love. She also writes psychological thrillers and gothic suspense as Fran Dorricott. You can find her on Twitter @franwritesstuff.
I had the opportunity to interview Francesca, which you can read below.
First of all, welcome to Geeks OUT! Could you tell us a little about yourself?
Hi, and thank you! I'm Francesca May, the author of Wild and Wicked Things. I'm an expert bookseller for Waterstones by day, where I run the YA, SFF, crime, manga and graphic novel sections, and by night I spend far too much time taking photos of my pets, killing my plants (oops) and writing stories about gothic mansions, witchcraft, and queer love.
Where did the inspiration for your book, Wild and Wicked Things, come from?
I love writing fantasy books, but I hadn't had the nerve to try to publish one until WAWT. The idea came from a silly prompt on Twitter, when somebody asked "What is the book you wish you'd written?" I thought about the answer to that question for far longer than I should have and finally settled on The Great Gatsby. It's a book that had a profound impact on me when I first read it, and which has impacted me every time since, especially with its themes of reinvention and discovery. Plus, I adore morally grey characters. But I knew my version of Gatsby would be… well, not very Gatsby-like at all. It would have to be genderbent, and sapphic, and I would want it to be speculative fiction—which in my book nearly always means witches. And I guess you could say that Annie and Emmeline's story just grew from there, really!
What are some things readers can expect from the book?
I like to describe WAWT as a creeping, gothic tale of first love, inner darkness, and what it means to be powerful. It's slow-burn in more than just the romance, with strong themes of belonging, coming of age, and found family. It's a book full to the brim with morally grey characters—and I mean that, because like in The Great Gatsby not one of these characters is 100% (or even 50% if we're being honest) nice or good. There's my take on an Only One Bed scene, badass ladies in suits, dark magic and a healthy dose of murder. Yay!
How did you get into writing, and what drew you to writing fiction and historical fantasy specifically?
Honestly I've been a writer for as long as I can remember, but I started taking it seriously as an early teen, right around the time I learned about the existence of NaNoWriMo. What started out as a fairly isolated hobby became something I was encouraged to take seriously, while still finding incredibly fun and rewarding. After that I was truly hooked! As for writing historical fantasy, I think in some ways it comes from a melding of two of my favourite kinds of fiction. I love historical fiction, the way it can so effortlessly (it seems as a reader) transport you to places you have only ever wondered about. Historical fiction often truly succeeds in invoking the sounds, the smells, the desires of a time and people that are so like us, and also not at all. And fantasy is a further extension of this. I love the way that historical fiction comes with its own set of challenges for the characters, and in a fantasy world this is often dialed up to 100. Plus, on a writerly level, I just love the aesthetic of historical fiction. Those clothes! Those old-fashioned customs! They're so elaborate and fun to adapt.
It would seem that a bit of historical research has gone into this book. How would you describe the researching process and how it intertwined with the actual writing of this book? Also, why World War I?
The process was actually a lot of fun! The 1920s are a time period I've been interested in for a long time because of the growth in female independence and the wealth structure in different places after the war. I think there's a lot of fiction that focuses on the impact of the Second World War, but in the UK especially WW1 had a huge impact, societally and economically, as well as emotionally. There's quite a difference in the way that Americans felt during that period and the way the Brits felt, largely because the war led to more British deaths than American ones, and I wanted to explore what a Gatsby-type world, with a prohibition, might look like from a British perspective. The Jazz Age was unlike any period that had gone before and that wildness that we often know and see in film and TV wasn't the reality for a lot of people, so I found it really interesting to splice together the New Age with the Old Age, as it were. Of course I did a lot of non-fiction reading, and read a lot of fiction that was written by British and American authors in the 1920s before I started to write—and then obviously gave everything my own fantasy spin when I began my drafting.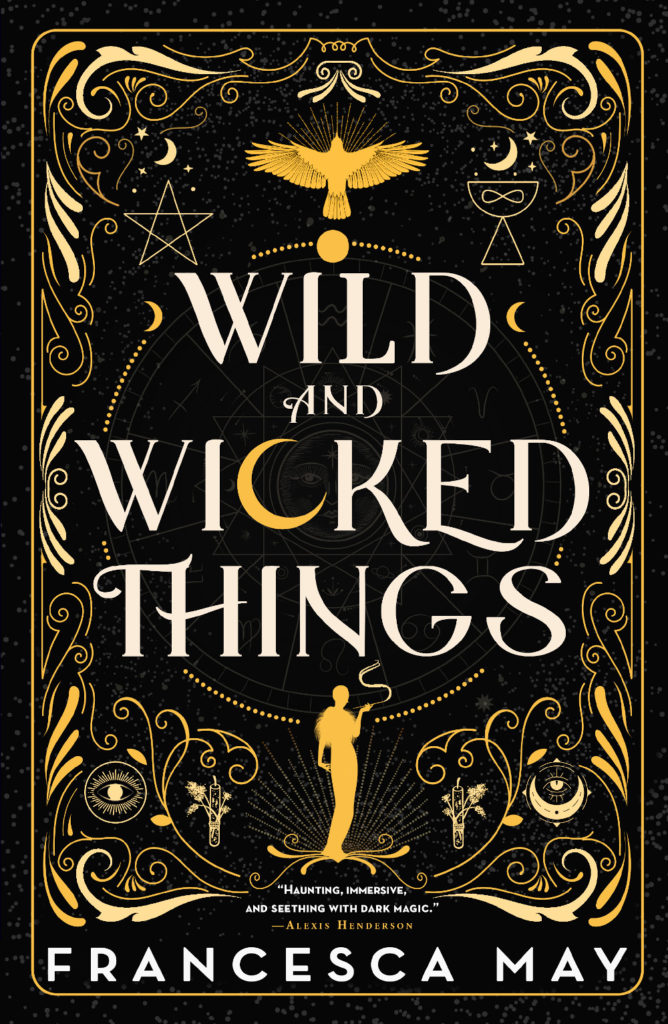 What inspires you as an author in general? What helps you keep motivated to finish a book?
I think the main thing that inspires me to finish projects is just the feeling of having a complete book. I write primarily for myself, so the fact that I could sit down at the end and read what I've written is a great motivator for me. But I also have a group of really supportive friends who read snippets (or whole novels sometimes) and cheer me on endlessly. Inspiration, I find, can come from anywhere. I find it in music, in other books, in television and movies or just from talking to friends, listening to the customers I have in the book shop. Most of my ideas stem from a "what if…?" idea that lodges itself in my brain and just won't let go.
How would you describe your writing process?
Messy! Haha. I tend to write first drafts very fast, and then edit slow, so the drafting process can sometimes take as little as four weeks. I tend to burn through my ideas really fast, desperate to get my thoughts on paper in chronological order as fast as possible, and then I go back through much more slowly, layering in details about world, character etc. I know some writers prefer the editing process, but for me drafting is my favourite part. There's no pressure for the book to shine yet, it just gets to be a story I'm telling myself—which is why I got into writing in the first place.
When you're not writing, what do you like to do or research in your free time?
Because I spend a lot of my non-writing time bookselling I still use a lot of my free time to read. It's my main hobby! But outside of the book industry it's mostly activities like walking, swimming, anything to give my brain a break or to encourage plot ideas to come unstuck, and the rest of the time I'm usually looking after the hoard of animals I have. Right now we have two newfoundland dogs and three cats, so it can be a bit of a handful! But a very fluffy, lovely handful.
What's a question you haven't been asked yet but wish you were asked (as well as the answer to that question)?
Ooh this is a tough one! One question I get asked a lot is "who is your favourite character in Wild and Wicked Things?" and, honestly, I would also like to talk about my least favourite character. Bea. Bea is Annie's childhood best friend who has since moved to Crow Island with her very rich new husband—and honestly, if readers don't dislike Bea by the end of the novel then I have not done my job properly! She is selfish, oblivious, and focused on nothing but achieving her own frivolous goals… but she's also scared, vulnerable, and has been affected very badly by the hand she's been dealt in life. Her naivete in the past has caused her a lot of problems, made her wish for autonomy over herself and her life, and that means she was also one of the most challenging characters to write. Bea doesn't mean to hurt other people, but she also has reached the point where she has been hurt so repeatedly by her own poor decisions that she doesn't much have the capacity to care if she hurts others as long as she perceives that she's helping herself. In a lot of ways she's like Daisy in The Great Gatsby—primarily out for number one—but of course the path to reach this point is a complex one.
What advice might you have to give to other aspiring writers?
My biggest piece of advice to aspiring authors is always "if you can do nothing else, think of nothing else, if writing feels like it is in your blood, then you are a writer". And I don't mean that writing should always overtake the other things in your life, but if you always come back to writing, then you are a writer, and the first step to a career in writing (if that's what you want) is treating yourself seriously. I say don't use the phrase 'aspiring writer' because if you write, then you are already a writer! Giving yourself permission to take the writing seriously, to invest time and effort and resources in that writing, is the best way to a career in it. My second-most important piece of advice is "make as many writer friends as you can". Friendships within the writing community are invaluable. We learn from each other, we support each other, and that makes a sometimes isolating thing so much less lonely.
Are there other projects you are working on and at liberty to discuss?
Yes! As Francesca May I am currently working on my next fantasy novel, which will be coming out with Orbit in 2023. It's a fun blend of Stepford Wives meets The Witches of Eastwick, in which a young woman returns to a small Cornish town where she spent summers with her aunt growing up to find the town, and its inhabitants (including the girl she used to know very well) subtly changed—and now everything is far too perfect… Spooky stuff! I'm having such a blast writing this pastel-goth witch book and I can't wait to share it with everybody.
Finally, what LGBTQ+ books/authors would you recommend to the readers of Geeks OUT?
A book I absolutely adored recently if you like queer fantasy is Malice by Heather Walter. It's basically Sleeping Beauty but what if the villain gets the girl? So good! Other LGBTQ+ books I loved recently are Malinda Lo's Last Night at the Telegraph Club (historical YA), Margaret Owen's Little Thieves (YA fantasy), Emily Danforth's Plain Bad Heroines (adult gothic fiction), and Tasha Suri's The Jasmine Throne (adult epic fantasy). We're in such a golden age of LGBTQ+ fiction right now and there is so much amazing stuff out there, the bookseller in me could go on for hours!