Rebecca Burgess is a comic artist and illustrator working in the UK, creating award winning published and small press work. Along with drawing comics for their day job, Rebecca also loves drawing webcomics in their free time. Being autistic, they are particularly passionate about bringing more autistic characters into comics and stories! Outside of drawing comics and cuddling their cat, Rebecca also loves playing RPGs with friends, going on deep dives into history and growing vegetables in their humble Bristol garden.
I had the opportunity to interview Rebecca, which you can read below.
First of all, welcome to Geeks OUT! Could you tell us a little about yourself?
Thank you for having me! I'm an illustrator and comic artist- I'm a little too obsessed with comics, I draw them both for a living and in my spare time too, and spend half my time reading other people's comics haha
How did you find yourself getting into comics? What drew you to the medium?
I got into comics back when I was a kid in the late 90s/early 2000s- thanks to Pokemon blowing up, Japanese comics became really big over here in the UK and really drew me in more than any comics I had read before. In comparison to the UK comics of the time that were solely focused on gag strips or self contained sci-fi aimed at 'boys', manga had long running story lines, cinematic pacing and a wider range of genres/characters! When I was 14 I started selling small press comics and through that found the even wider range of art styles and genres that came out of indie and web comics! Back then these kind of comics appealed to me because they were telling stories and themes I hadn't seen any where else, and I'd say this is why comics still inspire me the most today too.
How would you describe your creative background/ artistic education?
I have a Uni degree in 'sequential illustration' (basically comics lol), but to be honest the course was a bit of a mess for various reasons and I generally got more out of it socially than I did in terms of artistic development.
For me personally I would say I learned the most from the small press comic world. Way back before modern social media, all the small press/indie artists in the UK would use the same few forums to make friends and learn from each other. We would critique each other's work, discuss/share published comics and give each other tips on new sources for printers or conventions. I learned how to develop my art through these friends, and as my older friends managed to get into the publishing world I then learned how to get into comics professionally too!
As an artist, who or what would you say are some of your greatest creative influences and/or sources of inspiration?
In terms of overall inspiration, I think it changes over time depending on what I'm interested in. My drive to create comics generally comes from wanting to explore various things going on in my life!
Artistically, I have a few favorite artists that have really stuck with me in how I do comics. I love how Osamu Tezuka applies very cartoony/exaggerated expressions to big, serious stories. It's a style that many people don't get on with lol And I know some people don't 'get it' with my art either. But after reading Buddha I realized that when an expression is exaggerated it just adds to the emotion of a moment or the personality of a character in those very serious moments and makes you care more, so I've always kept that.
Kaoru Mori's style of pacing also has a huge influence- she effectively uses panel layouts that create very cinematic pacing. They look deceptively simple but flow beautifully. I admire comics with inventive and elaborate page layouts hugely, but for me nothing beats a comic where the layout is clear, simple and easy to read. If someone was able to eat through my comics within a couple of hours and all in one go, then I know that I've executed it well!
My other big influence is Posy Simmonds- she started as a satirical cartoonist and moved that style into long form stories. This makes her artwork and characters incredibly observational. She captures the variety both in how people look and how they move and act. I like to try to keep that attention to differences in body language in my own work! Posy Simmonds is also very loose and free in how she tells stories, she changes the medium and style a lot even within a single comic depending on what is working for the story. This has taught me to be more free in my process too (over the years, as I get braver doing that haha).
What inspired you to write about your own experiences in How to Be Ace: A Memoir of Growing Up Asexual? Was there any conflict in how personal you allowed yourself to be with this story, particularly in regards to asexuality or mental health?
When the subject of asexuality comes up, alot of people both in real life and online say things like 'Why do you need to make this into a big thing when its literally doing nothing?' or 'Its a sign that there's something wrong with you, you should go to a doctor to see how to fix it'. I thought if I put the topic into a memoir, it would help asexuality seem more 'human' to people who dont see it as human, and more 'relatable' to people who think its about people just being over the top.
There was a lot of conflict over how personal to be. It was quite scary bringing the mental health aspect more into reality via the comic, its something I find hard to talk about in general. I also worried about shaping too much how other people in the comic were viewed (theres always more than one side to each story after all!). In that case though I was very careful to keep it all about me, change names and ask permission if I could from those who were featured more prominently in the comic.
Regards asexuality I was scared that even after the story was published people would respond as they often do by saying I'm being over the top. Thankfully I've only had positive comments about the comic, mostly from other ace people saying how nice it was to find something they could relate to! I've also had a few really nice messages from non-ace people saying they understand the experience better now which is especially nice!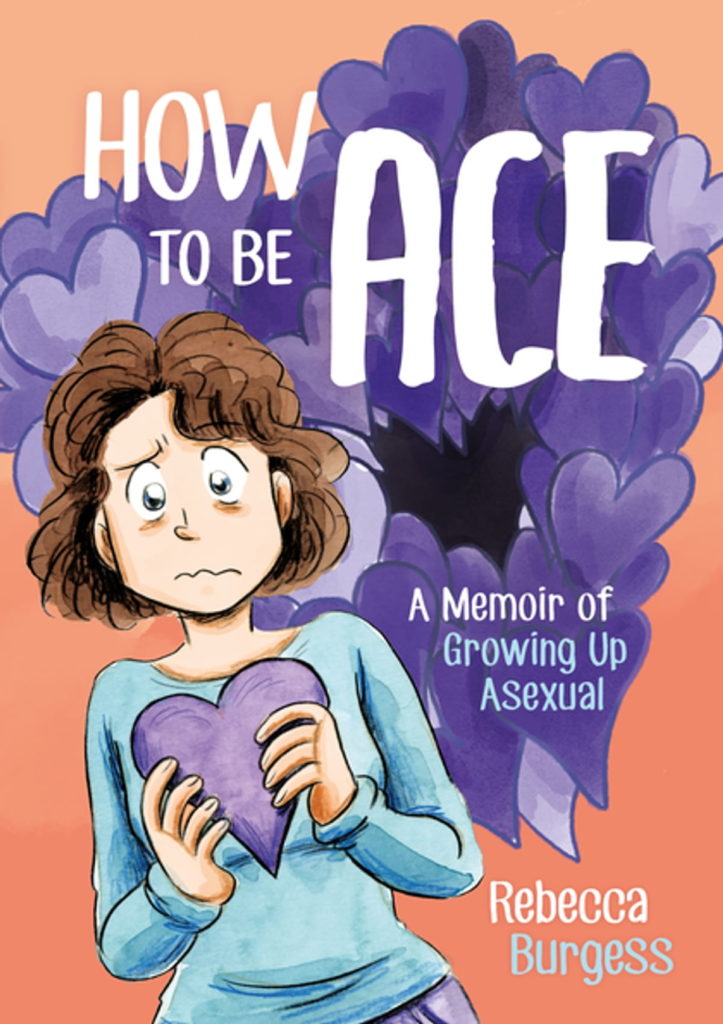 What are some of your favorite parts of the illustration/ creative writing process? What do you feel are some of the most challenging or frustrating?
I like the 'thumbnail/planning' stage best- for me that's the part where I basically write the comic, as I don't generally write a script. It involves scribbling down interactions between characters and coming up with fun plot ideas, and then stitching that together into tiny thumbnail sketches where you can see the entire comic in front of you before its made. I also really like the 'inking/line art' stage. It's very relaxing because its almost like drawing but without having to think too hard as you've already done the hard part in the sketch stage.
For me the hardest part of a comic is perspective and interior backgrounds. I still haven't mastered either of these things and I also find them a little boring compared to drawing outside scenery or drawing characters- but they are often essential to telling a story and setting a scene, sometimes you just have to trudge through the things you find boring even when you're being creative!
Aside from your work, what are some things you would want people to know about you?
I'm super interested in everything, it changes on a regular basis and always with the same intensity haha. Right now I've joined a Show Choir where we are singing musical numbers, and as spring comes round my yearly obsession with growing vegetables and flowers will return (I especially have a natural knack for growing good tomatoes!!)
As of now, are you currently working on any ideas or projects that you are at liberty to speak about?
I've been doing a few comics that are more focused on autism, another personal topic to me as I'm autistic!
I've been working on a graphic novel that's coming out in September called 'Speak Up!'- this is a comic about an autistic kid who is leading a double life. At school she's treated certain ways because of how people assume her to be. But online she is a singer/songwriter who is going viral, and there she's able to express herself more easily. Also in terms of lgbtq themes, one of Speak Up's main characters is non binary (and very fashion-minded, I had a lot of fun coming up with various outfits for them haha)
I'm also making a webcomic called 'The Pauper's Prince' that you can read online for free! With this comic I was watching Bridgerton last year and thought about how I want to see a light hearted regency style fantasy romance that looks like my own relationship with my girlfriend- I love regency dramas but they're always with straight couples haha. The two main characters form a gay-asexual relationship, and one of the main characters is autistic too, so it deals with how that kind of romance might look. Being a drama there are various relationships in it, most of them lgbtq in various ways to keep with the theme!
In comparison to How To Be Ace, both of these comics are pure fiction and really focused on making fun, light hearted stories with these themes rather than tackling the hardships that come in real life.
What advice would you give to other aspiring creatives?
Learn to be okay with not being perfect, and to be okay with having 'off days'. This is a very hard hurdle to get over, but once you do it helps in multiple ways- You improve more quickly because you learn to make mistakes and move on from them. If you're looking to do art for a job, you will find it easier to maintain healthy boundaries and not overwork yourself/work long hours in order to make something 'perfect' (trust me the people paying you will not notice either way!) Most importantly, art becomes fun and a source of self expression, as opposed to a source of anxiety and pressure.
What is something you find enlightening or joyful about being asexual or being in the ace community?
Many people find this surprising, but I have found the asexual community to be extremely sex positive, and I'm really proud of that! I think this primarily comes from asexuality being so invisible, that asexuals have had to put quite a lot of work into researching sexuality in general in order to prove to themselves and other people that their experiences are 'real'. We end up dissecting things like sexuality, kink, attraction, and libido a lot in order to better understand our under-researched experiences. So for me at least, I have found that I am often much more educated on sex in general than most non-asexual people I know!
I also think a lot of the concepts ace people are familiar with, such as the Split Attraction model or the different kinds of relationships you can have with partners, would really benefit everyone as a whole no matter what sexuality they are- so to me the asexual community has been contributing to sex positivity in a really meaningful way!
Finally, what LGBTQ books/comics (or comics in general) would you recommend to the readers of Geeks OUT?
My favorite asexual themed comic is 'Shades of A' (this is for 18+ only because of the themes). Its funny and cute, depicts perfectly the pressures of being ace and how you navigate relationships with someone who isn't ace, and talks about the intersection between kink and asexuality- a topic that isn't talked about enough or widely understood!
Buuza!! Is my current favourite lgbtq small press comic. Pretty much all of the characters are lgbtq in some way, and the creator is passionate about sharing their Central Asian/Middle Eastern culture within the comic, which gives it (for me, as a westerner) a fresh perspective in many ways in its story style and setting.
In terms of traditionally published comics I think my current favorite is 'The Witch Boy'- beautiful artwork and so nicely paced, the themes are great and spun into a fantasy setting so that many different people will be able to relate to it in different ways.