Alexandra Rowland is the author of several fantasy books, including A Conspiracy Of Truths, A Choir Of Lies, and Some by Virtue Fall, as well as a co-host of the Hugo Award nominated podcast Be the Serpent, all sternly supervised by their feline quality control manager. They hold a degree in world literature, mythology, and folklore from Truman State University. 
I had the opportunity to interview Alexandra, which you can read below.
First of all, welcome to Geeks OUT! Could you tell us a little about yourself?
Hi, thanks for having me!
I'm Alexandra Rowland (they/them), and I'm a very queer fantasy novelist writing very queer fantasy novels, all set in the same expansive world. I have a degree in world literature, mythology, and folklore, which definitely informs the sort of stories I tell and the ways in which I tell them. I'm also the person who coined the word "hopepunk", and a four-time Hugo Award nominee as a co-host of the podcast Be the Serpent, which discusses tropes in literature/media and particularly the role of fanfiction in the broader literary conversation.
Please link to this article, *NOT* the Vox one: https://festive.ninja/one-atom-of-justice-one-molecule-of-mercy-and-the-empire-of-unsheathed-knives-alexandra-rowland/
What inspired you to get into writing, particularly romance and speculative fiction? Were there any writers or stories that sparked your own love and interest in storytelling?
When I was eight years old, a friend of my parents said to me, "Wow, you really love reading, I bet you'll be a great writer someday!"—whereupon I, outraged and affronted at the very suggestion, told her in no uncertain terms that I hated writing and that I would never be a writer. (So that's clearly going well, LOL.) If I had realized at the time that the little stories I made up in my head or wrote down in my diary totally counted as writing, I might have had a different answer—because I'd been doing that for as long as I can remember.
Likewise, I can't remember a time when I didn't love speculative fiction. My parents were both geeks, and my dad in particular really loved fantasy, so I grew up with those books being read to me or readily accessible around the house. My dad was also a bit… voluble, shall we say, especially once he got going on topics he was interested in (of which there were many), so oral storytelling was a great part of my childhood as well.
In terms of specific authors who have shaped me, I've probably been most influenced by (in no particular order) Diana Wynne Jones, Terry Pratchett, Douglas Adams, Neil Gaiman, Lois McMaster Bujold… And, of course, KJ Charles for the enormous epiphany that I did like romance novels, it's just that I needed to be reading queer romance novels, not straight ones.
What's probably been most influential on me, though, is two decades of reading fanfiction. Now, there are still a lot of people who turn up their noses at fanfic and who might be sneering and scoffing at the mere mention of the fact that it's been that influential on me. But the truth stands! Fanfiction is a part of the broader literary conversation, and there is absolutely no better school for teaching you how to do incisive literary criticism through the medium of really, really deep character work—and, as it happens, characters have always been what I am most interested in.
Reading fanfiction also taught me a great deal about how writing can be a joyfully self-indulgent thing, that self-indulgence and your own personal pursuit of what delights you is not something shameful or embarrassing. There is a strong tendency in our culture to assume that things that make you happy are also things that make you weak or worthy of scorn—why? Why make such an effort to conceal the things that bring us simple, uncomplicated joy? Why spend so much energy trying to convince people that we're aloof and disinterested and without human feelings? Why perpetuate that toxic bullshit?
Self-indulgence and the personal pursuit of joy was a hugely influential thing with this book in particular, whiiiich… seems to lead us to the next question!
What can you tell us about your upcoming book, A Taste Of Gold And Iron? What inspired this story?
There's two ways to answer that!
First, the surface-level answer: A Taste of Gold and Iron is about an Exquisitely Beautiful Prince and his Hyper-Disciplined Stoic Bodyguard investigating some counterfeited coins—and then they fall in love! It's got heartfelt oaths of fealty, erotic handholding, and a scene where they wash each other's hair and talk about ethics. If you're looking for big, epic, swoopy action scenes and multi-kingdom battle sequences, this might not be the book for you, honestly! But if you are looking for lots of deep, intimate character work and all the quiet, soft moments of two characters realizing their first impressions of each other might have been wrong, and then doing the work on themselves to grow as people, come closer together, and have extravagant feelings, then this is definitely the book for you. Also a little magic system, as a treat.
On a deeper level: A Taste of Gold and Iron came about because back in 2017 or so, I was mulling on some of my favorite tropes in fiction—and, in particular, my personal hands-down favorite, the Benevolent Liege/Devoted Vassal romance (which is a specific aspect of a broader category, the classic Courtly Love trope). Then I had that grouchy thought, as so many writers do, that nobody had yet written that trope in precisely the way I wanted to read it, so I had to do it myself. (I have taken to calling it "Fealty+Feelings".)
This was unusually deliberate in comparison to my general writing process—I started from a place of "I'm going to write this favorite trope of mine in exactly the way I would want to read it," and then it was sort of a natural progression to, "Okay, what other tropes do I also love which would underpin and support the main one to best effect?" and thence with increasing giddiness to, "What if I just cram as many things as I like into one book?", and then further to, "Now let's dig in even deeper to interrogate some of those tropes and unpack them, so that they're complex, intentional, meaningful building-blocks of story." (For example: "Kissing to avert suspicion" is a great trope—why do I like it? What makes it so appealing? What's the realistic, logical aftermath? How would two people navigate that, when there are so many other factors in play?)
But then, that's the sort of thing that I really, really love—not just going through the motions to recreate a trope as if I'm following a script or a recipe, but also interrogating what underpins it. It's the difference between "In making bread, we must knead the dough for ten minutes" and "In making bread, first we must understand how gluten is formed and what the act of kneading does to the end product."
The entire writing process was like that—not just finding the things I liked best, but asking myself questions about why I liked them, and then about what could be tweaked or emphasized to make me like it even more. It was an exercise in the exploration of my own delight, and long before I ever sold the book, I used to tell people that I'd already gotten paid in joy, just from the time that I got to spend with this story and these characters.
This novel is said to be set in a world inspired by the Ottoman Empire. Did any particular kind of research go into making the world you created?
To be specific, it is only this particular kingdom of the world which is inspired like the Ottoman Empire! In terms of research, much of it was of the "read seven Wikipedia articles, glean two or three interesting pieces of information, and extrapolate outwards from there" variety. I'm not trying to replicate the Ottoman Empire (But Make It Fantasy), but rather create a new setting that has enough of the the flavor, the vibes, the texture—whatever you want to call it—that someone with a working knowledge of that period/area of history would find it comfortably familiar and hospitable.
For research on general flavor/vibes/texture, one of my favorite methods is to watch foreign movies or TV shows (ie: in this case, I watched several dozen hours a Turkish period drama, Magnificent Century, as well as a couple other Turkish shows). The key thing I'm looking for with things like this is, again, not to do an empty recreation, but to catch really visceral details of everyday life (like how and what they eat, or what the architecture looks like, or how people move when they're wearing the clothes), but also, more importantly, how a story oriented to an in-group audience chooses to depict itself: What is the implicit scaffolding that the story is leaning on? What does it frame as romantic or epic or scandalous? What does it consider so normal and mundane as to not require any explanation whatsoever, and what does it go out of its way to inform the audience about?
The one thing I did borrow directly from the Ottomans is the governmental structure, particularly in regards to the janissary corps and bureaucracy—in particular, the fact that their soldiers and ministers were "recruited" as children and provided with years of education and elite training, after which they were appointed to government office and could potentially rise to be the second most powerful person in the empire after the sultan himself. Of course, the Ottomans, being an empire, were doing this "recruitment" in usually non-consensual ways (as empires so often do), by which I mean "forcibly taking children from their parents and enslaving them."
While obviously I strictly avoided replicating that particular aspect, I did find it interesting to think about a system of governance that relies so heavily on investing time and money into educating the next generation of ministers, soldiers, bodyguards, and other servants of the Crown, especially when juxtaposed against the book's themes of the ethics of power (both theoretically and in practice), and specifically the question: "If a vassal owes his loyalty to his liege, what does his liege owe in return to him?" We currently live in a society where we can expect to be actively and carelessly exploited by anyone who is in power over us—we regard that as no more than the mundane cost of earning a paycheck! So asking questions about power and responsibility and what fealty really means is a juicy subject.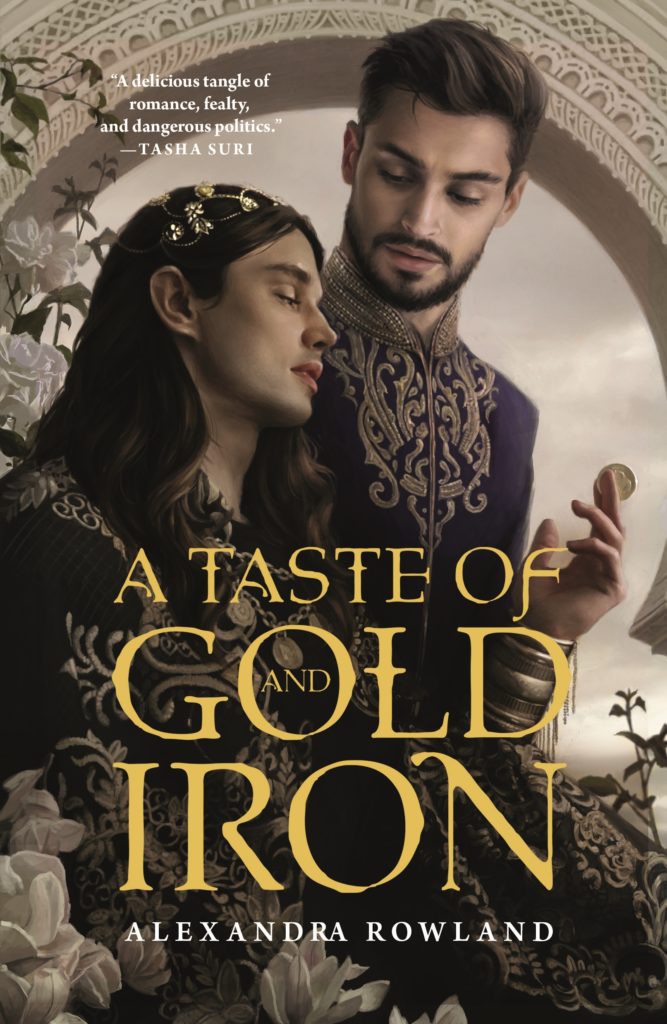 What can we expect from the main characters of A Taste Of Gold And Iron?
[slaps the roof of Kadou and Evemer] These good boys can hold so many feelings!
Kadou is Exquisitely Beautiful, the prince of the richest nation in the world, very tenderhearted, and lightly traumatized. He is pretty much permanently worried about whether he is taking care of his people sufficiently, or whether he is inadvertently causing harm. Part of this is due to the fact that he has one hell of an unmedicated anxiety disorder; part of it is just very real philosophical concerns about the ethical expectations and responsibilities of his position.
Evemer is Beefy and Stoic. He has shoulders like a hero out of legend, an extremely rigid and unyielding sense of right and wrong, a tendency to be quite harshly judgmental of others' shortcomings in the privacy of his own mind (or so he thinks). He has never failed at anything in his life. Hell, he's rarely even felt ill-prepared for a challenge. (Spoilers: He is very ill-prepared for dealing with Kadou.)
They both have big, big feelings about responsibility, obligation, duty, and serving something greater than themselves.
Evemer: [wistful sigh] My most romantic fantasy is that I will one day be able to dedicate myself to the service of a worthy lord, throw my whole self into his service, and then maybe… just maybe…. save his life and die tragically in his arms, in the rain, while he cries on my face. Like in an epic poem.
Kadou: ??????? UM… Sorry, but why does this so-called romantic fantasy involve you dying? Can we revisit that???? Because that's one of my dealbreakers.
What are some of your favorite elements of writing? What do you find to be some of the most challenging?
I love writing beginnings, unusual worldbuilding, vividly emotional scenes, introspective characters, and tangents about fantasy economics. I love characters that are complex, by which I mean "capable of accessing a broad range of feelings"—I don't really enjoy books where everyone seems to feel only one thing in a sustained note the whole way through the story, so I don't write books like that. I like it when characters have the capacity for a variety of different emotions, where they might get a chance to be funny, or tease a friend, or feel insecure, affectionate, fascinated, bored… All the things people feel.
The most challenging part of a book for me is the middle, particularly just before and during the "darkest right before the dawn" part. You know, the bit when the main characters are facing setbacks and feeling disheartened and discouraged and all seems lost. I haven't yet quite figured out how to dodge that, partially because the temptation to write all the juicy emotions of a character being really sad is nearly irresistible (love those vivid emotions!). But that section always makes me grind to a halt and lose a lot of momentum, and it's not nearly as much fun as other bits.
In addition to being a writer, what are some things you would want readers to know about you?
I haven't the foggiest idea how to answer this question, so I have chosen to willfully interpret it as a request for Three Quirky Facts About Me:
1. I grew up on a sailboat in the Bahamas.
2. My superpower is to intuitively Perceive when someone is on the asexual spectrum and hasn't twigged to it yet (this is kind of ironic because it took me until age 28 to grasp that I was not "just really picky", that was in fact demisexuality I was experiencing).
3. I've done every fiber art you can name, and some that you can't
What advice would you have for aspiring writers?
From a craft perspective: Ask questions. Always. About everything. Especially when you think you understand something innately and effortlessly, ask questions about it. Push yourself to think deeper and go a step farther. When you think you've walked all the way to the end of Understanding a thing, turn around and walk back to the other end and interrogate it all again from a slightly different perspective. Your whole job is to see something in the world that nobody else sees and to then tell people about it, so don't ever accept the obvious answer without turning it around and peeking underneath to see what's there.
From a career perspective: I know it feels icky to think of writing as a business, but getting out of that mindset is an essential part of protecting yourself, giving your work the best chance that it has, and slowly encouraging this industry away from the ways that it so egregiously everybody working within it. You can still be an artist when you're all alone in a room with the manuscript, but having a business brain is invaluable.
Additionally, whether you decide to go for traditional publishing, indie publishing, or hybrid, take some time to look at the ways other people are doing it—on both sides of the aisle. Learn the tricks and tools the other side has, and see if any of them are useful and applicable for you and your situation.
Most importantly: Be a cockroach. This is a hard career, and for most people, it takes a lot of time to see results from the effort and time you've invested. Be a cockroach! Refuse to be squished, survive the nuclear winter, spread your cockroachy dominion across the earth when all others have perished—ok, this analogy is getting away from me a bit, but you get the picture. This game isn't over until you decide you don't want to play anymore.
What's a question you haven't been asked yet, but wish you were asked (as well as the answer to that question)?
Q: Favorite line of the book?
A: Hard choice, it's between "I got you this door" or "Oh, fuck, I think I just got religion." You'll laugh about this later, I promise. 😉
Are there any other projects you are currently working on and at liberty to talk about?
Yes! I've branched out into hybrid publishing this year (that is, a blend of both traditional publishing and indie publishing), and I've been releasing a novella series called The Seven Gods (of which the first book is Some By Virtue Fall), and it is chock full of disaster lesbians, fantasy-Shakespearean theater intrigue, dapper fancy hats, and arson. Right now, I'm putting the finishing touches on another installment of that series—The Light of Ystrac's Wood, a small spinoff about a secondary character who will be quite important in book two of the series—which due to be released in early May.
I'm also hard at work for another book for Tordotcom, and while I can't quite tell you any solid details yet, I'll give you a fun clue: One of the Three Quirky Facts I gave you earlier will be, ah, relevant. 😉
Finally, what LGBTQ+ books/ authors would you recommend to the readers of Geeks OUT?
Victoria Goddard's The Hands of the Emperor, ALWAYS—if A Taste of Gold and Iron sounds good to you, this one will probably also appeal! It is about a god-emperor who doesn't want to be emperor and his incomparable secretary, and together they institute Universal Basic Income, have a deeply romantic friendship/queerplatonic relationship, yearn at each other from across a room because there is a taboo against touching the emperor, and… eventually… hold hands. GASP. Scandalous, I know. (Lots of queer rep throughout the series—the two main characters of this one are bisexual (the emperor) and somewhere on the ace/demisexual spectrum (the secretary).
I've also recently loved Seducing the Sorcerer by Lee Welch and The Bachelor's Valet by Arden Powell, which are both M/M romance novels. And for authors in general, I'm always delighted to boost Tasha Suri, Jenn Lyons, Freya Marske, Everina Maxwell, Alexis Hall, AJ Demas, and Cat Sebastian!