S. K. Ali (she/her) is the New York Times bestselling and award-winning author of several books, including Saints and Misfits, a finalist for the William C. Morris award, winner of the APALA Award and Middle East Book Award, and Love from A to Z, a Today Show's "Read with Jenna" Book Club selection. Both novels were critically acclaimed and named best YA books of the year by various media including Entertainment Weekly and Kirkus Reviews. Her novel, Misfit in Love, was a People magazine best book of summer 2021. Her books for younger readers include the widely acclaimed middle-grade anthology Once Upon an Eid and the New York Times bestselling picture book, The Proudest Blue. She has a degree in Creative Writing and lives in Toronto with her family, a very vocal cat named Yeti, and a very quiet cat named Mochi.
I have the opportunity to interview S. K. which you can read below.
First of all, welcome to Geeks OUT! Could you tell us a little about yourself?
Hi everyone! Professionally, I'm the author of several books for young readers; personally, I'm that friend you may have had (or will have?) in your friends-group who became a mom while still in college and went on to finish her degree while taking that baby to class sometimes (and yes, that baby sometimes interrupted class by making cooing noises but it was all good due to cool 90's professors!) I now have three children, two cats, and one husband.
What can you tell us about your upcoming book, Love From Mecca to Medina?
Love from Mecca to Medina is about taking a journey you didn't know you needed – a journey that takes you back to yourself in a way that helps you connect better to the love of your life. But this is not metaphorically speaking; Adam and Zayneb, the two main characters in Love from Mecca to Medina, actually learn hard truths on their physical journey to the center of their faith. It's a sequel to Love from A to Z, the book that led to Adam and Zayneb falling in love.
How would you describe your writing process? What are some of your favorite/most challenging parts for you?
My writing process is staring at a mess of notes, drawings, storyboards, and the indecipherable scribbles I wrote in the middle of the night and then taking all of those pieces and making sense of them via a pretty tight story outlining grid. My most favorite part is when, like a jigsaw, one scribbly note/drawing connects with another scribbly note/drawing and it all makes perfect sense. The worst part is when I wrestle with characters to get them to do what they need to do to move the story along. This may seem unbelievable, but fellow authors will know the painful, sad truth I'm talking about.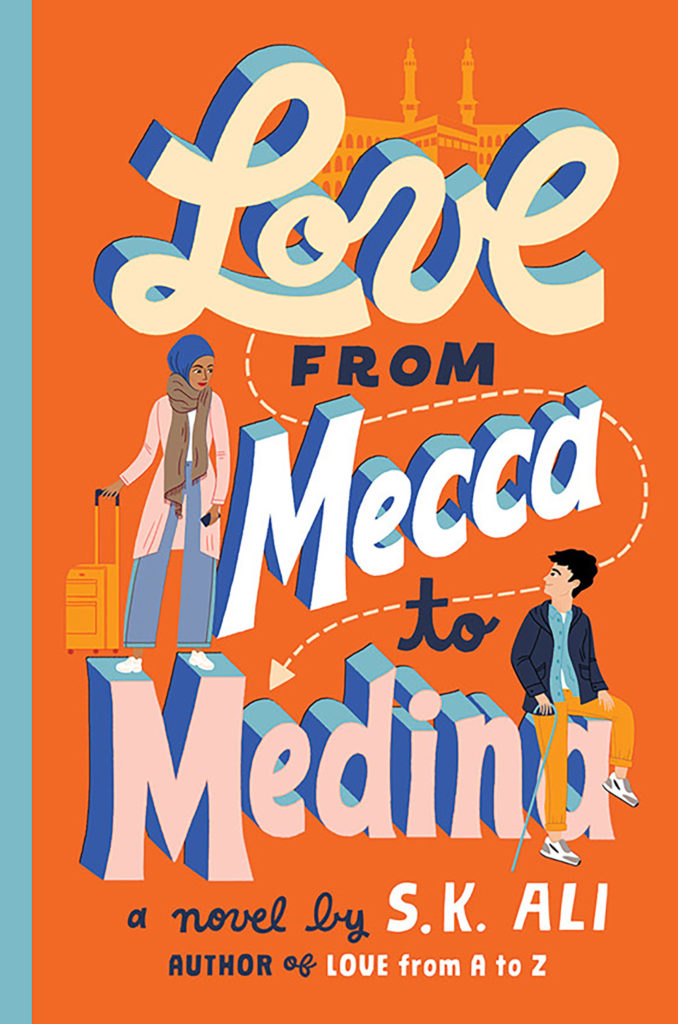 As a Muslim author, how does it feel for you to be writing this type of representation into your books?
It feels glorious – especially to find there's a great big audience ready to read these stories centering Muslim characters. And that this audience is not only made up of Muslims but people of all diverse backgrounds. Every time I reflect on the fact that these stories I didn't see growing up about girls like me are now available for all young readers, I tear up.
Besides your work as a writer, what are some things you would want readers to know about you?
I love flowers and plants but I am the worst gardener ever but also, since I was a child, have never stopped trying to be the best gardener ever, like my mom. I'm constantly taking plants to my mom's house for her to resuscitate and then, when they're all strapping and blooming again, when I come to pick them up from Intensive Care, they don't want to leave to come home with me. They prefer the hospital. So, a question: when do you give up on a dream?
Where would you like to go on a writing retreat?
I would like to go on a writing retreat at a cottage on a beach that is not deserted but has a few people nearby so I don't get scared; the people nearby are kind and smiley but not the creepy kind of kind and smiley, just the caring kind. The distantly caring kind. They will never barge in on me while I'm writing but will wave from far with smiles on their faces whenever they see me emerge from the cottage. Wait, that sounds creepy. But…also, it sounds like the perfect place to write that thriller I've always wanted to write.
Are there any projects you are working on or thinking about that you are able to discuss?
I'm working on a humorous historical novel with a friend that I absolutely love. We are having so much fun with it and I hope we get to share it with the world. It makes us laugh out loud and long, and we want readers to do the same!
---
Header Photo Credit Andrea Stenson