Erica Williams, also known as HookieDuke, is an illustrator known for their intricate mark-making and illustrations of flora and fauna. Tangled with fantastic and often macabre tones much of their work focuses on the forgotten, endangered, the occult and folklore.
I had the opportunity to interview Erica, which you can read below.
First of all, welcome to Geeks OUT! Could you tell us a little about yourself?
My name is Erica, I'm an illustrator and creator, also know as HookieDuke. My pronouns are they/them, I have been working as a freelance illustrator for eight years and I am known for my traditional ink, work in music, screen printed posters, and Magic the Gathering. My work features a lot of fine detail, nature imagery, occult and folklore themes, and moody tones.
I have five cats, an ever growing plant addiction/collection, prefer tea to coffee, and love croissants.
How did you find yourself becoming an artist? What drew you to illustrating?
In junior high, I started drawing in earnest. Not sure what it was exactly that drew me in so much, but I enjoyed it tremendously and it did not require a lot of supplies at the time. It could be done anywhere if I had some paper and pencils. The love and joy didn't ever go away and learning the language of illustration was enjoyable and never seemed to end or lose the luster. When I decided to try my hand at professional illustration, I began with music posters and working with bands, which allowed me to also explore my love of music more and learn about collaboration more. Drawing aside, I have entertained a long love with fiber art in many forms since I was very small, and enjoy bridging it back into my work as much as possible.
Illustration has so much depth and variety and ingenuity. I'm always excited to see what and how other artists are creating illustration work.
Could you describe your artistic background in some detail, like what your art education was like?
As a kid I was really interested in fashion design and fiber art, but around junior high I fell in love with drawing. I attended Kansas City Art Institute for a short while before I was no longer able to afford it, moved to Minneapolis, and after a few years was introduced to music posters and decided to try my hand at it. I had been working as a graphic designer since high school, and had worked in the apparel industry for a little while after attending KCAI. The rest of my art education was learned while in the midst of stumbling through building my freelance practice.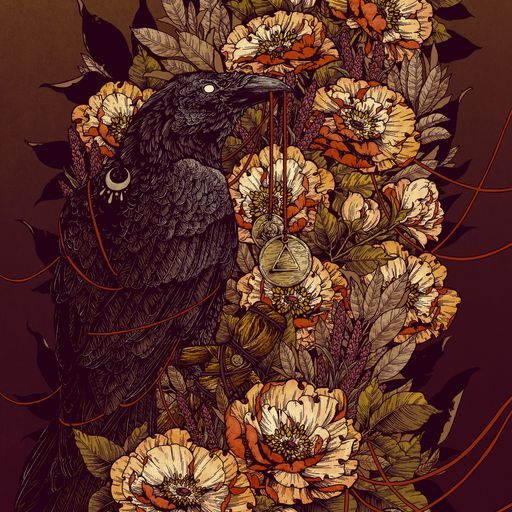 How would you describe your drawing/creative process?
For any particular project I begin with a lot of research, this can be based on a specific prompt or following the thread of an idea until it leads somewhere. When research and the collection of reference material is complete, I usually start to sketch digitally, at this point I refine an idea quite a bit, and it will undergo the most changes until it feels like a strong foundation has been established, sometimes this means finding additional references. When a strong rough sketch has been established, I'll sit down to transfer my rough digital sketch onto paper with a light box. Here I create light pencil outlines of the main shapes and forms with notes for direction and reference. If the piece is not an ink drawing, this is usually transferring the image to whatever final form it will take, on canvas, fabric, wood, etc.
When the rough drawing has been transferred to the final surface I'll begin inking/painting. This is usually the most meditative part of the process and one that I really enjoy. When the line work/paint is complete, I'll scan the art and digitize it. For ink drawings, color is then added digitally.
The entire process for making one piece usually takes 20-40 hours. Some smaller pieces can take 6-12 hours, but most of my work seems to be larger and more involved.
As an artist, who or what would you say are some of your greatest creative influences and/or sources of inspiration?
Miyazaki, Alphose Mucha, Gustav Klimt, CLAMP (Magnaka), Franklin Booth, fashion, textile design, tattoos, occult studies, folklore and mythology, the beauty of nature, traditional printing techniques, meditation and philosophy. There is such an abundance of what inspires me it is hard to remember it all when prompted sometimes, but these are all things I continually am drawn to.
What are some things you hope to say through your art?
I think more than wanting to say something specific, I am happy to be heard through it. It is always amazing to me to see when something in it resonates with others. I am very much an introvert and getting to share my work and connect with people through it is something really special.
What would you say are some of your favorite fandoms/ pop culture go-tos?
Studio Ghibli is probably my top fandom. I grew up with Miyazaki's films so they have a deeply special place in my heart, on top of a lot of admiration for what he has done with his art, the way in which he approaches storytelling, and attention to detail it is hard to compete with Ghibli.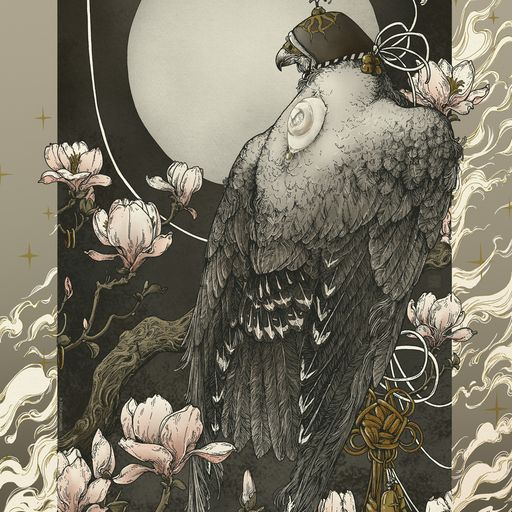 What have been some of your illustrations/projects to date?
I've had the pleasure of creating a Magic the Gathering card illustration, as well as a licensed poster for Over the Garden Wall. Some of the bands I have made posters for include Metallica, Tallest Man on Earth, The Mountain Goats, Rise Against, Dave Matthews Band, and Mastodon. In 2019 I designed a collection of Oracles cards for Erin Morgenstern as she released the sequel to The Night Circus – The Starless Sea.
What's a question you haven't been asked yet, but wish you were asked (as well as the answer to that question)?
Fielding questions concerning fiber art is something I don't get asked about frequently. Often when people find out my practice began with and includes fiber work they are surprised. I had to really set aside fiber art while building my illustration practice, but have always tried to maintain working with it a little each year, which now I hope to incorporate more into my current practice. Embroidery, weaving, and tufting are some of my current focuses.
Are there any projects you are working on and at liberty to speak about? Are there any sorts of projects you would hope to work on?
I have been working on a tarot deck for a bit now that I have been very excited about for a while. Tarot has been a passion of mine for a while and research for the project has been a lot of fun. I hope to self publish through Kickstarter when the art is complete.
There are a ton of projects I have interest in taking on. Right now I am also really interested in working more with fiber arts.
What advice would you give to other aspiring creatives?
Follow what makes you happy. If you spend time on things that do not bring you joy or feel fulfilling you may create more opportunities for the projects you don't want/won't enjoy instead of the ones you do. Explore different themes, subjects, and skills. Practice and create things that uplift you in some way.
Finally, what books/comics (LGBTQ+ or otherwise) would you recommend to the readers of Geeks OUT?
Personal fan of everything CLAMP (Manga counts right?)
Almost anything Renee French
Laura Dean Keeps Breaking up With Me by Mariko Tamaki and Rosemary Valero-O'Connell