Happy fall, ya'll In this installment of the queer creator spotlight I had the opportunity to interview creator, journalist and YouTuber, Kat Calamia. A bi-woman of many talents. She's the editor, creator, and one of the writers for Bi Visibility: A Bisexual Anthology. She's also writer/creator for the superhero drama, Like Father, Like Daughter, and the psychological martial arts thriller, They Call Her…The Dancer. She's also the co-creator for WebToon's fantastic queer romance, Slice of Life.
Aside from being a talented creator/writer, Kat Calamia has been working in the comic book industry as a critic for over a decade on Comic Uno, her YouTube channel. She's been writing for various websites including IGN, Fandom, TV guide and for Newsarama since 2017. She currently writes for DC Comics' DC Universe. A graduate of MaryMount Manhattan, Kat wasted no time pursuing her passion and love of comics!
Chris Allo: When did your interest in comics begin? What was the "thing" that got you into comics?
Kat Calamia: It was a who – my Dad got me into comic books when I was young. He used to collect Silver Age DC comics. So instead of Sleeping Beauty, Superman was my bedtime story. When I started watching more superhero content like Batman: The Animated Series, Spider-Man (2002), and X-Men Evolution, this helped me venture into getting my own back issues, which then led to me forming my own pull list. I've been going to the comic book store every Wednesday since 8th grade – I'm 27 now.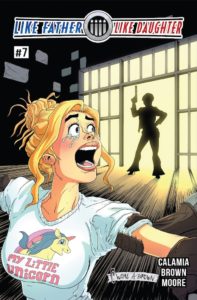 CA: How has being LGBTQ informed your work? What is it about being bi that you put into your work? Or that compels you to want to share with the world?
Kat: Our experiences shape our writing. I grew up in New York – that informs my work. I have a twin – that informs my work. I'm bi – that informs my work. And so on and so forth.
I enjoy consuming and writing queer stories. I'm humbled that I'm able to contribute to the many wonderful queer stories out there, and showcase what authentic LGBTQ stories look like.
CA: You're very prolific on Kickstarter. What attracted you to the KS platform? Is that where you primarily publish your work?
Kat: The list is long, but first and foremost it's the most useful tool to garner an audience and fund your books as an indie creator, and that's why it's the primary space that I publish my work. I love the people who work at Kickstarter, I love my fellow creators that post their projects on there, and I love the backers! The platform is all about community, just like comic books themselves.
CA: In order for a Kickstarter campaign to be successful, you need an audience, a community. How do you go about building that audience from your experience?
Kat: The short answer is that Kickstarter is a community and you should utilize that community to its fullest, and just like any other business – presentation is important. The other answer is that I actually do Kickstarter consulting that helps with that very topic. So if this is something you need help with, hit me up on twitter @ComicUno!
CA: What are the projects you are most proud of right now?
Kat: Of course, I'm proud of every project that I put out there, but if I had to choose one it would be Slice of Life. I write this with my business partner, Phil Falco, and we're having a blast posting it on WEBTOON. It's a different experience posting your work online and getting feedback in real time about your writing. We're really happy with the character work there and our exploration of the LGBTQ and high school experience.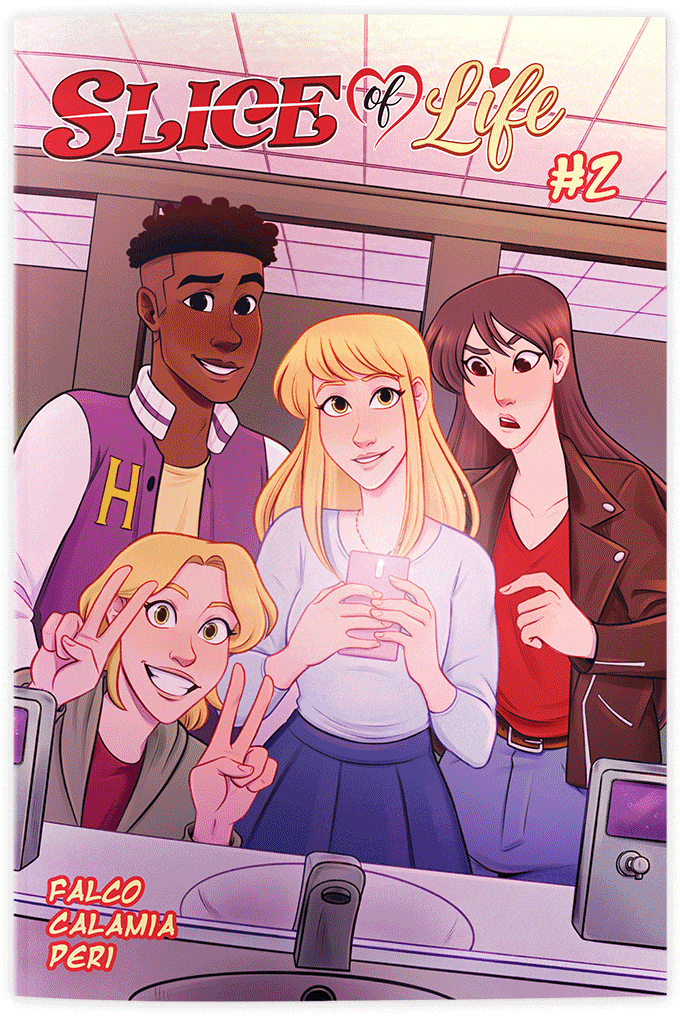 CA: Here's a lighter question. Who is your favorite existing queer character and why?
Kat: That's a hard one because there are so many I love, but if I had to choose only one I would say Runaways' Karolina Dean. She was the first character I ever saw in comics where we actually got to see her coming out journey. As a closeted bi, I was actually a little scared to read it because I related to it so much, but there was something that gravitated me to continue at the time.
Brian K Vaughan gave her room to explore what it meant to be a lesbian. If you read Runaways #1, its obvious that Vaughan was planning to tell a queer story with her from the beginning, but it was never rushed. And then Rainbow Rowell picked up those pieces and told a wonderful queer love story with Karolina and Nico.
CA: What lesson or advice would you give to aspiring creators? What do you wish you knew then that you know now when it comes to being a working creator in today's industry?
Kat: WRITE! I see a lot of up-and-coming creators wanting to be writers without writing a script. Practice makes perfect. Start small. Don't write your 100-issue epic just yet. Start with a short in an anthology, a one-shot, or if you want to aim big – a mini-series.
CA: Being bi-sexual has long been pigeon holed as being a choice primarily in a sexual context.In the "Bi-Visibility" Anthology you all dispel that notion and shine a much more authentic and complex lens on what it mean to be "bi." I really enjoyed "LGBT" RPG, "A Most Unusual Trajectory" and "The Bi Card". I thought that your story "Will I Regret It" was particularly poignant and touching. What was the goal with the anthology?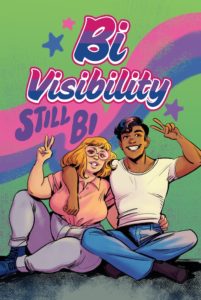 Kat: For sure, we wanted to showcase the many different bisexual experiences through different genres and perspectives. There's an unlimited amount of bisexual stories that we can tell! And we purposely made this an all-ages book so kids and teens could also read the anthology.
CA: Your WEBTOON ongoing? "Slice of Life" with Phil Falco and artist Valeris Peri is fantastic! How did the story materialize for you? Why did you choose to put it out on the Webtoons platform?
Kat: Phil and I had worked together on a crossover one shot between our two books Haunting and Like Father, Like Daughter, were we had superheroes and the supernatural collide in a fun Scooby Doo styled one-shot. We had so much fun with that project that we wanted to work together on more books.
We both really love WEBTOON and the sheer possibility of tempting those readers to also pick up traditional comics. There, Slice of Life was born as a Webtoon that would also have a printed edition through Kickstarter. As for the story, Phil and I both wanted to create a queer narrative and Phil had an idea of an anime character coming to life. We had a few meetings and the concept about Cheerleader falling in love with anime character was born! The rest is history.
CA: How did you decide on Valeria as the artist? Was she familiar with the way a story is told on WEBTOON?
Kat: We actually found her on Pinterest when we were scouring the web to find an artist for the book, and her fan art caught our eyes. We contacted her, and she was game. I believe this is the first WEBTOON she has worked on, but the more technical scrolling aspect of the comic is actually done by our letterer and fellow WEBTOON creator, Garth Matthams (Witch Creek Road).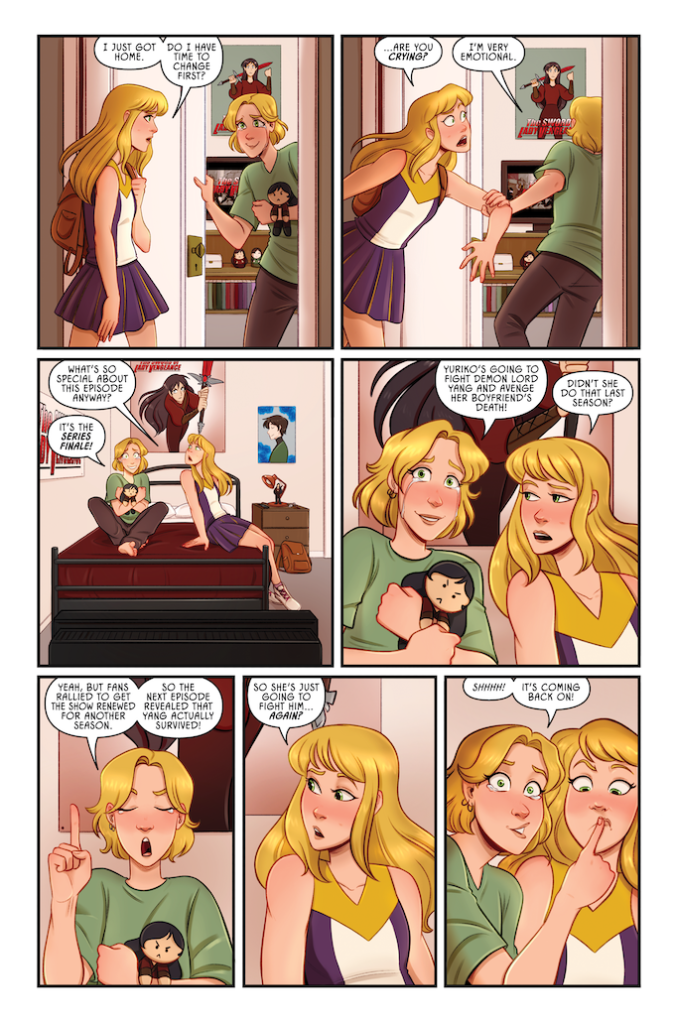 CA: Aside from being a talented writer you're also a journalist. You've written for many different websites with a focus on comic book content. Did you go into journalism specifically for that or did you have other journalistic aspirations?
Kat: I have a journalism minor as part of a Communication Degree from college so I've also taken a lot of classes about more classic journalism, but I always enjoyed entertainment journalism – specifically comic book journalism.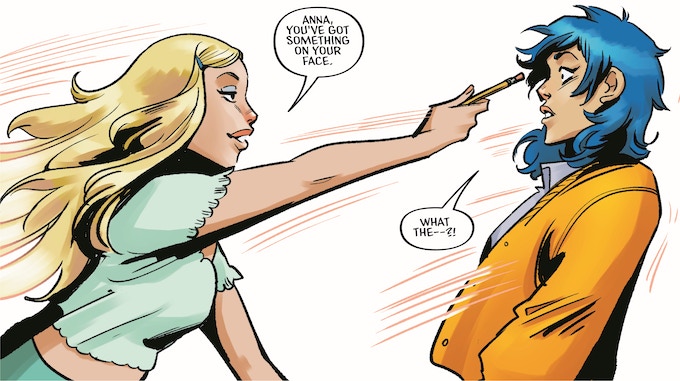 CA: You also have a successful Youtube channel, Comic Uno, where you talk comics and give reviews. How did that come about? What is it about that forum that propels you to continue to create content there?
Kat: I've been working on Comic Uno since high school actually (which was 10 years ago, I feel old haha). I've always just loved the medium of YouTube and talking about comic books on a weekly basis. It's my zen place!
CA: Must be great to have your passion place also, be your place of Zen!
Can you give us a sneak peak/link to. your next project?
Kat: As I write this, we're closing off submissions for our next anthology – Hairology. A comic book all about hair. I'm super excited for everyone to see what we have cooking up with that, and I hope people find stories to relate to. That will launch on Kickstarter in early 2023.
CA: Thanks so much for taking the time to chat with us, Kat!
---
You can find Kat on Twitter, YouTube, and Kickstarter