John Elizabeth Stintzi is the recipient of the 2019 RBC Bronwen Wallace Award and the inaugural Sator New Works Award. Their writing has appeared in Ploughshares, The Malahat Review, Kenyon Review, Best Canadian Poetry, and others. They are the author of the novels My Volcano (2022) and Vanishing Monuments, as well as the poetry collection Junebat.
I had the opportunity to interview JES, which you can read below.
First of all, welcome to Geeks OUT. Could you tell us a little about yourself?
Happy to be here! My name is JES and I'm an award-winning non-binary writer and visual artist, currently based in Kansas City, MO. I grew up on a cattle farm in northwestern Ontario, Canada, and currently am working on a variety of projects, primarily writing and illustrating my first narrative comic.
When did you know you were first interested in writing, and what drew you specifically to fiction?
Stories have always been a thing in my life, but at the root of my history with stories is the fact that the imagination was the most vivid way to augment the somewhat unstimulating (at the time) life growing up on a farm in the middle of nowhere. My brothers and I were always playing make-believe as a kid, running around with toy guns or creating stories over piles of Lego in our crawlspace. I also credit my love for stories from the fact that I started reading early. My mom was a journalist and a writer, so she did a good job of putting books in front of us.
I didn't really come to writing prose fiction as its own thing until college, though. In high school, I was mostly writing (bad) poetry and coming up with my ambitious epic graphic novel series that would never get beyond the imagining phase. I came to prose when I realized, in my first year of college, that I didn't have what it took to illustrate that graphic project myself, and that the thing that really kept me coming back to the idea was the creation of the world/the ideas—the writing. So I decided to go into English and take some creative writing classes, and my love for prose finally started to click.
Were there any stories (queer or otherwise) that you read or watched growing up that had touched you or felt relatable in any way? What stories feel relatable to you today?
I grew up in a time and place where queerness was barely even a distant theory, let alone a practice, so I can't say there was anything I can think of that particularly spoke to me in an explicitly queer regard. As a kid, I was really into A Series of Unfortunate Events, I think because of how strange and smart those books were, and also because of the story's darkness (not to mention the illustrations really struck me). I was also always interested in stories that featured animals as characters, I think, like My Side of the Mountain and Silverwing (and its sequels). I believe that was speaking to the way that I felt a little bit out of place, and that the creatures I felt like I was able to really connect with at the time were animals—particularly our dog, Annie.
Today, I definitely am nostalgic for writing that is rural, and of course anything where gender in particular is queered. I've also returned to comics/graphic novels/manga again, which has helped me reconnect with some of the wonder of that confused kid who grew up with those epic, dark fantasy stories unfolding in their head.
How would you describe your writing routine or process? What are some of the enjoyable, hardest, and strangest parts about writing for you?
My routine has been shaky the last few years, for obvious reasons, which also include the weirdness of beginning to publish books. I have become a little unmoored, dipping into projects here and there, then moving onto other ones. I'm one of those writers who has a million projects in progress.
When I do finally find myself working on something in earnest, though, I do tend to whip myself into a pretty good routine. These last few years, I've been able to accomplish the most when I get up extremely early (around 5am) so that I can get a few hours of work done before anyone can ask anything of me (mostly my dog). The parts I love about writing are the feverish idea-forging times, when the project becomes a sort of electric storm of ideas, connections, possibilities. The hardest thing for me, sometimes, is catching that lightning in the bottle and actually putting the work in.
How would you describe your upcoming book, My Volcano? What can readers expect from this story?
One of the great challenges in my writing career is describing My Volcano. The novel starts on June 2, 2016 when a mountain slowly begins to emerge from the middle of the reservoir in Central Park, which, over the course of three weeks, eventually grows into an active volcano two and a half miles tall. All the while, across the world, many other strange things begin to happen: a boy in Mexico City accidentally ends up going back in time 500 years to the beginnings of the fall of the Aztec Empire, a Mongolian nomadic herder gets stung by a bee and finds himself transformed into the avatar of a mysterious and powerful hive mind that intends to put every living thing under its thrall, a white trans writer tries and fails to write their science fiction novel, and a young Russian woman wakes up to find herself enclosed within a giant insect. And these are only a few of the many stories that follow the volcano's emergence in New York City.
I would say that readers can expect many different things from this book, but on a whole I think readers can expect something that is very surreal, a little darkly humorous, somewhat galactic and magical. They should expect something that feels tonally resonant to these strange, intense time that we are living through.
Did you draw on any resources for inspiration while writing the book, i.e. books, movies, music, etc.? Where do you draw inspiration or creativity in general?
There are likely bucketfuls of things which have somehow trickled into the chamber of My Volcano, so much so that it is hard for me to isolate many without feeling like I'm forgetting something very important. I would say that at its heart is story itself, in its various form: fiction, non-fiction, sci-fi, myth/folk-tale, advertisements, etc. There are also a few explicit allusions, like the young woman who wakes up inside of a giant insect, which is of course an allusion to The Metamorphosis by Franz Kafka. Much of the work is inspired by a deep love for "unreal" multimedia works by people like Kafka, Nikolai Gogol, Hieronymous Bosch, Karen Tei Yamashita, and so many others. The title of the book (and some of its content as well) is partly inspired by the very "unreal" film My Winnipeg by Guy Maddin.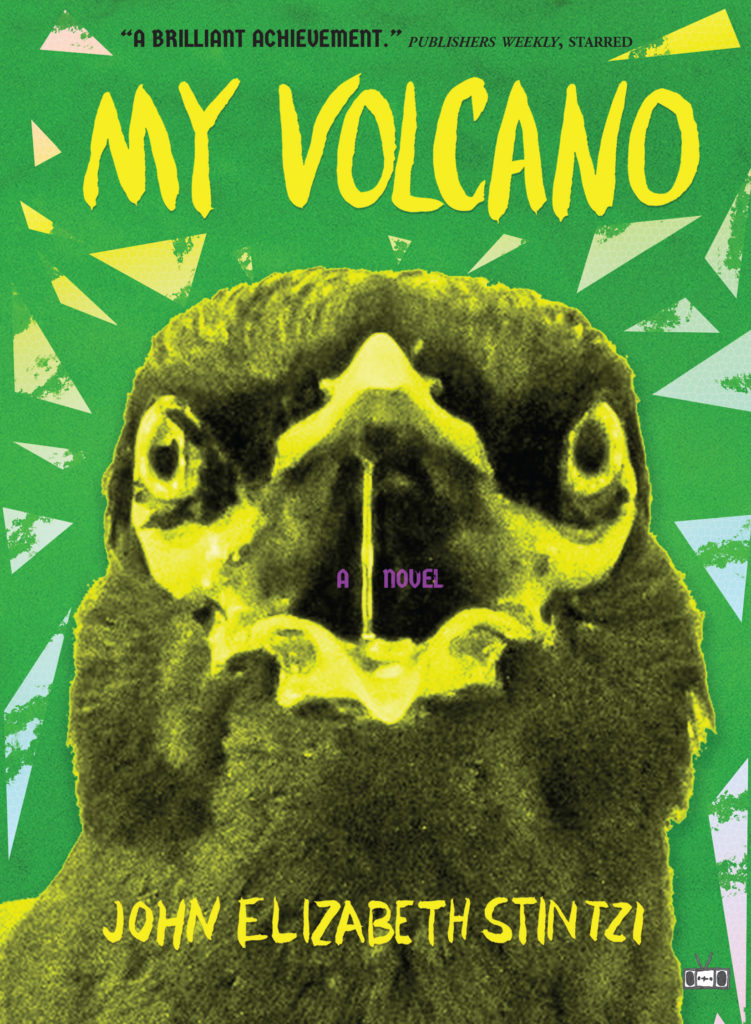 Out of all the stories and words you've written are there any essential messages or themes you wish to convey to your readers or simply express as a writer?
I have plethora themes and messages in my work, but one which touches most of what I've published thus far would be: certainty is a myth.
What advice would you give to other aspiring writers?
Write your favorite books, not the books you think you should write because you think other people will like them. Lean into yourself, your loves, your obsessions, and don't get too caught up in the successes of others. Focus on what you can control, lest the world—far too built on luck over merit—grind you to dust before you can create the work you want to create.
Aside from writing, what are some things you would want others to know about you?
That I'm finally getting around to illustrating some narrative comics, which was my original intention when I decided to become a "writer" when I was a teenager (but was never quite talented enough to push through—but I think I'm brave enough now to finally give it a try).
What's a question you haven't been asked yet and wish you were asked (as well as the answer to that question)?
My opinion on chests-of-drawers as a means of clothes storage. The answer is I am not a fan.
Can you tell us about any new projects or ideas you are nurturing and at liberty to discuss?
I'm nurturing an extraordinary amount of projects, but particularly am finding a lot of joy in scripting and sketching out ideas for several narrative comics. It's a lot of fun to write stuff that takes place staunchly in genre. Other than that, I'm sitting on the "sequel" to my first novel, Vanishing Monuments, which I'm hoping I'll be able to polish up and find a home for soon.
Finally, what LGBTQ+ books/authors would you recommend to the readers of Geeks OUT?
Ritual Lights by Joelle Barron (poetry), A Dream of a Woman by Casey Plett (stories), Time is the Thing a Body Moves Through by T Fleischmann (non-fiction), any poem by beyza ozer, J Jennifer Espinoza, the novel Little Blue Encyclopedia (for Vivian) by Hazel Jane Plante, NDN Coping Mechanisms by Billy-Ray Belcourt (poetry), and I'm particularly partial to the audiobook version of Joshua Whitehead's novel Jonny Appleseed—to name a few!