Jesse Leon is a social-impact consultant to foundations, impact investors, non-profits, and real estate developers on ways to address issues of substance abuse, affordable housing, and educational opportunities for at-risk youth. Since receiving a master's degree from the Harvard Kennedy School, Jesse has managed multi-million dollar philanthropic grantmaking for various foundations and banking institutions, managed over $1B in public sector investments for affordable housing, and built thousands of units of mixed-income housing as a real estate developer for Bank of America. Jesse recently moved back to San Diego to be closer to his mother and to pursue his dream of publishing this book. He is a native Spanish speaker and fluent in English and Portuguese.
I had the opportunity to interview Jesse, which you can read below.
First of all, welcome to Geeks OUT! Could you tell us a little about yourself?
I am an openly gay Latino author living in San Diego with almost 30 years in recovery. I work in the field of philanthropy as a consultant to foundations, impact investors, non-profits, and real estate developers on ways to address issues of affordable housing, substance abuse, sex trafficking, and educational opportunities for at-risk youth. I am fluent in English, Spanish, and proficient in Portuguese.
What can you tell us about your book, I'm Not Broken? Where did the inspiration for this book come from?
I'm Not Broken is the story of the journey I took to win back my life. A story of resilience and moving from surviving to thriving after spending a childhood devastated by sex abuse, street life, and substance abuse.
I wrote my book without the intention of ever publishing it. I was inspired to write in order to document not only my life, but the lives of the women in my family to inspire the next generation to not give up. Then it morphed. My inspiration would come from my volunteer work in juvenile hall and in speaking at recovery conventions across the country where people would ask me, "So, when are you writing your book?" In seeing so many others struggling with addiction, mental health, and depression, I wanted to do something about it from a place of my lived experience. As a teenager, I wasn't sure I'd graduate high school—let alone attend Harvard, or write a book. I was homeless and sleeping in Balboa Park, doing anything and everything to support a drug habit that was my only escape from reality and the violent, traumatic abuse that drastically changed my life. It wasn't until I heard stories from people with experiences similar to mine that I realized that I wasn't alone. So I write to help others not feel so alone in this world.
How would you describe your general writing process?
Cathartic. At times painful. Overall – healing. My process was to just write. I knew my beginning and my ending but had no clue how to structure it in between. I tried an outline and then tried post-its to capture ideas, but in the end, I just started writing. I'd spend countless hours at coffee shops after work writing. Once I knew I was done, then I began editing.
What drew you to writing? Were there any books or authors who you believe inspired you and/or influenced your own personal style?
There are so many authors who have inspired me. I love reading. The ones that come to mind who inspired me to write are: Reyna Grande's The Distance Between Us, Victor Villasenor's Rain of Gold, Michelle Obama's Becoming, Viola Davis' Finding Me, Paulo Coehlo's The Alchemist, and Gabriel Garcia Marquez's One Hundred Years of Solitude. In terms of authors who help me escape reality: Keri Arthur's Riley Jenson Guardian Series, Anne Rice's Vampire Chronicle, and Frank Herbert's Dune and all the books in the Dune Universe.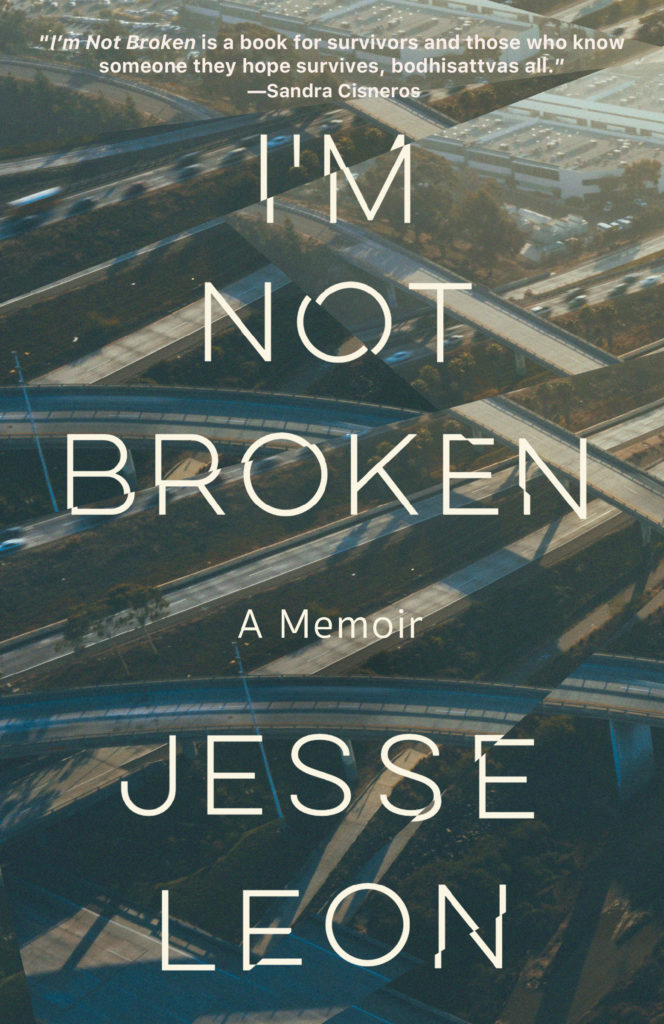 What do you hope readers will take away from reading I'm Not Broken?
In sharing my story, I hope to remind others that they are not alone and that there is hope. I write for anyone who struggles with circumstances similar to mine, so they know they don't have to resort to suicide or substance abuse. And I write for our families so that they can see that in spite of the horrors of addiction, sexual abuse, and the painful experiences we undergo, we can accomplish anything. That we can move from surviving to thriving in this life.
What advice would you have to give to aspiring writers?
Just start writing, don't listen to the noise, and don't give up! I wrote without being concerned about editing. I just wrote. When I reached out to so many agents and authors for guidance and very few, maybe three, responded, I felt like a failure instead of focusing on the positive – that three actually did reach out and I am eternally grateful to them. At times, I felt like a failure and had to go back to my original purpose for writing the book. Then one day – it happened. It all came together. Someone introduced me to my agent when I least expected it.
What's a question you haven't been asked yet but that you wish you were asked (as well as the answer to that question)?
No one has asked me if I'd want to do audiobooks for other authors' books or voice-over projects. The answer is yes. I really enjoyed recording the audiobook. There is a major lack of diversity in that space and it irritates me when people butcher the Spanish and Nahuatl languages. So, yes, if anyone needs me to read their book or voice-over projects once they hear my voice in both English and Spanish – then please reach out!
Are there any other projects you are currently working on (professional or personal) that you feel free to speak about?
My hope is that my book gets picked up to be a book-to-series or book-to-film project.
What books/authors (LGBTQIA+ or otherwise) would you recommend to the readers of Geeks OUT?
Aside from the ones I mentioned above, James Baldwin (all of his books), Gloria Anzaldúa (all of her books), Benjamin Alire Saenz (all of his books), Vickie Vertiz (all her works), Emanuel Xavier's Pier Queen, and Antonio Salas' Operación Princesa (even though it is not LGBT and only written in Spanish but writes extraordinarily well about sex trafficking.)
---
Header Photo Credit Martin Mann