Ian Eagleton is an education consultant, author, and elementary school teacher based in the UK. He is also the founder of The Reading Realm, an educational app for teachers.
I had the opportunity to interview Ian, which you can read below.
First of all, welcome to Geeks OUT! Could you tell us a little about yourself?
Hi! Thanks so much for having me! My name's Ian. I was a primary school teacher for thirteen years and I now write children's books which specialize in LGBTQ+ inclusivity and diversity. I also write educational resources for companies, enjoy going to the gym, swimming, reading, and films. Some of my previous books include Nen and the Lonely Fisherman (illustrated by James Mayhew) and Violet's Tempest ((illustrated by Clara Anganuzzi).
What can you tell us about your latest book, The Woodcutter and The Snow Prince? What was the inspiration for this story?
The Woodcutter and the Snow Prince is very superficially based on The Snow Queen. I suppose it links to the story in that the main character is called Kai, there's a wicked Snow Prince and the setting is very wintry and magical. But the actual story is quite different to The Snow Queen and was inspired by a German fairy tale called "Jorinda and Joringel".
In the story, there's an evil witch who turns young maidens into birds and captures them and keeps them in cages in her castle. She transforms any young men she meets into statues. The story is quite dark and strange, and it got me thinking about why the witch was like this. What was it about these young, heterosexual couples that she hated so much? Could she even control her powers? Was she misunderstood in any way?
When I sent the story to Sam at Owlet Press, there was something missing, however. The setting didn't quite work and wasn't quite magical enough and I couldn't quite get to grips with the witch and her motivation. Sam suggested setting the story at Christmas time and I immediately thought of a Snow Prince. I was still interested in rumours and the stories we tell each other, so wanted there to be all these terrifying myths and tales about this supposedly wicked prince.
Once I had hit on the idea that there might be more to his story and that he could be saved, the rest of the story came together! It's a really exciting, thrilling story full of adventure, peril, strange creatures, love, and hope!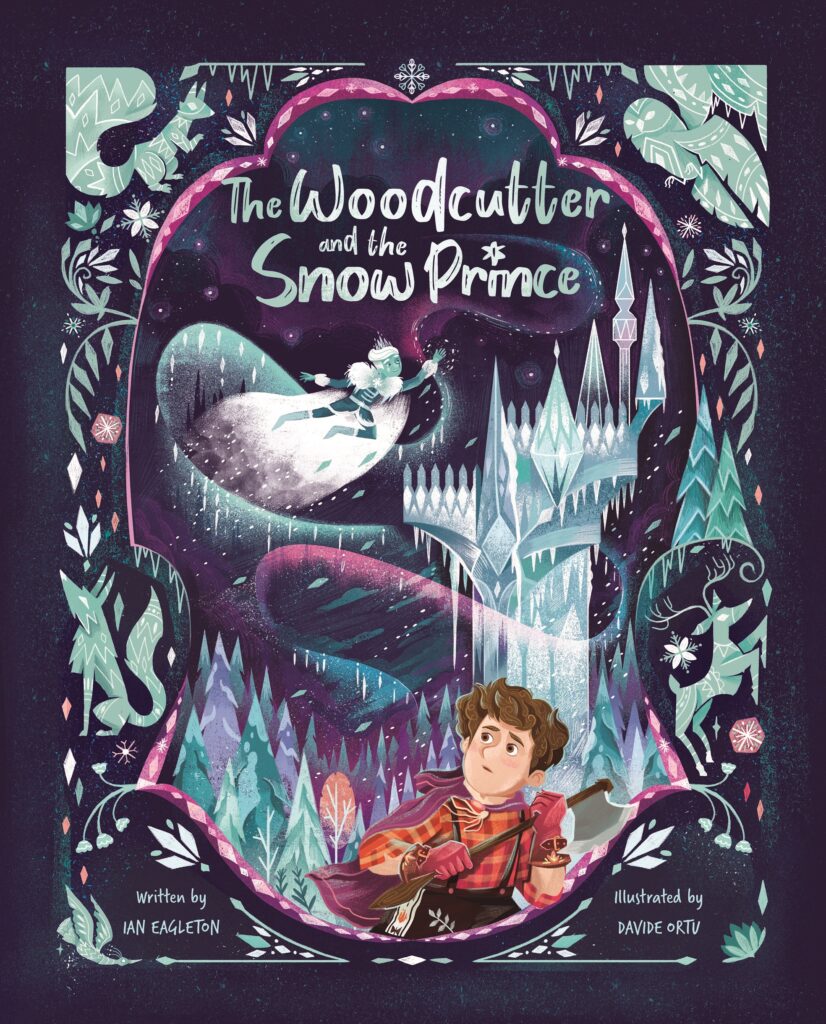 As a writer, what drew you to the art of storytelling, specifically children's books?
I was very lucky that my Mum read to us every night. I used to love all the Alfie and Annie-Rose books and a book called Garth Pig and the Ice Cream Lady by Mary Raynor – I can still recite parts of it now. I also have very fond memories of being read Rebecca's World by Terry Nation. I remember howling with laughter as I sat at my teacher's feet and how we all begged her to read certain parts again and again. Never underestimate the power of being read to! I think I wanted to capture that magic and sense of hope in my own story writing.
What else drew me to writing children's books with an LGBTQ+ theme? Possibly a sense of injustice. I never saw any gay men in the stories I read and always felt a bit excluded from the literary space. I have been with my husband for ten years now and we have a son. When we started thinking about having children, I desperately wanted to make sure that our child saw their family in the books they read. I think I was also writing for the little boy who felt different and never saw himself in fairy tales, and the gay teenager who was bullied and felt alone.
For those curious about the process behind a picture book, how would you describe the process? What goes into writing one and collaborating with an artist to translate that into a book?
It's a very long, often challenging, and arduous process! I often write very quickly and maybe have a finished version of a story in a day. At this stage, it's just scribbles and thoughts and ideas. It's also bloated and far too long. A picture book should be around 500-700 words, so I spend an awful lot of time editing and chipping away at the text. Very often a lot of my writing can actually be shown in the artwork by the illustrator so I just leave comments about what I'm visualising and seeing in my head. I spend a lot of time talking to my agent and editor about the direction I'd like the story to take, the atmosphere I'm trying to create if there are any themes that need picking up or anything I've left unsaid that might need to be explained in the artwork. Although, I don't tend to work too closely with the illustrator – I'm a writer, not an artist! I might give feedback on how I thought a character might look but it's usually best just to trust the illustrator and leave them to do their job. That way they feel uninhibited, completely free to develop and transform my words into something magical. Trust and letting go are very important parts of the job.
What advice might you have to give young writers?
Keep a diary! As a child, I kept a diary from the age of 10 until I was in my twenties. I always urge young writers to keep a diary too. I used to write everything in it – stories about what had happened to my hamster, film reviews, lists of new words I'd found, favourite books, what I'd had for dinner, and so on! A diary is a very special thing as it allows us to write just for ourselves and not worry about other people or if we've spelt something incorrectly or that our handwriting is messy. Writing in a diary should be enjoyable too. Have fun – doodle in it and illustrate it!
Are there any other projects you are working on and at liberty to speak about?
Lots! As well as being a dad, working as an education resource writer, and generally trying to eat healthily, go to the gym, and not fall apart at how scary the world is right now, I'm also working on some new picture books. I can't say too much about them, but one involves a little girl, some cute dogs, and adventures with her daddies, and the other is a celebration of a two-dad family and the great outdoors. I also have my debut middle-grade book Glitter Boy, which is being published by Scholastic, coming out in February 2023. It's a joyful, hopeful story that tackles the effects of homophobic bullying and how damaging it can be. It also explores LGBTQ+ pride and history, the power of friendship, poetry, and dance, and the need to call upon our friends, neighbours, family, and community when times are tough. It's a real celebration of being true to yourself!
Apart from all those exciting projects, I'm also working with my agent on some new picture books, so it's a busy time. However, I feel very lucky to be able to write LGBTQ+ inclusive books for children which will hopefully spark a desire in them to make the world a happier, fairer place when everyone gets to see themselves in the books they read.
Finally, what LGBTQ+ books/authors would you recommend to the readers of Geeks OUT?
I'm going to recommend some LGBTQ+ themed picture books I love if that's OK! Perfect for sharing with your family or maybe just reading yourself as an adult – they're a wonderful way to look back in time and heal that inner child!
The Woodcutter and The Snow Prince by Ian Eagleton, illustrated by Davide Ortu, is published by Owlet Press. Out now, £7.99 paperback. www.owletpress.com