Michele Kirichanskaya is a first-generation Ukrainian Jewish American writer and journalist born and raised in Brooklyn, New York. A graduate of the New School MFA Program and Hunter College, they have written content for platforms such as Geeks OUT, Catapult, Bitch Media, Electric Lit, The Mary Sue, and more. When they are not writing, they are reading, watching an absurd amount of cartoons, and generally trying to live their life despite its many interruptions.
Twitter: @MicheleKiricha1
Instagram: michelekiricha1
Website: https://michelekirichanskaya.com/
Could you tell us a little about yourself?
Sure. My name is Michele Kirichanskaya, and I am an asexual writer and journalist, as well as the first-time published author of Ace Notes: Tips and Tricks on Existing in an Allo World. Beyond what's covered in my bio, I can tell you that I am a huge geek (as partially evidenced by my book at GeeksOUT, ha ha ha) and am constantly consuming in terms of books, comics, and animation.
I also recently started work as a sensitivity reader. On my website it reads:
As a queer first-generation Ukrainian Jewish American reader, for a fee, they can read your book, comic, or script with queer/Jewish/Slavic representation and help identify any biases, stereotypes, harmful tropes, or inaccuracies in mind, as well as provide useful tips on creating more accurate, authentic representation.
Below are the following areas they can consult on:
Jewish Identity/ Culture/ Antisemitism (Especially North American diaspora)
Ukrainian/Russian/Slavic Culture
LGBTQIA+ Identity (Especially Asexual/Aromantic)
I've also organized and moderated a number of panels over the years at conventions like NYCC, Flame Con, Anime NYC, MoCCA, and am currently available to do more.
Congratulations on your recent release, Ace Notes: Tips and Tricks on Existing in an Allo World! Could you tell us what it's about and where the idea for the book came from?
Prior to this book, I had the idea floating in my head of writing down some of the lessons and "notes" I've learned existing as an asexual person in an allonormative world. Growing up, ace visibility was only just starting (and still is growing) so there wasn't a lot of media, fiction or otherwise, on the subject, and I had to do a lot of work to learn what I know today, and figured other ace readers shouldn't have to work as hard as I had to for information and representation. So when I heard JKP was looking for book proposals from ace writers, I jumped at the chance.
Who do you feel this book is written for? And who do you think would benefit from reading it (if that is a different group)?
In a way this book was written for the younger version of me who didn't have a book like this when they were first coming out as ace. I wrote this book primarily for those in the ace community, those who might feel a little lost or confused or just looking for information on the subject, but I would love it if non-aces read the book as well.
The book seems to be part "intro to a community", part "voices and history of the community" and part "how to deal with society outside of this community". Was that the goal when you started to plan for writing it? Or did it evolve as you worked on it?
I think it might be best to say it evolved as I was writing. Beyond the basic premise of Ace Notes as a field guide or starter guide to asexuality, I basically just started jotting down every concept I could think of related to asexuality, from pop culture/literary representation to consent and relationships. Until the deadline for the book, I simply spent my days writing as much as I could, reflecting on my past experiences and wondering what topics seemed relevant to the discussion on asexuality.
There are a lot of great interviews in this book. Was getting those people lined up a challenge? Was that always going to be a part of this book, or were the interviews something that were added later?
I think it was always my intention to include voices other than my own for this book. I didn't want anyone coming into the book to think there was only one perspective on asexuality, and that in fact the asexual community is diverse and multifaceted with lots of different intersectional voices, including BIPOC, disabled, etc. As for the people chosen, a lot of the aces interviewed for the book have been those I interviewed before through my work as a journalist, and so I just had the luck of them being open and available to sit down and talk with me for the book, which I'm forever grateful for.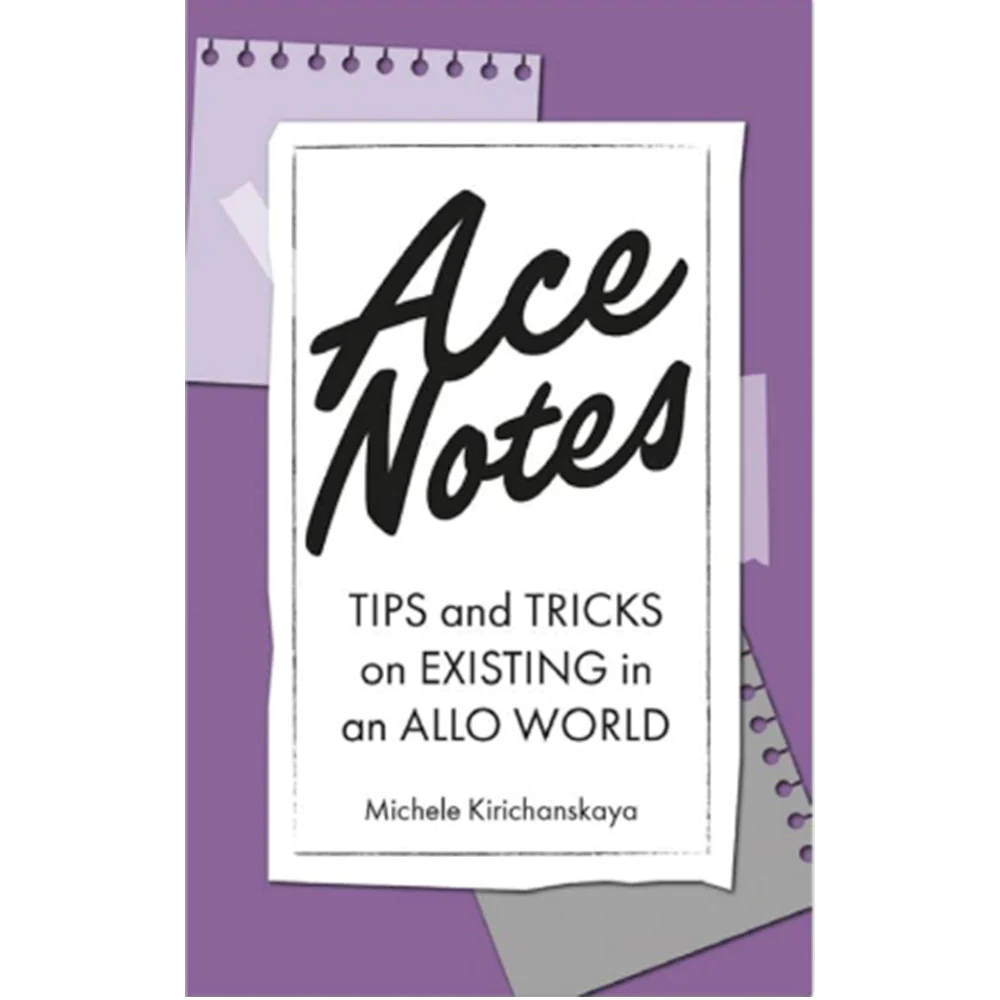 Do you see a follow up book in the future? Are there other topics you wish had been covered? Or for now have you said all you want to on this topic?
Not unless Jessica Kingsley Publishers decides they're interested in more, lol. For all seriousness though, I would have been game to cover more on asexual representation in pop culture, i.e. talking about the lack of it, as well as the few shows and movies that have done it (mostly) right, like BoJack Horseman, as well as continuing the discussion on intersectionality within the ace community. Who knows, there might be other books in the future on this topic.
There is a lot of discussion and reference to an asexual and aromantic spectrum in the book. While I identify as a gay male, I did connect with a few aspects of that spectrum, which I felt was really enlightening. Do you think many people that don't consider themselves on either spectrum will read your book?
I can't predict how many people who are not asexual or aromantic will read this book, but I certainly hope non-aces and non-aros will get a chance to read it, if only to read more about these orientations and become better allies, quite possibly for their own loved ones who might be ace or aro or both.
Were there any books that touched you or inspired you growing up?
Thank You, Mr. Falker by Patricia Polacco
Fairy Realm Series by Emily Rodda
The Emily Windsnap series by Liz Kessler
Cornelia and the Audacious Escapades of the Somerset Sisters by Lesley M. M. Blume
xxxHolic by Clamp
Hana-Kimi: For You in Full Blossom by Hisaya Nakajo
Fullmetal Alchemist by Hiromu Arakawa
Ouran High School Host Club by Bisco Hatori
The Hours by Michael Cunningham
Aristotle and Dante Discover the Secrets of the Universe by Benjamin Alire Sáenz
Unfortunately not a lot of it was explicitly queer growing up, but I am glad to see more and more queer books for younger readers all the time.
Where did you get your start in writing?
Mostly writing notes in notebooks, thoughts I had on the world, snippets of story ideas, etc. In high school, I started out as a writer for a website called, TeenINK, which gave me a platform to display my work and start my ground as an online writer.
What do you wish you had known at the beginning of your writing journey?
Take care of your mental health. The times when your brain is not producing anything isn't because you're being "lazy." You're not a golem, you can't always make yourself work on command. If you're burnt out and tired, you need to take care of yourself before you can take care of anything else.
Are there any future projects you are currently working on and are at liberty to speak about?
I am currently working on a few projects, but not at liberty to say anything yet. Fingers crossed soon though.
Aside from writing, what do you enjoy doing in your free time?
When I'm not working, I definitely enjoy geeking out in my free time. I would call myself a full-spectrum geek, watching cartoons, researching anything from superheroes to fairytales, going to the library, spending time with my dog, Foxie, just in general feeding my brain creatively.
To borrow a question you had in the interviews featured in your book, what are some things you would want someone to take away from this book about asexuality?
Some of the things I would want people to take away from this book is that ace people aren't "broken" or "immature" simply by being asexual. There's nothing "wrong" with our orientation. It's just another way of existing in the world that deserves to be respected and validated, and not dehumanized or pathologized. The ace community features some of the most loving, creative, and thoughtful people I know, and we have many lessons to give to the world, to both people who are ace and non-ace.
Finally, what LGBTQ+ books/authors/creators would you recommend to the readers of Geeks OUT?
Believe me there are many I would love to recommend, including many I interviewed myself: https://www.geeksout.org/author/michele-kirichanskaya/
---
Featured Artwork by Ashley Masog