Busy Geek Breakdown:
Lifelong Trekkie or never seen a single episode? Check out the following:
Season 3; Episode 16. Season 4; Episodes 4, 23. Season 5, Episodes 6, 14, 17.
Also, if you just want to see the Riker Maneuver click here.
If you're a seasoned Trekkie, or don't want context, skip ahead — here.
For the Total Star Trek Red Shirts Provisional Ensigns (Red Shirts are important now!!!):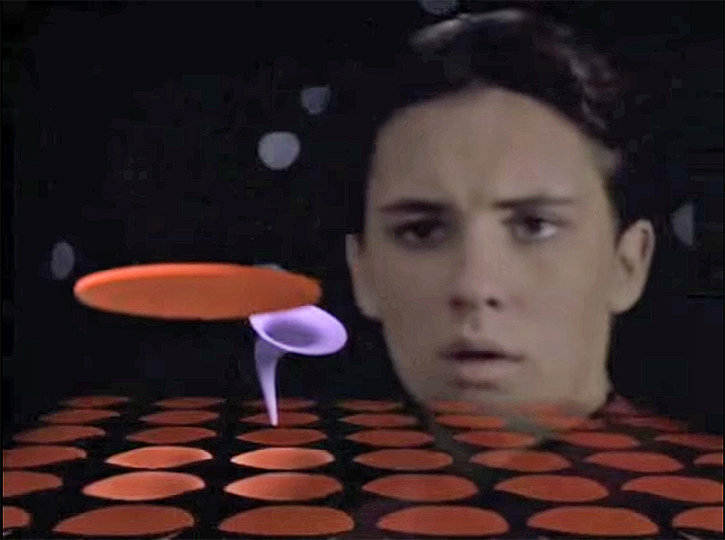 Star Trek: The Next Generation (often abbreviated as TNG) is an American science fiction television series that aired from 1987 to 1994. It is the second Star Trek television series and a sequel to the original Star Trek series TOS that aired from 1966 to 1969.
The show is set in the 24th century, about 100 years after the original series, and follows the crew of the USS Enterprise-D, led by Captain Jean-Luc Picard, (aka Gunshow circa 1994)
… as they explore the galaxy and encounter new civilizations and technologies. The Enterprise-D is a massive starship that is capable of traveling faster than the speed of light and is equipped with a variety of advanced technologies, including a holodeck, which can create realistic virtual environments.
The show has a large ensemble cast, with notable characters including Commander William Riker (galactic thirst trap) . . .

Chief Engineer Geordi La Forge (Take a look, It's in a book!) , Lieutenant Commander Data (an android), Counselor Deanna Troi (a betazoid empath counselor), and Lieutenant Worf (a Klingon).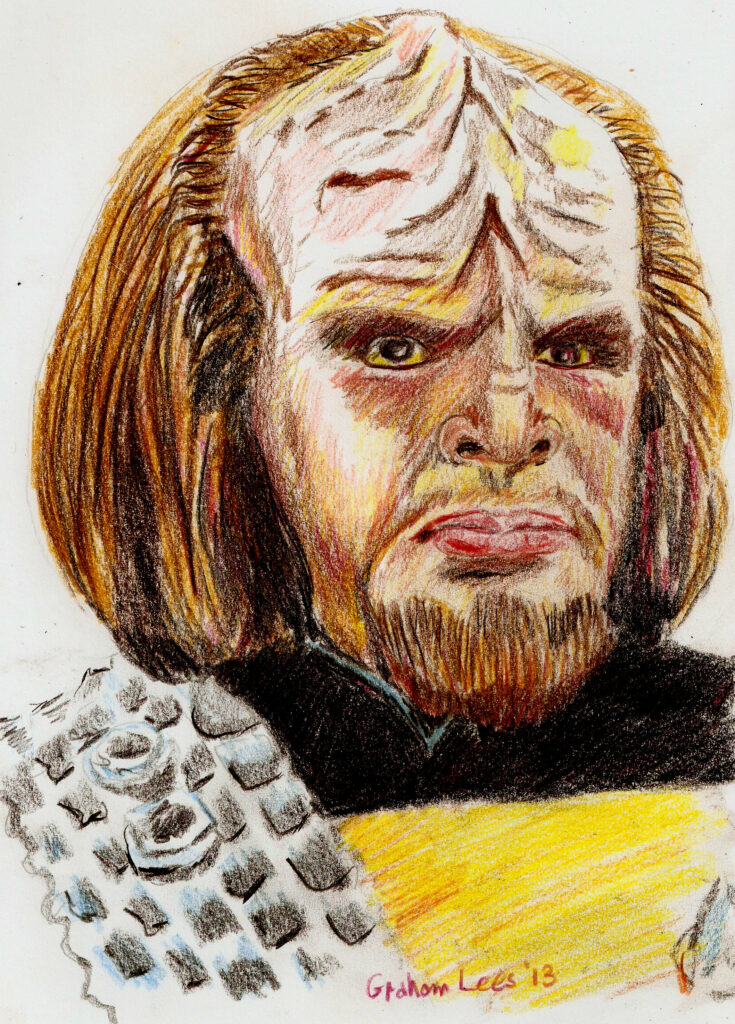 The show also features several recurring characters, such as Q, a powerful and mischievous being who challenges the crew with his god-like abilities.
TNG is known for its thought-provoking stories and themes, such as exploring the nature of humanity, the ethics of scientific experimentation, and the consequences of interfering with other cultures. It was also notable for its impressive special effects, which were state-of-the-art for its time.
Overall, TNG is widely regarded as one of the most successful and influential science fiction television shows of all time and has spawned numerous spin-off series and feature films.
Before we get into individual episodes, let's talk about Q . . . . 
The character Q in "Star Trek: The Next Generation" is often portrayed as being fascinated and intrigued by Captain Jean-Luc Picard.
Q, played by actor John de Lancie, is an omnipotent being who serves as a recurring character throughout the series. He often tests the crew of the USS Enterprise-D and challenges their beliefs and values. Q has a playful and mischievous personality, and he enjoys manipulating the crew and testing their limits.
Some would argue that while Q is often seen interacting with Picard and the two characters have a somewhat adversarial relationship, there is no indication in the show that Q has romantic feelings for Picard. That Q's interest in Picard seems to stem more from his fascination with humanity and his desire to explore and understand human behavior.
It's worth noting that the relationship between Q and Picard is deliberately ambiguous, and the show's writers have left their interactions open to interpretation. While some fans may see hints of romantic interest in Q's behavior towards Picard, the show itself does not provide any explicit confirmation of this.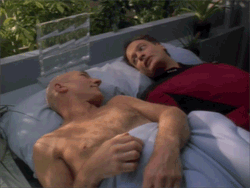 If you're not convinced though and believe I'm just shipping Q-Card out of wishful thinking, wait until I post my blog about a later series. Anyway, Nerdist agrees with me (some spoilers).
Tasha Yar while not Canonically gay, has often been embraced as a gay icon and even made #1 on the AutoStraddle Star Trek lesbian character list.
Tasha Yar, played by Denise Crosby, was the chief of security aboard the USS Enterprise-D and appeared in the first season of the show.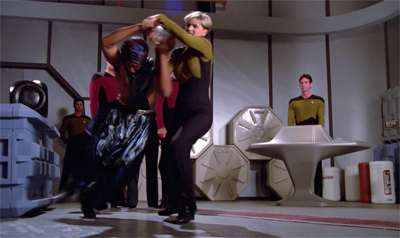 One reason for Tasha Yar's appeal to the LGBTQ+ community may be her status as a strong, independent woman. In the world of "Star Trek," women are often shown in positions of power and authority, and Tasha Yar is no exception. She is a skilled fighter and a competent leader, and she is not afraid to stand up for herself and her beliefs. Unfortunately, due to the actors desire to go elsewhere in her career, she ends up perpetuating the "Bury your gays" stereotype by getting killed off at the end of Season 1.
Ch . Ch. Ch. Changes … in uniforms over 100 years. It's easiest to explain using the infographic from Costumesupercenter.com below. (get the full infographic here)
The most important costume revelation for TNG is the Skant! The Star Trek skant is a type of uniform worn by some characters in the Star Trek franchise. It is a unisex garment that resembles a dress or tunic and was first introduced in the original Star Trek series in the late 1960s.
The skant was intended to be a futuristic, gender-neutral uniform that would reflect the show's optimistic vision of a society without gender-based distinctions. The skant was worn by both male and female crew members and was meant to signify that everyone in the Star Trek universe was equal and could perform any job regardless of gender.
The skant was worn by several characters, although most of the men sporting it in TNG were in the background.
The skant reappeared in later Star Trek series, including Star Trek: The Next Generation and Star Trek: Deep Space Nine, where it was worn by both male and female crew members. However, the skant was eventually phased out in favor of more traditional uniforms.
In recent years, the skant has become a popular item among Star Trek fans and cosplayers, who often create their own versions of the garment. The skant is seen as a unique and iconic part of the Star Trek universe and a symbol of the franchise's progressive values.
Alright. Now on to my favorite part … the numbered list!
6. "The Offspring" (Season 3, Episode 16):
*CW: Mental Health, Death*
In this episode, the character of Data creates an android "daughter" named Lal. While the episode does not explicitly address LGBTQ issues, the themes of identity and acceptance resonate with many LGBTQ individuals.
Honey, let me tell you, as a fierce Star Trek fan and a proud member of the LGBTQ community, this episode that spoke to my heart on so many levels. In fact, after watching this episode I had to take a break and watch several episodes of RuPauls Drag Race, before I could resume my Trek re-watch.
Firstly, I was struck by Data. This android struggles with his identity as a non-human being and the prejudice and discrimination he faces from others because of it. Many of us in the Queer community can relate to feeling marginalized and ostracized for simply being who we are. Watching Data grapple with these issues was both emotional and empowering, as it reminded me of the importance of standing up for oneself in the face of discrimination.
But the real heart of The Offspring lies in the creation of Lal, a child-like android that Data creates as his own offspring. Many of us know all too well the balance required to prioritize found family and the importance of finding people who reflect our identities and experiences. Lal represents that desire for a family and the struggles that come with it as she navigates her identity as a non-human being and grapples with the discrimination she faces from others.
Data allow Lal to choose her own gender and appearance, and while this idea was executed in s somewhat binary way, still Star Trek saying Trans Rights in the early 1990's was amazing! There are several remarks about how your gender is how other's perceive you and impact how folks interact with you.
And there are absolutely some wonderful, memorable moments in this episode, like when Lal first learns from her job in Ten Forward as a cocktail waitress for Guinan (working at 3 weeks old – wow, nobody want to work these days!!!) and she first learns that people touch hands and then touch lips when they like each other. And of course Riker's very first time meeting her, she picks him up by the collar to kiss him – right as Data walks in and says "Commander, what are your intentions with my daughter?" It's just *chef's kiss* one of those moments where my spouse had to ask why I was cackling so loud.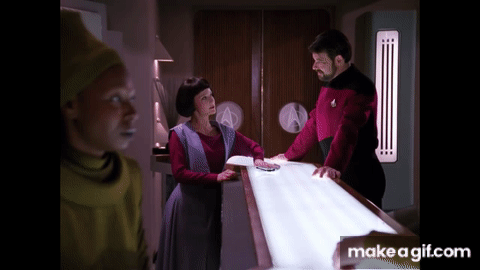 Watching Data's relationship with Lal develop throughout the episode is beautiful as he learns how to care for and love his new creation. The performances by the cast, particularly Brent Spiner as Data and Hallie Todd as Lal, were simply outstanding, capturing the complex emotions and struggles of their characters with real depth and sensitivity.
But what impressed me about The Offspring was its relevance to LGBTQ issues today. The episode tackles themes of prejudice, discrimination, and the importance of individual rights and freedoms, which are still relevant to our community. It's a reminder that the fight for acceptance and equality is ongoing and that it's essential to stand up for ourselves and our loved ones in the face of discrimination.
Overall, The Offspring was a profoundly moving and empowering episode that speaks to the struggles and joys of the LGBTQ community in a significant way. I highly recommend it to any queer person or ally who wants to see themselves reflected in a powerful and poignant story. Live long and prosper, honey.
But what caught my eye were the costumes worn by the android characters. Data, in particular, wore his normal sleek and form-fitting uniform that accentuated his non-human features, with metallic accents and a bold black and gold color scheme. On the other hand, Lal wore a simple dress with a flowing skirt, contrasting beautifully with her pale (and much more human like) skin, and conveying a sense of innocence of youth. Of course, she did have to wear this giant bob type wig, to allow for a scene later in the episode where they opened up her positronic brain on camera.
Of course the villain of the story, the Admiral who initially wanted to separate Lal from Data (and there were owe so many brilliant points in this episode about why Data was being questioned and second guessed on creating a life, when other's weren't questioned about procreating). Ultimately, Lal begins to feel actual emotions, beginning when she realizes some strange man who doesn't care for her wants to take her away from her family and ensure she grows up 'the right way'. She effectively has a breakdown and dies as a result of the intense feelings, which is of course heartbreaking, and the Admiral finally feels for Data as a father.
The crew is generally very compassionate, and Data mentions a heartwarming note about all of Lal's memories will live inside him. But then Captain 'Prick-ard' basically says, "Oh, you're not crying? Get back on watch!' and Data does. Come on Jean Luc – you couldn't give him a day off to contemplate existence? Or at least ask if he would prefer to mourn or get back to work? Well, we all know that for all his wisdom, Picard never did well with feelings. Or children. On that note, on to the next episode!!!!
5. "Suddenly Human" (Season 4, Episode 4):
*CW: Mental Health, Death
In this episode the crew encounters a human boy who was raised by an alien race after his parents died. As they attempt to reunite him with his biological family, they must navigate the complex issues of identity, belonging, and cultural differences.
These poor abandoned kids add to the confusion and chaos with the Mourning, a sound they make when separated from their Captain, until Picard charges in and orders them to be quiet.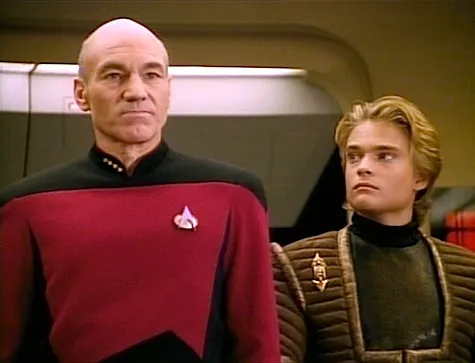 Now, this is a powerful message for our community, my loves. It reminds us of the importance of family and belonging, and how our sense of identity can be shaped by the culture and community we grow up in. It's a message that resonates deeply with the LGBT community, as we too have often struggled to find acceptance and belonging in a world that can be hostile to our identities.
And speaking of cultural differences, my darlings, let's not forget the LGBT issues at play here. The crew's attempts to reunite the boy with his biological family echo the struggles faced by LGBT individuals in reconciling their identities with their cultural and familial backgrounds.
Now we have to talk about Captain Picard's attempts to connect with the boy. Bless his heart, he's not exactly the most skilled at dealing with children, is he? But it's also a reminder that we all have our awkward moments, and that even the most stoic and composed among us can struggle to connect with others at times.
But let's talk about Captain Picard's attempts to connect with the boy, my darlings. Bless his heart, he tells Counselor Troi that he's not great with kids – a fact that is abundantly clear throughout the episode. But we can't fault him for trying, can we? It's a reminder that even the most seasoned leaders among us can struggle when it comes to parenting and connecting with younger generations.
And speaking of Picard, my loves, let's not forget about Picard Day – an annual celebration of the captain that was established by the children on the Enterprise. It's a playful moment in the series, but also a reminder of the importance of honoring those who inspire us and bring us together.
But beyond the jokes and playful moments, my darlings, this episode is a powerful reminder of the importance of empathy and understanding. As the crew attempts to navigate the complex dynamics between the boy and his biological family, they must confront their own biases and assumptions about what it means to be human.
And speaking of connections, my darlings, let's not forget the playful reference to daddy issues in this episode. As the crew attempts to navigate the complex dynamics between the boy and his biological father, it's hard not to laugh at the irony of Picard – a man with his own complicated relationship with his father – trying to play the role of mentor and father figure.
Ah, my darlings, wouldn't it be lovely if every lost child in the galaxy could be a Mandalorian foundling, with the handsome Pedro Pascal as their daddy? Alas, in this episode, we are dealing with a Talarian foundling instead, and the crew of the Enterprise must navigate the complex issues of identity and belonging that arise when a human boy is raised by an alien race.
Now, we've all been there. Who hasn't had a rebellious phase as a teenager, blasting rock music and acting out against authority? Maybe not as far as stabbing someone in their sleep, but otherwise it's a universal experience, and a reminder that even in the future, some things never change. "Stop that noise!"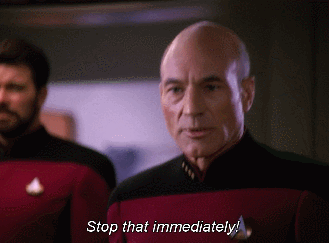 But the real message here is about empathy and understanding. As the crew comes to understand the boy's experience and perspective, they are able to bridge the gap between their two cultures and find a way to reunite him with his family while still honoring his identity and experiences.
Now, my loves, can we talk about those Talarian uniforms? They would be so fashionable if they weren't wearing those turtlenecks underneath! It's a good thing we have our very own fashion icons on the crew to provide some much-needed style inspiration. Data – does he have ANY pores? His skin is flawless! And Troi, are we sure that low cut v-neck jumpsuit is regulation Star Fleet?
But the journey to reunite Jono with his Talarian family is not without its challenges, my loves. Jono's experience as a hostage has left him with deep-seated trauma and a desire for revenge, leading him to effectively try to commit suicide by cop in a dramatic confrontation with his Talarian captors. It's a poignant reminder of the ongoing impact of trauma on our loved ones and the need for compassion and support in their healing journeys.
Despite the serious nature of this episode, my loves, we can always rely on the charming Captain Picard and his aversion to young people to bring some levity to the Enterprise. Don't miss it!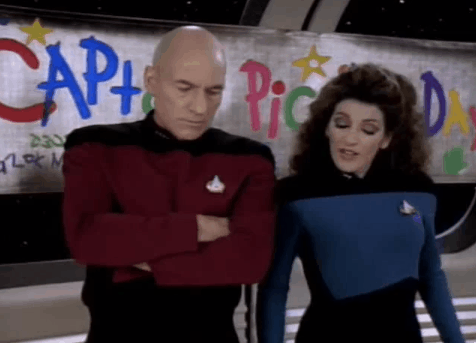 So let's raise a glass of (vegan) Blood Wine to the crew of the Enterprise, my darlings, and to the power of empathy, understanding, and acceptance. We must never forget that we are all connected by our humanity, and that our differences should be celebrated, not feared. Remember, love knows no boundaries – even if we have a few heart wrenching and even awkward moments along the way!"
4. "The Host" (Season 4, Episode 23):
In this episode, Dr. Crusher falls in love with a Trill ambassador named Odan. Now, the Trill are a fascinating species, honey. They can transfer their consciousness between hosts, and Odan's current host is a fine-looking man. But when that man is injured, Odan is transferred into a new host, temporarily Commander Will Riker – and that's where the drama begins.

Let me take a moment to say – How in the hell did I not know there was a nail salon on the Enterprise? Is Picard secretly rocking hot pink toenail polish under that very regulation exterior? In the 24th century, along with the skant, are hair and nail uniform regulations finally equal?
Anyway, back to the drama. Now, the symbolism here is strong, my loves. The Trill's gender-neutral culture challenges our preconceived notions of gender and identity. It reminds us that gender is not binary and that love can transcend labels. But Dr. Crusher struggles with this concept, as many in our community still do today.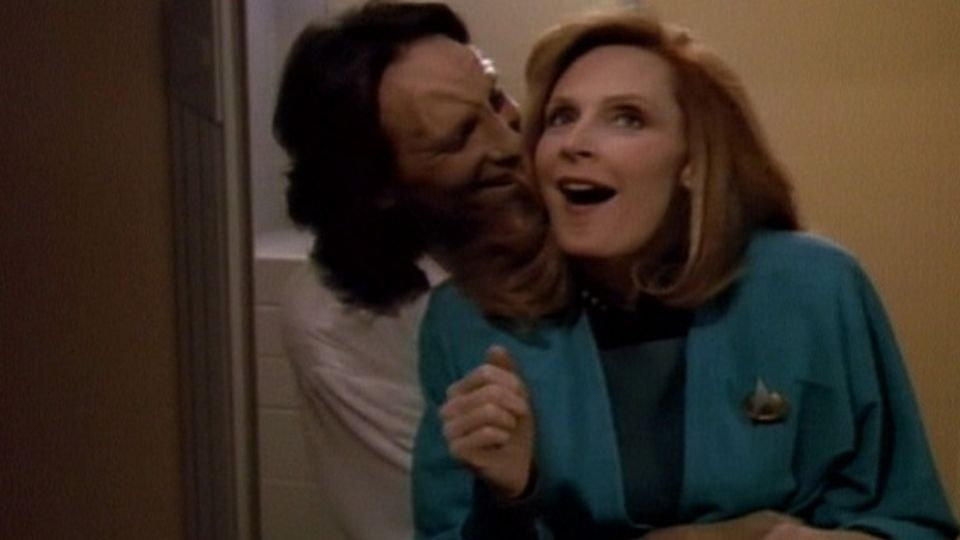 Also, I would like to take a moment to appreciate Deanna Troi. Although the onscreen romance between her and Riker doesn't happen until later, and they don't marry until the film Insurrection, they are friends and former lovers while serving together during the events of TNG. If not exactly kitchen table poly, it's at least super enlightened of Troi when comforting 'Dr. Beverly' to tell her that if she can find love and comfort in Odan in the form of Riker, then she should.
Anyway, Riker realizes it's beyond physical, and that she is attracted to the person she knew as a man – at the end, after averting a war (because of global warming caused by overdependency on an energy source – interesting) but she finds it difficult to accept that Odan is now in new woman host, but admits that she still loves Odan, and understands that it is her own failing to accept the new form.
Another great line from this episode, which I definitely did not catch when I was younger. When Crusher confronts Odan about not telling her he was a symbiote, he say's "Did you ever have to tell someone you were only a single being? Of course not!" Wonderful echos of the double standard of being expected to come out as Queer, but not as cis-het. Ok, I see you Starfleet. All this in 1990! Boom!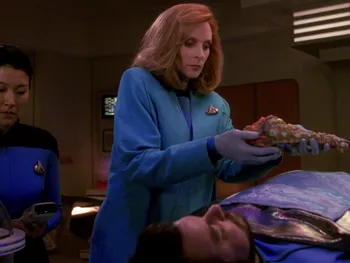 Is there a deeper metaphor with Dr. Crusher being the one to transplant her lover into Riker? Who knows, but it's a great chance for some Special Effect!!!
Anyway, as usual the real kicker is the costumes. The Trill's signature spots are a bold fashion statement, representing their connection to their hosts. However, when Odan is transferred to the new host, those spots disappear, leaving us with a blank slate. It's a powerful visual representation of the struggle to maintain identity through change.
And let's not forget the LGBT issues at play here. The Trill's fluidity challenges traditional gender roles, and their love can transcend bodies and lifetimes. It's a beautiful message for our community, reminding us to celebrate our differences and embrace the complexity of our identities.
So there you have it, my darlings. Another powerful episode that challenges us to think beyond the binary and embrace the diversity of our world. Let's all raise a glass of Saurian Brandy to love in all its forms! No Synthehol for us!
3. "The Game" (Season 5, Episode 6):
In this episode, the crew is faced with a new game that has taken over the minds of everyone on board, including Cadet Crusher's new love interest, Ensign Robin Lefler. The game represents addiction and how easily we can be controlled by outside forces.
So the beginning of this episode as inspired me to amend what I said about Troi and Riker. By this time, she definitely knew how freaking thirsty he was and so also knew what she was getting herself into. The episode opens with Riker hooking up on Risa and then getting introduced to this super addictive, very easy to win, brainwashing game where you mentally push a disk into a cone, then get a euphoric/orgasmic rush.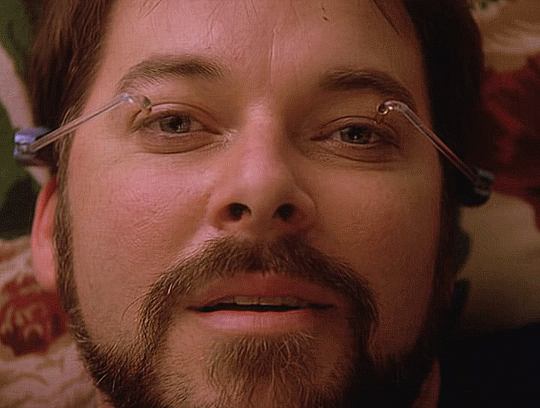 But the real message here, my loves, is about control. The game takes over the crew's minds, leading them to act in ways they usually wouldn't. It's a reminder that we must always be vigilant against outside forces that seek to control us and our actions. That we can be ourselves and do what we know is right, despite what the rest of society tries to tell us.
But, ultimately, Wesley puts his faith in a trustworthy adult (in this case Data) to safe him from his own mother among everyone else on board. While Data formulates a plan, Cadet crusher runs around the Enterprise Home Alone style, distracting everyone to buy time.
So let's raise a glass of Altair Water to Ensign Lefler and Cadet Crusher, my darlings, and to the power of individuality and self-determination. We must never let anyone or anything control our minds or our hearts. Remember, we are the captains of our own destiny, and as we all know geeks always save the day!
2. "Conundrum" (Season 5, Episode 14):
In this episode my fellow LGBT-rekkies, the crew wakes up without memory of their identities or mission. They must work together to uncover the truth and prevent a war between two alien races.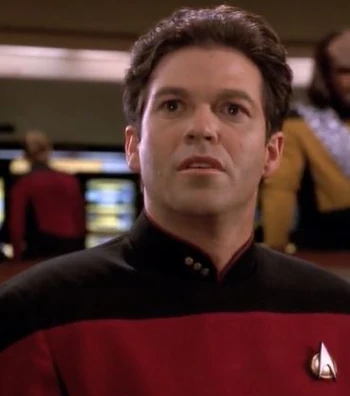 Who is this new guy? He's now the Executive Officer? Why does Picard still call Riker 'Numbah Won' if he's third in command now? Oh right, it's a mind controlling alien. Why didn't he just make himself the Captain? Or a Commodore? Ah well …
Now, this is a powerful message for our community. It reminds us of the importance of memory and identity and how easily they can be manipulated or erased. It's a message that resonates deeply with the Queer community, as we have faced challenges in asserting our identity and having our history recognized and celebrated. Even if it turns out we're a space faring Trombone Player.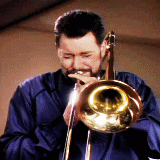 But let's talk about the way everyone acts when they forget who they are. Worf believes he is in charge, apparently because of his confidence and fancy sash.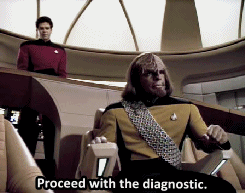 Data thinks he is a robot bar tender.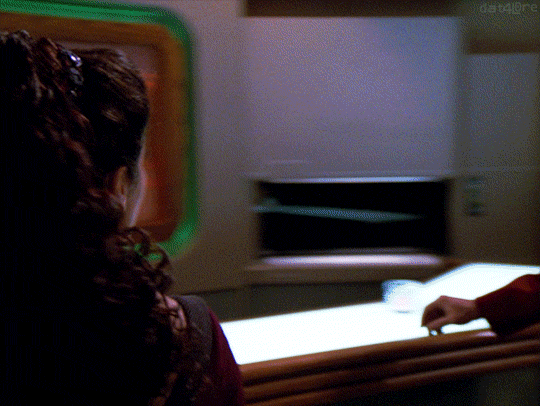 … and there is a very awkward love triangle between Ro Loren, Riker, and Troi but as their memories return and they discover their individual roles on the ship, they begin to adjust and change their behavior to reflect their unique identities and personalities, albeit with most of their inhibitions restored.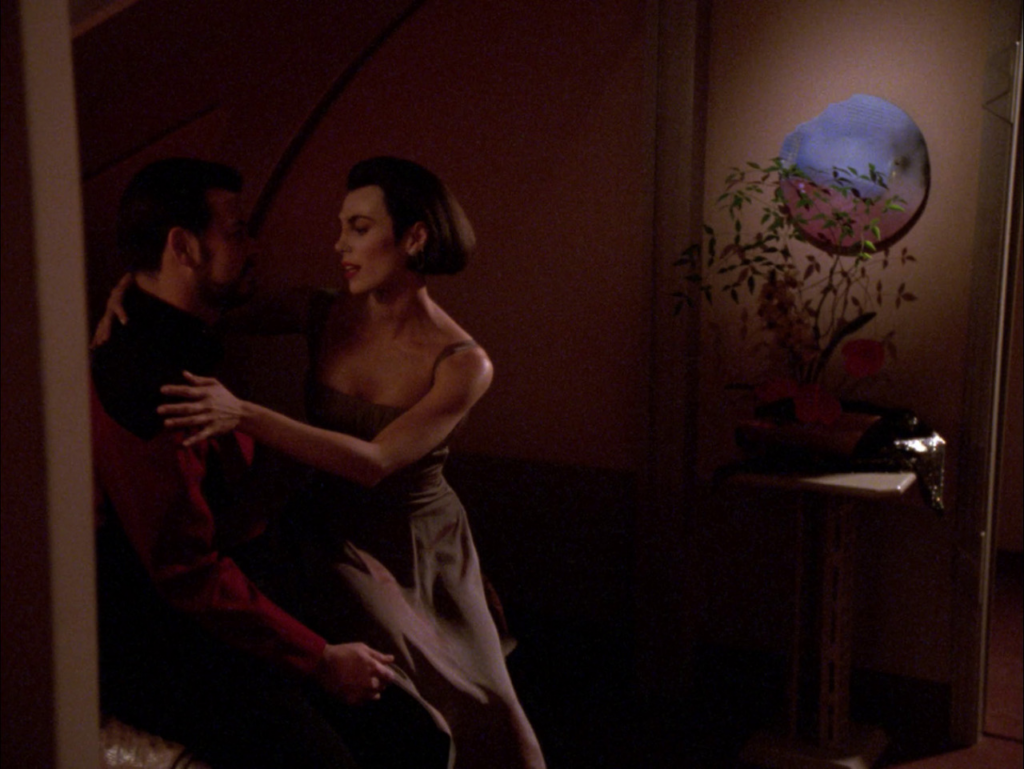 And speaking of identity let's not forget the LGBT issues at play here. The crew's struggle to regain their memories and assert their individual identities echoes the struggles faced by LGBT individuals in maintaining their identities in a society that often seeks to erase or marginalize them.
But the real message here, my loves, is about unity and collaboration. The crew must work together and trust each other to uncover the truth and prevent a war. It's a reminder that we must come together and support each other even in the face of adversity and uncertainty.
So let's raise a glass of Romulan Ale to the crew of the Enterprise, my darlings, and to the power of memory, identity, and collaboration. We must always remember who we are and where we come from and work together to create a better future for ourselves and our community. Remember, together, we are unstoppable!
1. "The Outcast" (Season 5, Episode 17):
*CW: Conversion Therapy, anti-trans rhetoric
In this episode, the Enterprise crew encounters the J'naii, a society where gender neutrality is strictly enforced, and the character of Soren, a member of this society, begins questioning her gender identity. This episode is often considered the most prominent LGBTQ episode in the series.
The J'naii are gender-neutral and reject any concept of male or female, reminding us that gender is a construct and that we can be whoever we want, regardless of societal norms. Despite a clunky conversation about gender-neutral pronouns, which is somewhat unsatisfying (especially since the singular "they" has been used since the 1300s), this episode further explores gender and sexuality than any others in the series.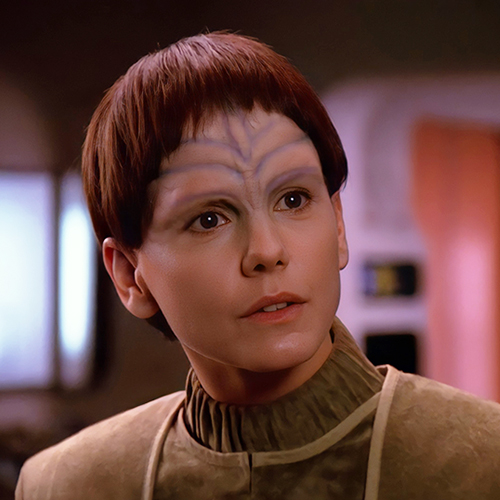 But of course, the crew faces a challenge as Soren expresses romantic feelings for Commander Riker. There are some funny and awkward moments along the way. I did appreciate how we find a way to use words like 'Micro-Cochrans' to describe engine output to someone from a species which likely has never heard of Zephram Cochran (a lot like the U.S. still refusing to use metric)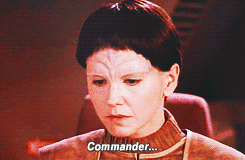 But this is where the drama begins. The J'naii don't believe in gender or romantic love. Soren's attraction to Riker is seen as a violation of their societal norms. She is forced to undergo a mind-altering procedure to conform to the J'naii way of life.
The symbolism here is deep, if a bit on the nose. Soren's desire to love who she wants challenges the J'naii's strict adherence to their cultural norms. It reminds us of the struggle we face in our community, where we are often told that our love is invalid. But Soren's bravery in standing up for her true self inspires us all.
As a devoted fan and an advocate for LGBTQ rights, this was one of my favorite episodes to re-watch. I remembered it differently, as growing up in the Midwest USA, I had little exposure to anything outside CIS-Hetero-Normative ideas. And in the 1990s, on analog network television, seeing Queer representation felt a lot like Lily and Zefram seeing visitors from the future in the TNG Film, First Contact.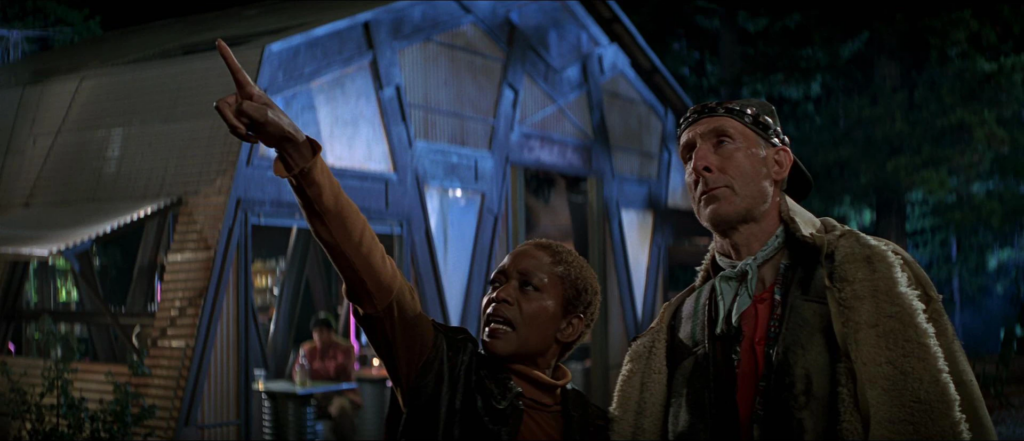 The costume choices in this episode were fascinating, as they played a role in highlighting the differences between Soren's society and the Federation. Soren's people wore gender-neutral clothing, which was a sharp contrast to the bold and colorful uniforms of the Enterprise crew. The neutral tones and simple dress designs in Soren's society reflected their strict adherence to gender neutrality and conformity. At the same time, the bright and varied uniforms of the Enterprise crew conveyed a sense of individuality and diversity.
Another interesting costume choice was using makeup and hair styling to convey gender. Soren's people had identical haircuts and minimal makeup, again highlighting their adherence to strict gender neutrality. In contrast, the crew of the Enterprise had varied hairstyles and makeup choices that reflected their individuality.
But what struck me about The Outcast was how it highlighted the struggles of LGBTQ people we still face today. Soren's journey to embrace her gender identity, despite the disapproval of her society, was a powerful metaphor for the struggles of many LGBTQ people who face discrimination and persecution for simply being who they are. And, it gave us this fantastic monologue – there's a cut down version with captions available here.
But in the end, it's about love. Soren's love for Riker transcends gender and societal norms, reminding us that love knows no bounds. It's a message we need to hear today more than ever as we continue fighting for our rights and identities.
Despite Worf very excitedly accompanying Riker to the surface to mess some folks up, and Picard very specifically not giving Riker permission to act, but also staying in orbit just long enough. Sadly, the episode ends with Soren telling Riker it was a mistake- it appears the conversion therapy was a success.
Overall, The Outcast was a powerful and thought-provoking episode that used costume and makeup choices to explore issues of gender identity and LGBTQ rights in a truly impactful way. I highly recommend this episode to anyone who wants to see themselves reflected in a powerful and poignant story.
So let's raise a cup of "Earl Gray, Hot" to the J'naii, my darling Queer Geeks, and as always, Live Long, and Prosper.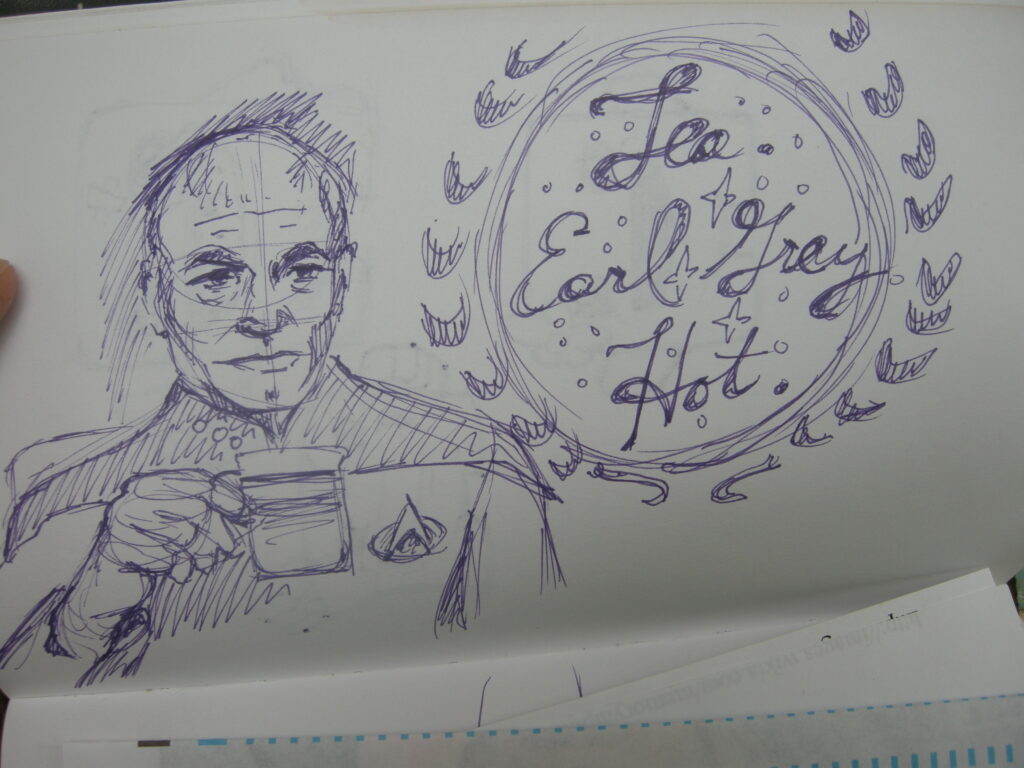 These episodes, among others, are shining examples of good science fiction exploring issues of gender identity and sexual orientation in a nuanced and thought-provoking way. While the series may not have always been at the forefront of LGBTQ representation, these episodes show that it was willing to push boundaries and challenge societal norms.
Are there any other favorites I missed, or should I cover them in the next post? Let me know!