Trang Thanh Tran (they/she) is a Vietnamese American writer telling all stories scary, otherworldly, and emotional. Trang grew up in a big family in Philadelphia but now calls the South home. They're an alum of the Writing Barn's Rainbow Weekend and Tin House's YA Fiction Workshop. When not writing, they're busy trying new food and watching too many zombie movies. Their Gothic horror debut SHE IS A HAUNTING is forthcoming from Bloomsbury in Winter 2023. You can also follow them on Twitter.
I have the opportunity to interview Trang, which you can read below.
First of all, welcome to Geeks OUT! Could you tell us a little about yourself?
Hiii. My name is Trang, and I'm a Vietnamese American writer of speculative stories. I love horror, iced coffee, and BTS. In my past life, I was a data analyst and honestly still have a soft spot for spreadsheets and coding.
What can you tell us about your debut book, She is a Haunting? What was the inspiration for this story?
She is a Haunting is about an angry, closeted bisexual girl with daddy issues who fights a haunted house in Vietnam that just wants friends and eternal servitude! It's a coming-of-age ghost story with a strong core about family. It is somewhat of a dual-pov book, with most chapters coming from Jade Nguyen and the rest from Nhà Hoa, our unhinged French colonial house.
I've always been a major horror movie/book fan, but I didn't see many main Vietnamese characters in the genre. So I wanted a Vietnamese American final girl front and center, and whose story is very specific. That meant working with a seed of my own fears about belonging and coming out—because I love when horror and emotion connects. From there I threw in all my favorite gothic horror tropes with a dash of bugs, parasites, and suspiciously delicious food.
As a writer, what drew you to the art of storytelling, specifically speculative fiction/ horror, and young adult fiction?
Storytelling feels a little bit like magic. As a kid, I really loved escaping into stories so when I discovered you could actually do that magic yourself, I was hooked. I'm someone who can forget how happy or intensely they felt about something, but writing lets me remember. I tap into that experience so I can let my characters live in and for my readers to feel it.
As for speculative and horror elements, I like working in my weird interests or metaphors. Focusing on a real story but letting that element of strangeness challenge the characters' POV, it's just fun! Young adult fiction is also a space I'm proud to write in, because stories can be an escape for someone who is at a threshold in their life—starting high school, navigating difficult relationships, and dealing with changing expectations. Everything is felt so strongly; the world is at your fingertips.
What do you think specifically drew you to ghost stories?
Sometimes the scary thing is not the ghost but what the ghost represents. I'm intrigued by the ways our past follows us, so a ghost story is a perfect way to force a character to confront that. How are they as people, because of something in the past? What will they do now, in order to not deal with some lingering trauma—even if not their own?
How would you describe your writing process?
I am somewhat of a chaotic drafter. While I always know my ending and the major emotional beats, I will draft lines out of order. Some for chapter 21, then some for chapter 1… It's maddening putting it all together in a way that makes sense. But I am a very methodical reviser. I reverse outline in a spreadsheet, I lay out my character arcs in a spreadsheet, then I figure out what needs to be done by chapter.
Many authors would say one of the most challenging parts of writing a book is finishing one. What strategies would you say helped you accomplish this??
Unfortunately, the only way to finish a book is to write. For me, having an alpha reader who reads as you draft and who you feel completely comfortable with is key, because they keep you accountable AND excited to write. There's that instant serotonin when they're like, what will happen next?! Other than that, having a clear vision for what I want my book to be and how I want readers to feel allows me to draft more easily. I am chasing that end goal of crushing readers' hearts. 🙂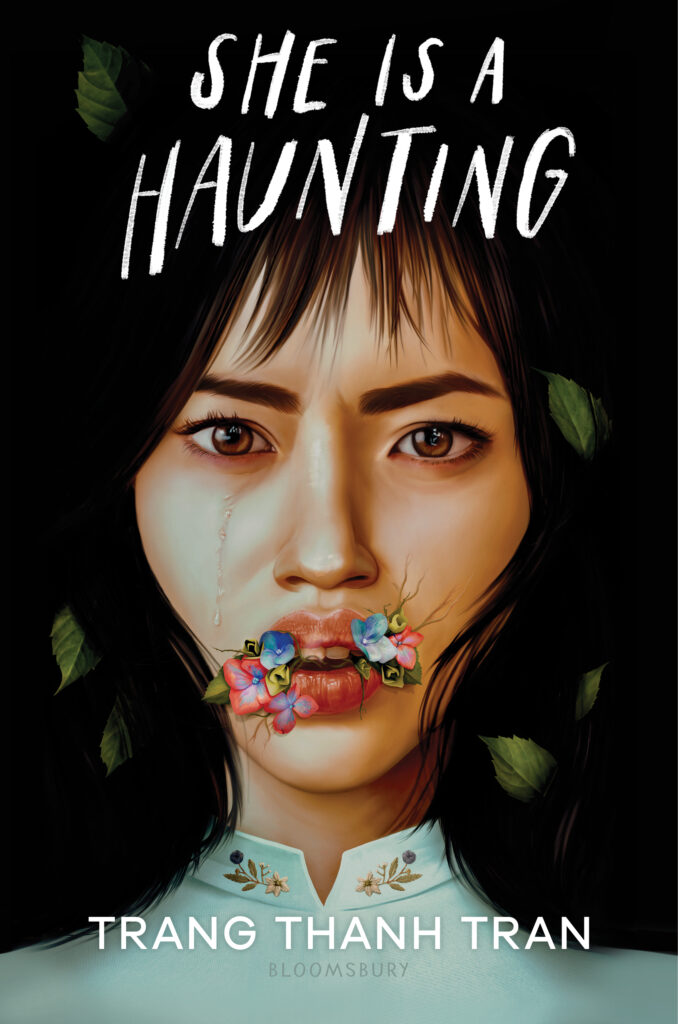 Growing up, were there any stories in which you felt touched by/ or reflected in? Are there any like that now?
There was not a story that I felt reflected in when growing up. Mostly, I read to escape. I slipped into characters' experiences that didn't in any way resemble my own. For a period of time, I actually stopped reading because nothing I read touched me. But things are different now! I picked up Emily X.R. Pan's The Astonishing Color of After at the library, and it just changed my brain chemistry. Like, we can write these stories centering BIPOC characters? I got back into reading then and found so many more stories, queer and more.
As a writer, who or what would you say are some of your greatest creative influences and/or sources of inspiration in general?
Emily X.R. Pan who writes beautiful, gut-wrenching stories! Shirley Jackson's writing is also an inspiration, for how much dread and terror she packed into few words. I'm also a fan of Mike Flanagan's horror shows that blend emotional storytelling with wonderful visuals. In terms of artistry, I admire the BTS members' frank conversations about creating under pressure, conveying an emotion through lyrics, and the work it takes to really execute a vision.
What are some of your favorite elements of writing? What do you consider some of the most frustrating and/or challenging?
I love when the writing comes easily when the words match the scene in my head. There's something satisfying about creating something that is entirely your own and then sharing it with others. Hearing that someone saw themself or found joy or scares in my stories makes the challenging part of writing—when it's difficult, which is the majority of the time—all worth it.
Aside from your work, what are some things you would want others to know about you?
This may be weird, but: I'm a young cancer survivor. It influences how I work on my art and how I want to live my life. I'm now in my unhinged era, thank you.
What advice might you have to give for other aspiring writers?
Write for yourself first. Put in the things that you love and the rest will come together. But you gotta finish the book; push to the end.
Are there any other projects you are working on and at liberty to speak about?
I'm working on my second YA horror! Tag line—A monster learns to love herself.
Finally, what LGBTQ+ books/authors would you recommend to the readers of Geeks OUT?
Into the Light by Mark Oshiro
The Black Queen by Jumata Emill
Hell Followed with Us by Andrew Joseph White (and ANYTHING he writes)
This is How You Lose the Time War by Amal El-Mohtar and Max Gladstone
If Tomorrow Doesn't Come by Jen St. Jude
I promise you Wen-yi Lee's The Dark We Know (spring 2024) is the perfect companion read for She Is a Haunting but also that it is gorgeously written, tightly plotted and gloriously angry all on its own.
---
Header Photo Credit Heather Wall Photography