Sophia N. Lee grew up in the Philippines. She wanted to be many things growing up: doctor, teacher, ballerina, ninja, spy, wizard, journalist, and lawyer. She likes to think she can still be all these things and more through writing. She looks a lot like her lola Benita, but she inherited her love for writing from her lola Josefina, who worked as a principal and an English teacher. She is the author of Soaring Saturdays; What Things Mean (2014 Scholastic Asian Book Award grand prize winner); and Holding On. She has another picture book titled Lolo's Sari-sari Store forthcoming from Atheneum in the summer of 2023. She has an MFA in Writing for Children and Young Adults from The New School in New York City and works as a creative writing instructor for kids, teens, and sometimes, grownups too. 
Isabel Roxas is the author-illustrator of The Adventures of Team Pom: Squid Happens. She was born in the Philippines and raised on luscious mangoes, old wives' tales, and monsoon moons. She learned so much from her lolas Fe and Venancia: how to shine the floor with a coconut, navigate a palengke (wet market), and make a scrumptious bowl of ginataan. You can follow Isabel on Instagram @StudioRoxas. 
I had the opportunity to interview Sophia and Isabel, which you can read below.
First of all, welcome to Geeks OUT! Could you tell us a little about yourselves?
(SL): Hello, Geeks OUT! Thank you so much for having us.
I'm Sophia N. Lee, an author of books for kids and teens. I was born and raised in the Philippines and was raised within a huge extended family so I'm constantly inspired by memories of growing up around a multitude of Lolos, Lolas, Titos, Titas, and countless other cousins.
When I'm not writing, I teach creative writing classes for young people.
Outside of that, I'm most often getting lost in a book, researching new places to visit, or traveling by taste through kitchen experiments. I'm currently geeking out on Kdramas, which I fell into early in the pandemic.
(IR): Hi there! I'm Isabel Roxas, author, and illustrator of books for young readers, and like Sophie, I was born in the Philippines and raised on a steady diet of old wives' tales and mangoes. I'm now based in Queens, New York.
When I'm not making pictures or cooking up stories, I like to make small objects in clay, bake desserts, and go exploring.
What can you tell us about your latest book, Holding On? What inspired this story?
(SL): Holding On is a picture book about a girl and the many summers that she spends in the Philippines with her Lola, which is the Filipino word for grandmother.
This book is incredibly personal for me because it was inspired by my own summers spent in the province with my paternal grandparents. The story shows how a young girl learns how to hold on in different ways – first by observing how others around her do so (belting out songs on the karaoke machine, cooking favorite dishes, framed pictures on the walls), and then by teaching herself new ways to celebrate treasured memories and time spent with the ones she loves.
The story is also deeply personal because it mirrors my own story as I learned how to navigate my own Lola's loss of her memories after she was diagnosed with Alzheimer's and early-onset dementia. After all those summers of being cared for by her, I wanted to honor her and those memories of feeling so beloved by telling this story.
(IR): The images were inspired by the Philippine countryside and feature my favorite fruits and treats – Taho (a warmed tofu treat with brown sugar and tapioca pearls), fresh mangoes, pastillas de leche, and sinigang (a deliciously sharp sour soup).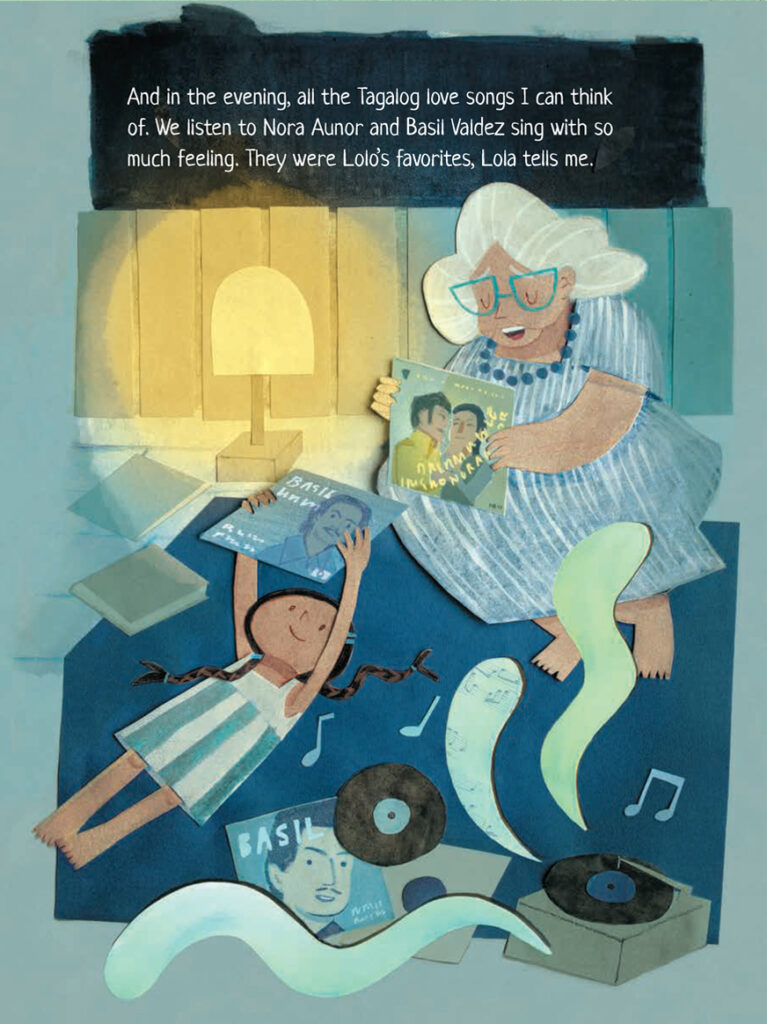 What drew you to storytelling, specifically to picture books?
(SL): Deciding to write literature for young readers came easily. I wanted to write the kind of stories that made me fall in love with reading and that helped shape my identity. I think children love the books they read early on differently – as readers, they're still on the cusp of becoming who they are, and if you're lucky, as a kidlit author you get to have a hand in helping shape that young mind.
(IR): I loved picture books as a child and never stopped reading and collecting them. The fabulous worlds in those stories were intoxicating and often a refuge from the messy complexities of life. I too wanted to create neighborhoods that young people wanted to jump into and characters that they wanted to befriend. I love the picture book form in particular because it challenges us to communicate with depth and clarity with just a few words and images.
What are some of your favorite examples of picture books growing up and now?
(SL): Growing up, I loved books that made me feel safe, that reassured me that I'd always have a place in the world no matter what. I remember reading P.D. Eastman's Are You My Mother? over and over, and finding comfort when the baby bird finally makes its way back into the nest and finds the mother there. I felt the same way reading Shel Silverstein's The Missing Piece – I was so happy after the circle could sing again because it allowed itself to let go of the piece it had sought out for so long.
Now, I'm always looking at books that show me how to say more with a lot less. I like when there's space left in between the lines for the child's mind to nibble on. I love classics like Owl Moon, written by Jane Yolen and illustrated by John Schoenherr, and Ida, Always, written by Caron Levis and illustrated by Charles Santoso.
New favorites are Big Mean Mike, written by Michelle Knudsen and illustrated by Scott Magoon, about a tough dog who discovers that he doesn't have to be tough all the time, and The Ocean Calls, written by Tina Cho and illustrated by Jess X. Snow, about a young girl and her freediving grandmother in Korea. It's such a beautiful story, and an excellent study on how a topic that's culturally specific is able to also feel universally relatable, because of how the intergenerational bonds in the story are depicted.
(IR): The first book that I remember loving was A Light in the Attic.
The picture books I love now include: It's Useful to Have a Duck by Isol, which is an accordion-style board book that you read from two distinct points of view. It's an inventive and playful book that encourages empathy in a very simple, creative manner. Another book that I'm currently loving is The Way Home in the Night by Akiko Miyakoshi.
How would you describe your general writing/drawing process? What are some of your favorite/most challenging parts for you?
(SL): For me, so much of the work behind my own writing is mental. I'm most challenged when facing the blank page, and trying to figure out what kind of story I want to tell, and the best way for me to tell it.
When I get inspired by an idea, I'll often obsess about it in my head for a really long time. When I do, it often feels like I'm walking into a messy room, and it's on me to figure out which mess to sort out first. I'll start making a mental list of things that would be interesting to put together. I'll think about how to rearrange every memory I want to reference, every inspirational peg, every plot point that I know so far, until it feels like something that I can picture more fully – almost like a room or a space where my main character can walk into or exist in.
And then, I'll think about how best to get that story on the page. That to me is the most painful/challenging part: finding the right structure to hang your story on, whether it's a theme I want to run throughout the story, or a form that I want to experiment with, or an idea that I want the reader to be consumed by. But honestly, it's also the most thrilling part of writing for me.
(IR): If I am drawing from a manuscript (by another author), I usually go through the entire story and try to sort out the rhythm of the book with thumbnail sketches. Then I try to find out who the characters are – I develop their personalities which then informs what they would wear, how they move, and what the palette will be. Then I fill in the rest of the world. When I am illustrating something I am writing myself, it usually starts with a piece of inspiration – either a news item or something I observed on my way to the train (or ON the train). I make a few sketches and sometimes dialogue comes along with it, other times it's just a mood.
My favorite part of book creation is making a big mess in search of the look and heart of the book. It is probably also the most challenging part of the process.
Aside from your work as a writer/artist, what would you want readers to know about you?
(SL): That I love learning! I really enjoy teaching, but I think I'm happiest when I'm in a classroom setting figuring out things and learning about how other people go about their lives and solve the problems they encounter. If I could figure out a way to be in a class of some sort learning something forever, I would! If you're reading this and looking for a sign to take up a class in that (obscure or otherwise) interest, this is it!
(IR): Like Sophie, I love to learn too! I am curious about the world, people, and making things. Making books is the perfect excuse to explore new things because every project requires research and following new leads whether it is an educational book about race, a book about voting, or a humorous book about pigeons.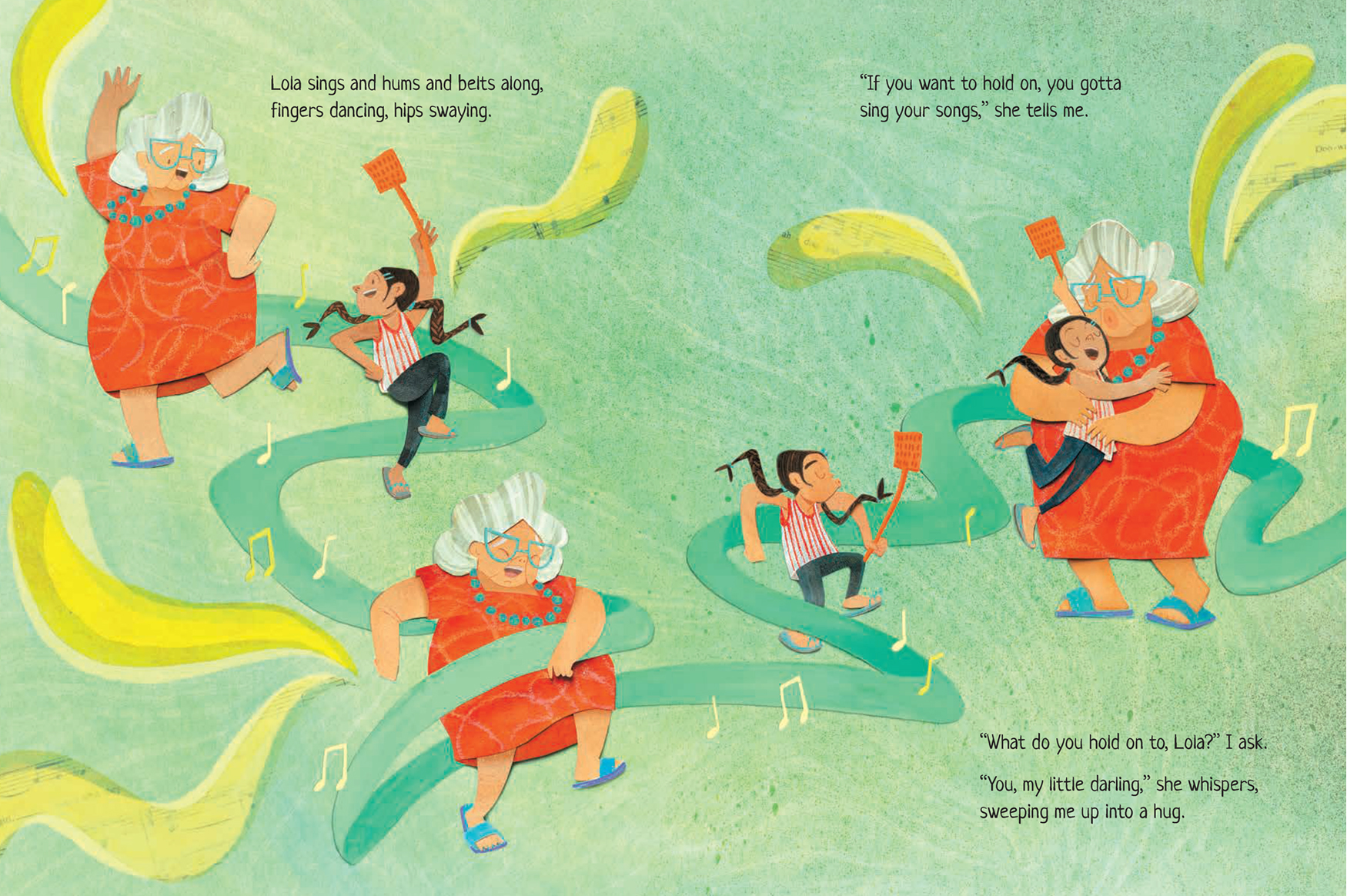 What's a question you haven't been asked yet but wish you were asked (as well as the answer to that question)?
(SL): A question that I've been thinking about a lot lately is: What's the closest thing to real magic in our world?
I think it would still be our capacity to hold on and to celebrate and pursue the things we love, and even the things we dream of. I think it's that part of us that pushes us to create new things – whether it's a candle scent to remember someone or something we miss, or it's a story to immortalize a shared history, a song to commemorate a heartbreak or a book that imagines a world that's far better than the one we have. I hope we never run out of that stuff.
What advice would you give to other aspiring creatives, especially those who may want to write/draw a picture book themselves one day?
(SL): Read a lot, and read widely! That's the best way for any type of creative to discover the kind of stories they want to tell and even the tone in which they want to convey their story. Also: read closely. When I find an amazing book, I'll read it several times to see what parts of that work I'm responding to the most – is it the world-building? The cadence? The dialogue? The authenticity of the characters? Being able to identify those and studying what makes them successful is so helpful for my process as a writer.
(IR): I second Sophie's advice and would add: Follow your instincts, embrace your faults and weirdness, surround yourself with good people, don't give up, and always have snacks handy.
Are there any other projects you are working on or thinking about that you are able to discuss?
(SL): I'm so excited to share that I'll be coming out with another picture book titled Lolo's Sari-sari Store, illustrated by Christine Almeda in the summer of 2023, also from Atheneum. This book is so special to me because my huge extended family co-owned a sari-sari store (similar to a convenience store, often operating out of one's home) in our village, and my cousins and I would take turns working at that store every summer.
In the Philippines, sari-sari stores offer more than just convenience for the people they service – often, they're also community hubs where people go not just to get daily essentials, but to share stories, eat together, and just be among friends in the neighborhood. It was a great place to spend the summer and a great place to learn about people and about life.
(IR): I'm working on the third installment of my graphic novel series The Adventures of Team Pom, and this time the girls will be trying their hand at archaeology! I am also working on a small exhibition of the art behind Team Pom that will open this summer at the Youth Wing of BPL's Central Library. So visitors will get the chance to see how a graphic novel is made form its inception to publication. The series is really a love letter to neighborhoods and New York, so it will also feature things like bodegas, the underground newsstands, and of course, pigeons.
Finally, what books/authors would you recommend to the readers of Geeks OUT?
(SL): Hello, readers of Geeks OUT! Here are some titles I'm excited about right now. I hope you check these out and find something in them that sparks excitement in you!
Arnold Arre's Mythology Class
Eliza Victoria's After Lambana
Alternative Alamat: Myths and Legends from the Philippines, edited by Paolo Chikiamco
(IR): Here are some books I highly recommend:
The Queen and the Cave by Julia Sarda
The Paper Flower Tree by Jacqueline Ayer
The Art of Charlie Chan Hock Chye by Sonny View
Alison by Lizzy Stewart